How to succeed by flailing – Montage Enterprises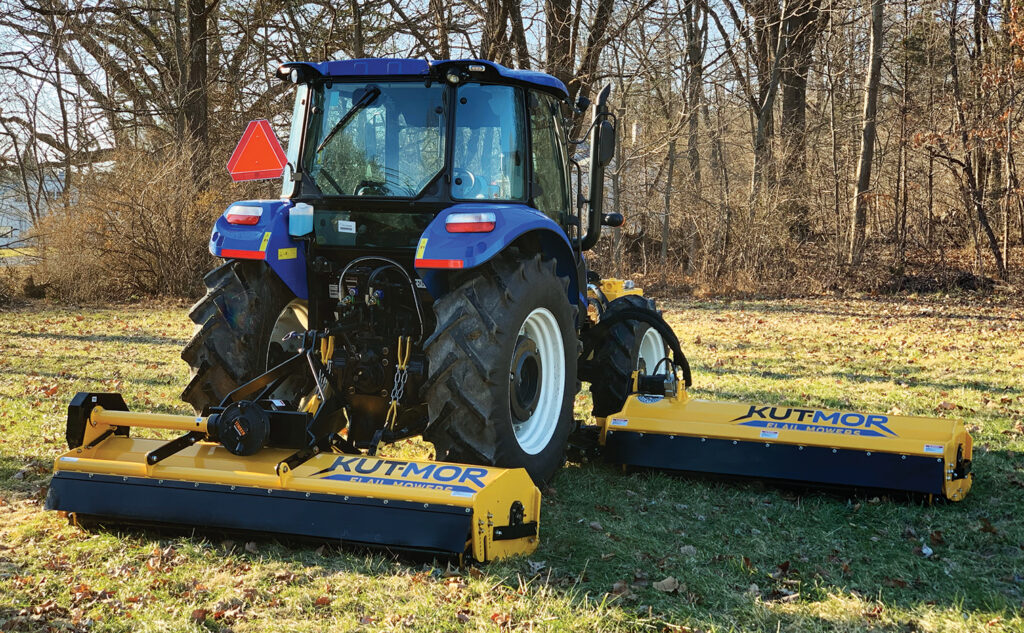 If there is one constant during the spring and summer, it's the wave of never-ending mowing. Highways, ditches, right-of-ways, parks and other municipal properties all require routine mowing. This improves safety and also maintains a manicured appearance that pleases visitors and residents alike. However, this effort results in wear and tear. So organizations need a mower and blades that can handle the jobs before them safely and efficiently. And to achieve this, most departments of transportation prefer flail mowers over rotary mowers, and in many situations, they are required. The departments are drawn to the safety not only for workers but also for passersby. Montage's flail mowers have no kickbacks, satisfying safety concerns.
"Rotary mowers are less expensive, but inherently more dangerous to own and operate," Montage Enterprises Vice President Dave Montanya said. "Rotary mowers will strike and discharge objects at a higher impact, causing the object to fly out like a bullet; whereas the flail mower will discharge anything it strikes not more than 3 feet behind. Most of the time, the flail mower will cut up and roll over the object."
The Montanya family knows flail mowers, with their company Montage Enterprises Inc. of Blairstown, N.J., having specialized in them for over 40 years and three generations. George Montanya, Dave's grandfather, was intimately involved with flair mowers.
"In the early days, George sold Mott Hammer Knife Flail mowers through Lehara Equipment," Dave noted. "George was well known on the East Coast for selling flails to highway departments, airport authorities, port authorities and park districts. Upon the passing of Elmer Mott of the Mott Corporation, George established Montage and began selling flail mower parts."
Dave's father, Thomas, currently serves as the company's president and has been active in its operations since the late '80s. Dave noted, "He got the company to where it is today."
Montage prides itself in its American-built products, and Dave noted, "We have equipment to suit everyone's needs." The company's customers are varied, comprising DOTs, towns, counties, municipalities and contractors.
"In 2014, Montage chose to expand its product depth by becoming a manufacturer of its own flail mower line known as KUT-MOR flail mowers," Dave said.
Montage's KUT-MOR flail mower is intelligently engineered to solve customers' day-to-day challenges. The result is a proactive mowing solution that improves performance and durability, with lighter but strong high-grade steel, precision alignment, a thicker protective hood, thicker heavy-duty cuttershaft and heavy-duty all-edge knives. It is a mower deck designed to last many mowing seasons when properly maintained while requiring fewer parts replacements in its lifetime. Its reinforced deck still maintains a sleek design.
For those working in rugged conditions, the KUT-MOR's high-grade steel construction sets it apart from competitors that lean on heavier materials, which add extra weight without increasing durability. KUT-MOR's higher-grade steel is both lighter and twice as strong, containing fewer impurities. Durability is further added into the KUT-MOR flail mower through its cuttershaft, which features an enlarged diameter and expanded wall that's almost twice the thickness of competitor's products. Not only does this provide more mass and cutting power, it allows the cuttershaft to "jump" over roadside hazards without bending the shaft.
The gearbox's assembly is uniquely paired with a precisely aligned pinion gear that engages the spiral ring gear with greater contact surface, providing a more efficient transfer of power and torque to the cuttershaft with minimal vibration. Excessive vibration leads to poor performance and eventual mower malfunction, not to mention discomfort for the driver.
Montage Enterprises' long-lasting, heavy-duty, full-edge forged flail blade (2000AF) leads the industry. A forged blade offers superior structural integrity when compared to other manufacturing processes. The method reduces gas pockets and voids that can lead to unexpected failure when a blade is put under stress or meets sudden impacts. Meanwhile, the full edge of the blade minimizes grass wrap, which decreases rotor speed and impacts performance. These blades are mounted with forged steel clevises.
Backing the smart engineering is top-of-line customer service. Calls are always answered by a live representative. Parts are always in stock and they ship the same day — no minimums.
Dave noted Montage — as well as KUT-MOR Flail Mowers — is a part of multiple state contracts and purchasing programs. "There are plenty of ways for customers to purchase our equipment." He added, "We also attend several industry trade shows across the country and are available for demonstrations. Just call us to set one up."
Montage will be attending the New England Public Works Expo, Sept. 21-22, in Marlborough, Mass., and the NYS Highway & Public Works Expo, Oct. 19, in Syracuse, N.Y.
Dave said, "We love seeing current and prospective customers. Plus, we are always giving out free merch and swag, so if you are in the area, please stop in to see us!" To see the KUT-MOR flail mower in action, schedule a demo. Montage Enterprises will come to your site. For information, visit montageent.com or call (866)4FLAILS.
Next Article: What's in a name: Chilhowie and Farmville, Virginia