Vermont rail trail promises economic rewards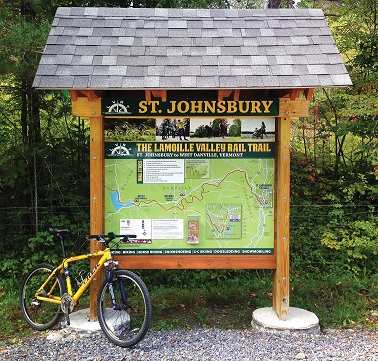 The Lamoille Valley in northern Vermont once bustled with trains hauling passengers and freight through the scenic, rural countryside. Towns along the route and the state of Vermont now believe a trail built on the former railroad bed will be an engine that drives new economic growth in the region.
"We're really excited about this happening," said Laural Ruggles, a resident of Danville on the east side of the Lamoille Valley Rail Trail. "We're in this really rural area here, and sometimes I'm out there and can't believe we have this as an asset. We are just so lucky to have this here."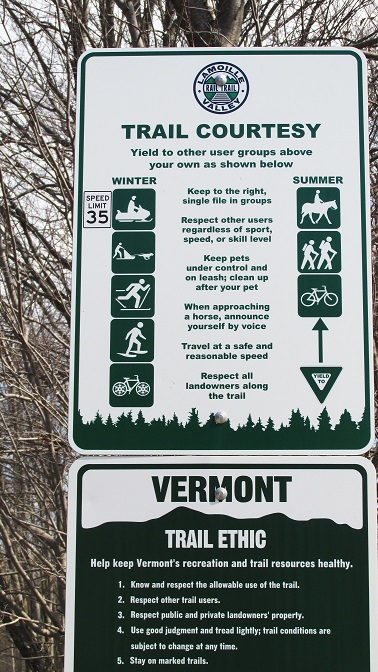 The LVRT meanders 93 miles from Swanton on the west to St. Johnsbury on the east, passing over rivers and streams and through farmland, forests and quaint towns. The distance will make it the longest rail trail in New England, said Ruggles, who joined with other advocates in 2005 to promote building the trail. The route, which has opened in sections over the past few years, will reach its full length this summer with completion of work on a historic bridge near the midpoint, according to Chris Hunt, project manager for the municipal assistance section at the Vermont Agency of Transportation.
Trains began chugging through the valley in the late 1800s, VTrans notes on its LVRT website, vtrans.vermont.gov/lvrt. The state bought the railroad in 1973 after declining passenger and freight demand left the railroad struggling. Rail service on the line then ended in 1994. In 2002, the state began the process to convert the railroad bed to today's multiuse, Americans with Disabilities Act-accessible trail, which is open year-round.
The compacted, crushed stone pathway welcomes walkers, joggers, hikers, bicyclists and horseback riders in all four seasons and snowmobilers, cross-country skiers, snowshoers and dogsled teams during winter, according to the VTrans LVRT website. Snowmobiles are the only motorized vehicles allowed.
Volunteers from the Vermont Association of Snow Travelers (VAST) initially maintained open sections of the LVRT. VTrans took over that responsibility last summer, but still allows VAST to maintain the trail during winter.
Some of the 18 communities along the LVRT already are planning for expected economic benefits from the trail.
A study done for a 38-mile section on the east side of the LVRT in Caledonia County, for example, predicts trail visits there could range from 136,000 to 163,500 per year. The report was prepared for the Northeastern Vermont Development Association, which coordinates planning and other work for several communities in that region.
Assuming 10% growth among all types of trail users, the study projects trail use in Caledonia County will create more than $3.9 million in sales revenue, 63 jobs, $1.28 million in labor income and $538,000 in federal, state and local income and sales tax revenue. All of those figures would increase slightly with higher rates of visitor use.
"It really is a boom for the area," said Brian Savage, town administrator for the town of Swanton on the west end of the LVRT. There is some talk that national snowmobile races could be held on the LVRT or a portion of it, Savage added. "We are hoping for events like that, possibly some biking events. This is new territory for us, but we certainly have the enthusiasm and, if it's allowable under the state regulations that govern the rail trails, let's see what we can do."
Swanton is one of the LVRT communities that already accessed some of the nearly $700,000 in federal matching funds VTrans made available last fall to assist towns with adding amenities for trail users. VTrans also is investigating offering funds to support communities as they build trail amenities over the next five years, said Jackie Cassino, VTrans' rails-to-trails program manager.
Swanton received a grant for more than $375,000 to install a major trailhead, including a parking lot, lighting, a picnic pavilion, bike rack, possibly a bike repair station, drinking water access and portable toilets or restrooms, Savage said. The community of 6,700 people must provide 20% in matching funds.
The trailhead, which should be completed in 2024, will be located near grocery stores, hardware stores, restaurants, gas stations and the local police department, he said. Swanton also hopes to attract lodging providers and is discussing whether to extend the trail a few miles farther west to reach nearby Lake Champlain.
The town will encourage business growth with low-interest loans from a revolving fund and other economic support, Savage said.
"Some people, of course, are obviously more excited about it than others," he said. "I think, overall, certainly the business community, they see this as a potential for tourism. People go camping on bikes, or hikers. They are looking at year-round because people can use the LVRT for dogsledding, snowshoeing and snowmobiling."
On the east side of the LVRT, the NVDA served as project manager as the towns of St. Johnsbury, Danville, Cabot, Walden, Greensboro and Hardwick applied for and received a matching grant of $64,000 to fund a study of what LVRT amenities to add in their area.
"Our effort will be to really engage the public in what they want to see in their communities and come forward with some concrete recommendations for implementation," said Doug Morton, an NVDA transportation planner. "The communities certainly have ideas on what they want and so, again, if you look at the (LVRT) management plan, things like trailhead development of different scales, there's sort of tiers of trailheads that are envisioned."
"The amenities plan, quite frankly, it's years overdue," said Ruggles, who serves as the Danville Select Board's representative to the regional trail council that functions as a liaison between the state and communities on the east side of the trail. "We're behind, and we're trying to catch up."
Danville is evaluating the best use of the 150-year-old train station beside the trail, she said. The town of 2,200 has secured grants and donations to renovate the station, with work starting this year. The local historical society plans to use the passenger side, she added. Community leaders want to determine the best use for the freight side of the station, which could accommodate a new business or expansion by an existing business.
A regular LVRT user, Ruggles said the trail attracts a lot of families. "It literally is one of those 'if you build it, they will come' situations," she added.
Savage encouraged communities to view unused rail lines as potential economic drivers. It takes a lot of effort to create a rail trail, but communities can work together and obtain help with grant funding from their federal, state and local government officials.
"I would say, go for it!" He added, "There's grant money out there."
Next Article: On the road again: Red Wing Museum