On the road again: Plimoth Patuxet Museums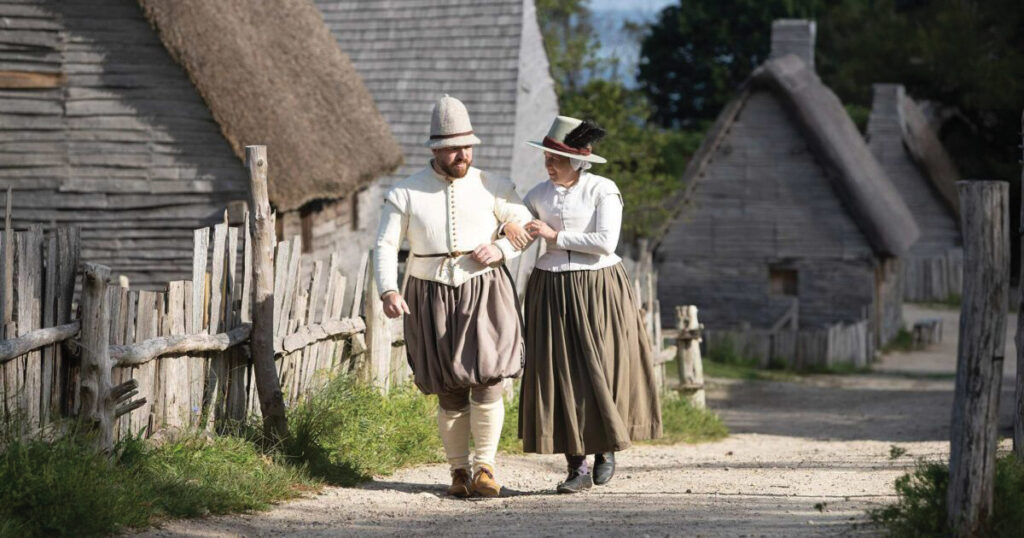 Henry Hornblower II, who lived 1917-1985, was made for just this. The Harvard-graduated investment banker, stockbroker, history buff and archaeologist fulfilled his lifelong dream by spearheading the creation of a popular living history museum complex near Plymouth Rock in Massachusetts. The Plimoth Patuxet village replicates community life in the 1600s among the Pilgrims and local Native American tribes shortly after the Mayflower landed.
Hornblower started the museum in 1947 with two English cottages and a fort on the waterfront. Since then, the campus has expanded to 130 acres with a series of accretions that have added significantly to the re-created ambiance of life 400 years ago.
Several attractions were added after Hornblower's death, but his passion for historical accuracy is evident in every building, along the dirt streets and in the gardens and livestock pens meticulously cared for by the nonprofit administrator of the complex. Among the additions:
Mayflower II, 1957
English Village, 1959
Wampanoag homesite, 1973
Hornblower Visitor Center, 1987
Craft Center, 1992
Maxwell and Nye Barns, 1994
Plimoth Grist Mill, 2013
Scores of reenactors, known as public history performers, inhabit the campus dressed in period regalia and performing semi-scripted, semi-improvised interactive theater with guests. The trained reenactors portray actual residents of the 1620s Plymouth colony insofar as thorough historical research – first- and second-hand accounts, articles, paintings and artifacts – has provided a window into their character, occupation and personality.
Plimoth Patuxet Museums prides itself on the educational aspects of its living history exhibits. Here, a period reenactor introduces a young family to a tome several times older than their combined ages.

Two village women walk along a path carved into the beautifully diverse landscape of the Plimoth Patuxet campus.

Guests – children and adults alike – are invited to indulge in the games families played 400 years ago.

One of the attraction's public history performers works on the wooden fence behind one of the settlers' homes on campus.
Villagers can be seen up close and personal performing the daily tasks of pioneer life, including gardening, caring for livestock, dressmaking, cooking, participating in militia muster drills led by Captain Miles Standish, blacksmithing, leather crafting, engaging in religious activities, storytelling and playing as a family as a respite from day-to-day chores.
For most of the season, which runs from early April through November, the village represents life in 1627. But during November, the ambiance harkens to 1621, the year of the first known harvest feast that is now referred to as the first Thanksgiving.
According to its website, plimoth.org, Plimoth Patuxet, formerly the Plimoth Plantation, defines itself by half a dozen core principles:
People. "People are the key to Plimoth Patuxet's success. We depend on our employees, volunteer and trustees who contribute their skills, enthusiasm, knowledge and the gift of their time; and most of all we depend on our guests, donors and members, whose interests, goodwill and generosity support our education mission."
Learning. "We provide powerful experiences to all who join us in an exploration of the past by using engaging 'living history' techniques, proven teaching methods, traditional storytelling and cutting-edge technology."
Integrity. "An honest and balanced presentation of history is of the greatest importance to us. We seek thoroughness in our research, accuracy in our exhibits and passion in our interpretation."
Preservation. "We commit ourselves to the revitalization of pre-industrial crafts, trades, domestic skills, husbandry, horticulture and the maritime arts."
Professionalism. "We approach our work with earnestness, vigor and the express purpose of providing enriching experiences for our guests. In order to communicate effectively with the public and each other, we act with the highest standards of respect and courtesy."
Community. "We value the satisfaction and fun that comes from working together toward a common goal. We embrace and nurture diversity because it enriches us all."
Although much of the development of Plimoth Patuxet Museums occurred after Hornblower's demise, his aura is indelibly stamped on a sprawling estate situated on the grounds.
According to The Cultural Landscape Foundation, tclf.org:
"Sited within the landscape is a grand Edwardian-style house built in 1878. Purchased by Henry and Hattie Hornblower at the turn of the century, in 1919 they hired the Olmsted Brothers firm to create the gardens for their Country Place Era estate, which the family dubbed 'Eel River Farm.'"
This is the homestead where Henry II grew up and never lost his love for. Though the estate has not been scrupulously preserved, it still serves as a historically intriguing anchor to the living history offerings available throughout the campus.
"Although overgrown, significant features of the Olmsted Brothers landscape remain, including road alignments, specimen plantings, naturalistic features such as stone walls and a teahouse.
"As much of the land is on a steep bank overlooking the river, the firm also regraded and terraced the land. In 1927 Ralph Hornblower, son of Henry and Hattie, built a cottage on a hill ('Eel Hill') just north of the main house, and hired landscape architect Mary Cunningham to plan the landscape. She designed an Italianate garden featuring perennial beds, a bowling green, a pool and an amphitheater just west of the house.
"Known as the 'Hornblower Garden,' today it is a prominent feature of the Plimoth Patuxet campus, and holds significance as one of few extant examples of Cunningham's work." The Plimoth Patuxet Museums campus is located at 137 Warren Ave., Plymouth, Mass. The campus will reopen for the 2023 season Saturday, April 1. For more information, call (508) 746-1622 or visit plimoth.org.
Next Article: Knoxville drives development with Payment-In-Lieu-Of-Taxes program