Innovation for beautification, efficiency and sustainability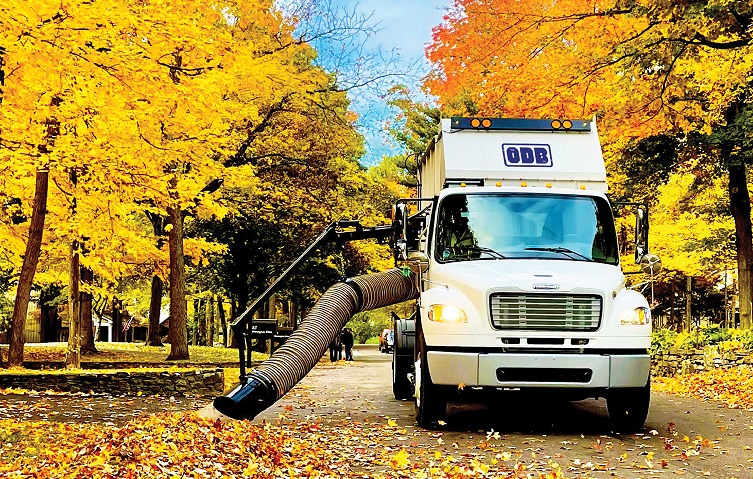 Demands for keeping our communities clean continue to increase with regulatory requirements and expectations of residents. While at the same time, our ability to get the job done gets more and more difficult with diminishing labor availability, increasing costs and safety concerns. The ODB Company has been innovating and patenting solutions that ensure municipalities are able to keep their communities cleaner — reducing phosphorus contamination — faster, with less labor and more safely.

Single-operator truck mounted debris and leaf collection systems are rapidly being recognized as the most cost-effective, productive and fastest means to keep the streets and stormwater systems clear of leaves and other trash, allowing municipalities to get more done in less time, with less labor and greater safety.
Single-operator flexibility
One ODB truck mounted unit can do the work of two self-contained trailers, or three tow-behind leaf loaders. (See Table 1)
Pretty much every municipality or contractor that ODB works with is challenged by labor shortage issues, increased fuel costs and safety concerns. ODB truck mounted units effectively address all those issues, by significantly reducing manpower and fuel requirements (and costs). But most importantly, fewer operators on the street significantly reduces safety risk, liability and worker fatigue.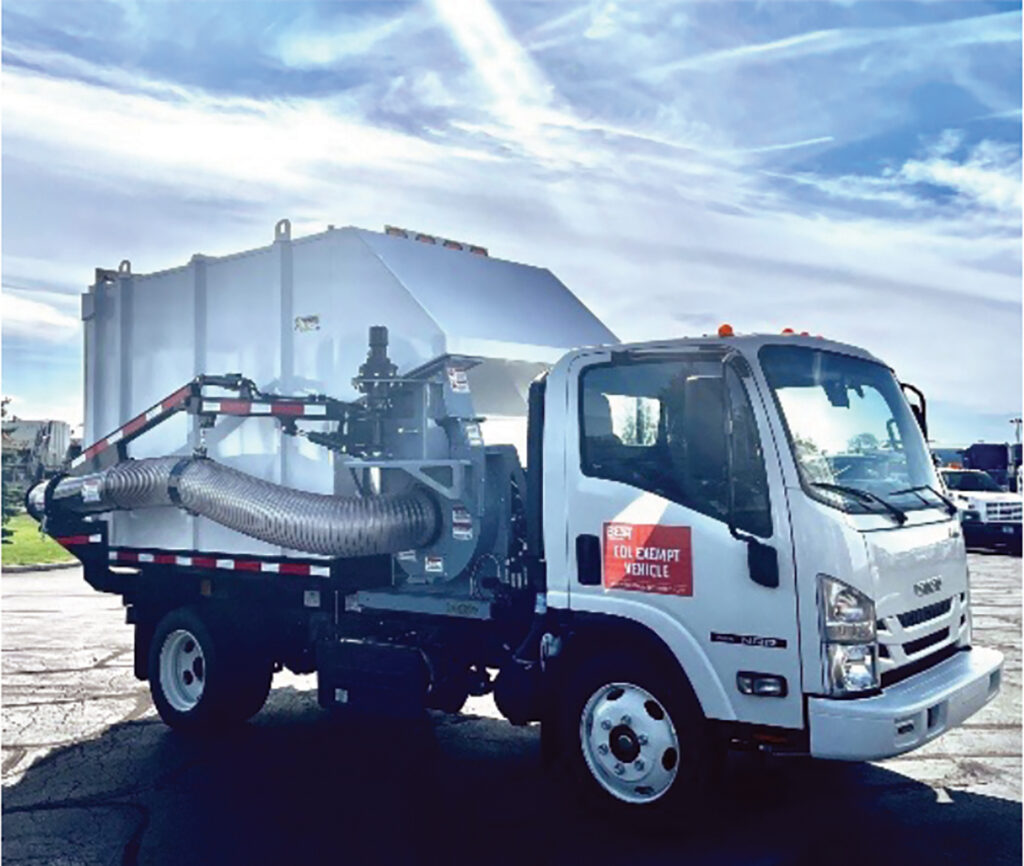 Smarter technologies for efficiency and sustainability
In the past two and a half years, ODB has closely examined debris and leaf collection and street cleaning equipment and applications. Using real-world feedback from customers and dealers, and exhaustive testing, ODB continues to focus on the smartest ways to improve productivity (fastest collection per lane mile), efficiency (lowest cost per lane mile cleaned), reliability, ease of use, maintainability and, most importantly, safety.
In this short time, ODB has been awarded four patents, and has four others pending. ODB is the only company that has the single-engine debris collector truck system, the CDL-exempt debris collector truck, and the patented ECO-MODE™, optimizing efficiency and operational flexibility. ODB has also been awarded a patent on the novel vegetation stripping gutter broom: The CLAW™.
Fuel-Saving Eco-Mode™
ODB's patented ECO-MODE™ technology automatically engages when the boom is not in collection mode, dropping the rpms to idle, reducing fuel consumption by 3.1 gallons per hour. With most operations needing full vacuum rpms only a third of the day, a reduction of 15-18 gallons per day, or 325-400 gallons per month, consumed is realized. Dust, noise and engine wear are also reduced.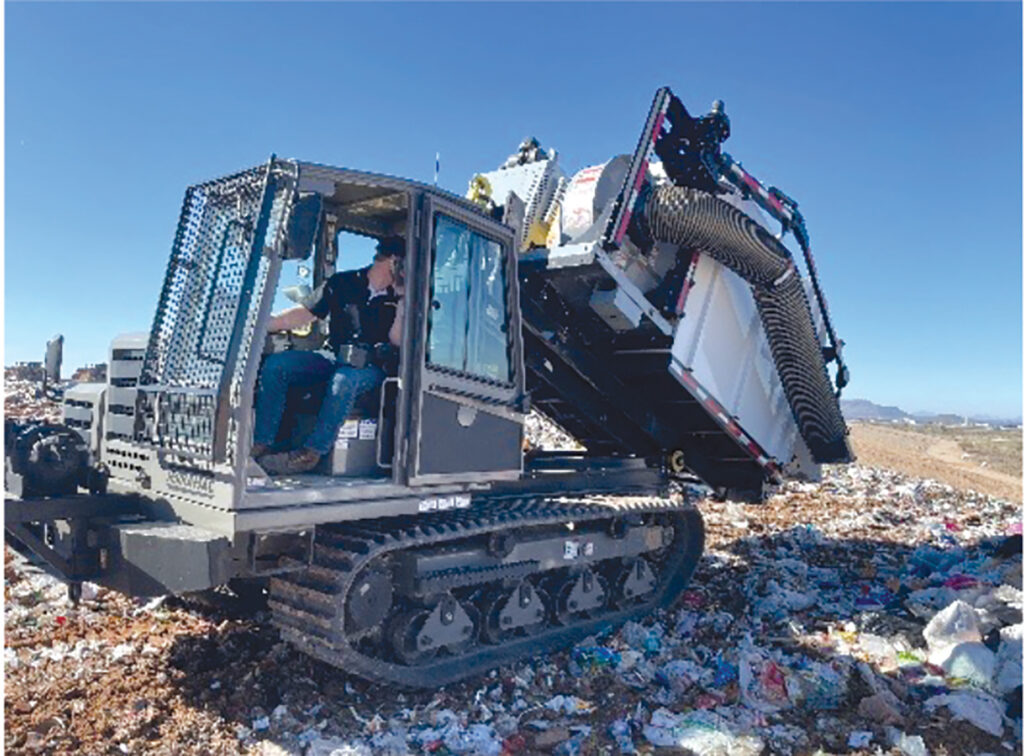 Single-engine efficiency and power: DCL1000SE25
The DCL1000SE is the most powerful and efficient debris collection system available. With 150 horsepower to the 32-inch impeller, the DCL1000SE has twice the suction horsepower of any other truck mounted system. The single-engine configuration has 61% fewer collection system maintenance points and with only one engine, significantly reduced fuel consumption, making the DCL1000SE easier to maintain and less costly to operate. The end result is more curb miles cleaned in less time, at a lower cost per mile.
CDL-exempt, single-operator: DCL500SM16. (24HP & 78HP options)
ODB's patented DCL500SM is the only CDL-exempt truck-mounted system available. With CDL drivers very hard to find and expensive to hire, the DCL500SM enables municipalities to use their current workforce to get the streets cleaned. The single-operator platform with in-cab controls optimizes safety. Large 16 cubic yard capacity, combined with two power plant options, the DCL500SM doesn't compromise on capability, capacity or efficiency.
Landfill – rugged terrain: DCL800RTHL Tracked Crawler
At landfills and transfer stations, trash is often blown to where traditional vehicles can't get to, and is unsafe or very labor intensive to send in crews. ODB's DCL800RTHL is a patent-pending hooklift debris collection system mounted on a Terramac tracked crawler carrier. It has been specifically engineered for the safe, easy and quick collection of landfill fugitive litter on multiple types of terrain. With the DCL800RTHL, one operator can get the job done in the same time that would otherwise take three to five people.

Stormwater and the environment
Debris and leaf vacuum collection systems have become an important part of many community's street cleaning programs. With MS4, they have also become a critical part of — and budgeted for — stormwater programs. 
(For more information on best management practices to optimize effectiveness and efficiency for stormwater pollutant control by utilizing debris and leaf collection systems and street sweepers, see the February 2023 issue of The Municipal, page 36-37)
If you would like more information on leaf and debris collection systems and/or stormwater management strategies, please contact Patrick Fitzgerald at pfitzgerald@odbco.com. Or visit www.odbco.com.
Next Article: Hydro Helpers keep hydrants clear during harsh Green Bay winters