High-tech training with simulation in motion — SIM-IA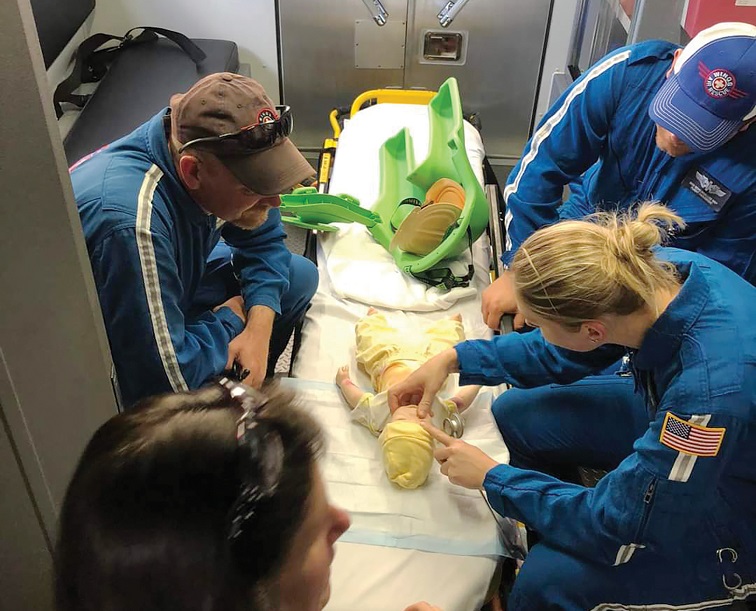 Fire and Emergency Medical Services personnel in Iowa are singing the praises of the new Simulation in Motion-Iowa training program. SIM-IA brings mobile, lifelike clinical simulation to healthcare providers in their clinical settings instead of requiring staff to travel to simulation centers.
The model also allows more healthcare professionals to train together, and the simulations can be customized to their individual situations. A 2019 needs assessment by the University of Iowa College of Nursing found that EMS and hospital education in the state is at a critical juncture.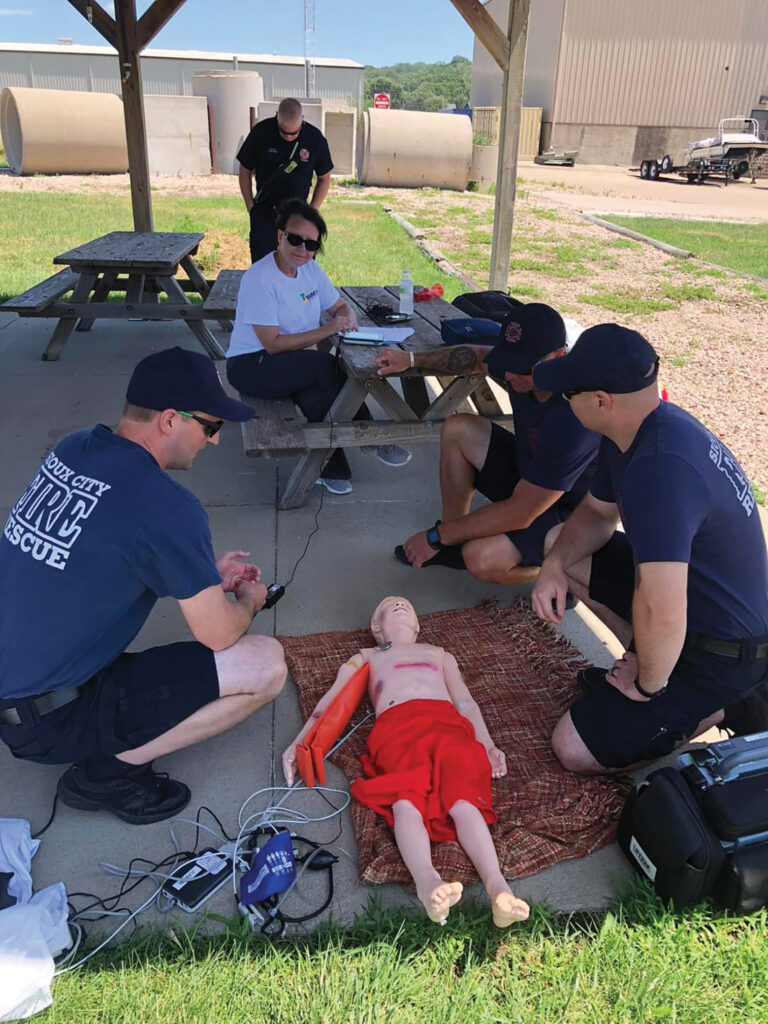 SIM-IA's website, https://SIM-IA.uiowa.edu, states, "While all respondents agreed about the importance of continuing education for EMS and hospital providers, few had the funding to provide the educational training." They found that less than 40% of Iowa hospitals and EMS agencies provide any real-world simulation training and instead offered the majority of continuing education via online or in-person lectures.
Many Iowa EMS agencies are volunteer programs and over half have no funds budgeted for employee or volunteer educational training. But thanks to an $8 million grant from the Helmsley Charitable Foundation, SIM-IA could purchase three custom mobile units, which arrived in June 2022.
Sioux City
Terry Ragaller, training officer for fire rescue in Sioux City, Iowa, said it was a chance encounter that connected his unit to SIM-IA.
About a year ago the fire rescue members were looking for ways to increase pediatric training. Ragaller heard about the SIM buses and that Iowa City had one. When he called the city, he found out that a place was needed to house a bus.
"I asked the powers that be, and they said yes," he recalled, so he worked with the University of Iowa, which is now housing one of the mobile units.
Ragaller said SIM-IA did a trial run last year during the Register's Annual Great Bike Race Across Iowa, sponsored by the Des Moines Register. The SIM-IA bus followed along the bike route, starting in Sioux City.
"The clinicians kept hitting locations along the way, introducing the bus to agencies that didn't know about it. Our guys loved it – they ate it up!"
Ragaller said there are two different parts to the bus. One part is set up like a clinic or emergency room and the other like an ambulance, allowing the staff to train two patients at once.
At the core of the training is state-of-the-art Laerdal mannequins. "They can talk, take breaths, have interchangeable skin and the learning curve isn't steep," Ragaller said.
The mannequins come in different age group, from a neo-natal infant to a geriatric patient and everything in between. He said when the staff had their simulation training, they worked on an adult with a leg injury and a small child who fell off a bike and had a head injury. "It was great to have the opportunity to do both."
Ragaller explained in the past, Sioux City had a 911 provider. Five years ago, however, the company decided it was getting out of the emergency response business.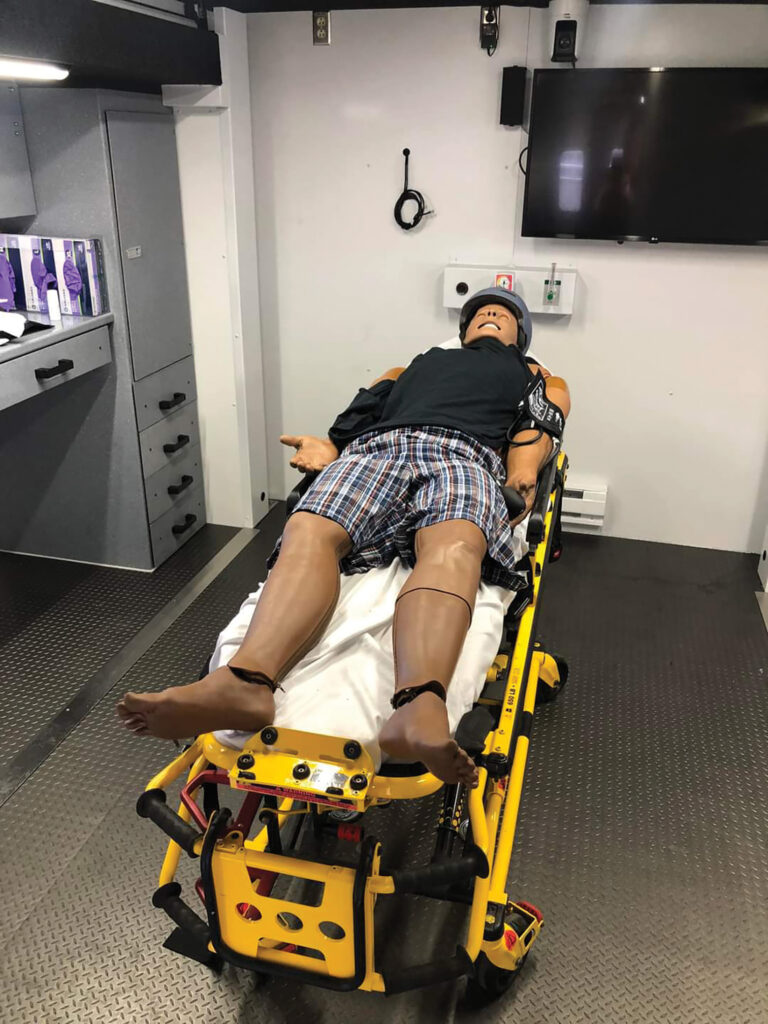 "The city had less than six months to provide services: They decided to take over and absorb it into the fire department, so the training equipment was not where it should be for an ambulance service," he recalled.
Sioux City recently approved acquisition of the same mannequin simulation equipment that is on the bus. "It's high-fidelity – much more realistic. Most agencies don't have near to what we have," he said. "We just mirrored what the SIM bus had."
Even though Sioux City is now housing one of the mobile units, it's not there for residents' exclusive use. "It's just a good anchor point for them," said Ragaller. "Their goal is to hit all 99 counties every year. There are three buses, and each bus can cover 33 counties in a year."
"They want to bring the training to communities that have never had this level of it," he added. "It's huge for rural providers to train on this – even smaller hospitals. It's great for every agency and hospital to have this."
Ragaller has been a paramedic for 23 years. Before moving to Iowa, he lived in Michigan and said the local agency had "nothing remotely like this. This is rare for us to be able to do and the unique thing is, it doesn't cost the agency anything. This is all free!"
He agreed that pediatric training, specifically, is lacking across the state. Sioux City is the fourth largest municipality in the state, but in the smaller cities and towns, many are volunteer EMS providers with full-time jobs.
According to him, some agencies currently only train once a month, and that training is comprised of just a training video. "I can watch a cooking show, but that doesn't mean I know how to make a quiche," he quipped.
"High-quality training for them is few and far between, and SIM-IA is very realistic training. Then, it tests your skills and knowledge and comments on how to improve," he explained.
The mobile SIM-IA busses have the goal of going out two or three days a week, but that depends on staffing. He said program staff put a call out to doctors, nurses and EMS providers to man the busses and oversee the training.
Johnson County Ambulance Service covers wide area with SIM-IA
Chelsea Owens, a paramedic and field training officer for the Johnson County Ambulance Service, said her unit's service covers a large response area that includes Iowa City, North Liberty, Coralville, Solon, West Branch and Lone Tree. She said JCAS been connected with SIM-IA awhile because it helped with the Kirkwood Community College paramedic program that Owens went through.
Before JCAS acquired the buses, she and Education Supervisor Alicia Meador visited their warehouse and home base where all of the mannequins were stored. "They looked awesome for what we needed so we asked them to come and do the training."
In June, about 30 EMTs and paramedics from the Johnson County Ambulance Service went through the training. Meador said they trained on several respiratory scenarios.
"The mannequins are about as lifelike as you can get without using a real human. You can hear lung sounds; they can be made to wheeze. You can take blood pressure, feel a pulse: They blink, and their pupils can change. It made our scenarios very lifelike and much easier to simulate," she explained.
Each mannequin has its own computer system that can be changed on the fly. It can be made to "crash," or lose a pulse: At the touch of a button the heart rate can be changed from a computer. Male, female and baby mannequins are available, including one that can simulate giving birth.
Owens said the SIM-IA mannequins are "one of the best trainings we can give our service providers because they are so lifelike and realistic."
She added that, unfortunately, the mannequins at JCAS can't be made to breathe or feel a pulse and using them for training is more talking them through than hands-on. But according to Owens, having that practical, hands-on training for staff will make it much easier for them the first time they deal with a situation when they have an anaphylactic allergic reaction – which they don't have very often. "Running those scenarios on a real-life mannequin is better than having their first time be out in the field."
Owens said she's never seen training this sophisticated. The EMS program at Kirkwood Community College had similar mannequins, but they were more geared to nursing students.
"I've never seen anything specifically for EMS and paramedics and by far this is the best I've seen personally."
Laerdal, the company that makes the mannequins, stated that they are designed to allow those training to experience how it feels to perform an airway procedure with appropriate resistance, including the feel of wet or stiff lungs, especially on neo-natal mannequins, to assist with first breaths. The software contains pre-programmed scenarios, or instructors can adjust the mannequin's vital signs, sounds and many other features. It includes a data log and notes section.
Cedar Rapids trains with both
Assistant Fire Chief Andrew Olesen of Cedar Rapids, Iowa, shared that his department has had the opportunity to train with both the SIM-IA and the Kirkwood Community College simulators. He sees advantages to both programs.
He said the city has used simulation training with "simple, low-fidelity CPR mannequins for a long time," where they could practice chest compressions, ventilating, etc. As simulation aids improved, they acquired mannequins on which providers could perform advanced cardiac care, insert an IV and do needle compressions to help train for high-risk, low-frequency events. "We saw some success with that," he said.
Kirkwood Community College has the Katz Family Health Care Simulation Center. Olesen compared it to the SIM-IA and said both have "almost shockingly lifelike simulation aids. The 'patients' talk to you, they can respond to treatment or not respond, if not treated appropriately. As the quality of simulation aids improve, it reimagines the way we do EMS training."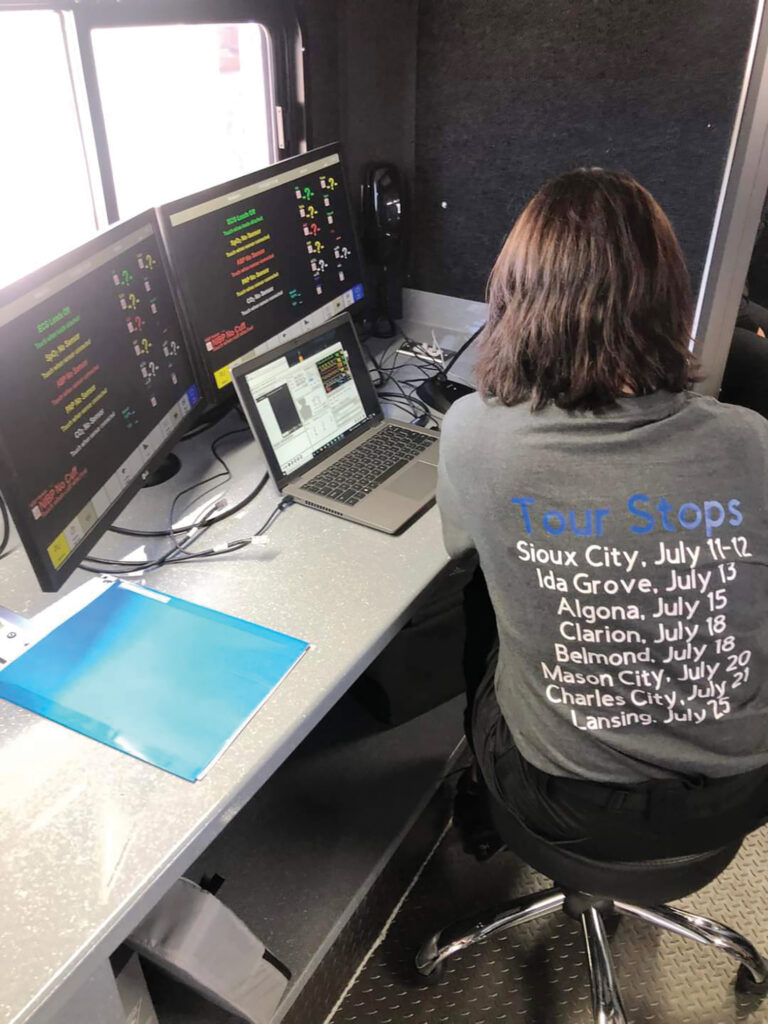 Olesen said many of the mannequins can be attached to cardiac monitors, be started on IVs, administered fluids or medications and actually respond to these. "You can set up any training event you want to simulate," he said.
One of the big challenges EMTs have is trepidation about treating pediatric patients, he noted, and pediatric mannequins are a great opportunity to "get a lifelike response so they're better prepared to deal with those challenging calls."
Active threat drills
Olesen said the Cedar Rapids Fire Department conducted an active threat scenario in Kirkwood's building using mannequins, and that in some ways it was better than using humans. He explained when using humans were acting out the scenario they had to memorize a script, and the service provider had to stop interacting with the human patient when it was time to administer treatment. The providers also had to use a chicken bone to simulate a leg bone and practice inserting a needle. But with the SIM-IA or Kirkwood mannequins, they can interview bystander and talk to patients while treating. "Just like if it were a real critical care situation."
He said the mannequins are so lifelike he observes the effects of stress on the providers. "You see the providers thinking hard. Some break out in a sweat: It's challenging and provides realism to the call. This prepares them to be better providers."
Twenty years ago, when Olesen was going through paramedic training, he said they learned the skills, but it was challenging to simulate the stress and challenge of a real patient. Instructors would look for ways to add stress to the learning environment, like playing loud music or starting a scenario and then abruptly switching it to help with decision-making under stress.
"We're not trying to make it hard on the providers, we just want them to be prepared for real life. It will ultimately make them better providers," he explained.
Olesen said the advantage of the SIM-IA program is the grant that is associated with it so there's no cost to the agencies. He also likes that it can be brought to wherever the agency providers are. He said that when the department sends new hires through the Kirkwood program, there are different rates for the training.
With the increasing complexity of simulation aids, even if Cedar Rapids could purchase their own for the department, Olesen doesn't think he'd have the staff to take advantage of all the possibilities. The Cedar Rapids Fire Department has 145 employees, nine fire stations and runs 15,000 calls for service each year, and all of the personnel are career firefighters. There are no volunteers. A lot of the personnel are volunteer firefighters in the surrounding communities where their homes are located, however.
SIM-IA can go to those remote, small and mostly volunteer departments at a time that works best for them – at their monthly meeting night, for example.
"They don't have to leave the community unprotected or worry about staffing," he said. "This kind of cutting-edge, high-fidelity training was not possible – ever – until SIM-IA able to do it."
"Providing quality, affordable training to volunteers has always been a challenge, one of the known gaps. This is not the only answer, but it is an answer and it has been very effective," Olesen said. And of course, such high-tech training is not only good for the providers, but for all residents. As Ragaller said about the community, "When they call 911, they can be confident the people responding are the best trained."
Next Article: Parks department and hospital team up to create healthier community in Georgia city