How prepared is your city for an active shooter incident?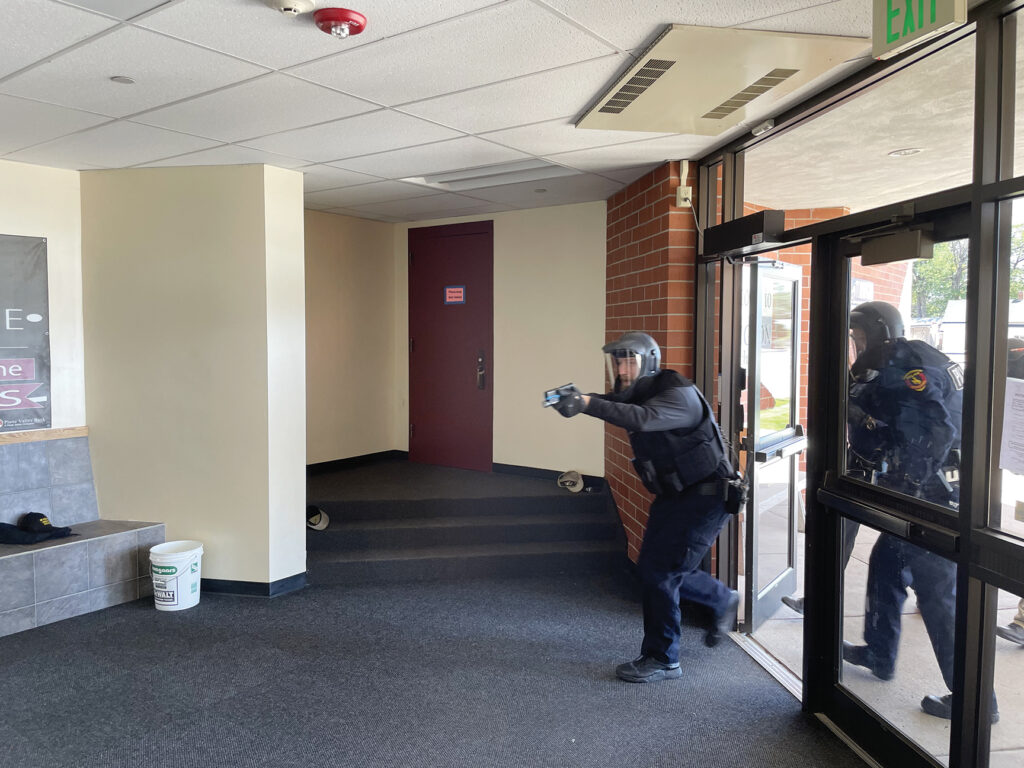 It seems not a day goes by without hearing of another recent mass shooting. No place is immune. Aside from schools, churches, malls, gyms, clubs, restaurants, workplaces and even grocery stores have all been the scene of an active shooter incident.
These events don't just happen in major metropolitan areas — in fact, increasingly small-town America has been the victim. So how prepared are we?
Multiple-day training in Wyoming
Assistant Chief of Torrington, Wyo., Police Department Patrick Connelly spoke about a three- to four-day training his department participated in recently along with several other area departments. Assistant Chief Connelly said several organizations put on the training, which was led by an organization out of Texas called ALERRT — Advanced Law Enforcement Rapid Response Training.
"They're the nation's leading expert on active threats; they're very knowledgeable in the area," Connelly said.
This training focused on active threats and response at a higher level. He said a lot of active shooter trainings do actual movement with officers entering a building, isolating the threat and neutralizing the threat. "This multi-day training still did that but with computer simulation.
"This training focused a lot on response by managing the incident on several different levels — managing incident from outside, responding officers, follow-up team and tactical response team," he said. "We got to play all those different roles."
Officers also played the role of setting up a tactical command post, directing the resources that showed up after first responders already entered the building. He said on large-scale events agencies will come in very quickly from different disciplines — fire, EMS, emergency management and law enforcement from area departments.
The training showed them how to set up command posts on a local and a regional level — the regional command post coordinating agencies like FEMA and resources from other areas. It also included what steps to take after the threat is neutralized, such as extricating the wounded, clearing the building, evacuating the building and reunifying victims with families.
"We tend to think of school shootings, but the trend in recent years has been a lot more active threats in commercial areas — malls, restaurants or workplaces. The next highest is open spaces — parks, roadways, parades, concerts. Statistics show active shootings in schools have dropped dramatically, but there's been more in commercial in recent years."
Ongoing trainings
Connelly said Torrington's department has 17 sworn officers and seven civilian personnel. The department has trainings every month, and he estimates eight out of the 12 months has training somewhat related to the skills needed to respond to active shooter threats. For example, one month they trained on clearing a building. Once a year, they do tactical medical training on providing medical care to victims of trauma.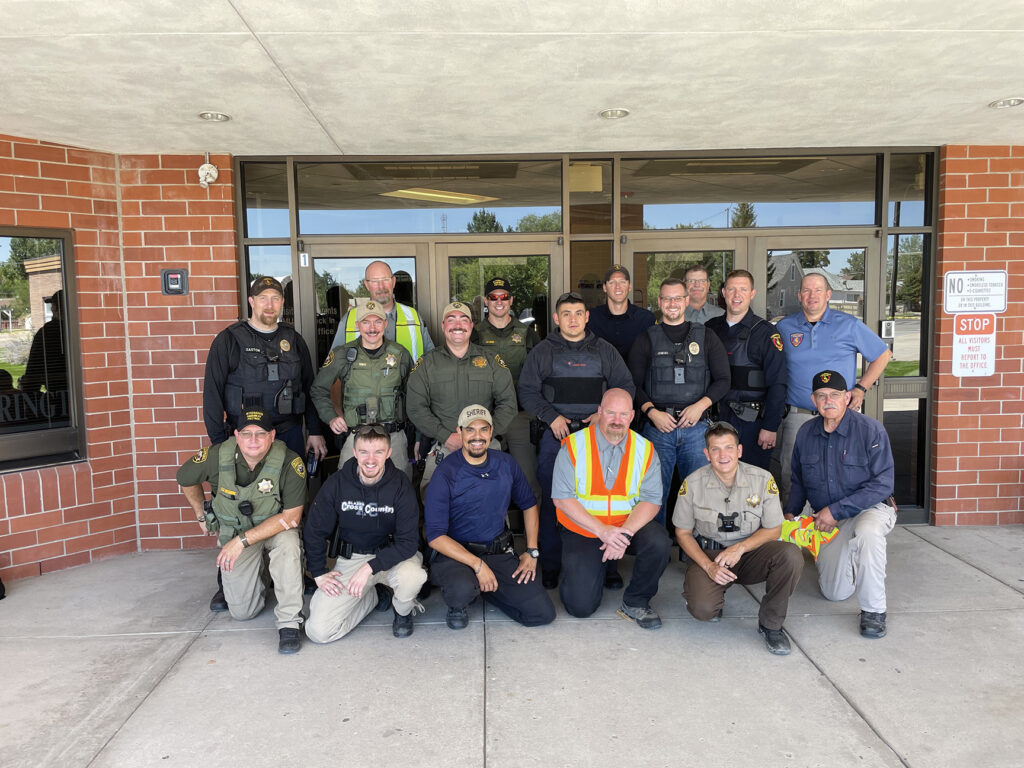 He said once a year Torrington also does a large-scale training and invites other agencies to participate, including emergency management. It is working to incorporate fire and EMS into the trainings as well. He said they typically hold the large-scale trainings in a school environment. Last year they had a three-day large-scale training — two days with law enforcement officers and one day with school staff.
For the law enforcement officers, organizers set up several scenarios, and all officers participated in locating, isolating and neutralizing the threats and coordinating with other agencies. With the school personnel, organizers helped them to have protocols and train on locking down, evacuating everyone, etc.
Connelly said the police department also has a weekly training bulletin that includes trends on active threats. Torrington has not had an active shooter incident in their area, "Thank God, and I hope we never do."
He said the department also works with school resource officers and with school administration to prevent the threat. "Recent studies indicate in 70% of threats the (perpetrator) made his intentions known — usually on social media."
The department is getting that information to school administration about how to read what is referred to as "leakage." It is training them about how to document it as evidence so it can be fairly investigated to determine if it's a legitimate threat. It can also give what to watch for and how to react to it.
"We're partnering with them to prevent the threat from happening," he said.
When asked if he feels his community is prepared, he responded, "I hope so. I pray we never have to use it, but we want to be prepared the best we can if it does."
Connelly was asked if that was the case nationwide. "It's becoming more and more common. In our area, training is moving up. Last year when we did the full-scale training, we had four other area law enforcement agencies participating, and I read on a national scale most agencies are working on more training."
He added, "Anymore, we can't pretend it's not real, not going to happen here. We have to assume it is going to happen."
Fire and EMS more involved
In recent years, protocols for many fire and EMS agencies have changed how those services respond to active shooter incidents. In the past, fire and EMS had to stand back and wait for police to clear a scene before entering. Now many agencies have adopted Rescue Task Force protocols that allow fire and EMS personnel to enter a warm zone with police, allowing them to quickly provide critical medical care.
Fire Chief Marc Bashoor, FireRescue1 and Fire Chief Executive Editor, said, "We as a fire service began learning about this after Columbine. In Columbine, there was no coordinated approach from fire and rescue. Our posture as a service was to wait, and that's what we did. Until police said it was okay to go in — now we know most are dead by then. After Columbine, we began to evolve — even from a law enforcement standpoint — we can't wait for SWAT to go in."
Bashoor served 40 years in emergency services, including as public safety director in Highland County, Fla., and chief of Prince George County, Md.'s, fire and EMS, among others.
Bashoor said they call it active assailant training events, "because we're not just training our people for shooters, we're training for stabbings, etc. We have an ever-evolving plethora of opportunities to train our people through local, state and federal classes."
He said most of the classes evolved from experiences learned from past incidents — what worked and what didn't.
"When Pulse Nightclub happened, a significant number of lessons were learned. The chief from that fire department was able to take those lessons and train others."
Bashoor said that fire chief "really took the lead on developing the standard we use now — NFPA3000."
The NFPA3000 is the standard for Active Shooter Hostile Event Response (ASHER) and addresses all aspects of the process from identifying hazards, assessing vulnerability to planning and resource management, incident management at a command level, competencies for first responders and recovery. NFPA3000 was created with widespread support from fire service, law enforcement, EMS, emergency management, higher education and facility management professionals. Committee members included representatives from 46 government agencies, organizations and associations.
Bashoor said, "It's the standard fire services use now. No other standard in NFPA was developed with police involvement. NFPA3000 is a still-evolving standard on how fire and EMS respond with police to an active assailant. This, like the rescue task force, has become the preferred method to get our EMS trained resources into a warm zone to protect and pull victims. Our folks go through that training on how to be embedded with police."
He said these are the most "tangible changes." There are others like unified command posts — something that began evolving after Sept. 11, 2001, according to Bashoor. Fire and EMS commands are with the police at the same command post "so there's no lag time in the capacity to make decisions because the commands are both there."
Bashoor said there are still exceptions to these standards either because of local disbelief of fire and EMS being involved with police or because the chiefs determine the situation is too active.
When asked if he feels police, fire and EMS as a whole are prepared he replied, "The short answer is yes, but it's clear that there's plenty of work to be done, particularly in small-town America."
He said in part that's due to there being large sections of the country still dealing with volunteer fire and EMS departments. Bashoor made a point of saying he respects the volunteers and was once a volunteer himself, "but they're leading double lives — working full-time positions to support their families and also (being) a firefighter or EMT."
The challenge with smaller towns, according to Bashoor, is "keeping them fresh and current since it may not happen with them for 20 years."
He feels there are large pockets of America that aren't as prepared as they could be. "That's more a fact of reality than a desire not to be prepared."
He added there's a big difference where we are today with communication technology versus where we were when Littleton, Colo., occurred with the ability to get messages out.
"With the ability we have now, there's no excuse," he said.
Another change happening with fire and EMS is in the area of self-protection. "Bullet-proof vests used to be unheard of; now it's pretty standard for EMS units to carry ballistic vests."
He said when he was chief of Highland County, every ambulance carried two average-sized vests, every chief's battalion car had 10 vests, and every fire truck had four vests. Ballistic vest training for fire and EMS is now part of their standard procedure. "It's who we are now," he said.
Whether fire and EMS should be armed for self-protection is still a sticky discussion. "We're helpers, not enforcers, but in a future world, that may be the reality."
Preparing the community as a whole
Having police, fire and EMS trained is critical, but what about the rest of the community? With the increasing frequency of events and places, how does a community prepare its citizenry?
According to "Preparing the Public for Active Shooter Incidents in the Workplace" by Keith Collins, alumni, Fire Science Management at American Military, published in June 2018 on FireRescue1, all organizations — including municipal offices — should develop an emergency management plan that includes active threat response and everyone should know the layout of the building.
The article suggests visually dividing the building into halves or quarters and naming the quadrants. Doing this can help people know where they are located and what action they should take. For example, during an act of violence, it may be best for people in certain zones to shelter in place, while others may be instructed to evacuate.
The article also suggests a smart system should be installed, and facility managers should coordinate with police and first responders and participate in regular drills. Employees should be taught how to evacuate certain sections of the building and how to properly shelter in place.
Building relationships with the community is crucial, but Bashoor noted it's up to communities to reach out to make a plan.
"If law enforcement and fire and EMS are not a part of it, it's a shot in the dark."
In different positions where Bashoor has been chief, the departments did visual inspections of schools, pointing out potential hazards like high bushes where people could hide. Doors should be locked for outside access, not inside. "We'd have to go in and explain why chains on doors are a bad idea — we put the reality to it."
As a chief in Prince George County, Md., the department had visited churches for safety checks, and separately, the police would, too. "It was just part of our culture," he said.
It's important to get out in the community and make sure people understand what "run, hide and fight" means. Bashoor said when out shopping or eating, citizens should know where alternate exits are located. As Connelly said, "Everyone accepts natural threats — tornadoes and hurricanes — but nobody wants to accept there's a person out there who wants to hurt them. It's easier to think, 'It'll never happen here,' but we can't afford to think that way. We can't be complacent; we have to be prepared for if it does happen."
Next Article: Work faster, safer and smarter with Mr. Manhole