Work faster, safer and smarter with Mr. Manhole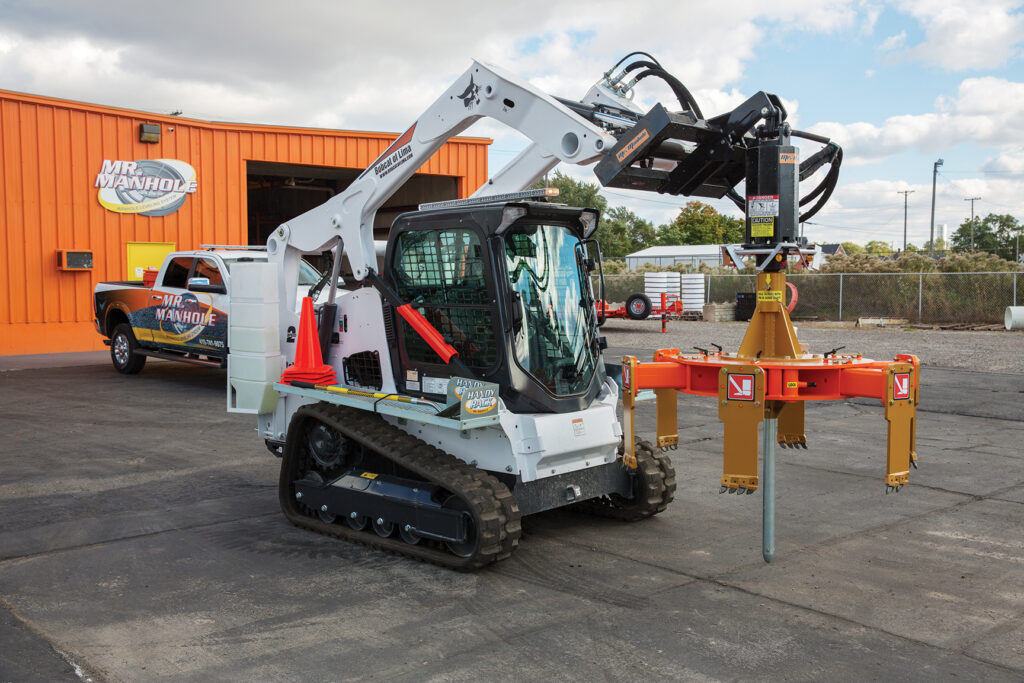 Several years ago, the city of Ames, Iowa, began a large-scale repair and restoration of its sanitary sewer system. The team was warned that with projects such as this, residents can get anxious when their street is shut down and the sewer is torn up, especially when the repairs drag on and on. Want to see residents upset? Ask them about sunken manholes. They're not just annoying. They can actually cause damage to vehicles. Level, watertight manholes aren't a luxury, they're a necessity.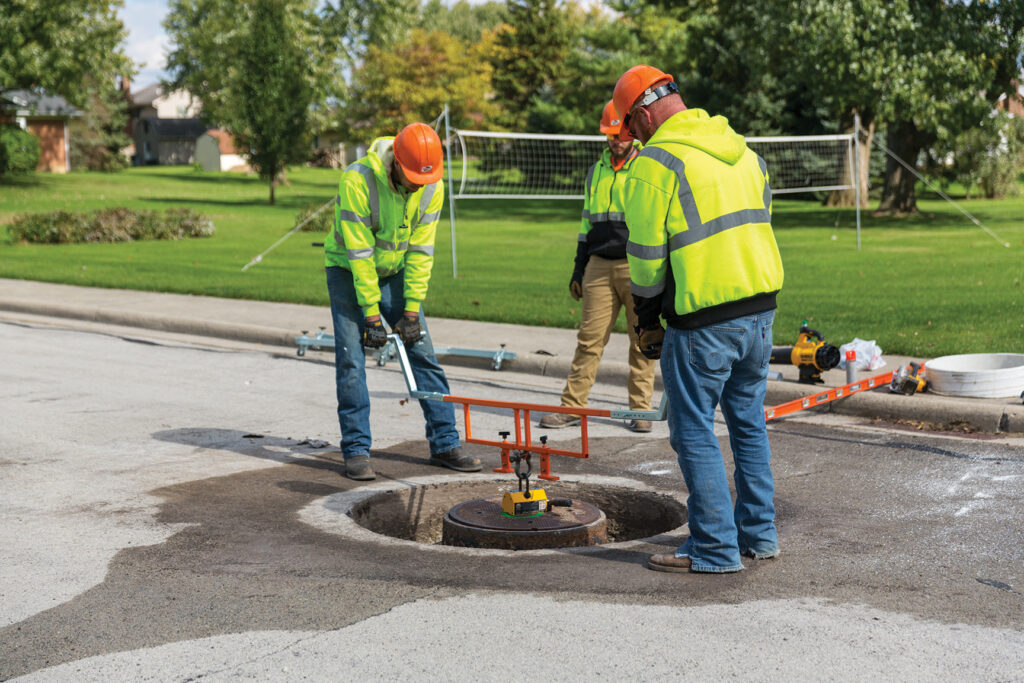 What's worse is this doesn't just affect the morale of residents. It affects a city's bottom line. If left untreated, the manholes can deteriorate further and damage the manhole structures and start to leak allowing millions of extra gallons of water into the system, costing cities extra money every year.
The old method of using saws and air hammers for manhole chimney repairs was not only costly, slow and labor intensive, it yielded poor results as well. In an effort to reduce the project's timeline, materials, labor and overall costs, the city's engineering team decided to use a Mr. Manhole cutter and chimney rebuild system to complete the work. Engineers agree that round repairs are far superior to square repairs. Instead of using square cuts, the Mr. Manhole method uses round cuts, generating 20% less debris while using 20% less replacement material.
"The manhole technology is incredibly fast. On a good day, depending on the depth of the rehab that has to be done, our contractor is knocking out eight to 12 a day very easily. Overall, everything has been really smooth. We were kind of warned that sometimes on these projects, residents get a little antsy. You shut down their street, tear up the sewer, and that really hasn't been a problem here," Eric Cowles, a civil engineer with Ames, said.
He added, "Nobody else has anything close that compares to it within an industry. And I'm willing to try new things. I have tried competitors' — you know — products. Um, this to me, over my five-year run or six-year run, has been the go-to tool."
Save our Sewers Inc. President Brad Steenhoek has been using Mr. Manhole since 2010. Steenhoek uses the Gold 6 shooter style six arm, adjustable cutting diameter cutting device. The teeth are easily replaceable carbide shark teeth.
He also noted that there is flexibility plus the performance in the full spectrum of needs with depth and diameter. He went on to say that after trying competitor products, Mr. Manhole is his "go-to" system, as nobody else has anything close. A growing number of manhole repair specialists are realizing the amazing benefits and versatility of the Mr. Manhole system. Mr. Manhole says over 100,000 manholes have been repaired using the system as of this writing.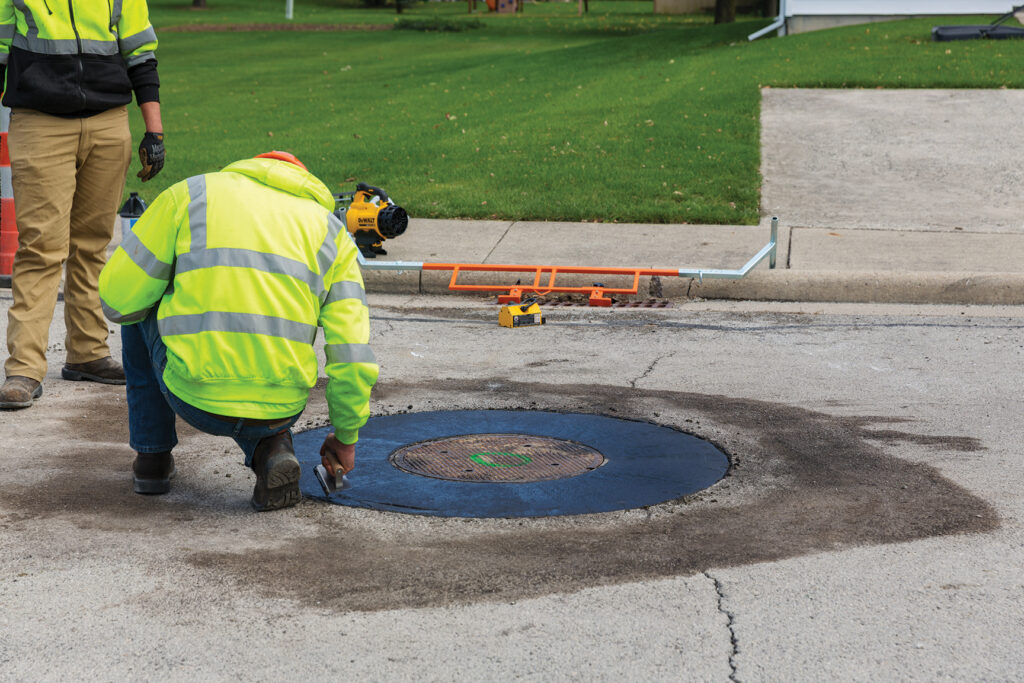 The Mr. Manhole system transformed the way that Ames, Iowa, executed this large-scale project. The system is incredibly fast, and on a good day, depending on the depth of the rehab that was being done, contractors completed eight to 12 manholes. Everything was done quickly and efficiently, with minimum impact to the public.
The team estimated the cost at $1.9 million to $2 million and put out the bid for contractors. The low bid was $1.6 million, and the project was finished in under a year. The quality inspector for the project verified that the quality of the repair exceeded expectations and that the manhole chimneys sealed up perfectly. He also stated it was an excellent job.
All-day manhole repairs are now a thing of the past. With the Mr. Manhole system, the entire process is done in about an hour, with about 10 minutes of total cutting and manhole frame removal time. You can drastically reduce your cost and complete more projects within a fraction of the man-hours.
Cities won't just reap the benefits of reduced labor costs. With the Mr. Manhole Method, material cost is also reduced. The system uses a round cut instead of a traditional square cut, which means 20% less excavation and 20% less material to replace.
An additional benefit aside from the savings on man-hours and materials is improved worker safety, which can sometimes incur greater long-term costs as well. With the Mr. Manhole method, the heavy lifting is done by the tools so workers are better protected from injuries. And because there is less repair time, it also minimizes risks from disrupted traffic, keeping your residents happy.
Some cities may not be ready to purchase a Mr. Manhole cutter just yet. Mr. Manhole has a convenient rental program. Cutters can be rented and shipped to you with everything needed to get to work faster, safer and smarter. The Mr. Manhole transport container attaches easily to skid steer loaders via the universal mounting system for loading/unloading. The transport container can be moved with no forks required. The rental system also includes access to all the Mr. Manhole training resources, guiding your crews through every step of the repair process. To set up a demo, visit https://mrmanhole.com/ or contact Mr. Manhole at info@mrmanhole.com or (833) 242-2221. Also, visit https://mrmanhole.com/mr-manhole-rentals/ for more details about rentals.
Next Article: Awareness efforts address e-bikes popularity