A banner idea: EZBannerz makes displaying banners easier and better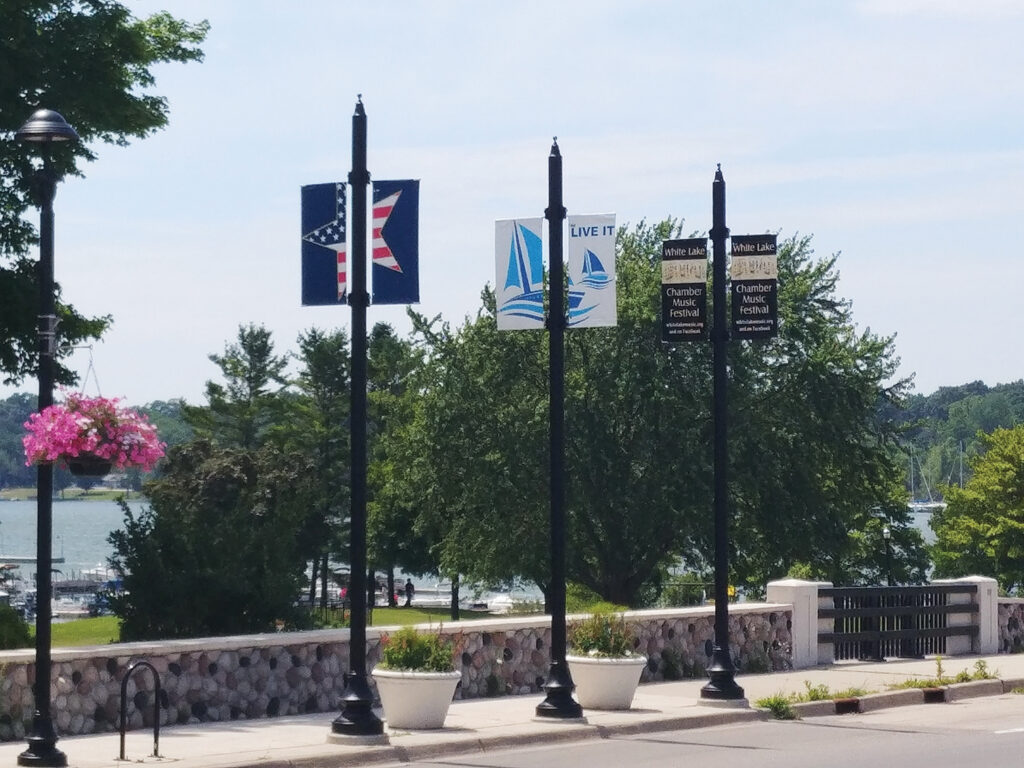 It's the quintessential "There has to be a better way…" story.
Working for a number of years in a typical mid-sized Midwestern city downtown area, it was impossible not to notice a series of light pole banners that appeared at approximately the same time every year promoting a series of annual events at the local convention center.
After my initial, more casual observations, I started paying more attention, and it quickly became clear that "banner duty" for the guys in the bucket trucks was not a fun job. So I sat down, designed and patented a complete solution to their problems.
EZBannerz is safer, faster, easier, cheaper and more sustainable than any other banner system on the planet. Plus, our system is patented and made in the USA. Let's explore what makes our product stand out.
Banners allow communities to show their personalities, spotlight events or add to beautification efforts. EZBannerz strives to make their installation a breeze. (All photos provided by EZBannerz)

EZBannerz can be installed from the ground, removing bucket trucks from the equation. This improves safety while also reducing emissions.

With EZBANNERZ, replacing banners can be a single trip and a trained crew could do 15 banners an hour.
Safety
Whenever you put people above grade, you invite all kinds of safety risks, often requiring specialized training. Still, industry statistics tell us that there were about 250 fatalities in bucket trucks over the last five years. That's an average of one per state per year! I've heard multiple accounts where bucket trucks have been hit by 18-wheelers, including as recently as last fall in Paw Paw, Mich.! Our customers have expressed their gratitude at the prospect that they can get their people out of harm's way when they change their banners, and we're more than happy to oblige.
With EZBannerz, there is no need for traffic control or the resulting bottlenecks, which create safety issues while impeding the traveling public.
If you're in a hurricane prone area, you'll almost always have enough advance warning of a storm so that you can go out and quickly remove all the EZBannerz, which saves your banners and banner hardware from damage. This also eliminates the wind forces on the light poles due to the banners, increasing your utility system's survivability. After the storm, you just go back out with the extension pole and put the banners back up, which is convenient because at that point the bucket trucks are likely going to be pretty busy! As a bonus, our hardware is rated and tested to 100 mph wind force.
Bear with me on this one. I happened to travel to Houston a couple years ago, and from my 15th-story downtown hotel room window, I could see a fair amount of "naked" banner hardware on the light poles. Then I noticed a white-ish "stripe" on the sidewalk directly beneath the banner rods. It appeared that birds were using the banner rods as a perch, thus putting unsuspecting pedestrians "in danger" from above … if you catch my drift. With EZBannerz, you wouldn't leave the hardware on the pole when it's not being used, thus making pedestrian traffic inherently "safer."
For the aforementioned reasons, it makes sense for an EZBannerz municipality to approach its liability insurance carrier to get a discount on its coverage and get EZBannerz "spec'd in" as a best practice for municipal banner displays.
Faster
In the video on our EZBannerz.com home page, you'll see the banner on the pole swapped out with its replacement in one "trip" up and down the pole in less than a minute. No Photoshop. You can see and get trained on the process of reprovisioning the tool with a new banner on our EZBannerz YouTube channel, which takes two to three minutes, tops. With a little practice, you should be able to do a banner every three minutes or 20 per hour. Or you can do 15 banners an hour and take a 15-minute coffee break every hour.
With a bucket truck, a good crew and no breakdowns, you can do maybe 25 banners per day!
Easier
The extension pole with a set of brackets attached weighs a total of 12 pounds. If you pay close attention to the video, the extension pole rests on the ground for the most part and is only briefly lifted when pushing the brackets up and off or locating and installing the top bracket. Almost anyone can do it! I trained a high school junior girl in 10 minutes and made a short video of her installing and removing a banner, which I uploaded to our YouTube channel as proof!
Cheaper
If you do "true" accounting, most of the time, bucket trucks cost more than the banners themselves on a per banner basis. So we save you half your current costs for your banner displays. And there's no need for specialized labor or night shift premium wages. EZBannerz thus opens up affordable opportunities for raising revenue by selling sponsorships on your banners, or using them to promote and help local businesses with advertising. We also offer discounted banner printing.
Sustainability
No bucket trucks, no bucket truck emission. We hired a consultant to calculate the emissions from a typical day of banner duty with a medium-duty diesel truck using EPA emission factors. Turns out it's almost 200 pounds of CO2 alone that's reduced … not to mention the NOx, SOx, VOC and PM10 emitted every time you change the banners. All eliminated. EZBannerz yields direct credits for those emissions versus the "offsets" you get from wind and solar, both of which require massive capital expenses and ongoing maintenance expenses.
Contact us today! Let's put EZBannerz to work helping to make your city a better and more attractive place to live. For more information, visit ezbannerz.com.