Deerfield Beach calms roadway to improve pedestrian safety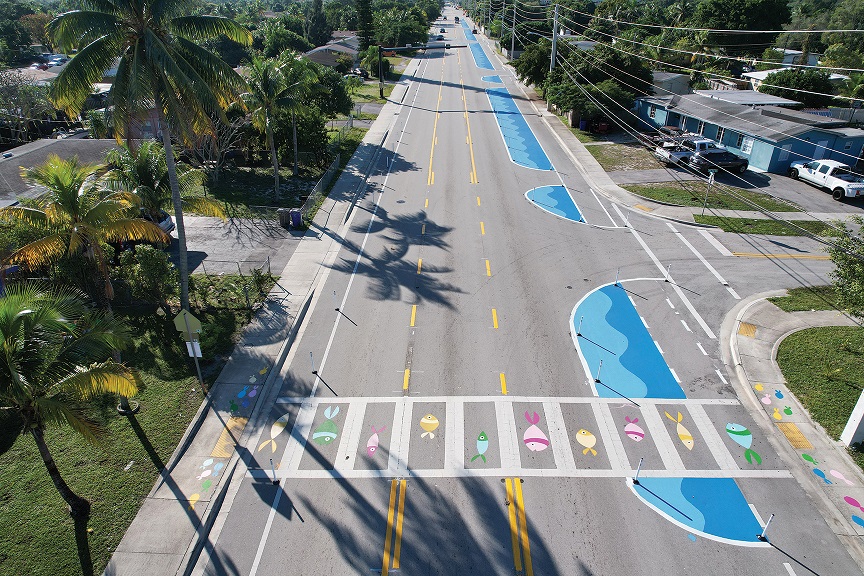 The citizens are taking back the streets in one Florida city. In December 2020, the Broward Metropolitan Planning Organization established BTactical, a streets initiative focused on multimodal safety improvements throughout Broward County.
Florida is known as the most dangerous state in the country for pedestrians, according to "Dangerous By Design 2021," published by Smart Growth America and the National Complete Streets Coalition. Their report showed 5,893 pedestrian fatalities between 2010 and 2019, amounting to average annual pedestrian fatalities of 2.8 per 100,000, and a danger index of 201.4 as of the 2021 report. The next nearest danger index — Alabama — dropped to 174.6. The overall national average is 63.3.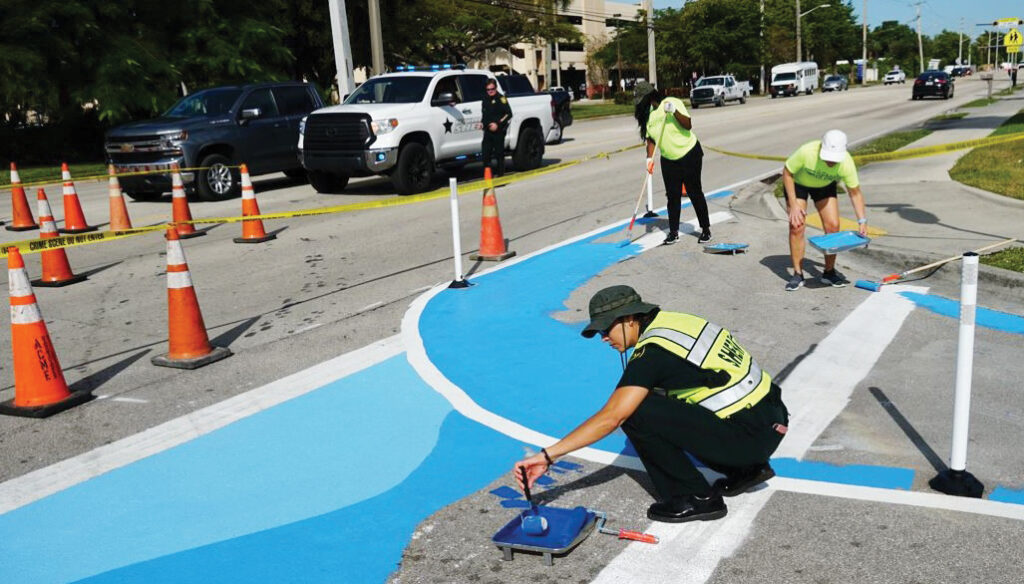 "Florida is one of the most dangerous states for people to walk or bike, and the MPO is interested in changing that," said Complete Streets Manager for the Broward Metropolitan Planning Organization Stephanie Garcia. "We want to make our streets safer. We are trying to change these numbers because we want to make streets safer for our people.
The city of Deerfield Beach was one of the first to submit a proposal when the new BTactical initiative came online. Garcia admitted the MPO already had crash data for the site the city wanted to overhaul so they were excited when the proposal came in.
"This was actually in our master plan," Garcia said.
The location in question was a .7-mile stretch of roadway along NE Third Avenue that passed by three schools and a hospital. In the section of roadway, the MPO said a total of 496 traffic crashes had occurred in the last five years. There were jaywalkers all the time due to a lack of crosswalks. Bicyclists were using sidewalks instead of bike lanes because they, too, didn't feel safe on the roadway there. With unmarked crosswalks, an intersection of only stop signs and the nearest signaled intersection at the end of the stretch, three fatalities and 117 injuries had also occurred during that time.
There was also excessive speeding on the section of roadway, with an average speed of 46 mph. At one point, a study even confirmed a vehicle traveling at 90 mph.
"The solutions that the city provided was that we needed some traffic calming features," Garcia explained.
After awarding the project to the city of Deerfield Beach, the MPO began meeting with residents to better learn how they, the residents, wanted to make the road safer.
"Tactical urbanism started a long time ago, and it started with citizens breaking the rules," Garcia said. It officially began as a DIY movement in San Francisco when a citizen group, Rebar, started the Praklet movement with a public space modification event known as Park(ing) Day, but the movement can be traced back to the mid-1990s and possibly as far back as the 1960s.
"It was a citizen movement and what happened is agencies began looking at this concept as something that we could do, too, and maybe we could do it more permanent and more technical."
It's not about the engineers and planners, she said; rather, it's about getting the community involved in the planning and implementation to create a design that actually works for the people.
"They will help us paint the elements of the streets. It's a sort of empowerment when you go to actually paint what you asked for. It's giving power to the community. If you paint a crosswalk, you will cross through that as you paint and you will invite other community members to safely cross where they should. It's also about education. To be part of it and part of the solution is an educational process."
There's no construction in this type of project so it's quick to implement and relatively cheap. They'll use paint, cones and other simple infrastructure to design a segment of road that will last six months to a year.
Sidewalks are painted per the Deerfield Beach citizen design. (Photo provided by Deerfield Beach)

Crosswalks are also painted with roadway paint and are expected to last up to a year. (Photo provided by Deerfield Beach)

The Deerfield Beach design makes the road more attractive while calming traffic, creating a safer environment for pedestrians. (Photo provided by Deerfield Beach)
Together with the city, the MPO applied for the AARP Community Grant Challenge and received $20,000 for materials.
Deerfield Beach's project began in April 2021. In June, the MPO returned for community feedback. Officials went back again in November, spoke to the community again and created the final design shortly after. That's three visits and a final product in less than six months.
"It's a big effort," Garcia said. "I think the most important part here is community participation. We went there and presented the idea, and they were on board. We need these. This is a dangerous corridor."
The Broward MPO is already preparing for two other projects in the BTactical program for next year.
"Something that we noticed about the cities that are interested in implementing tactical organization projects is they are really close to their communities," Garcia explained. "They are at community gatherings, and they hear concerns asking for safer streets."
She added that cities should have a mobility plan, or a master plan with a mobility plan included. It should include solutions for multimodal transportation and not just vehicular transportation.
"It's about the people: Do they walk? Do they use public transit? If you don't have a plan, this is the time to start creating your plan to allow people to move around your city not just in vehicles but also biking, walking or taking transit."
Having a plan will also help city leaders uncover areas where tactical organization may be the right option. Over 70 volunteers helped to paint the five block area of NE Third Avenue, which took only four days to complete. In six months, the MPO and citizens will reconvene to evaluate the effectiveness of the new design and determine where long-term solutions can and should be made on the section of roadway.