Adding Ambience in a Historic District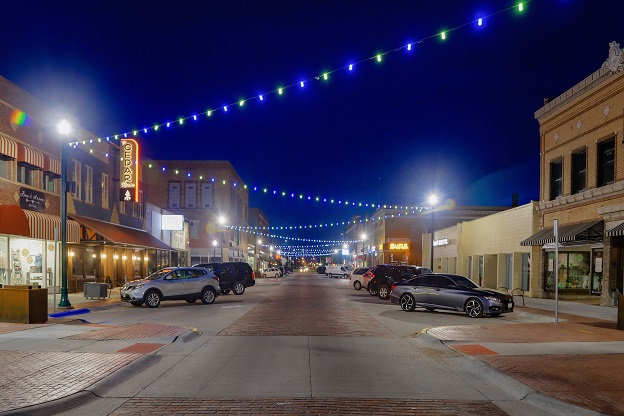 Downtown North Platte, Nebraska has completed its facelift that is literally topped off by PRIZM Lighting's Pixel Dot RGBW with 12-inch spacing and a touch screen controller from American Lighting.  The three-year renovation project includes updates to the 100-year-old main streets and building façades, new building awnings, trees, flowers, archways, bike racks and more to transform the historic Canteen District into a vibrant destination.
According to Sarah Talbott, President of the Board of Directors for the North Platte Downtown Association, it's the lighting that has improved the overall ambience of the downtown historic district and created a welcoming environment for residents and visitors.
"We selected the PRIZM Pixel Dot string lights based on the recommendation of John Gustafson from Snell Services Inc. and the high quality of the product. Its touch-screen controller provides several lighting options including color changing and chasing. This enables us to change the lights to red and white for Cornhusker games, as well as switch the colors to match our two local high schools for their events," said Talbott.
Implemented in Spring 2021, 4,900 feet of PRIZM Pixel Dot is attached to new street lamp poles, supported by aircraft cable, and runs zig-zag over Dewey Street from Fourth to Sixth Street. The controller is mounted in a climate-controlled cabinet, which provides air conditioning and heat.
The PRIZM Pixel Dot series features a flexible strand and full-color LED nodes designed for extraordinary effects and expansive installations without the constraints of luminaire size, shape or space. Its linear form factor accommodates two and three-dimensional applications for architectural accent and perimeter lighting, large-scale signage and dynamic displays. The series provides easy interconnecting lead and tail wires for faster installs with 80,000 hours rated performance life.
According to Gustafson, Electrical Service Division Supervisor for Snell Services Inc., the PRIZM Pixel Dot series was easy to set up, program and support with individually addressable LED RGBW Pixel Dots. The lighting was installed by Snell Services Inc. Engineer Wyatt Alletson and Apprentice Engineer Phill Parr.
The lights automatically go on at sunset and turn off at 1 a.m. Talbot said, "The lighting has truly made a positive impact on our downtown area after dark."
Gustafson added, "The downtown merchants are very happy with the outcome and we are looking at installing more of these lights in different areas in the future." This project was made possible by the City of North Platte, North Platte Downtown Association, PRIZM Lighting, Snell Services Inc., Crescent Electric Supply Company, NRG Sales Lighting & Controls, LLC and RLI Photography.