A 'complex' situation: Johnsonville, S.C., opens new municipal complex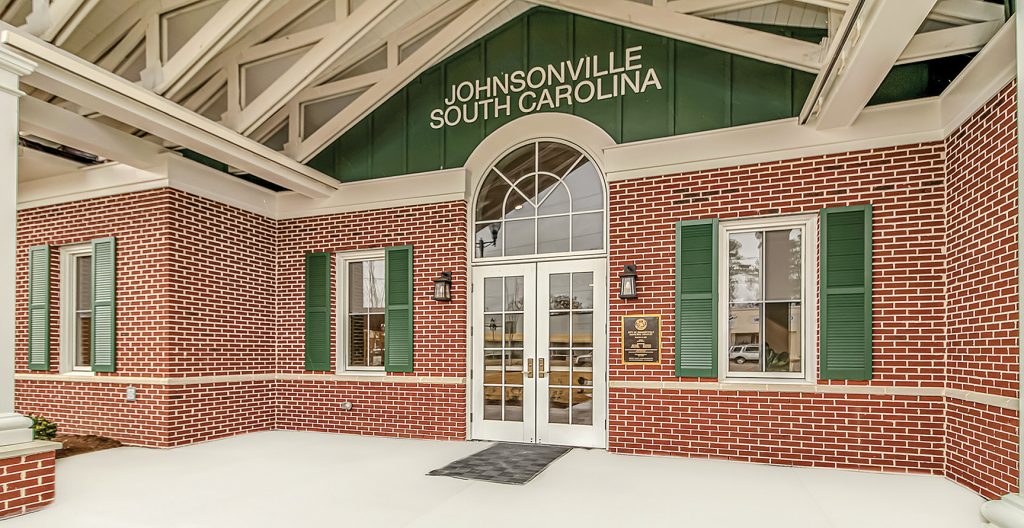 City halls are structures that play a variety of roles in a community. In addition to serving as the headquarters for local government officials, it is the place where bills are paid, plans are laid and decisions are made. While they may be ornate or more modest, a city hall is a municipal hub, requiring a building that can grow and change with the times. When Johnsonville, S.C., needed a larger edifice for community affairs, it found a location that would create interest in the city's downtown area and spur the development of new businesses.
A new plan
          According to David R. Mace, downtown development director for the city of Johnsonville, the previous city hall was built in the 1950s, was a mere 2,500 square feet and had run out of office space. The city council chambers were so small and could not accommodate more than 30 visitors per meeting.
          "There was no room for growth," he said. "City hall was also situated on a fairly small parcel, which also included a parking lot, so there was very little room for growth."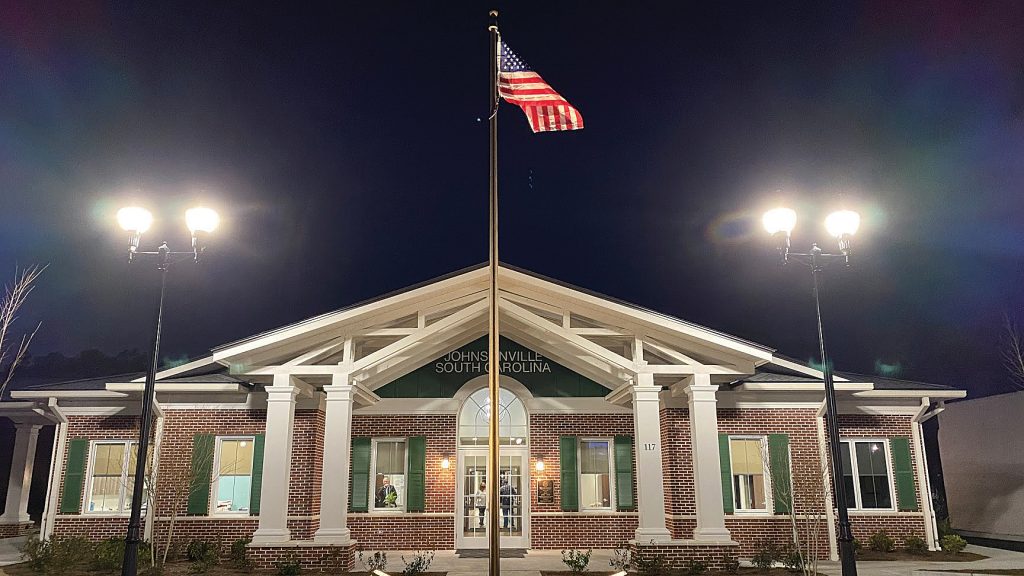 The city leaders agreed it would not be feasible to renovate the existing building, and they made plans to construct a new municipal complex in the heart of Johnsonville's downtown district at 117 E. Broadway St. The new city hall project was an opportunity to revitalize the area while giving Johnsonville the municipal complex it needed. Downtown Johnsonville took a hit in the early 2000s when the U.S. Postal Service closed the main post office branch on Broadway Street and opened a new facility on Highway 41/51, the main highway running through town. A few years later, Florence County built a new library on the same highway and closed the downtown branch.
"This resulted in a significant decrease in downtown foot and vehicle traffic," Mace said. "Many businesses closed or relocated leaving a lot of empty storefronts."
The site for Johnsonville's new city hall was a 1-acre parcel that was purchased years ago and was home to a vacant grocery store at the back of the property with a parking lot out front. City leaders saw the space was in a desirable location and initially considered converting the grocery store, but because the nearly 50-year-old building had some structural issues, the city decided to raze the structure and build a new complex on the site.
"Not only would it be able to accommodate large council meetings, it also could be used for other community meetings," Mace said. "(In addition) a new municipal complex would bring more attention and traffic to Broadway Street and downtown."
Putting plans into action
Johnsonville leaders put together a $2.2 million construction budget, which would be financed through a 20-year loan at a 2.5% interest rate, and requested proposals from design firms that were interested in creating the new facility. They chose Johnson, Laschober & Associates from Augusta, Ga., which worked with city hall staff to evaluate both their current and future needs, including the larger city council chamber/municipal courtroom and a conference room that could serve as a jury deliberation room. It is believed that the new city hall will be a 50-year building, serving the current and future needs of Johnsonville residents for several decades to come.
"We now have a training room that can be converted to an emergency operations center, and we have additional offices for water and wastewater treatment staff as well as a separate office for our mayor," Mace said.
The groundbreaking for the 7,236-square-foot building was held in November 2019, but construction did not officially begin until January of 2020. Naturally, the COVID-19 pandemic presented some challenges in securing building materials, scheduling contractors and other minor issues delayed the project, but they were able to hold a public open house on Feb. 23, 2021.
          "The overall public reaction has been positive," Mace said. "You always have a few who are opposed to change and any project that might use public funds, but most citizens are able to see the big picture and realize that this is an investment in Johnsonville's future."
          Mace said it is too early to measure the impact the new Johnsonville municipal complex will have on increasing interest and development. However, two properties directly across the street from the complex, which were previously vacant, have been rented since construction began. "Another property in the same block, which has been vacant for several years, has been sold since the municipal complex opened," he said.  "The new owners plan to open a restaurant there."