USS Lexington Museum, Corpus Christi, Texas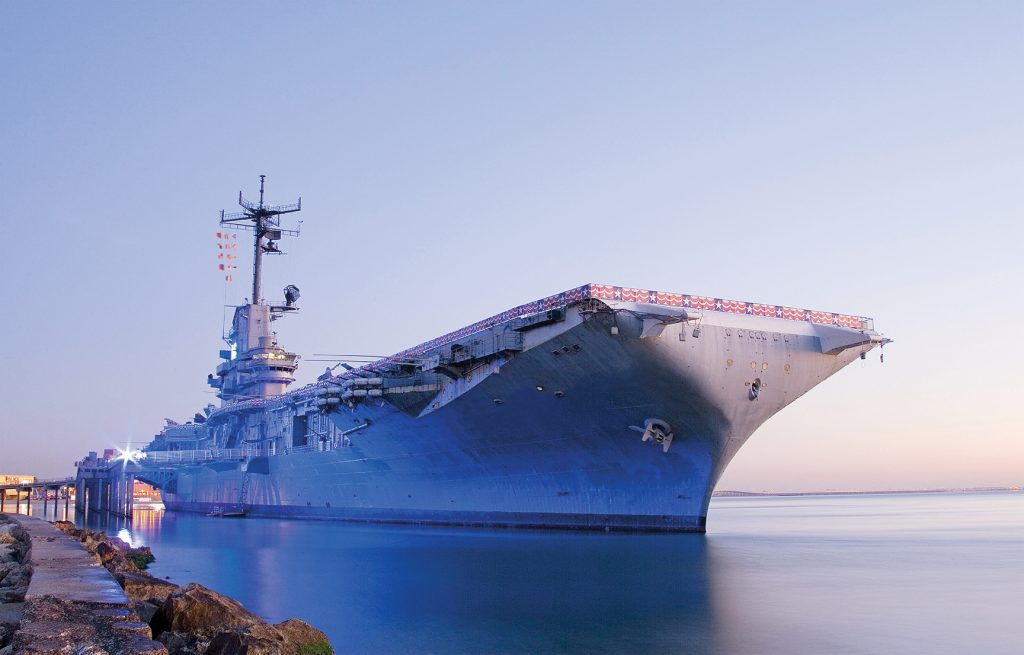 She was pronounced dead at least four times, but she was a fighter and became a decorated war hero when she was barely a year old.
Finally retired in 1991, she now rests in well-deserved quiet repose in Corpus Christi, Texas, hosting about 350,000 visitors a year.
Welcome to the USS Lexington Museum, which offers a plethora of tours and adventures aboard the world's oldest and largest Essex Class aircraft carrier in the world.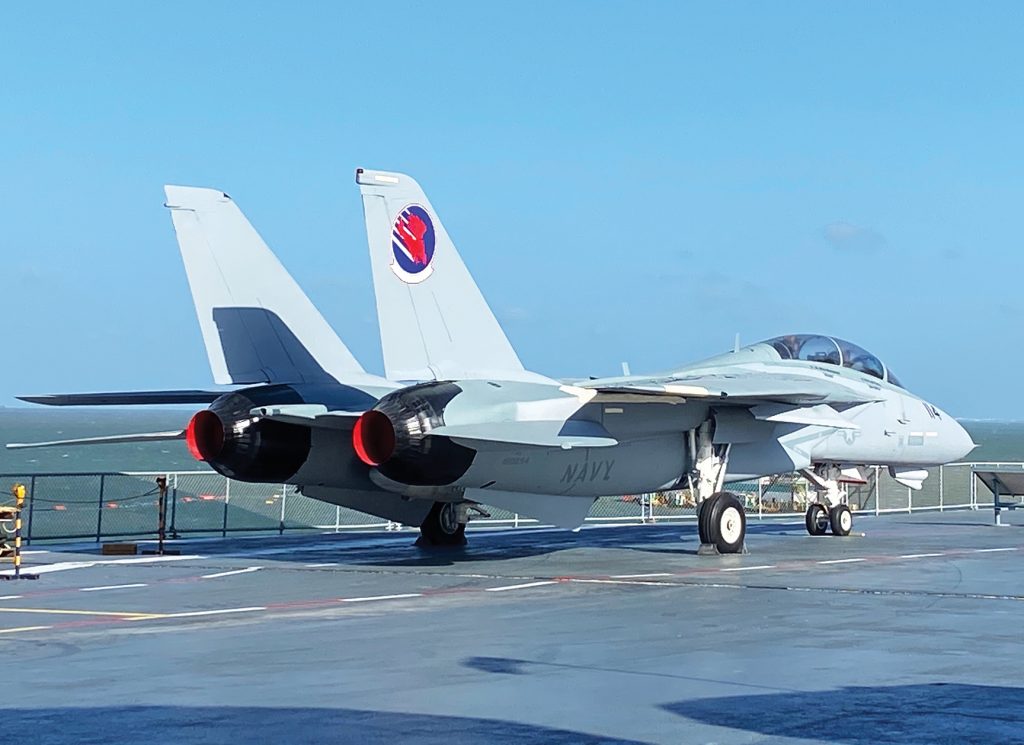 The museum's website, www.usslexington.com, summarizes the ship's stellar resume:
"Commissioned in 1943, she set more records than any other Essex Class carrier in the history of naval aviation. … After training maneuvers and a shakedown cruise, Lexington joined the Fifth Fleet at Pearl Harbor. …
"During World War II, the carrier participated in nearly every major operation in the Pacific Theater and spent a total of 21 months in combat. Her planes destroyed 372 enemy aircraft in the air and 475 more on the ground. She sank or destroyed 300,000 tons of enemy cargo and damaged an additional 600,000. The ship's guns shot down 15 planes and assisted in downing five more."
Having endured deadly torpedo and kamikaze strikes, her repeated resurrections from a purported watery grave earned her the appellation, "The Blue Ghost," bestowed upon her by propagandist Tokyo Rose.
Her tireless wartime labors merited 11 battle stars and earned her crew the Presidential Unit Citation, an award for "extraordinary heroism in action against an armed enemy."
The U.S. Navy signed ownership of the vessel to Corpus Christi on June 8, 1992. She was permanently docked in harbor nine days later and the museum opened to the public in October of that year. The attraction was designated a National Historic Landmark in 2003.
The ship is an awe-inducing marvel of wartime engineering. Her flight deck spans three football fields and she sports 16 levels, including five tiers in the conning tower.
The four steam turbines produce 150,000 horsepower to turn four 16-foot propellers, allowing her to sail at more than 30 knots, or 35 mph, nonstop for 4,131 miles. During her career, USS Lexington logged 209,000 miles, the equivalent of eight trips around the equator.
The ship carried a crew of 1,550 and boarded 3,000 fighters during World War II. The crew's quarters boast more sleeping space than the world's largest hotel, and Lexington's generators can produce enough electricity to power a city of 150,000 residents.
Run by an independent nonprofit organization, the museum receives no government funding at any level.
The Lexington is open from 9 a.m. to 5 p.m. seven days a week except Thanksgiving and Christmas and features the following attractions:
Flight deck and hangar deck
Both decks are wheelchair accessible and allow a close look at 20 aircraft, anti-aircraft guns and landing gear. Other features include the navigation bridge, ship's plank and arresting gear.
Ultimate escape rooms
Lexington is the world's only ship museum with escape rooms. Visitors can participate in two scenarios:
Beat the Blast, a 60-minute adventure where participants must locate a nuclear bomb planted somewhere on the ship and defuse it to save the world.
Face Your Fears, an intense adventure that takes participants "on a terrifying path into the depths of" the haunted ship's more than 4,000 compartments to find a group of missing ghost hunters.
3D mega theater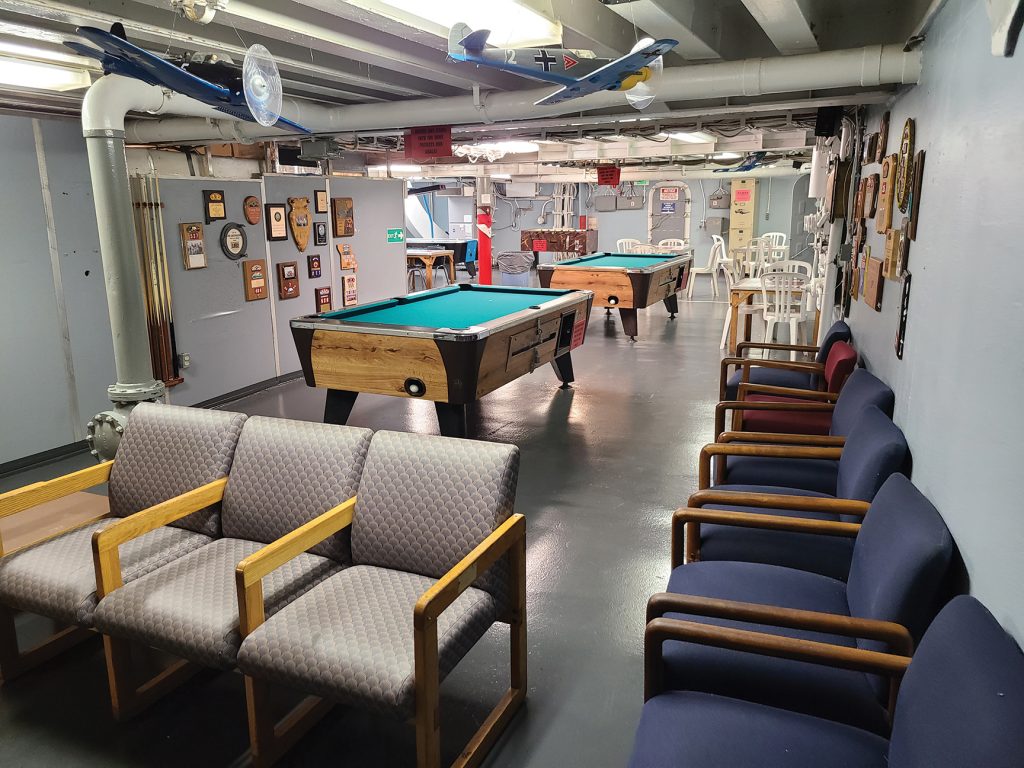 The 193-seat stadium theater hosts a three-story screen with "thundering digital sound." The system includes the world's brightest cinema projector, which produces twice the illumination of standard xenon projectors.
Pearl Harbor exhibit
The film montage in this multimedia exhibit recounts the story of the attack on Pearl Harbor. A scale graphic map displays "models of the ships docked in position just as they were on the day of that fateful attack."
The 8,000-watt sound system literally shakes the walkway beneath visitors' feet as a 1941 model radio blares President Franklin Roosevelt's famous address, "A Date Which Will Live in Infamy."
Scale model collection
More than 120 volunteer craftworkers from 16 states and five countries invested four years in creating the more than 440 models of warbirds, warships and other pieces on display.
Flight simulator
Learn what it takes to be an F-18 pilot, virtually launching from the flight deck, hitting enemy targets and returning safely, all under constantly changing circumstances.
Virtual battle stations
Visitors can navigate their own fleet of warships or pilot a warbird in an interactive gaming experience.
Camp LEX
Available to youth groups and Scout troops, visitors can stay overnight aboard the USS Lexington for a one-night or two-night program. The regimen includes reveille, morning colors, chow, taps, an educational film, self-guided tours, scavenger hunt, patriotic flag ceremony and ghost stories.
The two-day camp includes several badge workshops and a volunteer service project.
The USS Lexington Museum is located at 2914 N. Shoreline Blvd., Corpus Christi, Texas. For admission prices and other information, visit www.usslexington.com or call (361) 888-4873 or (800) LADY LEX (523-9539).