Municipalities using hybrid work vehicles to accelerate their carbon reduction plans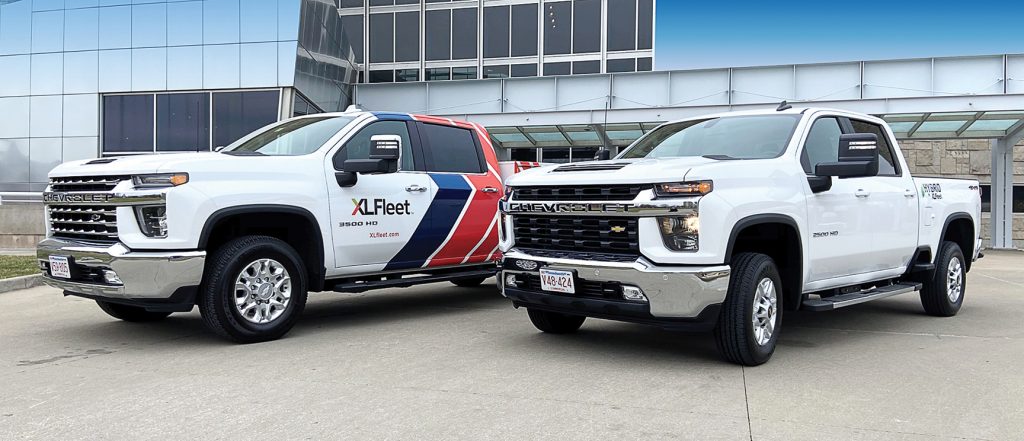 When New York City Mayor Bill de Blasio issued a February 2020 executive order mandating the city would operate a fleet that was 100% electric by 2040, it marked the most recent in a series of announcements by major U.S. metropolitan areas that they would be proactively pursuing ambitious sustainability targets in the near term.
New York is not alone — major cities throughout the world have made similar commitments in recent years. In the U.S., Boston, Seattle, San Francisco, Minneapolis and the District of Columbia are just a few examples of cities who made the Bloomberg CDP Climate A List, a global collection of cities who have mandated at least a 50% emissions reduction from their respective baseline years.
As any municipal fleet manager knows, sustainability proclamations made by elected leaders require action on the part of department heads in order to carry them out successfully. Hitting targets like these can be very challenging to implement, given the current barriers to adopting battery electric vehicles on a broad scale. These include:
• High capital cost — All-electric fleet vehicles are currently priced well beyond their traditional gas- and diesel-powered counterparts, largely due to the high cost of batteries and other needed components for those propulsion systems.
• Insufficient infrastructure — Despite significant progress by utilities, EVSE technology providers and municipalities, a national electrified vehicle infrastructure capable of supporting an adoption rate comparable to internal combustion engine powered vehicles is still likely decades away.
• Limited product availability — While automotive OEMs are beginning to make significant investments to address market demand for all-electric vehicles at the consumer level, there is still a limited array of BEV work trucks available for fleet managers to consider, particularly those that would fall within the budget ranges of most municipalities. Vehicles that are available are typically not yet produced in volume, further limiting their viability in the near term.
If the demand for electric fleet vehicles is there, but the current landscape limits their immediate adoption, how can municipal fleets begin to move the needle forward on meeting their ambitious carbon reduction goals? The answer may lie with an EV solution that's been readily available for years.
Hybrid and plug-in hybrid electric municipal vehicles
Hybrid and plug-in hybrid electric fleet vehicles have become a viable way for fleets to reduce their operational costs and lower their carbon footprint, without being limited by many of the barriers facing their all-electric counterparts. They have become a staple for sustainability-minded municipalities of all sizes across North America, thanks to their ability to provide immediate value while effectively overcoming the most pressing challenges of battery electric vehicles.
• Affordable without incentives — Most hybrid and plug-in hybrid vehicles offer an affordable alternative to all-electric trucks, vans and buses. Whereas federal or state incentive programs are typically required in order to add even a single battery electric option to a municipal fleet, HEVs and PHEVs can provide a meaningful return on investment without incentives, even though they do qualify for many incentive programs to support their purchase.
• No new infrastructure required — Hybrid vehicles continue to leverage the factory OEM powertrain, so they are not exclusively dependent on their supplemental electric power to operate. They generate that supplemental assist power through regenerative braking, without needing to be plugged into any charging port. Plug-in hybrids also leverage the factory engine and regenerative braking while having additional battery capacity that can be supplemented by plugging the vehicle in when not in use. However, they're not dependent on a charging infrastructure to operate.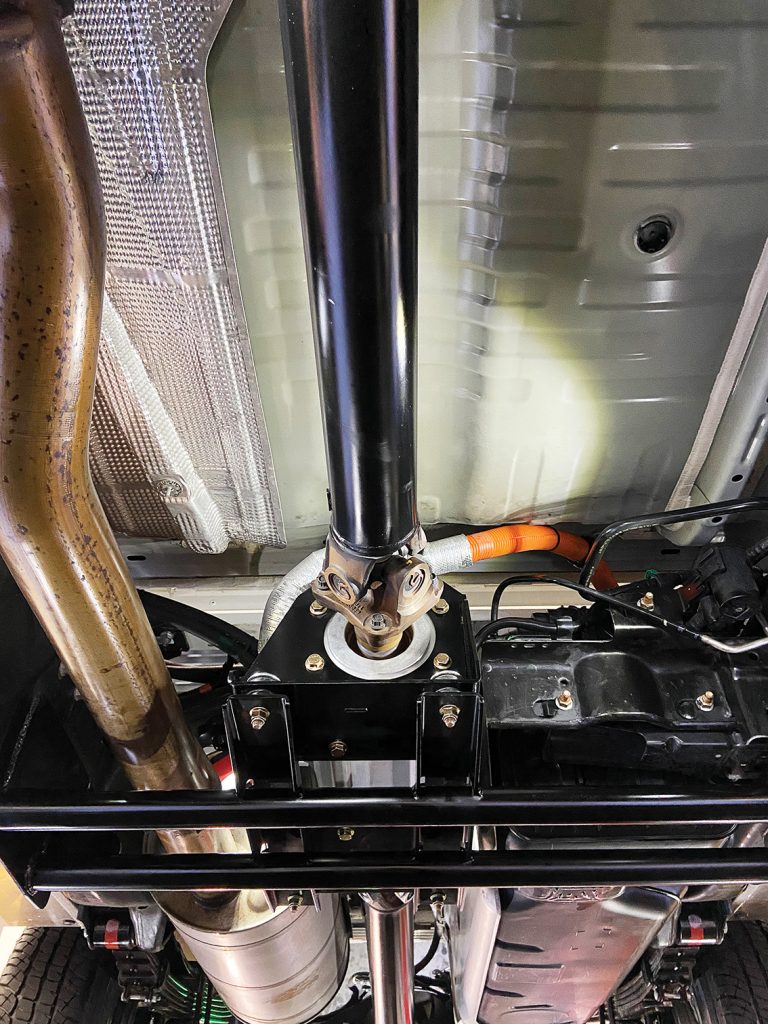 • A wide range of vehicles and applications — Because many hybrid and plug-in hybrid electric drive solutions are offered as aftermarket upfits, they can be installed onto a wide range of vehicles from multiple OEMs. As a result, municipal fleets have the ability to turn the vans, shuttle buses, pickup trucks and service vehicles they're already using today into electrified versions of those vehicles — saving gas and reducing their carbon footprint without disrupting performance or fleet operations.
EV accelerators
While some consider hybrid and plug-in hybrid electric drive solutions to be a bridge technology to an all-electric future, a better description might be that they are an accelerating technology that speeds the adoption of those long-term applications. In addition to their ability to immediately improve fuel economy and reduce emissions, hybrid and plug-in hybrid electric fleet vehicles offer a number of advantages that can actually accelerate BEV adoption as those technologies and supporting infrastructure continue to develop:
• Hybrid and plug-in hybrid electric fleet vehicles deliver immediate financial and sustainability returns while creating longer-term demand for electric powertrains. Adopting these technologies now can help drivers, maintenance teams and fleet managers become accustomed to operating and maintaining electrified vehicles immediately.
• A strong history of adoption and growing demand for these technologies has helped establish a strong installation and service capacity within the commercial vehicle industry. Aftermarket electrification providers like XL Fleet have built comprehensive networks throughout North America where customers can buy, install and service their electrified vehicles from the same location — often from the same dealer or upfitter they're already working with.
• Plug-in hybrids reduce the near-term infrastructure challenge at fleet facilities where numerous vehicles need to plug in overnight. PHEVs typically charge more quickly than their all-electric counterparts, so a single EVSE station can often charge multiple plug-in hybrid vehicles in the same time required to fully charge an all-electric vehicle. This maximizes shift efficiency and can help defer costly power system upgrades at the facility until BEVs are added.
Electrification without limits
For over 10 years, XL Fleet has provided municipal fleet managers with hybrid and plug-in hybrid electric drive solutions for a wide range of vehicles and applications. XL Fleet customers have driven well over 100 million fleet miles with the company's electrification systems installed on Class 2-6 vans, pickups, shuttle buses, delivery trucks and specialty vehicles from Ford, GM and Isuzu.
According to Eric Foellmer, XL Fleet's director of marketing, the company has experienced a significant increase in demand for its electrification systems over the past two years, but customer motivations have shifted from the company's early years in business.
"Our customers have traditionally focused on the fuel economy of our systems and the amount of gas savings involved with implementing hybrid and plug-in hybrid electric vehicles," he said. "While return on investment is still important, over the past several years we're hearing a lot more from municipal customers that meeting sustainability targets is a much bigger driver of their interest. That's a great indication of where the industry is headed and speaks to the bright future of fleet electrification in municipalities everywhere."
Sustainability starts with hybrids
The transportation industry is slowly evolving to adapt to a future in which all-electric propulsion is the norm and not the exception. In the meantime, hybrid and plug-in hybrid electric fleet vehicles can complement BEVs as part of a comprehensive fleet electrification solution that can be adopted immediately and deployed for decades.
In doing so, these time- and fleet-tested technologies can help municipal fleet managers demonstrate — both to their constituents and their elected officials — that they are making progress toward the ambitious sustainability goals of their towns and cities. And that can help speed the adoption for everyone. 
For information, visit www.xlfleet.com.