First responders trained to manage natural gas emergencies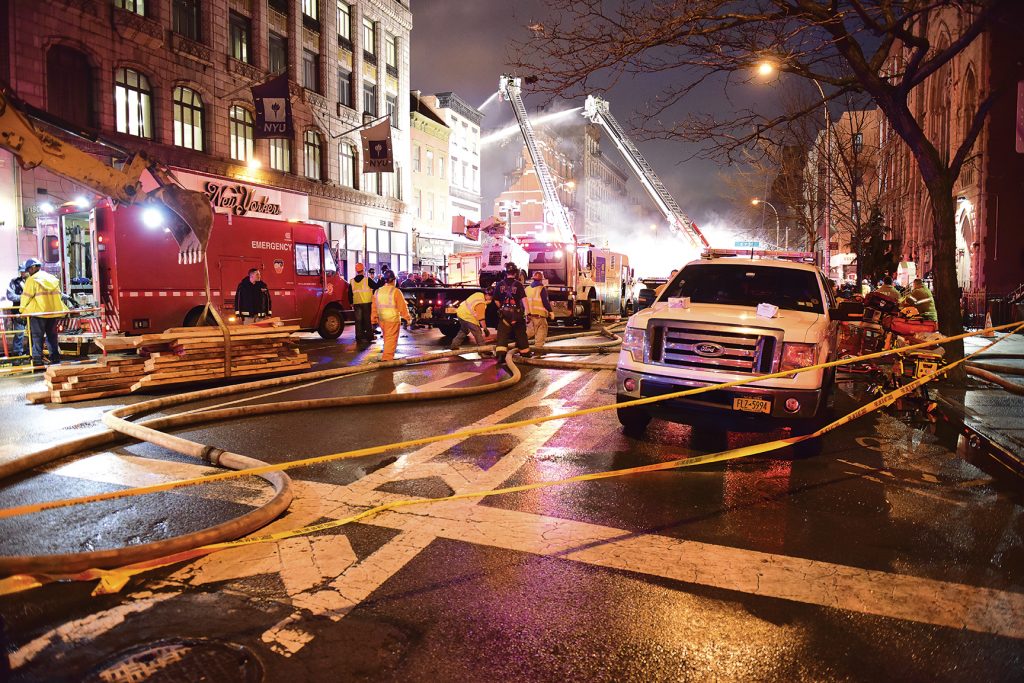 Mark Garvin is one of those people who could easily be blown away by his job. Not necessarily because he likes it, but because he needs to follow the safety rules he is in charge of as manager of Gas Technical Training at National Grid where he oversees the company's first responder training program.
Garvin, who has been manager for four years and employed by National Grid for 12 years, said his team has received "a lot of feedback on how first responders approach a leak or fire call involving natural gas."
National Grid is not alone in such training initiatives, with other natural gas companies also seeking to train first responders on how to respond to gas leaks and gas line breaks while also protecting themselves and the public.
With 35 years under his belt within Massachusetts' fire service, including 15 years as chief of Longmeadow, Mass.'s, fire department, Eric Madison hasn't let the grass grow under his feet after he retired in 2015. Since 2016, he has worked at Columbia Gas of Massachusetts as its manager of public awareness and damage prevention. In this role, he serves as a public safety trainer, working with the company's public safety partners.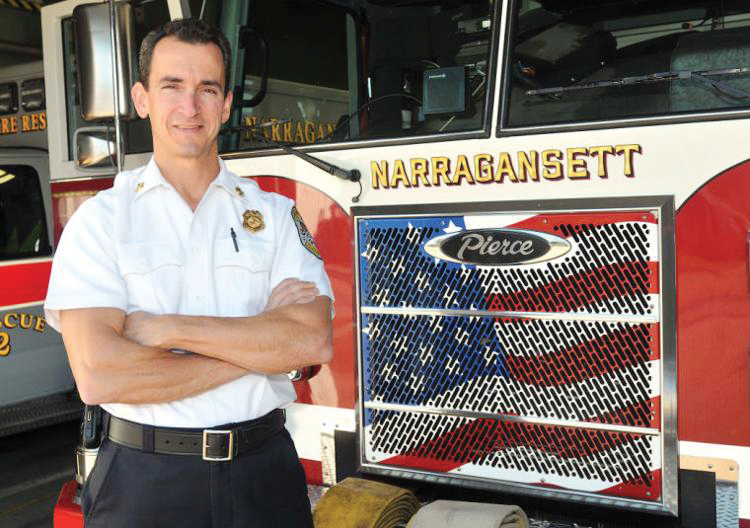 "For firefighters, Columbia Gas offers two different training programs," said Madison. "We travel to the individual fire departments and conduct a three-hour training session on responding to natural gas emergencies. Topics discussed include the gas distribution system, properties and characteristics of natural gas, including live demonstrations in a small explosion chamber, and response considerations. In addition to this program, we also teach advanced firefighter training four times each year."
Held at the Columbia Gas' training facility, this is a full day of training that includes recreated real-life gas emergencies. It is a great opportunity to train firefighters in such emergencies without actually endangering them, according to Madison.
"For police officers, we offer a two-hour training program that we deliver at their station," said Madison. "Topics for the police training are directed at keeping the officers and the public safe, how to recognize a dangerous situation involving natural gas and the appropriate actions to take.
"All these programs have been embraced and praised by the fire and police departments in our area. The demand for training never stops, and I regularly get invited back into departments I have visited in the past."
As for the training initiative's start, Madison stated, "Columbia Gas has always recognized the importance of a good working relationship with the first responders in our communities. Through that relationship and continuous communication with our firefighters and police officers, it became very important that there was a need to deliver this type of training.
"I lead the firefighters' and police officers' training and often involve other company employees to assist, particularly when they have an expertise in a particular area of the industry or when their knowledge would be beneficial to the first responders. In addition, many field employees assist during the advanced firefighter training I spoke of earlier."
With his experience in the fire service, Madison stays in contact with many of his students and former colleagues. Because of that relationship, he frequently hears stories about how they used the information they learned from him.
"Natural gas safety requires a partnership between Columbia Gas, our customers and communities," said Madison. "Customers should always contact certified contractors or plumbers for maintenance or repair work on natural gas appliances and house lines.
"It's also essential that everyone remembers to always call Dig Safe at 811 or (888) 344-7233 at least 72 hours before beginning an excavation project to have all underground utilities located. It is a free service that ensures the safety of our community."
According to Fire Chief/Emergency Management Agency Director Scott Partington of the Narragansett, R.I., Fire/Rescue Department, a large-scale natural gas disruption had occurred in Rhode Island's Aquidneck Island area in January 2019 that affected multiple towns, 7,000 customers and displaced hundreds of people.
"We not only wanted to be better prepared for the smaller incidents but the larger-scale disruptions as well," said Partington. "National Grid offered an excellent — and free — online training curriculum that provided our personnel with the information they needed to safely identify and respond to incidents that may involve natural gas. Understanding the properties of natural gas along with the dos and don'ts when it comes to handling these emergencies, helps us respond more effectively.
"While we have not trained other departments, we have invited other fire, EMS and police departments to our exercises, tabletop exercises and fireground trainings. We conducted a large tabletop exercise with National Grid last October."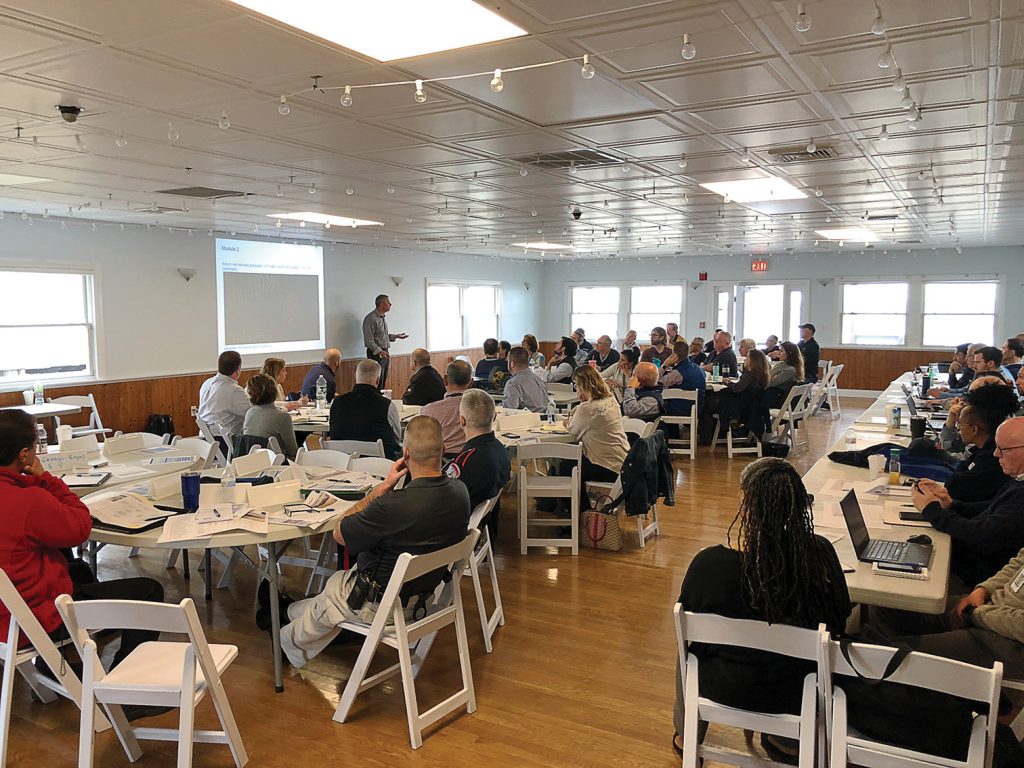 Partington has a training officer who coordinates all his training modules and instructors.
"We do not have one specific instructor who teaches natural gas safety," said Partington. "All of our personnel have obtained the online natural gas safety training certification and earned a certificate that demonstrates their knowledge of natural gas pipeline safety."
Serving a dual role as chief and EMA director, Partington coordinates emergency preparedness, planning, response and recovery for all types of emergencies and disasters. In doing so, he often works directly with National Grid and other public utilities when it comes to preparing disaster and recovery operations. He has a close working relationship with National Grid's liaison person, who introduced him to their first responder online training curriculum.
"Our training officer is Lt. Kevin McEnery, who was associated directly with our most recent training, which involved a tabletop exercise with National Grid in October 2019," said Partington.
"All of our personnel have a better understanding and awareness of natural gas emergencies as a result of the training," added Partington. "Particularly, how the gas distribution system operates, the properties and characteristics of natural gas, handling carbon monoxide incidents, the management of gas incidents, potential hazards and a better appreciation for response tactics.
"Shortly after receiving the training, we responded to several smaller natural gas line disruptions, which occurred as a result from construction crews digging and working on road repairs. I believed our personnel who responded did so with much more confidence."
Partington offered a tip: "When it comes to dealing with gas line disruptions, usually the louder the roar coming from the ground the bigger your problem.
"In responding to a fire involving natural gas your best and safest course of action is to let it burn until the source can be safely shut off. No gas, no fire."
Benefits received thus far for the firefighters that Partington has trained include mitigating several gas line disruptions that have occurred in his community since the training. "Our emergency operational response is more coordinated; we have revised and implemented new SOGs," concluded Partington. "We have a better understanding of what to expect from National Grid and what is required of our personnel to safely operate at the scene of these emergencies."