'Cooking with Fire' spotlights good food, life as firefighter
The thoughtful firefighters in the Shreveport, La., firehouses are putting their delicious talents to work for an appreciative, ever-widening audience.
"My wife, Jeanie, and I love travel cooking shows," said Captain Allen Dantes, a 31-year firefighter at Central Fire Station No. 1 in Shreveport.
"I thought why not have a travel cooking show that goes to different firehouses all over, to feature unique dishes or recipes cooked in the firehouse, some of which have been passed down from generations of firefighters while also giving people a glimpse into the world of a firefighter. Sometimes dishes are influenced by the culture of the place we are at. We not only want to bring the viewers into the kitchen to see how to prepare what is cooked at the firehouse but also to let them see what goes on behind the scenes in a 24-hour shift. From station life to the camaraderie firefighters have (and) the emergency scenes, we want to show the viewers the unique profession of being a firefighter. The show can best be described this way.
"'Cooking with Fire,' launched in 2018, is a show that features distinctive firehouse dishes while highlighting the fire departments and the cities they serve."
Dantes actually thought of the idea in September 2017 and began to assemble a team of fellow firefighters, all of whom had significant talents that would help make this project become a reality. The first show was filmed in late December 2017 and early January 2018 in Natchitoches, La., with the Natchitoches Fire Department at its Central Station.
The traveling crew consists of Dantes, a firefighter/creator; Mark Myers Jr., a firefighter/ host/chef who owns ReMARKable Food and has appeared on "Master Chef" and "Guy's Grocery Games"; TraJuan White, a firefighter/ photographer/videographer/editor who owns White Prophecy photography and videography; John Phelan, a former firefighter/ photographer/videographer who owns Black Helmet Films; and Jason Patton, who has recently been added as co-host, firefighter/ host and creator of Fire Department Chronicles.
"We also have our executive producer Stephanie Lydecker with KT Studios and our co-executive producer Laurie D. Muslow with It's All Good Entertainment," said Dantes, adding that his wife has been a big supporter of the project since day one.
"Jeanie has helped me with ideas and encouragement and has been there when we filmed a couple of the episodes in town but doesn't cook or get involved. She stays pretty much behind the scenes and just watches and enjoys the meal with us," said Dantes, who is also the father and grandfather of three grown children and three grandchildren.
Battalion Chief Chad Connella takes his turn on camera. "Cooking with Fire" is often light-hearted,showing not only delicious foods but also life at the firehouse.
"We're a little spread out—I'm at Station No. 1; Mark Myers Jr. is at Station No. 10; TraJuan White is at Station No. 13; and all of us are in Shreveport. John Phelan used to work at Central Fire Station No. 1 as well but now works for the Caddo Parish Sheriff's Office; and Jason Patton is a Palm Springs, Fla., firefighter," said Dantes.
"My idea was to go to fire stations all over; however, we did film a couple of the episodes at Central Fire Station. We have 22 fire stations in Shreveport, and besides the two episodes filmed at Central Fire Station, we also filmed an episode at Shreveport's Station No. 20. Shreveport's episodes that were filmed at Central Fire Station centered on the history of the city. Putting a spotlight on such things as the early days of the Louisiana Hayride, etc. and the downtown nightlife. The episode that was filmed at Station No. 20 focused on the 'sportsman's paradise' that our area has to offer in the way of hunting and fishing."
The public's reaction to the show has been fantastic.
"Everyone whom we've talked to has been overwhelmingly receptive to the show and very supportive," said Dantes. "Our following is growing daily and everyone seems to really be interested. We are excited about the possible opportunity to bring this project to viewers by way of a network show or digital media series.
"After reaching a deal with Laurie Muslow, getting an entertainment attorney and having the project registered with the Screen Writers Guild of America (West), we then signed a contract with Stephanie Lydecker and KT Studios out of Los Angeles, Calif. Her production company is in talks with networks and digital media sites about our project."
When does Dantes expect a definite answer regarding these networks and digital media sites about his project?
"That's a good question. I wish I could answer that, but I can't. We have been getting updates from Stephanie Lydecker of KT Studios, which is the production company we signed with; however, we have not been given a timeline on when to expect an answer from anyone that she is in talks with. We are still open to exploring other avenues if the opportunity presents itself."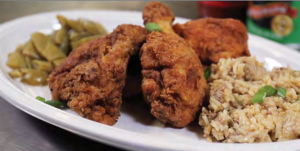 The most interesting fire station Dantes has visited would be the Natchitoches Fire Department's Central Station.
"I can't speak for the rest of the crew but would have to say the Natchitoches Fire Department's Central fire station," said Dantes. "Not because I considered it unusual, but rather because of the history of this small college town, which boasts Northwestern State University. It is the oldest city in Louisiana and is filled with charm and character, not to mention some amazing food."
Several of the firefighters have their own favorite recipe and Dantes admits he has a few of his own.
"Without trying to hurt the feelings of our host Mark Myers, who cooked red beans and rice with co-host Jason Patton on our last episode, I would have to say my favorite was the crawfish meat pies covered with crawfish etouffee, cooked by Chief John Wynn in Natchitoches, La.
"However, the award for the most unusual dish goes to Captain Jeff Dixon of the Shreveport Fire Department Station No. 20 for his fried hog nuggets. Some dishes are a twist on a common recipe and some are unusual."
Dantes and his wife love to travel, he explained, and when he retires in 3 1/2 years, he and Jeanie plan to travel and "live a nomadic lifestyle for awhile."
When filming the documentary/reality show, according to Dantes, the crew not only tries to get to know the crew at the station, but "we also trade stories, laugh and joke and cut up with them while cooking."
"However, during one episode, while filming, a run came in for a person unconscious and not breathing. Unfortunately, that person did not make it. After that, we then had to come back to the station and finish filming the episode. Of course, we did not want to show anything from that scene or discuss it on camera when we got back, but it still reminded us how firefighters have to do this on a daily basis. You go from laughing, joking and cutting up around the firehouse to dealing with life and death situations in the blink of an eye. Then you come back to the station and have to try to pick up where you left off after some pretty traumatic incidents, sometimes. I just thought that was ironic, having to come back and try to pick up filming again after something so horrible and stressful, pretty much sums up the life of a firefighter."