Technology advancements show promise in fire service
Technology is changing at a rapid pace, and it doesn't seem like it will slow down anytime soon. Some forward thinkers believe that today's humans have only seen a small percentage of the technology that will be developed during their lifetime.
That doesn't necessarily mean that every future piece of technology will be useful, especially when it comes to the fire service. That's why Harold Schapelhouman, the fire chief at Menlo Park Fire Protection District in California, has decided to work with technology companies in order to help them develop products that he and fire departments around the world will find beneficial.
"(There are) a lot of people that tell us what they think we need," Schapelhouman said. "So what we've tried to do now is remove all that and say, 'come work with us. We'll help you, and we will let you know if it's gonna work or not. Nobody is going to know that better than us.'"
One product that he and his department recently tested is called C-Thru, which is an augmented reality display that doubles as a thermal camera. When its placed inside a firefighter's mask, the C-Thru helps them see and find people in dark, smoke-filled rooms and buildings.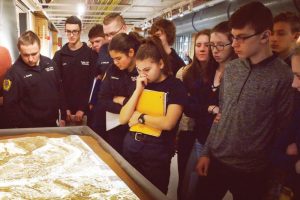 Schapelhouman said that this device is a huge step-up from the thermal cameras firefighters typically carry into smoke-filled buildings because it's hand free. The C-Thru computer processor also highlights walls and door frames with greenlines, which makes navigation much easier.
When testing C-Thru, Schapelhouman said the district's goal was to see if it made firefighters faster and improved their ability to rescue people.
"How much better of a performance will we have using that kind of technology with the framing?" He said, "Will it make us more efficient? Does it make us better? Does it make us safer? The answer, in all cases, is yeah, it's phenomenal."
C-Thru was developed by Explorer and Entrepreneur, Sam Cossman, who took a crew on an expedition into a volcano in Masaya, Nicaragua.
"It can see through dark, and see through smoke," Cossman told CBS News. "The idea of putting something (in front of your eyes), so that it's always on, was the first step. But then the second step was simplifying it in a way that is reduced and made much more simple, just edges and contours of objects."
While the technology is useful, it's still at least a year from being widely available. Cossman does not make or sell self-contained breathing apparatuses, so it's up to manufacturers to design a mask that will work with C-Thru and allow it to be added as an enhancement.
"Certainly there's going to be critics, you know, with any new innovation," Cossman told CBS News "Our goal is to get this technology so that it's accessible to a large majority of the fire departments on day one, but ultimately, we expect that price to go down."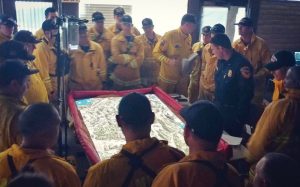 C-Thru isn't the only newer piece of technology that's proven to help firefighters save lives. According to the Simtable's website, the product provides "digital sandtable and customized agent-based models to the wildland fire, emergency management, defense and urban security communities."
The table works by utilizing existing Geographic Information Systems to create digital sand tables and customized agent-based models for simulation and planning. For instance, if a wildfire is heading toward a city, the table could be used to plan the best path for evacuation while also preparing firefighters and emergency personnel to best handle the fire.
The Simtable's creator, Stephen Guerin, made it a table so that it would be much more engaging and easier to pay attention to.
"We saw an opportunity to augment the table experience," he said. "It's much more interactive and open-ended than projecting simulations up on a screen where people tend to sit back and cross their arms and lean back."
Now, Guerin is working to take this technology a step further with real-time GIS, which allows the Simtable to integrate with live emergency events. For instance, if someone comes across a fire in one corner of a building, they can use their phone to document it and let everyone else know where the danger zone is. That way, people know how to best evacuate without putting themselves at risk.