Surveyed in 1871 and platted in 1872, Worthington, Minn., has a long history. It was first tied to the railroads and the women's temperance movement before evolving into a melting pot of diversity, both in business and community, over the decades. Its location along Lake Okabena has also garnered the city international attention: The 2014 U.S. Windsurfing National Championship is set to be hosted there June 11–15.
Windsurfers from across the country and world — some coming from as far as Australia — will arrive in the city to participate in this regatta. According to Worthington Chamber of Commerce Executive Director Darlene Macklin, hosting the event for the third time is a major accomplishment for a city of Worthington's size — approximately 12,700 population — especially with the city competing with locations like San Francisco and other larger, California cities for the opportunity. A major attractor is the city's hometown feel, something appreciated by windsurfers.
Longtime Mayor Alan Oberloh added that wind speed is a big factor. According to the Worthington Windsurfing Regatta website, the city is one of the windiest locations in the Midwest, with average wind speeds of 18.5 mph.
In conjunction with the regatta will be the Unvarnished Music Festival, which adds to the city's draw. "Organizers really force the tie-in with the musical festival," Oberloh stated. Another tie-in relates to Worthington's past; namely, that Amelia Earhart learned to swim on its shores.
Beyond windsurfing championships, outdoor enthusiast have plenty to love about the city. "We have a total of 24 parks," Macklin said. The figure includes several inner block parks.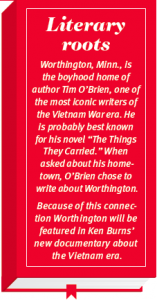 Most of Worthington' parks, barring Chautauqua Park and Centennial Park, bear the names of their donors. Such is the case of Ludlow Park, a former lakeside orchard that belonged at one time to the Ludlow family. While the apple trees are gone, visitors now enjoy its picnic facilities, playground equipment, trails and fishing pier.
"The shore is 70 percent public green space," with all its parks, Oberloh stated.
Restoration work has been completed on several public spaces, including at Chautauqua Park, where efforts were made to bring back its original appearance as much as possible. One of its most notable features is its bandshell, which is still used during the summertime for concerts. Other restoration and renovation efforts have been put into the city-owned auditorium that was originally constructed in 1931.
According to Oberloh, the auditorium was a part of the junior high school, high school and college before it was converted into a performing arts stadium. In the last two years Worthington has made it Americans with Disabilities Act compliant and completed heating and air-conditioning work.
Beyond its parks, Worthington offers other avenues to promote active lifestyles. It completed a redevelopment project to turn the former ymca building into a senior center and collaborated with the ymca to bring an aquatic center to the city. "We're used to collaboration here," said Clark. A new trail expansion that spans 10 miles along the lake also keeps residents and visitors moving.
A wide variety of festivals occur throughout the year.
Macklin noted, "I would be remiss not to mention we are the turkey capital." Worthington will hold its 75th King Turkey Day on Sept. 13, attracting thousands. One of the highlights is the Great Gobbler Gallop, where live turkeys race in a friendly rivalry between Worthington and Cuero, Texas. A delegation from Cuero brings a turkey to race against Worthington's turkey, Paycheck.
The city's great diversity is also highlighted during the International Festival, July 11–12. "We are one of the most diverse cities," said Oberloh. Approximately 30 dialects are spoken in its schools.
This diversity shines during the festival, with approximately 64 international flags displayed during the flag ceremony.
"We do not only have Norwegian, German, English and French, but now we have Guatemala, Trinidad (and others)," Oberloh said.
Other communities contact Worthington from time to time to ask how it has handled certain situations within its diverse community. Calls come from health care, education and law enforcement professionals, in addition to businesses.
Worthington's international outreach started in 1947, when a young girl in Worthington started sending shoes to kids in Crailsheim, Germany; it would grow to become the oldest sister-city relationship post-World War II. For its efforts, Worthington received the Brotherhood Award in 1958.
Diversity has played a major role in helping Worthington weather the recent recession. "Five major employers all did major expansions," said Oberloh. "The area is very agriculture dependent, but (businesses) are different enough that we survived the recession."
Major employers include a hog processor, a plastics company and a business that makes restaurants and hotels before shipping them out to be put together wall by wall. The city has an animal biotech industrial park with four companies in it currently, plus space for new additions. Due to the large presence of bioscience in the area, the city also hosts an annual Regional Bioscience Conference, and has opened ground for another non-bioscience industrial park.