Placing Efficiency and Quality – Muscatine County Highway Department in Iowa reflects on the benefits of Road Widener's FH-R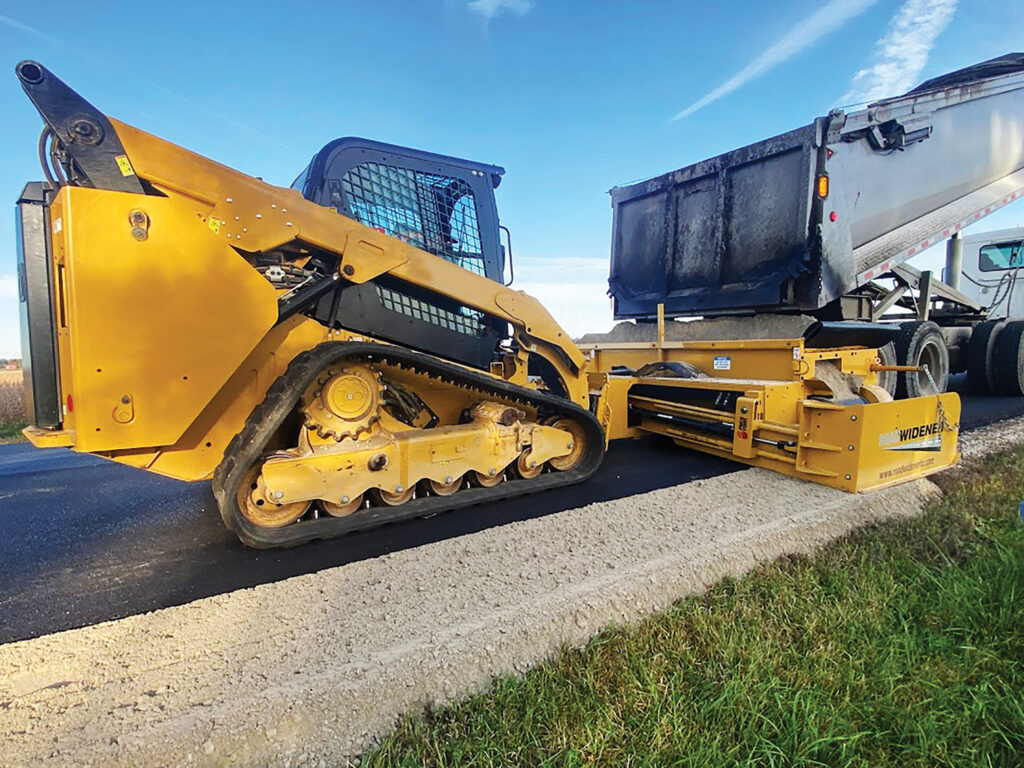 There are a few things that come to mind when thinking about summer in the Midwest: warmer weather, weekends at the lake, camping trips — and roadwork. In fact, Midwesterners often say they have two seasons — winter and construction season. Iowa is no exception and though the season to complete the work is much shorter, the amount of road maintenance to finish in that time is substantial. The Muscatine County Highway Department alone maintains about 600 miles of road during construction season.
Completing that much road maintenance with a limited working window before the winter months hit is no small task and requires efficient, top-performing equipment.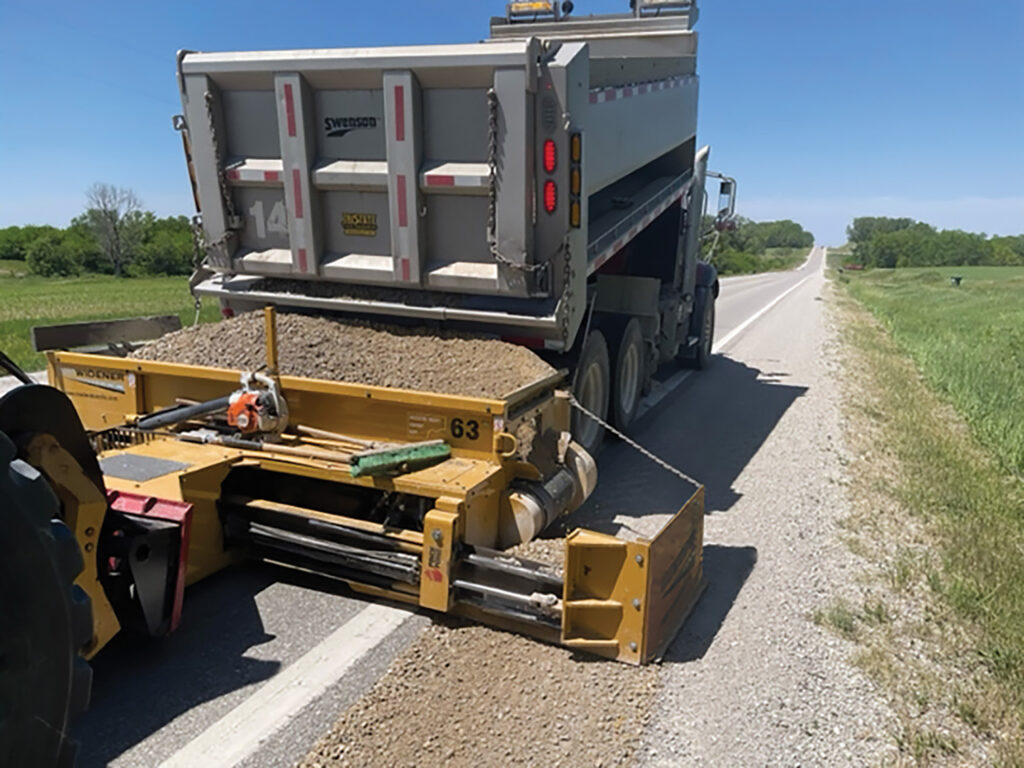 Bolstering efficiency
While the actual paving and sealcoating draw much attention, the long-term integrity of the road relies on proper reshouldering. Muscatine County Highway Department road foreman Kyle Soukup and his six-man road maintenance crew traditionally completed shoulder work the old-fashioned way — with plenty of labor and elbow grease — by using less-than-precise side-discharge trucks to unload rock and a grader to push the material to the shoulder.
But the imprecise placement of material often translated into more labor to get accurate material placement and added cleanup time after the placement was complete. The inefficiency of this old-school method became abundantly clear to the Muscatine County Highway Department as it scrambled to complete miles of roadwork among unpredictable summer weather. The grader and side-discharge dump truck left rock scattered anywhere from a foot off the shoulder in the ditch to a foot into the roadway, requiring a cleanup phase with a sweeper attachment and additional man hours. The process required a minimum of three steps — material discharge, smoothing out the material and making another pass to push it back onto the shoulder, compacting and additionally, cleanup.
Soukup was conducting research for a new method when he saw a Road Widener FH-R material placement attachment at a dealership in Cedar Rapids. After seeing the design of the FH-R and learning it would do exactly what Soukup was looking for in terms of efficiency and the quality of the finished product, he contacted Road Widener in Delafield, Wis., to gather more information. He was impressed with the FH-R's quality and by the testimonials of FH-R owners, which led him to quickly order one for the highway department's fleet.
The Muscatine County Highway Department boosted efficiency immediately. The crew completed 8 lane miles of road using the FH-R attached to a wheel loader to place Class A rock, or 3/4-inch road stone with fines. The work was completed in a single pass, cutting out the second and third steps required with the previous grader process, while its accuracy required no cleanup. The FH-R took what was once a two- or three-day process down to only about one day. At a minimum, it provided the Muscatine County Highway Department with a 200% increase in efficiency, making a 100% ROI achievable within four years.
The highway department tackled similar projects in the fall of 2022 — putting down 4 miles of new 2-inch shoulder in just over two hours — and in spring 2023, when Muscatine County completed 15 miles of shouldering work in just two weeks, which would have easily taken six-plus weeks previously.
"Budgets aren't getting any bigger, so we need to be as productive as we can," Soukup said. "People rarely think about road shoulders until it directly affects them. But when someone hits a shoulder rut and wrecks their car tire, they think about it. We're working to prevent those issues in the most efficient manner possible."
A safer method
On top of the heightened productivity, using the FH-R has improved safety for not only the Muscatine County Highway Department crew but also for the county's residents. Using the grader method, the operator constantly had to back up, turn and pivot, which put the large, attached blade at risk of clipping another piece of equipment or a passing vehicle. The FH-R enables a much tighter work zone, lessening employee exposure and traffic risk.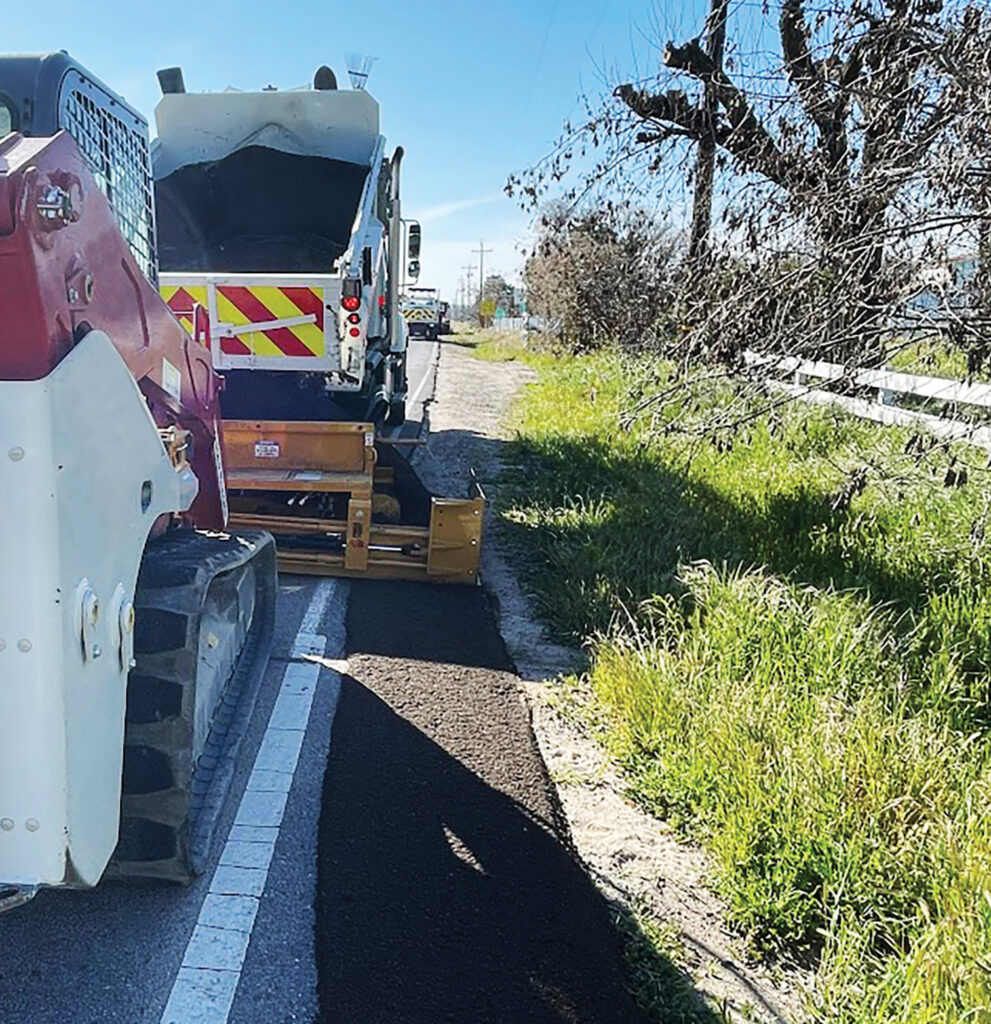 Since the FH-R accurately places material, the crew doesn't have to worry about excess rock spilling onto the roadway or an oncoming vehicle striking it and damaging the vehicle or hurting a crew member.
Manufacturer support
Construction equipment breaks down. It's used hard and takes a lot of abuse, so it doesn't matter how well it is built, it eventually will show symptoms of wear. That's why it's important to consider manufacturer support when making any equipment investment. Losing precious time waiting for a part is not an option with a limited construction season. On the rare occurrence when Soukup needs a part, Road Widener has typically shipped it overnight, helping to minimize downtime. All-in-all, switching to the FH-R provided benefits across the board, from having proper manufacturer support to gains in productivity and the quality of the roadwork.
"Our shoulders look a lot more finished when we're done," Soukup said. "They don't have those rough edges they used to have after we used the motor grader; the FH-R does a much nicer, cleaner job. We used to have to redo shoulder work at least every other year because the results weren't up to this quality. The Road Widener has extended the lifetime of our road shoulders so, at times we traditionally started planning for replacement, we aren't even considering it. The highway department isn't a professional shouldering company, but for what we do, our end product looks really nice when we're done."
About the Author: John Miller is a writer in the construction industry.
About Road Widener LLC: Road Widener LLC puts more than 30 years of road construction experience to work manufacturing innovative road and utility construction equipment. Founded by two road construction professionals, Road Widener is equipped with the industry know-how to provide the solutions contractors need to increase productivity and safety on the jobsite. For more information: Road Widener LLC, 514 Wells Street, Suite 1-W, Delafield, WI 53108; call (844) 494-3363; www.roadwidenerllc.com; Facebook; LinkedIn; Instagram; TikTok; and YouTube.
Next Article: Colorado Springs embraces the operation of Westside Community Center