New technology helps give Grand Island police a safer, faster upper hand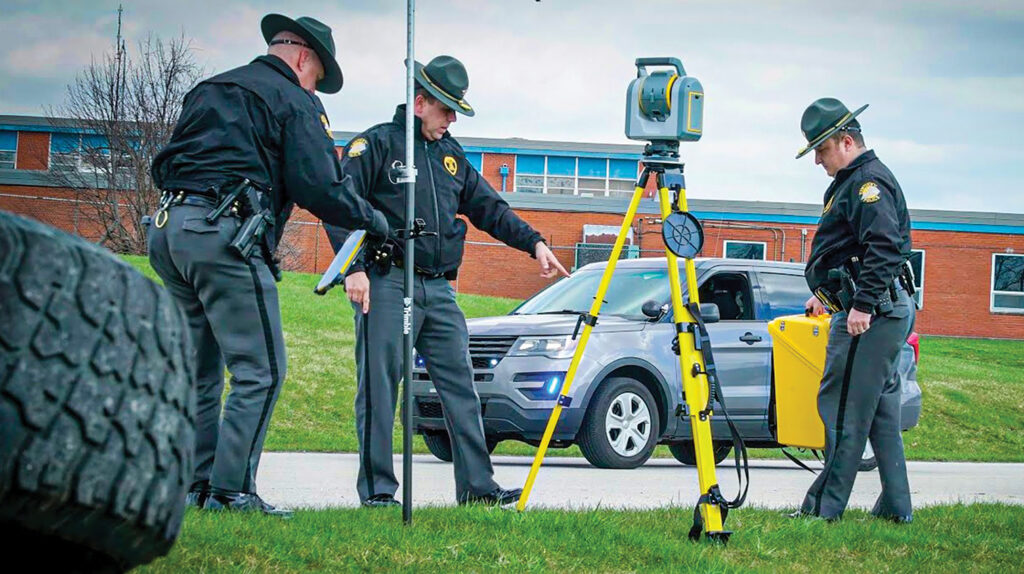 The Grand Island, Neb., Police Department is doing its best to stay up to date with technological advances that can aid the department. Two pieces of technological equipment recently acquired this year include a system to help more quickly and accurately map crime scenes and another to test substances. This new technology helps provide the officers with greater safety as well as getting the job done faster.
While the Grand Island Police Department has used various crime mapping systems, the new Faro mapping system is said to do it faster and more efficiently. This specific system was discovered by attending conferences, through word of mouth and by talking with and receiving recommendations from other agencies.

According to Captain Dean Elliott, this system is incredibly helpful, particularly with accident reconstruction, drive-by shootings and homicides. While previously it might take specially trained officers two to three hours to map or draw out the scene of a fatal or near fatal accident using hand measurements, it can now be set up and done automatically and quickly.
When reconstructing an accident, these officers would have to measure the roadways, skid marks, scene of impact, light signals and the intersection using hand tools. This mapping system is set up and takes high-resolution photographs, and at every point of the photograph, it also helps to create a 3D picture of the scene and calculate the distance based on where the machine is set up.
The mapping device is particularly helpful on major crime scenes, such as drive-by shootings, homicides or attempted homicides. Since drive-by shootings can involve shells half a mile away from the scene, the distance measuring feature can be particularly helpful. When it comes to a homicide investigation, officers can place the mapping device in the room to map the crime scene or move it from room to room to map out the entire house.
Elliott said, "For court purposes, judges and juries love it. They can see it. It's not just a static photo or even a video. They can get a sense of where things are at with the depth and exact measurements." It also helps with better documenting a scene. When there is no suspect in an investigation and a suspect may not be found for 10 years, still having all that information is quite beneficial.
Grand Island has a smaller drone that can also be used to map accident and crime scenes from above. This drone footage is able to get the scene from an altitude angle, which can then be added into their mapping system, and gives judges and juries a view of the scene from a variety of different angles and points of view.
"This new system is a better time saver and maps the scene automatically. An officer just sets it up, lets it do its thing and a half hour later it's done. Meanwhile, the officer can have the drone flying ahead at the same time getting that angle."
The department also has a second, much larger drone that can see in the dark and fly several miles away at speeds of 40 to 50 miles per hour. "Larger agencies are using drones as first responders," Elliott explained. "We don't have the manpower or budget for that. But we can fly our drone overhead during a car chase and can use the infrared."
Once the department had done its own homework and background work to find the mapping system it wanted, it needed to be budgeted and taken to the city council. In May 2022, the department put it in the budget to purchase in 2023. After the budget was approved, the police department then had to go through the process to get it approved since it is such a high-dollar item.
Five officers and one evidence technician are trained on how to use the new mapping system. It involved a weeklong training to learn the specific system. Accident reconstructionist officers already go through three weeks of classes to have that particular certification, and then those trained on the mapping system must undergo an additional weeklong training to learn that system. It is a very technical piece of equipment, so it is not something just anyone can pick up and use. This makes it helpful to have only a handful of officers responsible for it. Every other month, those trained on the mapping system also undergo an additional four-hour training to ensure everyone is up to speed and up to date. During the training, these officers have mock scenarios to go through.
The second new piece of equipment this year is the TruNarc handheld analyzer. An officer can hold it close to a potential controlled substance, and it uses a built-in laser to get it to fluoresce and identify the substance. If the substance is in a baggie or pill form, an officer can simply hold the device over it instead of having to take some out. While the department has only had the device for a short time, it has already come in handy. Elliott described a stop an officer made with two men. There was a baggie that was expected to have methamphetamine inside, and after TruNarc was used, it was confirmed. Next to the other man was a paper with white powder on it that, given the circumstance, was assumed to be methamphetamine or cocaine. After using the TruNarc, it was discovered it was actually powdered sugar. If the results had come back inconclusive from another device, the second man could have been mistakenly charged with possession of a controlled substance.
The department's crime scene mapping equipment helps to create a 3D visual for judges and juries of a single room or of an entire home. This can also help to preserve evidence when a suspect is not found for years. (Photo provided by Grand Island, Neb., Police Department)

While officers used to have to measure roadways, intersections, skid marks, impacts and more using hand tools, the new mapping system helps them to complete the work much faster while it automatically captures distance. This also gives multiple points of view when looking at a scene. (Photo provided by Grand Island, Neb., Police Department)

This is the larger drone used by the Grand Island, Neb., Police Department. It is used in all situations where an aerial surveillance platform is useful, such as situational awareness, tactical situations, locating people or evidence, aerial communications, etc. (Photo provided by Grand Island, Neb., Police Department)

The TruNarc handheld narcotics analyzer gives officers the ability to test substances through the packaging without having to physically collect a sample and risk exposure. This creates a safer procedure for the officers and lessens the chance for workman's compensation injuries. (Photo provided by Grand Island, Neb., Police Department)
Since there is only one TruNarc device and only a limited number of officers trained to use it, an officer either has to leave the department and take it to the scene or the substance can be brought back to the department and checked there. The device even prints out a piece of paper that is admissible in court. However, the state of Nebraska still requires state testing to be done, so the department still has to send a sample to the state.
"Technology is constantly changing," Elliott emphasized. "It's expensive to get some of those tools, but they are tools that are going to help patrol and just help operations in general." Grand Island shares resources with nearby cities. There is special software the department uses to unlock both Android and Apple phones and retrieve data after a search warrant has been issued. In regards to human trafficking, the department has similar software to sort through computer files, so it is not as time-consuming.
The tactical response team also has some technological devices to aid in their work. One is a small robot that can be rolled out when needed. There is a throw phone for hostage negotiation that is on a long cable. This phone not only allows a hostage negotiator to communicate with the suspect but also includes a microphone and hidden camera. "It acts as the eyes and ears inside and gives them a tactical advantage. They help to de-escalate things and bring things to conclusion," Elliott explained.
The department is also looking into a durable, smaller drone with a rotating bar that can fly up and shatter windows so it can then be flown inside a house and give the tactical team sound, visual and two-way communication. "As the city will give us the budget authority to purchase it, we try to stay on the upper side of technology," Elliott stated. "Technology is wonderful as long as you can afford it. It helps to keep officers safe and saves man hours."
Next Article: Hanford improves security at city hall