Adopt-A-Park further connects a community with its parks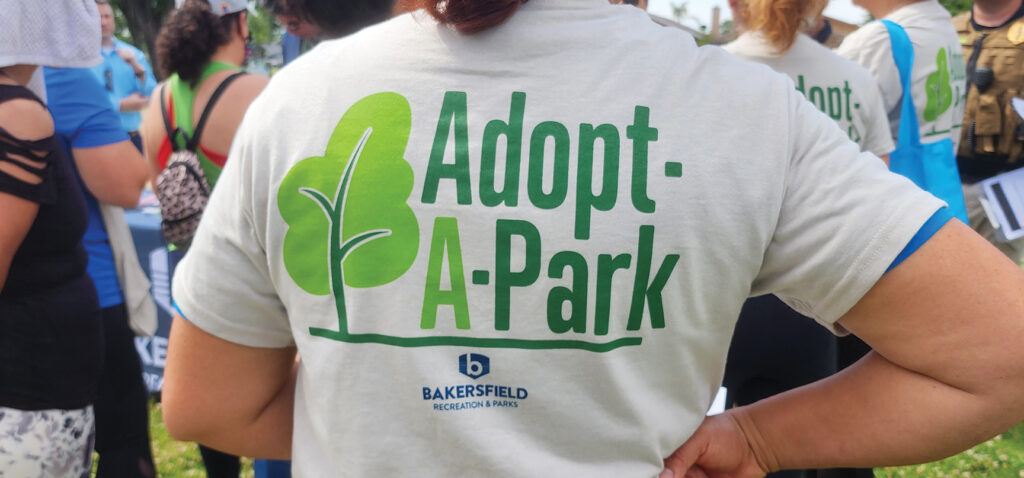 Some residents visit parks in Rapid City, S.D., to do more than admire the beauty of flower gardens or get in a hike or evening stroll. They go to take care of the park.
Volunteers in the city's Adopt-A-Park program conduct park cleanups and other basic maintenance. Adopt-A-Park programs also get more people out to enjoy green spaces and take pride in them.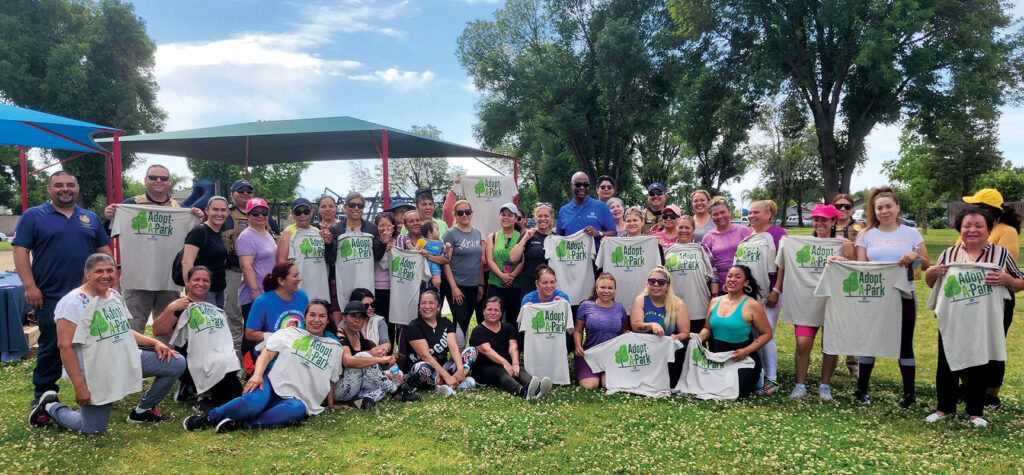 "I think the value isn't necessarily noticeable in your budget, but it's more valuable for community buy-in," said Melissa Petersen, a Rapid City parks department landscape designer who helps coordinate its Adopt-A-Park program. "I think just getting more people out looking at the things we maintain might help them notice, 'Wow, there's a lot to maintain out here.' Not that it's about patting ourselves on the back, but recognizing that there's a lot of work that goes into it, and hopefully, that translates to more people more hesitant to vandalize or that sort of thing."
Encouraging involvement
Rapid City seems to have started an Adopt-A-Park program in the 1980s to provide extra help for the maintenance staff, said Scott Anderson, Rapid City parks division manager. The program lapsed in the 2000s, but the city revived it in the past 10 years to give more legitimacy to park volunteers' work, according to Anderson.
Rapid City, which has approximately 30 full-time parks and recreation employees, manages about 40 parks including about 1,700 acres of park land and greenways, Petersen said.
Currently, 13 groups or organizations have adopted about 15 parks, she said. The groups include businesses, churches, service organizations, a neighborhood group, and a fly-fishing organization, Petersen and Anderson said. The volunteers typically pick up trash and debris, clean and paint.
Volunteers also do park cleanups, limited weed trimming and other projects, such as graffiti removal, for the Adopt-A-Park program in Bakersfield, Calif., said Darin Budak, city recreation and parks department assistant director. The city launched its program about 18 months ago after the coronavirus pandemic delayed its planned debut.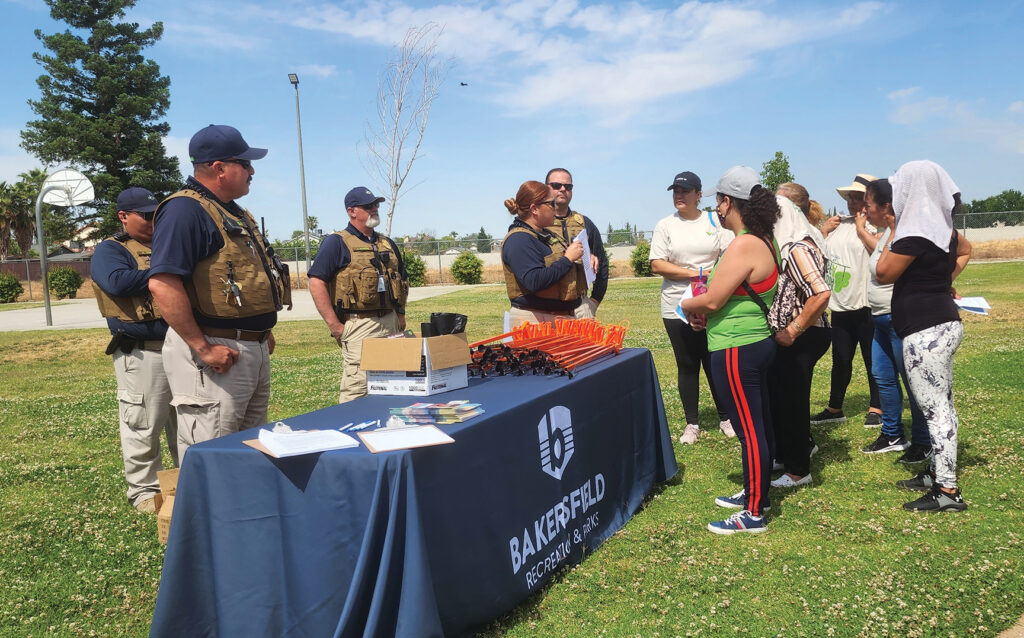 Budak said the city started the program mainly to inspire people to help in their community and to engage with and take pride in their parks. Several nonprofit organizations had asked about doing volunteer projects in the parks, he explained. "And we said, 'Well, let's find a way where we have a standing program where these organizations can come in and do it on a routine, regular basis.'"
Bakersfield, which has a parks maintenance staff of about 138 full-time workers, manages more than 900 acres of land in 63 parks, Budak said. As of mid-August, more than 215 Adopt-A-Park volunteers have cared for nine parks.
Expectations and benefits
When an Adopt-A-Park group starts, Bakersfield provides its volunteers with items, such as trash pickers, gloves and Adopt-A-Park T-shirts, Budak said. The shirts let other park users know who is working in the park.
The city asks each volunteer group, which includes families, churches and other organizations, to work at least a combined 16 hours per month in their park. Park adoptions initially last one year, but officials hope it becomes a long-term commitment. The city can terminate an adoption if a volunteer group fails to work in their park for three consecutive months or for six months out of the year. Volunteers also must sign a liability waiver to participate in the program.
Rapid City suggests Adopt-A-Park volunteers work in their park at least three times a year, including in spring and fall, Petersen said. The city will loan them hand tools, provide trash bags and pick up bagged trash. Parks maintenance staff normally take care of work that involves equipment other than hand tools, Anderson said.
Rapid City asks Adopt-A-Park groups to keep track of their volunteering on a sign-in sheet, Anderson said. Volunteers also must sign a liability waiver, mainly so they will be covered by the city's workers' compensation insurance if they suffer injury while volunteering.
Rapid City currently relies on Adopt-A-Park groups to notify it if they decide to stop caring for their park. Petersen would like to find time to reach out to park adoption groups annually to check on their status and to make sure they have all the forms they need for the coming year.
Bakersfield parks staff contact park adoption groups each month to compile their volunteer hours and what work they completed, Budak said. The conversations also offer volunteers a chance to ask for help or items they need.
Work by Adopt-A-Park volunteers allows park staff to focus on other priorities, Budak said. "Instead of having to go out and pick up the trash around a playground, they can spend more time trimming trees or cleaning the restrooms — you know, those types of things," he explained. " … It just helps us provide a better product to the community."
Some Adopt-A-Park groups clean their park more frequently than park staff can, Anderson noted.
"I would say one of the other things that helps us is just having another set of eyes on the park," Petersen said. Adopt-A-Park volunteers may notice and report a problem before park staff sees it.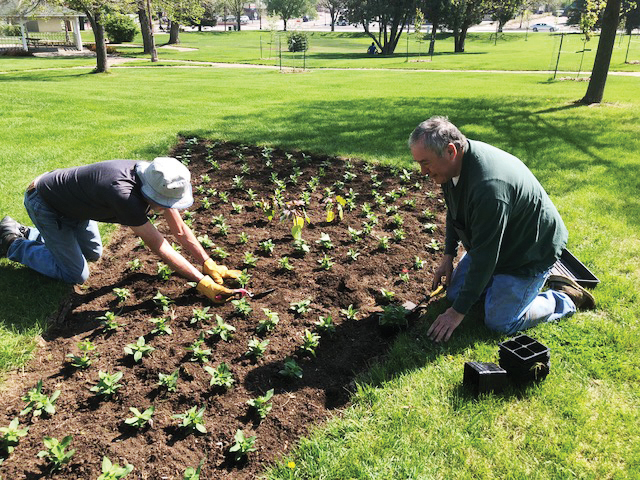 Starting a program
When planning an Adopt-A-Park program, Budak suggests engaging known park volunteers in the process and determining how the program can meet their needs. If the city meets those needs, he said, the program will grow.
"I was fortunate," he added. "I had staff that went out and did that. … We built it around what a church would need. We built it around what a business would need. Instead of us saying this is what we need, we built it around what they were trying to accomplish with their volunteer hours."
Think about how much time parks staff can devote to Adopt-A-Park duties, such as interacting with volunteer groups or sending out a program newsletter, Anderson said. Volunteers also want to get projects done, so parks staff should be ready to assist them as promptly as possible, he said. It's also best to spell out in advance the limits on what work volunteers can do.
Rapid City attracted Adopt-A-Park volunteers with publicity help from the city's communications manager and by using the city website and social media, Anderson said. Bakersfield put Adopt-A-Park program information on the city website and created an interactive map that lists all city parks, shows their location, and notes whether they are adopted or available for adoption.
Budak said Bakersfield also schedules a face-to-face orientation meeting with each new volunteer group at the park they are adopting. In addition to answering volunteers' questions, "We walk the park with them," he said. "We talk about things that we see. We talk about the good and the bad. That way everybody goes in there fully educated on what they're doing, where they're doing it, sort of what the expectations are." Bakersfield and Rapid City also acknowledge Adopt-A-Park groups' efforts by placing a group's name on a sign in their park after they volunteer for six months and a year, respectively.
Next Article: Saving lives through AED/CPR program