Pothole Patching: Self Performing vs Contracting It Out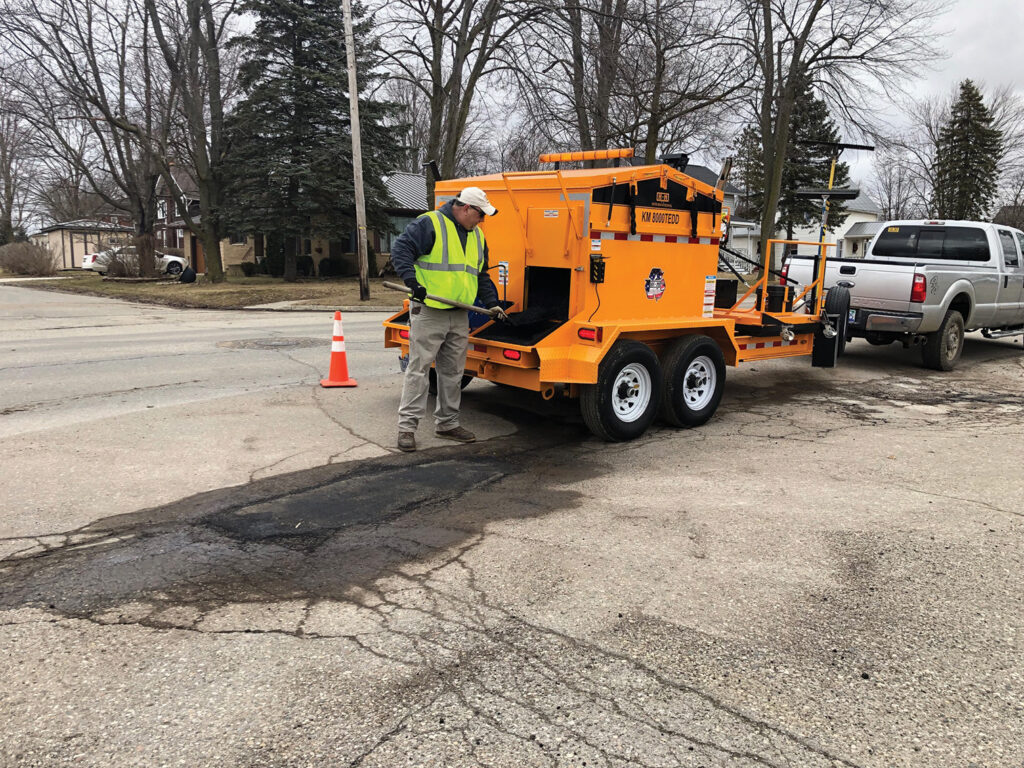 Pothole patching is one of those jobs no one necessarily looks forward to doing. Without sugarcoating it, pothole patching is a tough, dirty job and usually last on the list of municipal priorities. But with that being said, pothole repair is still a necessity, particularly now as the infrastructure continues to deteriorate and the focus — and financial resources — have moved from full road replacements to road maintenance and repair. With a lack of resources, a severe labor shortage and limited access to equipment, some municipals are at a crossroads whether to keep pothole repair services in-house or start contracting them out.
Contracting services are nothing new to municipal entities, but traditionally pothole patching has always been something most municipals have kept in-house. However, as finding employees becomes more difficult and the laundry list of municipal responsibilities continues to grow, many municipalities have transitioned toward looking for outside help to tackle pothole patching by contracting it out to local service providers. Like anything, contracting service out comes with its advantages and disadvantages, and because every municipal entity is different, there isn't necessarily a right or wrong decision.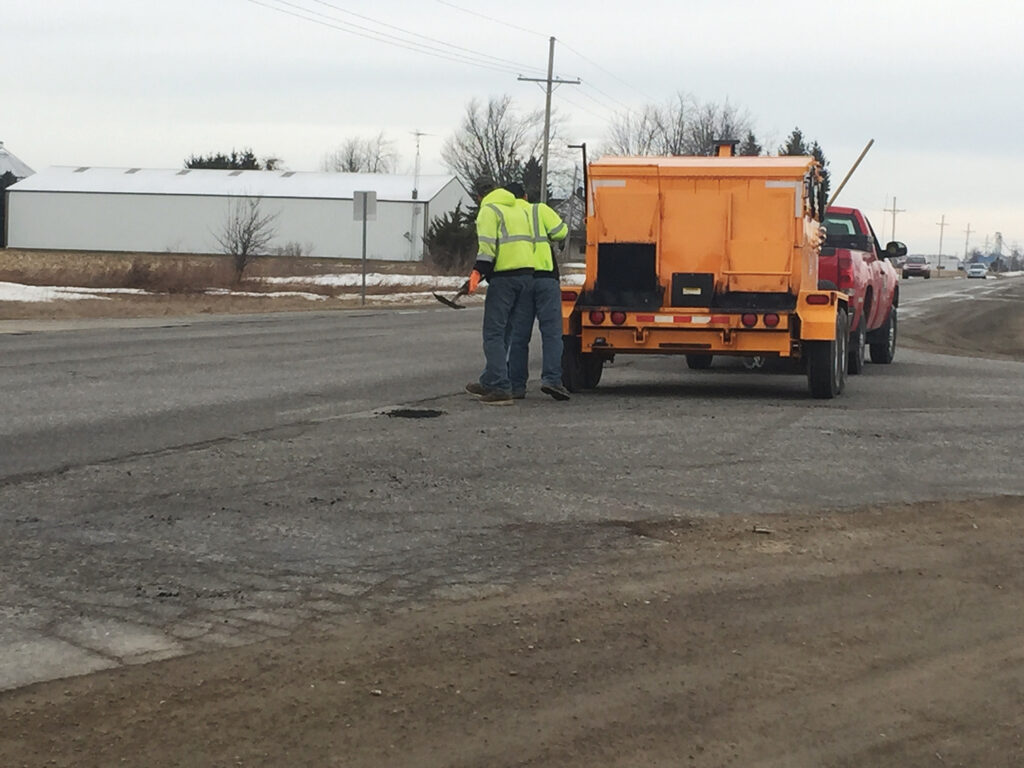 To preface the following comparison, there are two important facts that, no matter your decision, need to be addressed. The first is the pothole repair process. The throw-and-go method used by 90% of municipalities will not be a long-term repair solution nor should it be thought of as the standard in the industry. What most municipals do not realize is that taking a couple of extra minutes to prep the pothole by cleaning, drying and applying a tack coat, and then placing material and compacting it properly will drastically increase your pothole patching success rate.
The second important factor is material selection and application temperature. Hotmix asphalt should not be applied under 275F and really should be applied between 325-350F. Much of the time municipals patch out of the back of a pickup or dump truck and the asphalt cools well under application temps before workers even get to their first repair area. Even if using cold patch, that should be applied at 80-90F. Without addressing these two critical factors, your pothole repair program, no matter who performs it, will inevitably fail.
Benefits and drawbacks of an internal pothole repair program
Benefits
Keep crews busy year-round.
Relatively low initial equipment and material investment.
Ability to respond immediately to problem areas.
Drawbacks
As stated previously, asphalt repair is a tough, dirty job, so getting employees to willingly do it, and more importantly, do it correctly is hard.
Employees will most likely be working in high-traffic areas so the risk of potential injuries is something worth considering, especially if the right traffic control devices are not in place.
Most municipal employees aren't "asphalt guys/girls," so if they are unfamiliar with the correct pothole repair methods, then your potholes will most likely reoccur.
Benefits and drawbacks of contracting pothole repair out
Benefits
In your service contract, you can specifically state how you want the repairs to be made and give the contractor a comprehensive outline of the process they should be following.
Free up labor and equipment resources to focus on other responsibilities.
Assuming the service contractor is familiar with asphalt and performing the job successfully, the repairs they make should last long term, and if they don't, the work could be re-repaired for no cost if there is a warranty in place through your contract.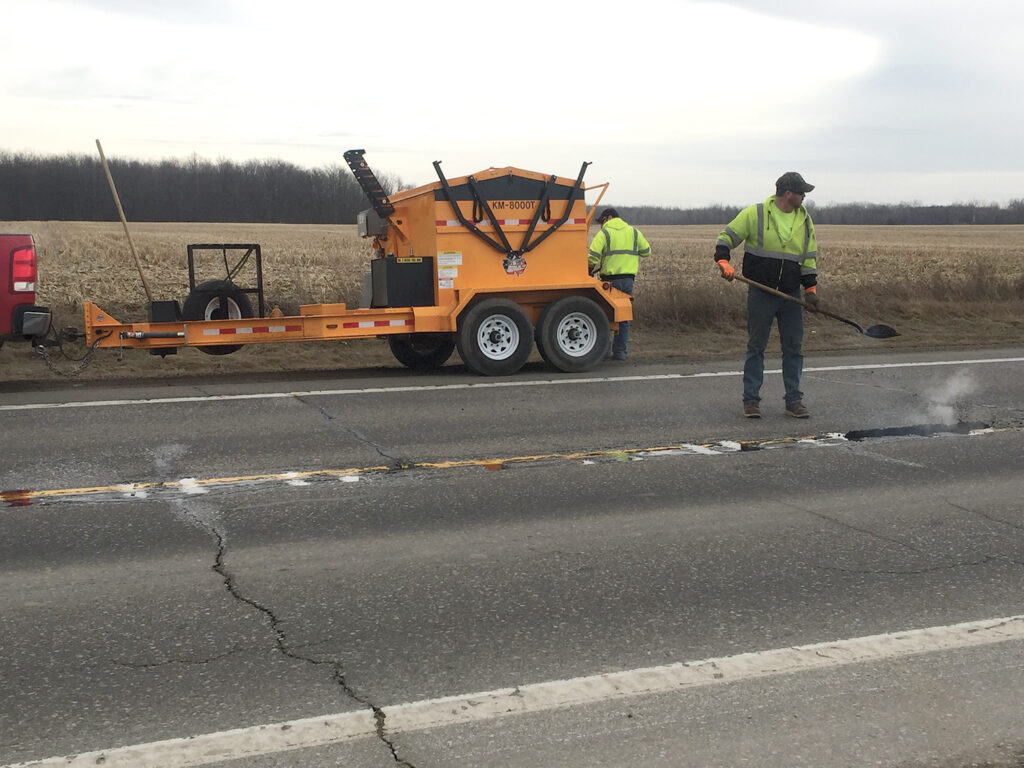 Drawbacks
Contracting service out will most likely be more expensive in the long run.
You are reliant on the contractor to respond in a timely manner.
Bidding and maintaining contracts is not cheap, and there would still need to be someone internally to monitor and inspect the contractor's progress.
Regardless if you choose to keep pothole patching internal or contract it out, the most important factor in repairing asphalt is following the right process that will lead to long-term repair solutions instead of temporary fixes that have become all too common. Potholes will never be completely eliminated, but with the right process, equipment and personnel, you can undoubtedly see improvements to your pothole patching process.
In working with municipalities across the country, KM International understands that every organization has different needs, different budgets and different issues they face. At KM International, we don't want to only supply the equipment used to maintain and repair asphalt, but we also want to supply the knowledge base and training that will allow municipalities to offer their citizens long-term solutions to pothole repair.
As a manufacturer in the asphalt maintenance industry, KM International is always willing to offer its expertise and knowledge to municipal agencies contemplating between these two options. KM International has a vast knowledge base on not only the equipment used in the pothole patching process but the actual process itself. KM International reps routinely speak at national and local municipal shows and conferences on the proper way to patch potholes and are always willing to share their experience with public work leaders.
KM International is a manufacturer of asphalt repair and maintenance equipment based in North Branch, Mich. To learn more about KM's equipment or inquire about its free pothole repair specifications, visit the company's website at www.kminternational.com or call (800) 492-1757.
Next Article: Rhode Island, a cornucopia of fascinating names