Rhode Island, a cornucopia of fascinating names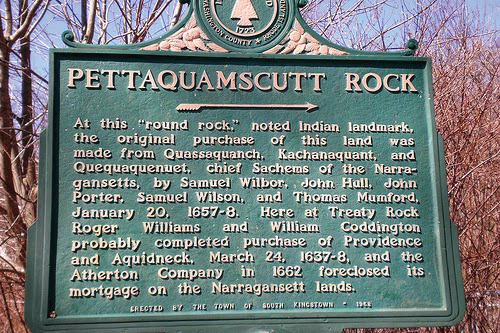 Rhode Island may be the smallest state in land area, but it packs a surprising number of features within its diminutive borders.
Rhode Island is home to more than a million residents, making it second in population density only to New Jersey. It boasts a greater population than six other states, including Alaska, into which 425 Little Rhodies could fit.
The state is not a singular island but is bounded by nearly 400 miles of shoreline and maintains more than 100 beaches. It hosts more than 28,000 millionaire households.
It even boasts the longest name of any state in the U.S., officially dubbed "the State of Rhode Island and Providence Plantations."
Given its history, including a Native American presence for nearly 13,000 years, add weird town names to the list of fascinating facts about the state. Many of those names are attended by head-scratching etymological alternatives where the actual origin of the name is unknown.
Quonochontaug (con-a-QUAN-tog)
Actually, that's just one spelling of the village of 422 residents. Other legitimate spellings include Quanacontaug and Quanaquataug, a casualty of inexactitude occasioned by deriving a name from a language with no previous written form.
The name's meaning is anyone's guess, but leading contenders include:
Extended deserted place.
At the long beach.
Two long ponds in succession.
At least one fact is established beyond dispute, however. X-Files agent Fox Mulder spent his childhood vacations in this beach town locally known as "Quonnie."

Aquidneck
There actually is a tiny island within the geographical confines of the state. It is referred to by its Indian name, Aquidneck. Its original meaning is unknown, but some suggestions have been proffered:
Floating mass.
At the island.
Isle of peace.
Pettaquamscutt Lake Shores (pet-uh-KWAHM-scut)
This unincorporated area is on the shore of Lake Pettaquamscutt. The name is confusing enough, but the real challenge comes in pronouncing the names of the Indian chieftains who sold the land to settlers in 1657: Quassaquanch, Kachanaquant and Quequaquenuet.
Annawamscutt (ann-uh-WAHM-scut)
This town doesn't have much going for it: a road, a beach, a creek and an early textile mill. What it does have is the longest list of possibilities where its name derived:
Rock summit.
End of the rocks.
Ruler's hill.
Commander's rock.
Woonsocket (woon-SOCK-it)
Woonsocket, one of Rhode Island's largest cities, boasts a population of more than 41,000. The name was mercifully simplified from what it might still be called if the original spellings were kept intact:
Woonksechocksett ("fox country")
Wannashowatuckqut ("at the fork of the river")
Other befuddling town pronunciations:
Usquepaug (US-ka-pog)
Tiogue (tie-OAK)
Chepachet (chuh-PATCH-it)
Next Article: Not a handout, but a hand up for small business owners