Downtown transformation revitalizes Greenwood community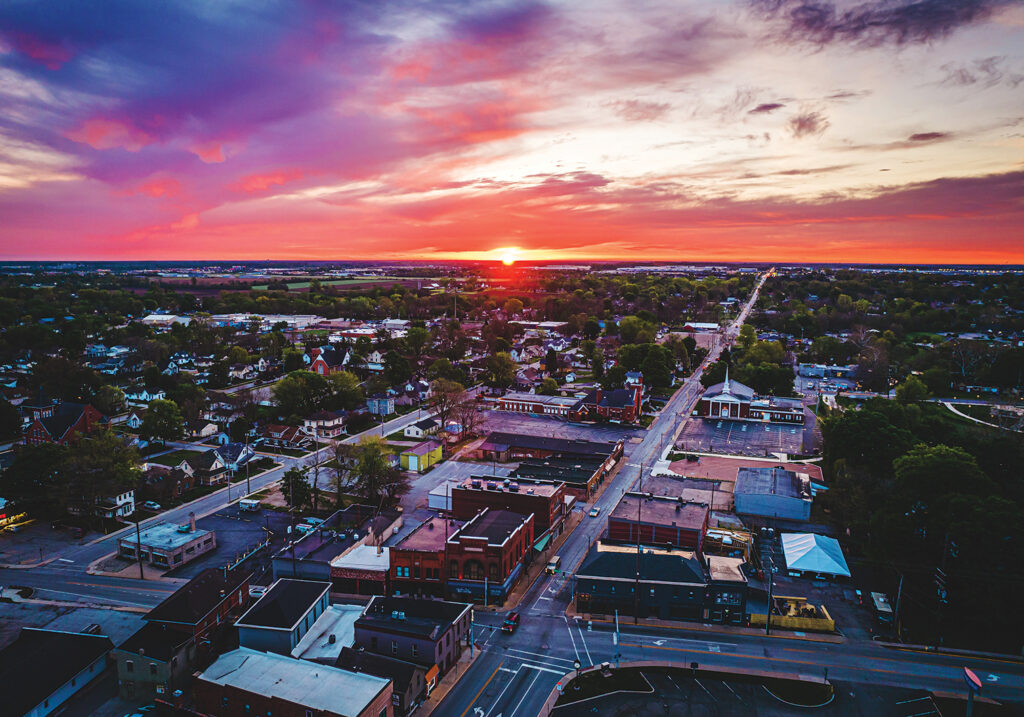 A large transformation with the goal of decreasing the city's vacancy rate is being undergone by Greenwood, Ind. In 2012, Greenwood's vacancy rate was 75%. Today it is now 95% occupied. When Mayor Mark Myers took office, he stated, "We fueled development by creating a vision, gaining consensus and investing in our plan. We looked at the big picture of downtown and targeted infrastructure, appearance and community amenities."
While discussing transformation, one important aspect the city wanted to preserve was the historic downtown. However, the city also wanted to create a more modern look and feel for the district to attract businesses and residents as well.
"When we looked at infrastructure, we knew our roads, sidewalks and streetscapes needed improvement, and we are still working on this today," Mayor Myers explained. "If our plan was to attract families and businesses, it was imperative that we were able to accommodate that growth. We improved our trails, sidewalks and worked with private businesses to create programs to improve facades. The appearance of our city center helps define its brand."
The city applied for a facade enhancement grant from the state, including 22 of the 33 downtown business owners. The participating business owners paid 20% of the cost to redo the facades of those buildings. The city's redevelopment commission assisted in the redo by providing approximately $1.2 million toward the facade enhancement.
"We also looked at key investments we could make from the city's standpoint that would spur growth," Myers recalled. One of these investments was turning an old bank building into Greenwood's new city hall. A formerly dilapidated piece of land was transformed into the now popular Old City Park. The community center has become a central downtown attraction following a makeover. A new sports and activity center, Greenwood Fieldhouse, was built on the old Greenwood Middle School.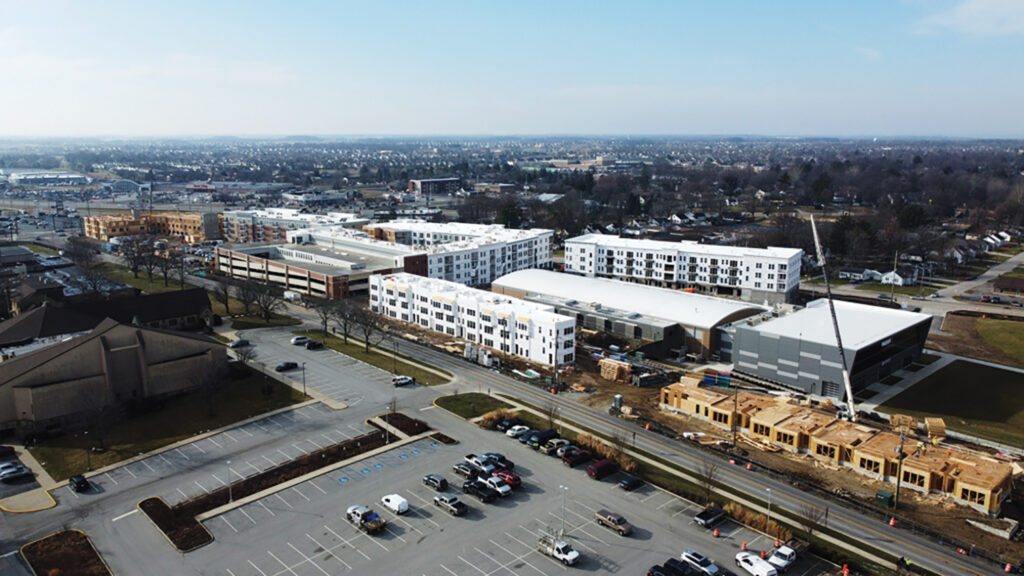 "The Fieldhouse has special meaning to me," Myers admitted. "I went to school there. When we were dreaming of how to invest in and develop our downtown, I was adamant that we not just bulldoze these historic structures. But, I am the first to say, we needed to modernize. I believe the two ideas can work together. So we set out to turn it into an amenity that the community could use. An activity center like the Fieldhouse is what made the most sense."
The Fieldhouse includes an elevated indoor running and walking track, two multipurpose turf fields, golf simulators, basketball courts, volleyball courts and pickleball courts. The space is available to rent for parties and events. However, when it comes to preserving the historic nature of the building, certain elements of the original middle school can be seen throughout the design. While approximately 40% of the building is new construction, the facade of the former middle school and gymnasium center court are featured in the Fieldhouse atrium. Exterior walls from the original building also remain.
The Madison is another transformation in Greenwood. As Myers described, "The Madison is exactly what we wanted to happen in Old Town — private development spurred by public investment. We are transforming Old Town Greenwood into a vibrant destination."
It is a $68 million private, mixed-use project consisting of residential units, including condominiums, apartments and townhomes, combined with 18,000 square feet of commercial space spread out between seven new buildings. Preparation is moving along nicely and the plan is for The Madison to open later this year.
The transformation of downtown and improving the city's vacancy rate has been a priority of Mayor Myers since the day he took office.
"Being from Greenwood I saw the opportunity to improve our city," Myers stated. "We were in a transition period. We could either do nothing and see Greenwood become another bedroom community, or we could present a new vision and invest in projects that would bring along opportunity for the private sector to bring its businesses and ideas to better Greenwood. It brings me great joy to see our plans come to life."
It was imperative for the city to undergo a metamorphosis in order to spur expansion and growth. "I believe, and you are seeing it play out in Greenwood and other municipalities across the region, a city needs a core," Myers explained. "By creating amazing spaces to bring people together, you improve the overall quality of life and that is what businesses are looking for today. We are focused on developing a community where families want to live, work and play. With labor shortages across the nation, business leaders look at their growth strategies in a new way. We are continually working on community improvements to attract and educate a top tier workforce. It is working, too. In the last 12 years, we have created more than 5,000 new jobs in Greenwood. It is not by accident. By developing a safe, affordable and quality city, we have seen great companies locate here."
Another development project on deck for the city of Greenwood includes the Greenwood Sports Park, including baseball and softball diamonds; a multiuse field for soccer, lacrosse or cricket; a second splash pad; and inclusive playground equipment. The city is getting ready to kick off the Main Street Corridor study. This study will help Greenwood reimagine its "front door."
Myers shared, "Each day, 24,000 cars travel on Main Street from Five Points to Valle Vista near the I-65 exit. We need to put our best foot forward and make this corridor both visually appealing and safe. I am confident our output will spur new opportunities and safer travel on this critical pathway into Greenwood.
"I am a firm believer that government should not 'do it all,'" Myers stressed. "We can only create an environment for economic development. We have been so successful that we are more selective now on the kinds of businesses that come to Greenwood."
Response from the community regarding these developments has been overwhelmingly positive. Despite only having 65,000 residents, last year the Greenwood Parks Department provided 240,000 experiences with its various programs. "It underscores the level of engagement and appreciation our community has for our investments," Myers claimed. "I am certain we will meet the same kind of response with the projects we have in the pipeline."
Next Article: Anti-theft program protects construction sites