Anaheim is making big changes over the next few years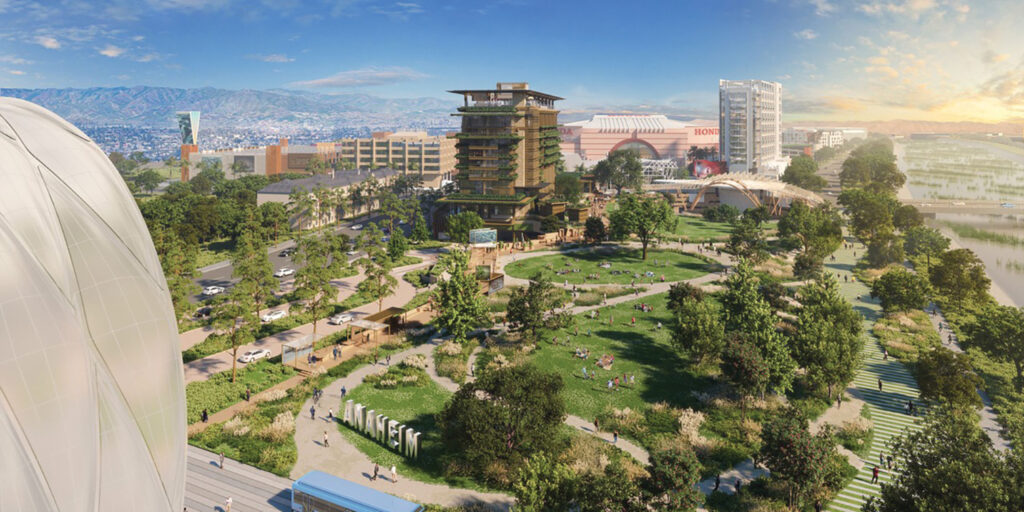 With billions in theme park, hotel and commercial development arriving within the next five years, Anaheim, Calif., is poised for an economic boom. As the second largest city in Orange County, the community is gearing up to welcome the world just in time for the 2028 Los Angeles Summer Olympic Games.
          "There are some really exciting things that are coming in the next few months and years, and we can't wait for everyone to see them," said Sergio Ramirez, director of economic development for the city of Anaheim.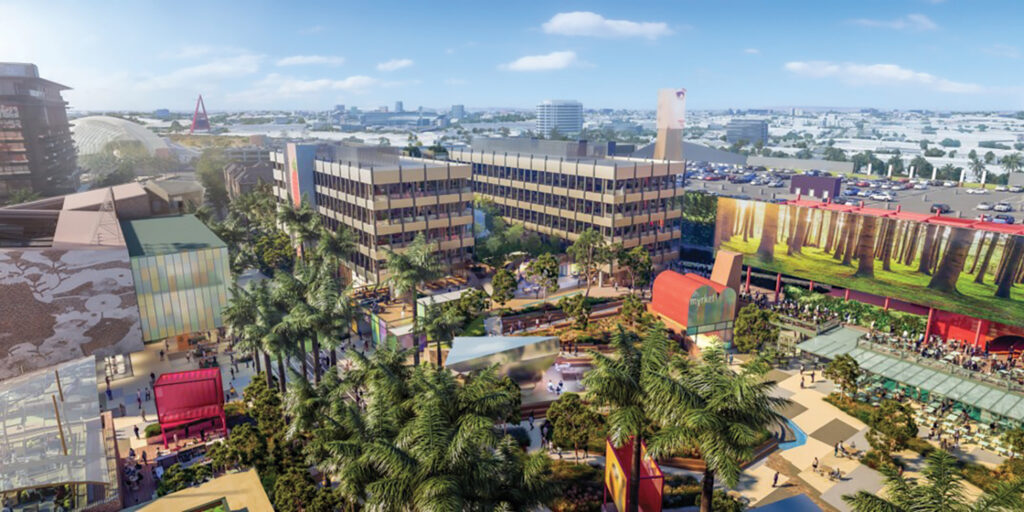 A great vibe
          Central to the city's revitalization efforts is ocV!be, a large, mixed-use center that will be anchored by the Honda Center and the Anaheim Regional Transportation Intermodal Center. According to Ted White, planning and building director for the city of Anaheim, ocV!be is a more than $5 billion investment that will include 20 acres of public space with four unique plazas, a 5-acre riverfront park and a 4-acre park focused on wellness. There will also be a full range of entertainment venues for residents and visitors, more than 1 million square feet of office space as well as 230,000 square feet of retail space. When complete, the project will also boast 5,000 new jobs on-site.
"ocV!be is not only going to be really dynamic but also carbon neutral," White said. "Sustainability features are core to the design and that commitment is reflected in every aspect of the project."
The first phase of the project will feature a 6,000-seat live performance theater that will rival the Kodak Theatre in Los Angeles and encourage convention goers to stay nearby and enjoy the forthcoming amenities, such as breweries, food halls, public art installations and special events.
"With the Honda Center hosting indoor volleyball during the Olympics, we want to make sure that ocV!be is ready to put its best foot forward when the games begin," White said.
In addition to ocV!be, the OC River Walk is a plan to transform the Santa Ana River Corridor into a regional destination for recreation and entertainment. The city received a $5 million grant from the State Coastal Conservancy to plan and design elements of the new river walk, and once completed, the OC River Walk will re-establish the corridor as a place of interconnectivity between the people, the river, local businesses and nearby iconic destinations.
The project will consist of a river recharge that includes inflatable dams to collect water, a new bridge crossing specifically designed for pedestrians and cyclists, trail extensions and expansions, riverbank modifications as well as art/educational installations.
"There is still a long way to go on the river walk because there is a lot to be done, but we are getting a ton of political support so there will be a lot of movement soon," White said. "The technical studies are going on right now … but we really want to help people reconnect to the river again."
The House of Mouse and more
With all the revitalization efforts throughout Anaheim, it's only natural that the House of Mouse is getting in on the act with DisneylandForward — the first major expansion of since Disney's California Adventure in 2001. This multiyear planning effort is being done in cooperation with the city of Anaheim to update current approvals and allow for integrated development to be located and built throughout Disney properties.
          While DisneylandForward is still in the planning stages, some of the possible updates could include lands centered on "Frozen," "Tangled" and "Peter Pan," as well as the most technologically advanced, immersive and cutting-edge entertainment that are in development at Disney parks throughout the world. White said that these updated approvals will allow Disney to continue investing in Anaheim and bringing more attractions for years to come.
Site plans for ocV!be call for a redeveloped public space between the Honda Center and ARTIC. It will serve as a showcase for the 2028 Los Angeles Summer Olympic Games. (Photo provided by the city of Anaheim)

Disneyland Forward is a development proposal, which will renew allowances and let the House of Mouse continue its investment in the city of Anaheim. (Photo provided by the city of Anaheim)

While details about future lands remain vague, Disneyland Forward will set the stage for years to come with the "Happiest Place on Earth." (Photo provided by the city of Anaheim)
"We don't have much information about what will be coming, but Bob Iger leaked some information about Avatar Disneyland. As much as the big, sexy projects are great, other initiatives, such as Rebuild Beach, are the kind of thing every city can identify with," White said.
The problems on Beach Boulevard are all too real: human trafficking, prostitution, illegal gambling, homelessness and blighted businesses. Rebuild Beach Boulevard is a redevelopment and public safety priority. From Lincoln Avenue to Ball Road, Anaheim is working to replace seedy motels and commercial blight with affordable housing, stores, restaurants and businesses to create a walkable neighborhood and deter crime.
"We have a multidisciplinary team that includes every arm of the city who are asking how we can revitalize this area," Ramirez said. "Less than two miles from some of these beautiful developments, we have homeowners who have socio-economic challenges, and we can't turn a blind eye to them. It is one of our top priorities to turn this area around, but it won't happen overnight. We have to consistently put in the work."
The city bought two of the most problematic motels in the area last year, demolishing one and transforming the other into a public art space. "It really is a labor of love and a chance to make a creative impact in people's lives," Ramirez said. "Anaheim is a growing city, and we have a dynamic aspirational council who want to see the investment and make quality of life improvements for everyone who lives and works here. It's an exciting time, and it will be interesting to see what comes out of the ground in the next few years."
Next Article: M Top 10: The best fishing holes in the U.S.