Hoboken pushes electric vehicle infrastructure forward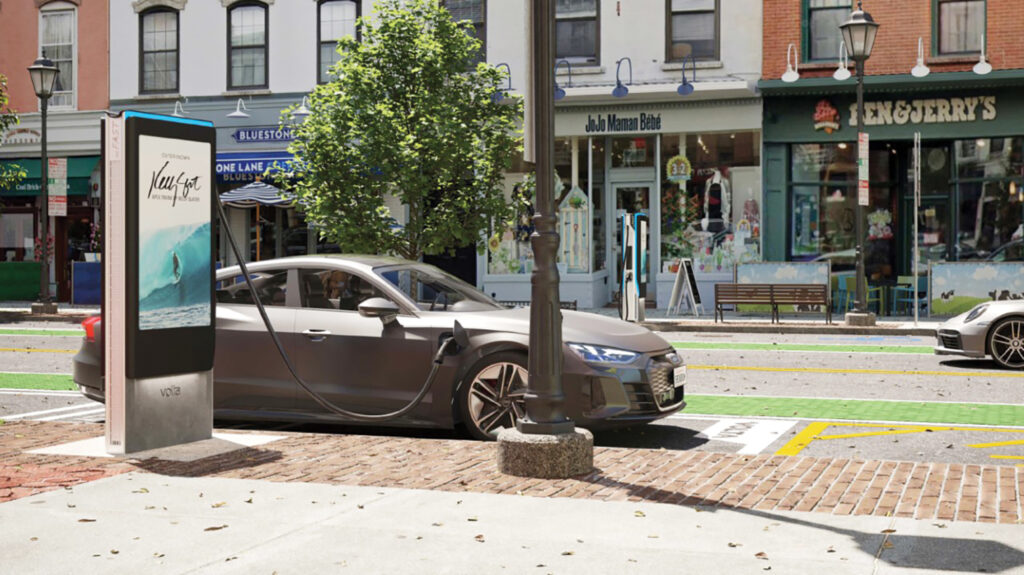 Hoboken, N.J., may be small, but its efforts to address climate change are not modest by any means. For instance, in the last few years, the city has focused on accommodating and facilitating the transition to electric vehicles for residents and visitors alike.
These efforts are part of a larger plan and commitment to lowering its carbon footprint. In April 2019, the city adopted a climate action plan to achieve greenhouse gas reductions. Then in 2021, the municipality unveiled its first phase of city-owned, publicly accessible level 2 electric vehicle charging stations at Garage B, Garage D and on First Street between Washington Street and Court Street. In July 2022, the city expanded the number of level 2 electric vehicle charging stations at Garages B and D and added electric vehicle charging stations to the Midtown Garage and the municipal parking lot at 1301 Jefferson St.
Deputy Director of Transportation and Parking Diana Aviles said the phrased approach has allowed the city to test the waters and find incremental success. In general, investing in the future of more sustainable transportation was also essential.
"I can tell you that on-street charging is still very new," she said. "We're probably going to be the first probably in this entire region to go with 25 stations and the first to try EV charging in private garages. We didn't model (the effort) after someone else. We just wanted to meet our own demands and the needs of Hoboken."
With the initial success under its belt, Aviles said it's time for her department to look to what's next in terms of expanding its offerings.
"Now, with our most recent partnership with Volta, the goal is to provide charging stations to all Hoboken residents within a five-minute walking distance," she said. "So, we wanted to make sure that they were accessible all over the city. That's what's going to be the focus of our next phase of the launch. There will be 25 EV charging stations, including eight DC fast chargers."
Deputy Director of Transportation and Parking Diana Aviles said the city is a regional leader in climate change initiatives. (Photo provided by the city of Hoboken, N.J.)

Members of the Green Pass program are eligible for a discounted parking rate of $6 for up to eight hours while charging at Garage B, Garage D and Midtown Garage. (Photo provided by the city of Hoboken, N.J.)

Hoboken will use data from the six-month pilot program to develop a database of electric vehicle ownership across the city to help understand constraints and opportunities for expanding access to electric vehicle charging. (Photo provided by the city of Hoboken, N.J.)
But having charging stations is only one piece of the puzzle. The Green Pass program, launched in July 2022, is free to residents. It provides a 50% discount to on-street permit holders to park their electric vehicles, or plug-in electric vehicles, at a reduced rate in one of the municipal garages.
"We wanted to make sure that since we knew that the number of EVs was growing in Hoboken and more residents were transitioning from a gas vehicle to an electric vehicle they had a place to park," she said.
Before this incentive, some residents had to find creative ways to park. Driveways and garages are limited in Hoboken, for example. Also, Aviles said it was important that the city provide them with a safe location for charging. The 50% discount means that permit holders would pay $6 for up to eight hours to charge in a garage. Per Aviles, they would also have to pay for the electric part. However, that compares to $28 for the same period for non-permit holders.
And the program resonates with users.
"Since we launched that program, we've gotten great feedback from residents, specifically the ones who were using it," she said. "They wanted to see more of it — not so much in a garage, but they wanted to see EV charging stations on the streets. So that's how we knew that we were headed in the right direction with the next phase."
Also, Aviles' observations indicate the program meets the community's needs. In her words, "Every single time I happen to walk by one of our municipal garages, all of the EV stations are taken."
The statistics speak volumes, too.
"Since providing the first EV charging stations in 2021, we know through our data analytics that more than 3,300 people have charged their EVs over 4,300 times," she said.
In retrospect, Aviles attributes the city's success to ensuring the residents' concerns are heard and acting on them. There's also the importance of considering how quality of life and economic development factors intersect and enter the mix in any city. "Hoboken, for example, is in a transit hub," she said. "We have commuters where our proximity to the city to Jersey City and all the other nearby towns — we have a lot of transit going through here. We want also to meet those demands so that if someone is coming through Hoboken to shop and dine, they can charge before they hit the road."
Next Article: Rural communities keep the water flowing