Rockdale, Texas, suffers surge of water main ruptures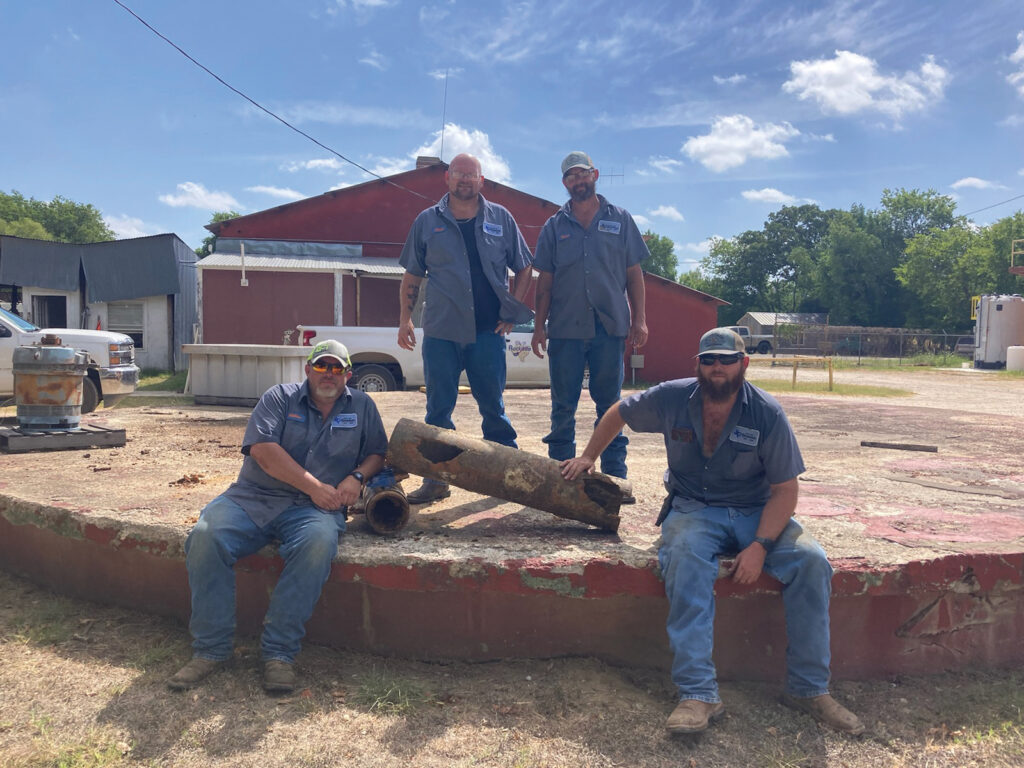 In the early morning hours of June 18, an 8-inch, cast-iron water line ruptured in front of City Hall in Rockdale, Texas. As crews worked to repair the line, two more six-inch main breaks, approximately 15 blocks from the original, were reported by midday. If that were not enough of a headache, over the next 48 hours, an additional three main breaks occurred on the same two sections of pipe. It was a near catastrophic water failure that crews scrambled to fix.
          According to Jerald Brunson, public works director for the city of Rockdale, no direct, single cause was identified to explain the first break, but six main breaks in a 72-hour period was unprecedented, especially for a department that only had four experienced field technicians available on a holiday weekend.
"Luckily, we were able to valve off an eight- to 10-block area and isolate the part of the distribution system causing the biggest negative impact on the system pressure. Outside of the area we isolated, there was some lower-than-normal pressure, but there was no outage or boil water notice required," he said.
Past its prime
Brunson said there are no good times for a major water system failure and no quick fix for pipes that are 20 years past their intended lifespan. Over the last five to eight years, the city has averaged well over 250 water leaks, and in 2018, the city sought financing for a water main — distribution system — replacement project as well as a wastewater treatment plant upgrade. The Texas Water Distribution Board approved both projects, and in July 2020, approximately $16 million was given to the city to replace all cast-iron and asbestos-cement piping.
The original projection was to replace well over 125,000 linear feet of the old pipe with C900 PVC, but due to the pandemic, several steps of the engineering, planning and approval processes have extended the start of the physical replacement by over a year. Currently, phase one of the project is scheduled to begin this December, with phase two starting in the fall of 2023. The project should be completed by mid-2024.
However, none of the planned improvements helped in June, and the repairs required a combination of techniques to mitigate the ruptures.
"Three of the breaks were repaired using wraps, and three required the replacement of up to 25 feet of cast iron with PVC. We did run into a shortage of parts on June 20, which was a city holiday," he said. "With the help of Ferguson Supply and local contractor Martinez Backhoe Services, we were able to get the parts necessary to complete all of the repairs by Tuesday morning."
A member of Rockdale's crew stands alongside the repaired pipe after four days of work with only a skeleton crew available over the holiday weekend. (Photo provided by the city of Rockdale)

Three of the Rockdale, Texas, water main leaks were repaired using wraps and three required PVC replacements to eliminate the damage. While the pipes were down, the city supplied bottled water to residents in order to help them get through the crisis. (Photo provided by the city of Rockdale)

Jerry Meadows, Rockdale's chief of police, used a 600-gallon trailered tank to furnish non-potable water to those who needed it, refilling the tank several times over the course of the crisis. (Photo provided by the city of Rockdale)
Having a plan
This is not the first time Rockdale has endured a water system failure. In February 2021, Winter Storm Uri wreaked havoc not only with the city's distribution, but customer service lines everywhere in the city. Brunson said during the most recent event, those without water or with reduced water flow were once again severely affected so city officials knew they needed to have a plan to help. To assist those residents affected by the breech, the city of Rockdale purchased several skids of bottled water and made it available to be picked up at the local community center.
"Jerry Meadors, the chief of police, utilized a 600-gallon trailered tank to furnish non-potable water to those in need and refilled the tank several times," Brunson said. "Barbara Holly, the city manager, and her husband helped load water into vehicles for many residents and took the time to communicate the status of the repairs to those seeking information and support."
Brunson said one thing that helps communities persevere during these types of events is having a good relationship with their vendors, contractors and other local municipalities. He said Rockdale's relationship with Ferguson and Martinez played a major role in being able to complete the repairs as quickly as possible.
"Fortunately, we were able to make the repairs without seeking another city's assistance, but we have a working relationship with Cameron, Hearne and Thorndale that we could have utilized if necessary. They also know that we are available if they ever need support," he said.
          Brunson also encourages communities to use their mandated emergency response plan whenever an incident occurs. If developed correctly, leaders will know what to do and how to implement it in a timely fashion. He also said communities should not wait until the distribution infrastructure is well beyond its lifespan to plan and finance improvements. Deterioration and failure will eventually impact every system so plan ahead before the system gets to the point of no repair.           "I have been a utility director or public works director for the past 10 years, and this is definitely the most main breaks I have seen in a month, much less in a long weekend," he said. "It was not the worst break or set of breaks I have seen, but it was right up there in the most stressful. With one coming right after another, I did not know how many more we might be getting. Thankfully, they stopped at six."