Water Reuse Project preserves precious Oklahoma resource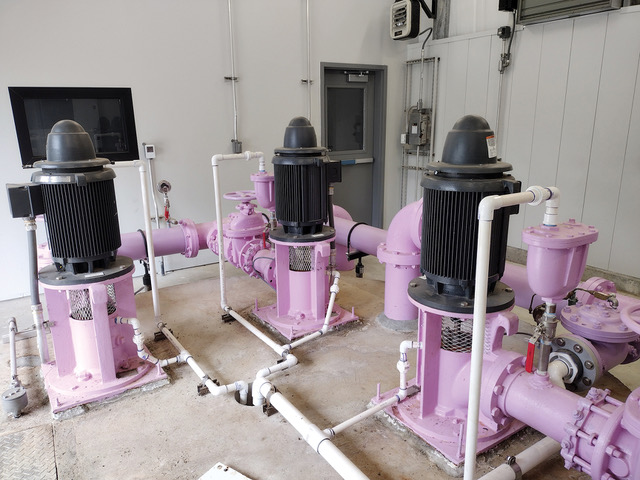 Nine years ago, the Lynn Lane Wastewater Treatment Plant in Broken Arrow, Okla., was using 220,000 gallons of potable water per day in its processes. Through a new sustainability process called the Water Reuse Project, it has gone from using 70 million gallons of potable water, total, in 2020, to only 11.1 million gallons in 2021. That's an 84% decrease year over year, which is saving the city between $60,000 to $96,000 annually.
Facility Manager David Handy has been at Lynne Lane since 2012. During most of that time, potable water was being utilized in all processes, including chlorination disinfection, biosolids processes and wash-down cleaning practices. "We were the largest user of potable water in the city," Handy noted.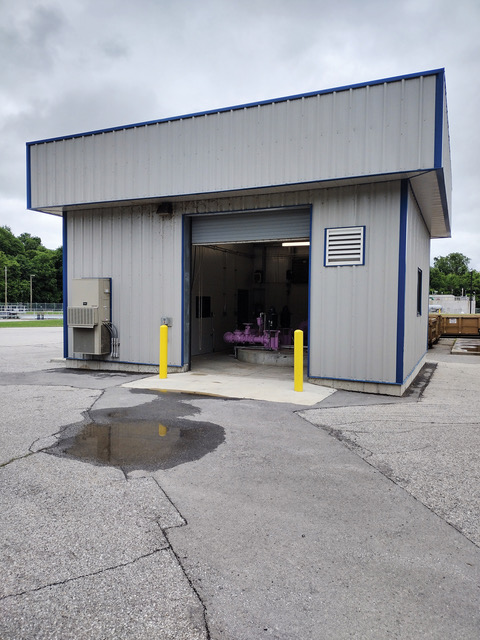 Water use regulations were adopted eight years ago in Oklahoma. Since then, the practice of water reuse at wastewater treatment plants is something a few facilities have obtained permits to engage in, and others are looking closely at the possibility. The Lynn Lane plant made it happen by building a top station and is now pulling treated water into the plant for wash-down and disinfection purposes — including keeping the biofilter wet and in screen wash and compactor use.
"With new state water reuse regulations in place, I wanted to develop a project that would allow us to re-use the treated non-potable water and replace the potable water usage," Handy said. "It would save money and resources."
Handy had spoken with members of the committee that wrote the new state regulations and been rolling the idea around in his head for a while. He said that 20 years ago, the word "sustainability" wasn't common vernacular in the wastewater industry. He began studying water reclamation practices to see what technological advances could reduce the plant's water waste. A project to rehab an old clarifier presented an opportunity, in Handy's mind, to calculate how much savings there would be if they went the route of using treated non-potable water instead.
"The cost of adding this non-potable part of the project, I thought it represented a good savings for the capital cost. So, we added it into the clarifier project, and that's how we got it done. To me, it's a win-win situation for everybody, including the people who are served here in the community. There's an extra 200,000-some odd gallons of water going out into the system for use by other people that otherwise would have been taken away. And when you're pulling that much flow to plant, it pulls pressure off of some areas of the system. I believe that helped out tremendously to restore pressure to some problem areas of the system, because we have greater water pressure now than when I came here nine years ago."
It helps especially to save water when the region gets into a dry weather pattern that increases water demand. The Water Reuse Project came to fruition in late 2019.
One of two treatment plants in the suburb of Tulsa, Okla., the flow at Lynne Lane is about 5.8 million gallons per day. Water reclamation processes use water in every phase of operation: From the chlorination process to the headworks function of removing sticks, stones, grit and sand, from the wastewater stream to processing the sludge and cleaning the equipment, it takes water to process waste.
But by replacing potable water with treated non-potable in most processes, there has also been a benefit to the two 18-hole golf courses that pull from the plant's basin in May through September, under the state's Category 3 rules. What the courses don't use is discharged to the Arkansas River.
The rules that govern the use of non-potable water at the wastewater plant are in Category 6. At Lynne Lane, the non-potable water is disinfected with sodium hydrochloride as an extra step so plant employees feel comfortable working with it — as kind of a fail-safe mechanism. Handy said this is done even though by the time it gets to that stage — when it's being pulled out for reuse — the water already meets regulatory compliance.
UV disinfection completes the process — a choice made largely because homes in proximity to the plant would have made use of chlorine gas difficult. "It's not a complicated process, but the paperwork and the risk behind it were the greatest considerations," said Handy. It also gives better pressure and volume to other sections of the plant.
"Now, we only use potable water for the Administration Building, the Maintenance Building, and the eyewash stations," Handy said. "This project saves the city roughly at least $8,000 per month.
"I was really surprised at the numbers," Handy said after the switch. "Our water resources manager, she ran the numbers … I look instead at how much water we use and how much it costs us to treat the water, from the point of view of monthly expenses, and it was quite a bit of savings."
It's something plants of a similar size might want to look at, Handy said, if they're using a large volume of potable water. "With that — using potable water — comes backflow preventers to prevent backflow contamination … In our case, with going largely to non-potable, we eliminated those in almost everywhere."
He has a vision for where he wants to take the facility. Now, Handy is looking at a biosolids project, which he is researching currently, with the aim of converting Broken Arrow's biosolids to reuse.
"We already have some of the mechanisms in place for that project. I think the idea is becoming more known: It's getting the public to have that acceptance. That's what it's all about, and the way I generate that is through education about what we do here."