Fix-it clinics offer residents the chance to renew rather than repurchase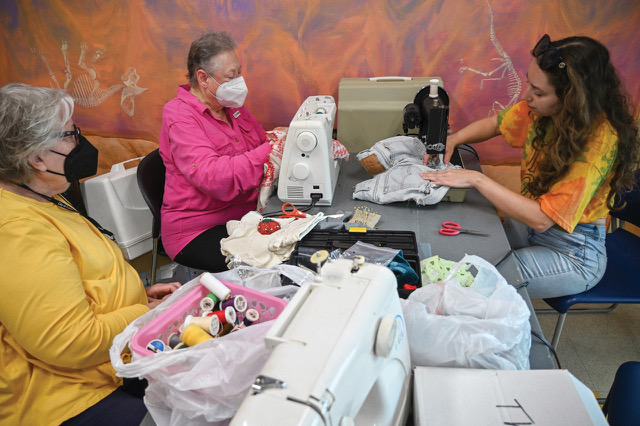 When it comes to environmental responsibility and reducing our collective carbon footprint, communities are quick to promote the three Rs of sustainability: reduce, reuse and recycle. But what about the fourth R — repair? The fix-it shop, once a staple of Main Street America, has become all but extinct; however, some municipalities are determined to bring the concept back.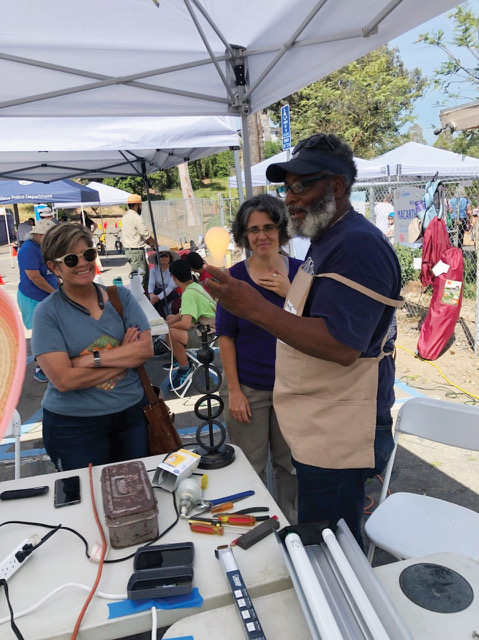 The fix-it clinic is a locally organized event designed to divert as much waste from landfills as possible by fixing broken items that usually wind up in the trash, such as small appliances, electronics, lamps, sewing machines and more. By assembling a volunteer team of creative and skilled individuals with experience in a variety of fields, cities find these events support a community's zero waste goals.
A popular program
According to Kaeli Wells, sustainability specialist with the city of Flagstaff, Ariz.'s sustainability office, the community held its first fix-it clinic in 2014. Inspired by the repair cafes and fix-it fairs that were taking place in Oregon, Flagstaff's clinics became so popular that the city has offered them two to three times a year.
"We had 74 community members and 18 fixers attend the fix-it clinic on March 26," she said. "Our fixers prevented 261 pounds of material from going to the landfill. We have an incredible list of volunteer fixers, and before each event, we ask residents to register for appointments so that we have a better idea of what items will need to be fixed during the event."
The city of Austin, Texas, has been hosting fix-it clinics since 2015. Residents who attend learn how to repair items, such as clothing, jewelry, etc., at the clinic, working alongside a skilled volunteer who coaches them through the repair. Matt Hart, public information officer for the city of Austin, said fix-it clinics inspire do-it-together, hands-on disassembly; troubleshooting; and repair knowledge. All ages are welcome because it's never too young to learn how something works.
"Many items are repairable, and we believe that by repairing, you prevent your item from going to the landfill and avoid the cost of buying a replacement (which is likely made from virgin materials)," he said. "While servicing an item may be more expensive than replacing it, sometimes repairs are easier than you think. It mainly involves a little elbow grease and confidence … One of the things we hope that people take home from the fix-it clinics is the courage to try these things on their own the next time something breaks."
The city of Austin has held 23 in-person fix-it clinics and served over 520 people. Prior to the COVID-19 pandemic, the quarterly events ran for three hours in partnership between Austin Resource Recovery and the Austin Public Library's Recycled Reads. These events began by focusing on specialized item repair (e.g. bikes or jewelry), but in 2020 and 2021, they pivoted to virtual education with the city hosting 23 live workshops on Zoom.
"Instructors were paid for their time, and the repair/maintenance skills that were taught included: bikes, electric guitars, shoes, sewing machines and sewing/mending by hand," Hart said. "A handful of classes were offered in English and Spanish with live translation and closed captioning options — the total estimated attendance was over 350, though there were 800 registrants."
Collaborative events for all
Laura Anthony, director of Zero Waste San Diego, helped the city of Chula Vista, Calif., organize its fix-it clinics, which she said was a great opportunity to bring intergenerational groups together. She worked with Chula Vista's environmental services manager, Manuel Medrano, to create programs that were fun and allowed people to connect, an ancillary benefit that went beyond the repair of household items. Anthony said in addition to culling the community for skilled volunteers — often retirees — to help fix items that are brought into the event, she also reaches out to high school robotics clubs who are knowledgeable about the latest technology and have a natural urge to "tinker."
A volunteer "fixer" mugs with a vintage lamp during a fix-it clinic in Flagstaff, Ariz. The city of Flagstaff Office of Sustainability holds these events two or three times a year to help community members save, rather than throw away their broken items. (Photo provided by Flagstaff, Ariz.)

A bicycle repair specialist works on a tire as part of a fix-it clinic held in Austin. (Photo provided by Austin, Texas)
"Until the pandemic, we were hosting fix-it clinics once a month in the San Diego area in churches, public libraries or any space where we could put tables, chairs, have access to electricity and something to cover the volunteers — most of which have followed me around since 2016," she said. "You should see the tool kits that they bring with them. They have such pride in these beautiful boxes with logos from the various fix-it clinics they have attended. They love sharing their skills with others."
Medrano said as the fix-it clinics have taken off, they have spawned a variety of sub-clinics that focus on specific items and often happen in concert with other events. For example, a bike repair clinic might lead to a bike ride where residents show off their renewed items. He said communities looking to host these kinds of events should not think about the education or environmental component, but rather build a fun, festive atmosphere that becomes a fun event for everyone. "People still like to gather, and they like to do hands-on activities," he said. "It's not hard to (create a fix-it clinic) You merely have to call out for volunteers, set up resources and have a plan to properly dispose of the things that can't be repaired. Above all, hold these events as frequently as possible so that they become commonplace in your community."