LEXPARK and T2 race ahead toward a frictionless parking future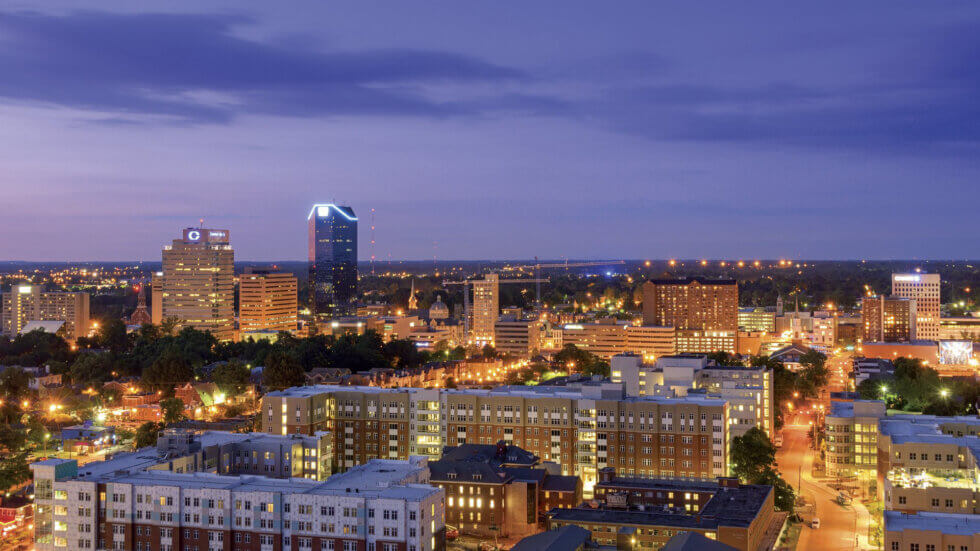 Background
Lexington is the second-largest city in Kentucky. Located in the heart of the state's Bluegrass region, the city is known as the "Horse Capital of the World," thanks to its rich history of horse racing and equestrian events. Lexington is also home to the University of Kentucky, bringing thousands of college students and Wildcats fans to the city each year.
The Lexington & Fayette County Parking Authority, known as LEXPARK, was founded in 2008. At the time, the city had a mixture of old wind-up, single-space parking meters and newer digital meters – none of which accepted credit cards. LEXPARK's first step was determining how to upgrade the existing meters that were inherited. They settled on a mixture of smart single-space meters and their first multi-space pay station, the Luke I from Digital Payment Technologies (now part of T2).
However, there was some initial pushback from the public on the more advanced Luke I pay stations. "It seemed like this community wasn't quite ready for a multi-space meter at that time," explained Gary Means, Executive Director. "So, we relocated them and put them more around the campus area, where there were younger folks that were a little bit more adaptive in their spending habits and with technology."
Making Metered Parking More Frictionless
Several years later, it was time for LEXPARK to upgrade more of its meters. At the time, the trend of using license plates as credentials was taking off. They decided to upgrade to the Luke II – T2's newest pay station model at the time – and switched from a pay-and-display model to pay-by-plate.
The Luke II pay stations and pay-by-plate model were received much more positively by the community. "They seem to be user-friendly for customers to navigate their way through the steps, and the screens work really well in terms of giving you the next step or how to enter your plate," Means stated.
The replacement of single-space meters with multi-space pay stations also made life much easier for the LEXPARK team. "Our maintenance and collections teams can function a lot more efficiently when you don't have a block face that might've had eight metered spaces in the single-space world. For collections, that's eight stops and dumps of coins."
When T2 released the Luke Cosmo pay station, which features a slimmer profile and only accepts card and coin payments, LEXPARK upgraded even more meters. "We have a lot of situations where it's a little tight to put in a larger unit," Means said. "The Cosmo worked really great for us, and it also was kind of a move away from bill accepting, which is really a big deal."
One of the main drivers of this change was the general public's shift away from cash payments and toward credit card and mobile payments. However, moving way from bill accepting also helps the LEXPARK team operate more efficiently, as "bill acceptors are always a challenge for maintenance," according to Means.
"All of this is sort of a slow progression towards being smarter, experiencing less friction, and having products that function well."
Adding T2 MobilePay into the Mix
LEXPARK was an early adopter of mobile parking payments – they have been with PayByPhone since 2011. In recent years they started to think about offering multiple mobile payment apps but weren't ready to take the leap. "And then T2 rolled out MobilePay," Means said.
"As a municipality it's easy to expand with a vendor that we have, rather than going back out for an RFP or a bid process. So, it was just looked at as an expansion. Integrations sometimes can be challenging, but having a text-to-pay option that was already integrated within the reporting capabilities just made a lot of sense to us."
LEXPARK started using T2 MobilePay in the fall of 2021. They worked closely with T2 and its partner TEZ to design signs that clearly explain the text-to-pay option while also communicating that the existing mobile app is still available. "Once we rolled that out, we immediately started seeing people who would see the sign and start using MobilePay," Means explained.
Means attributes LEXPARK's initial success with MobilePay to both the clear signage and the ease-of-use of the solution. With MobilePay, parkers just text the code on the sign, click the link that they receive, enter their license plate and parking duration, and pay. "I think it's just a little less frictionless for someone who doesn't already have an app to just text to pay."
"If you're already a T2 customer and you don't have a mobile app at all, this seems to me to be a no-brainer," Means stated. "It's integrated and it gives you an opportunity to offer another form of payment. And then if you have a mobile app already in place with one of our various vendors in the industry, it's a great add-on. It doesn't have to take away from what you've already been doing. You're just saying here's another way that we have to pay, because we like to offer lots of options."
---
"T2 doesn't think of itself as a hardware provider only, because T2 didn't even start in that world. And the company is supportive of that. I think MobilePay is a way to really get you to start thinking about those possibilities and to get your customers to start thinking about those possibilities."
Gary Means, Executive Director
---
Becoming Cashless and Asset Light
When LEXPARK adopted T2 MobilePay, they were curious to see what the effect would be on other types of transactions. "If the text-to-pay transactions continue to grow, will it dip into the mobile app payments, will it dip into the cash, or does it help us gain even more customers?" Means explained. The hope was that increased mobile transactions would "eat into the cash-paying customer."
So far, that hope has become reality for LEXPARK. Mobile transactions surpassed cash for the first time in January 2022 and have since continued to increase, while cash transactions have leveled out. Moving forward, LEXPARK is interested to see if this trend continues.
One factor they will be keeping an eye on is whether consumer desire for contactless options continues to rise as recovery from the COVID-19 pandemic continues. Another is the breakdown between the two mobile payment options among the University of Kentucky population as graduates move on and new students enroll.
"People tend to have an allegiance to an app that they use or already have on their phone, because they're just familiar with it," said Ed Trammell, Planning & Project Manager. "But new students that come along each year are a totally different demographic. Maybe the MobilePay signage is something that they just go straight to, and we see usage continue to increase."
Ultimately, adoption of these mobile options help LEXPARK progress toward its goal of becoming "asset light." By relying less on hardware and more on software and digital solutions, internal staff are freed up to focus on high-impact activities, rather than maintaining equipment. It also offers ease of use for parkers "with the whole tap-and-go world that we live in," Trammel explained. "The easier and faster you can make it for the customer the better."
"T2 doesn't think of itself as a hardware provider only, because T2 didn't even start in that world. And the company is supportive of that," Means stated. "I think MobilePay is a way to really get you to start thinking about those possibilities and to get your customers to start thinking about those possibilities."