Matchstick Marvels, Gladbrook, Iowa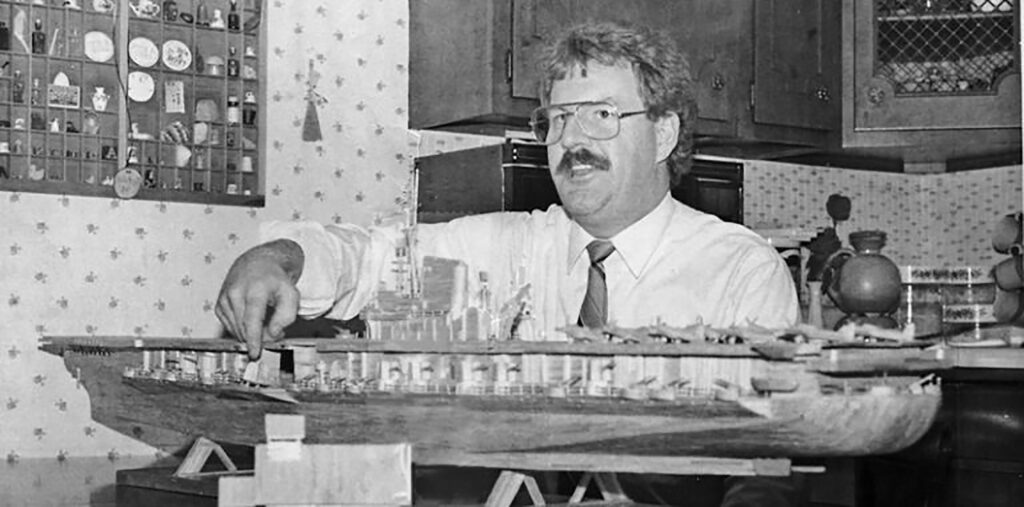 Sometimes numbers can spell words. And in Patrick Acton's case, those words are "tireless passion."
To put it simply, the Iowa artist has, for the past 44 years, created models out of matchsticks. A deep dive into his singular efforts, however, unearths a remarkable statistical narrative. Since 1977, Acton has built 75 precise scale models of buildings, ships, real and fictional space vehicles and fantasy recreations, many spanning more than 10 feet long, involving:
8,679,000 2-inch matchsticks (and still counting, as Acton intends to unveil a new model in 2023), every one placed by his own two hands, and held together with:
More than 300 gallons of wood glue.
More than one-third of the models have been specifically commissioned by Ripley's Believe It or Not! since 1994 and can be seen in their museums around the world, from Mexico City to Copenhagen, Denmark, to Sydney, Australia. His largest creation, that of a steampunk locomotive called "Plane Loco," measures 22 feet long, 13 feet wide and 9 feet high, and can be seen at Ripley's Time Square museum in New York City.
The humble Iowa farm boy has certainly come a long way since he "saw a television news story about a man who fashioned a model of his farmstead from ordinary wooden matchsticks," according to his Gladbrook, Iowa, museum's website, www.matchstickmarvels.com.
"Although Pat never forgot about this interesting story, it wasn't until years later that he attempted building with matchsticks.
J.R.R. Tolkien's City of Kings, Minas Tirith, was one of Acton's largest models when he completed it in Februrary 2010. The seven-tiered city contained hundreds of buildings and required 420,000 matchsticks. Acton also used 24,000 small wooden blocks to construct Mount Mindolluin, which holds up the structure.

Acton's recreation of Hogwarts School of Witchcraft and Wizardry took him nearly three years to complete. Prior to construction, he drew up technical drawings, built a cardboard scale model and watched several "Harry Potter" movies to capture the architectural evolution of the fictional institution. When he finished the project in November 2006, he had used 602,000 matchsticks and 24 gallons of wood glue.

The model of the Perseverance Mars rover is the actual size of NASA's vehicle launched July 30, 2020, measuring 10 feet long, 9 feet high and 7 feet tall. Its construction required 880,000 matchsticks and 28 gallons of wood glue.
"Then in 1977, fresh out of college with no woodworking tools of his own, Acton built a small model of a country church. He used Ohio Blue Tip matches purchased at the grocery store, a bottle of school glue, a utility knife and a piece of sandpaper."
He used 500 matchsticks on that inaugural project and continued building one or two models a year for the next decade, using several hundred to several thousand matchsticks for each. His wife, April, would help with the laborious chore of cutting the combustible ends off the matchsticks, but he glued every stick himself.
His work greatly accelerated in 1988 when he called Ohio Blue Tip and discovered he could purchase the matches without the sulfur tips. Since then, his creations have averaged tens of thousands to hundreds of thousands of individual sticks, and the "Plane Loco," finished in 2015, boasts 1,029,000 pieces.
Another boost in productivity came with his invention of a technique for gluing sheets of matchsticks for use on the models. He found he could glue the matchsticks together on a base of plexiglass, let the glue dry for a few days and peel up the intact sheet to be used like plywood for model substructures.
His former hobby, which he plied while serving as a professional career counselor in a nearby community college district for three decades, turned into more than a full-time job.
For example, his commissioned work of the new World Trade Center for Ripley's took him 2,100 hours to complete. He started in July 2012 and finished March 28, 2013. That pencils out to a nonstop, no-vacation average of at least 54 hours a week. Several other projects have required similar unwaveringly steadfast time commitments.
His inventory of creations eventually outgrew his home and workshop, so the Gladbrook community established a museum for his models, more than 20 of which are on display at any time.
All the works are hallmarked with Acton's stunning accuracy and attention to intricacy, and include:
Buildings, from his early models of a church and barn to a trio of country schools to the Iowa governor's mansion, Notre Dame and Chartres cathedrals and the U.S. Capitol.
Ships. His fleet includes Christopher Columbus's Santa Maria, a sternwheel riverboat, Cutty Sark clipper ship, Robert E. Lee 19th Century steamboat, the U.S.S. Constitution, several aircraft carriers and the U.S.S. Iowa battleship.
Land vehicles, such as bicycles, a stagecoach, Conestoga wagon, Freightliner flatbed tractor-trailer, several locomotives and a two-thirds scale model of the 1970 Dodge Charger from the movie "Fast & Furious."
Aircraft and space vehicles, beginning to present, from the 1903 Wright Flyer to fighter aircraft to the International Space Station, and fictional spacecrafts U.S.S. Enterprise and Millennium Falcon.
Gondor's capital city, Minas Tirith, from J.R.R. Tolkien's "Lord of the Rings" series, and Harry Potter's Hogwarts School of Witchcraft and Wizardry.
Miscellaneous creative ventures, such as windmills and wind turbines, rocking chairs, college logo signs, cowboy, swimmer, angel, American bald eagle, brontosaurus and two-headed dragon.
The museum, located at 319 Second St., Gladbrook, Iowa, is open seasonally, from April 1 through Nov. 30, from 1-5 p.m. seven days a week except Easter and Thanksgiving. The cash-only admission is $5 for adults, $3 for ages 5-12 and free for children under 5. For more information, call (641) 473-2410 or visit www.matchstickmarvels.com.