California cities partner on surface water project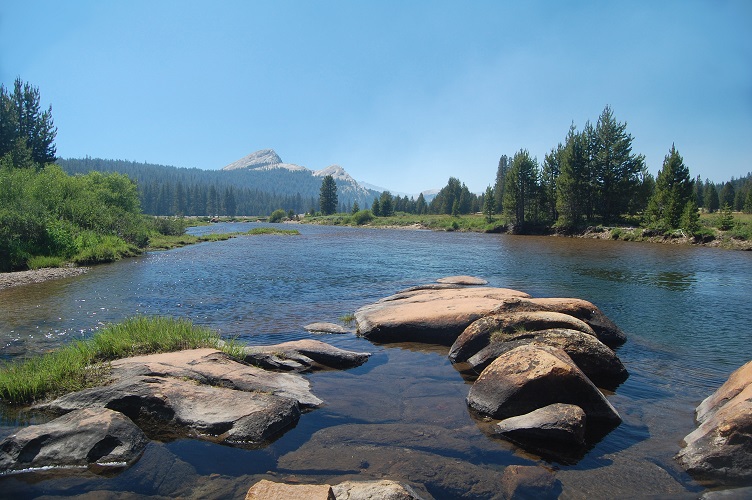 It's been more than 30 years since the cities of Turlock and Ceres in California decided to partner on a surface water project, but by this time next year, if all continues to go smoothly, the Regional Surface Water Project will be up and operational.
The project pulls water from the Tuolumne River and treats it to supplement the two city's water supplies.
Dan Madden, interim municipal services director for the city of Turlock, has been with the project since its inception. Madden retired from the city in 2013 after working full time for 28 years. He stayed on in a part-time capacity until 2017 when he fully retired, but he was brought back last August to serve as interim director.
Madden explained while it was talked about since the late 1990s and the early 2000s, "it was revitalized on a more serious level."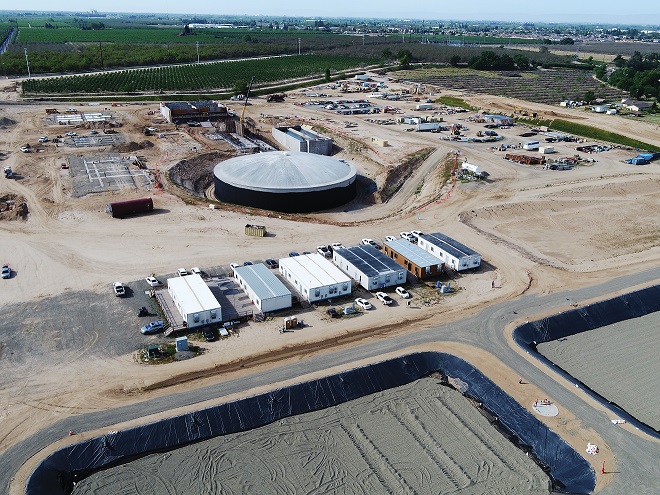 By 2010, the development of a Joint Power Authority between the cities of Turlock, Ceres and Modesto, Calif., began. Madden said the JPA was officially adopted in 2011, and in 2015, Modesto dropped out. He explained Modesto has a population of over 200,000, and it has its own surface water treatment project that it is going to expand so it didn't have as much of a need to be a part of this project.
Turlock's population is closer to 80,000, and Ceres' population is around 30,000. "Turlock and Ceres are closer geographically, so it makes sense for them to partner," Madden said.
Asked if Modesto's pulling out created more of a financial burden for the remaining two municipalities, Madden admitted it had.
"It certainly added a greater burden to the remaining," he said. "Turlock pays 66% and Ceres pays 33%."
In dollars, that amounts to $123.3 million for Turlock and $61.6 million for Ceres, according to an article in the Ceres Courier dated March 9, 2022.
He said a project this big required a lot of permitting and regulatory requirements, and that work started in 2016 "after the JPA was formed and the dust settled." The cities finally began construction in 2021.
According to the Stanislaus Regional Water Authority's website, the project schedule entailed the environmental process from 2016 to 2019, the project design phase from 2018 to 2021 and the current construction phase from 2021 to 2023.
Groundwater issues
Madden explained, "A lot of the cities in California's Central Valley rely on groundwater for potable drinking water."
With increasing standards for drinking water in the state of California and on the federal level and the number of straws in the aquifer, the groundwater basin was depleting.
Madden said it wasn't vital for Turlock, where the water supply is still relatively stable, but there was some degree of depletion. The bigger problem was groundwater contamination. Some contamination is naturally occurring like arsenic and some are man-made like 123 TCP (Trichloropropane) and 123 TCE (Trichloroethylene).
In fact, a water quality report for April 2022 on the city's website shows the water tested exceeded the maximum levels of 123 TCP due to a change in the maximum contaminant levels. The report states this occurred in two to three wells. Consuming water contaminated with excessive levels of 123 TCP over many years can cause cancer. The report stated there was no need to use bottled water at this time, and the city hoped to have it corrected by June.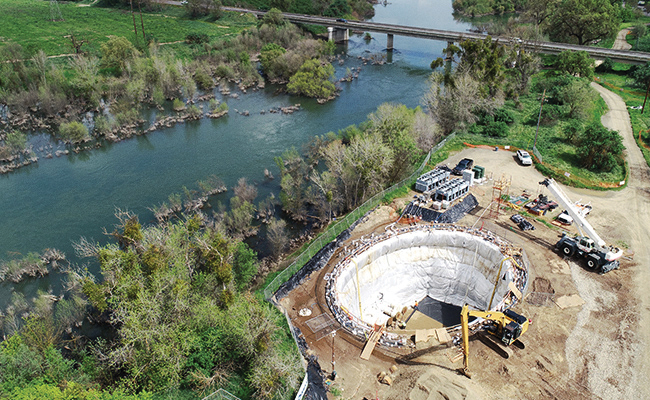 Because of the depletion and contamination, the city thought it "best to get an alternate water supply," Madden said.
Surface water also has some levels of contaminants, but it is easily treated and can be treated all at one location — compared to groundwater, where they have 19 wells online. Wellhead treatment adds time and money and decreases the water capacity.
Madden said the Turlock Irrigation District has the water rights to the Tuolumne River. The district provides irrigation to farmers and, along with Modesto Irrigation District, operates a large reservoir there. The surface water for Turlock and Ceres will come from the Tuolumne, and they have an agreement with the Turlock Irrigation District to allocate a certain volume to the surface water project.
The Tuolumne River flows for 149 miles through Central California from the high Sierra Nevada to join the San Joaquin River in the Central Valley.
According to Karen Morgan, superintendent of public works for the city of Ceres, the Tuolumne headwaters in Yosemite.
The Tuolumne Irrigation District was the first irrigation district formed in California and has been a community-owned, not-for-profit irrigation water and electric utility since 1887.
Madden said the Regional Surface Water Project gives them more capacity and is easier to treat. They'll also still use groundwater. "But we won't be solely dependent on groundwater."
The surface water treatment plant could serve all Turlock's needs, but he stated they'll simply be augmenting groundwater at this point.
"Whether that will be 50/50 at some point in the future, I'm not sure," he said, adding, "Most of the treated surface water entering the system will be used on the east side of town."
The one treatment facility will serve both cities. Some reports state initial capacity will give Turlock 30 million to 35 million gallons a day and Ceres 15 million gallons a day, eventually expanding to 45 million gallons a day to both cities.
Morgan said, "As soon as we're done with this project, we'll start on the expansion."
Morgan anticipates in the future two other towns in the surface water project's pathway — Hughson and Waterford — may decide to join the partnership.
Funding
To pay for the project in Turlock, Madden said, once the JPA was formed, the city instituted a five-year water rate increase, starting in 2017. With that guaranteed source of revenue, the city got a state revolving loan at the low interest rate of 1.2% on $230 million over a 30-year pay period.
The rate increase included construction and operations and maintenance going forward. Madden said by utilizing SRF funds, Turlock reduced interest across the board, resulting in savings of $100 million over the timeframe.
He said the city received $35 million in grant funds. "And we continue to lobby to obtain grants and other funding sources to bring the cost of the project down."
The $230 million is the cost for the surface water project treatment facility and pipelines, plus the city of Turlock has an additional $34 million of improvements within the city. These improvements include the surface water tank, distribution system and chlorination system.
Morgan said Ceres also had a rate increase "over five years the last one in January of this year."
According to an article in Ceres Courier dated March 9, 2022, the water rate went from $40.13 for an average single-family household to $88.25 in January 2022.
Morgan said city officials have also "very aggressively" sought out grants for the project.
When asked how residents felt about the rate increase, she responded, "I haven't heard anything negative about it. This project is going to solve some of the problems they've been having so I think they're happy about it."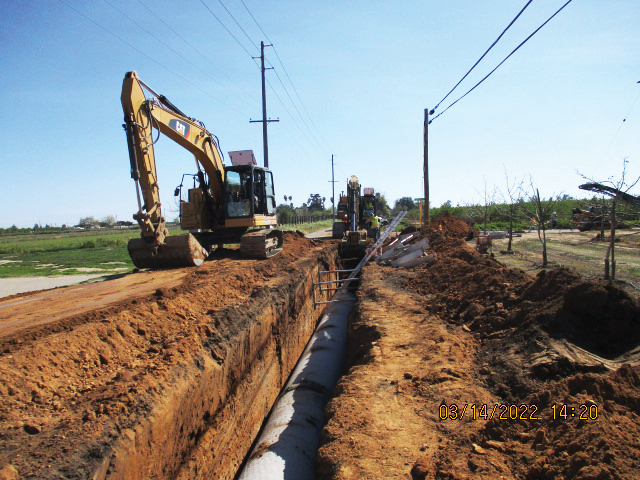 The additional cost for Ceres is estimated roughly to be $15 million to $20 million, which includes a $3 million gallon storage tank, new 18-inch transmission mains, new dead-end flushing valves called blow offs and other studies, including a corrosion study, hydraulic modeling and a surface water integration study.
Project's progress
Both Madden and Morgan said the project has been going very well.
Madden noted, "For a project this large, I'm extremely impressed with how well it's moving along. There have been very few change orders in this construction project."
Madden credited the design-build contracting method for that. "A design-build project cost a little more in the short term, but in the long term, the savings is a greater advantage than the cost increase."
Avoidance of change orders is an example of those savings. He said engineers may have one idea for specific materials, and a contractor might suggest something less costly that would work just as well.
"In fact, some of the change orders we are seeing are cost deductions," he said.
According to the Stanislaus Regional Water Authority's website, an earlier part of the project — the wet well element of the raw water pump station — was constructed using a traditional design-bid-build contracting method.
Morgan agreed. "Everything has gone really well and under budget so far."
Morgan gave all the same reasons for Ceres' involvement with the project as Turlock — groundwater becoming lower, contaminants and a way to diversify resources. She said she was just a girl when the whole thing started.
Madden offered these words of wisdom to cities and towns considering similar projects or partnerships. "Make sure you have complete buy-in and make a decision and stick with it. Waffling just delays the project, and it takes longer and costs more," he said, noting political leadership might change, but decisions made by predecessors because of money paid to consultants should be considered. "Make a commitment and stick with it."
He said there were so many "what-ifs" being worried over in the late 1990s. "If we'd done what was recommended in 2006, we'd already been done."
Morgan advises listening to people like Madden.
"Pay attention to the elders of the group," she said. "Some of these people who have decades of experience are retiring, taking all that knowledge with them — it's a gray wave. Take advantage of their knowledge before they're gone."
Other than that, she advises when undertaking such a large project, "Get started early. These things take a long time — especially in California because of all the regulations," she said. "This is one of the biggest things I've ever been or hope to be involved with." Madden said, "I'm very pleased with the progress of this project, and for my own experience, it's great to finally see it come to fruition."