Bemidji builds new water treatment plant to treat PFAS contamination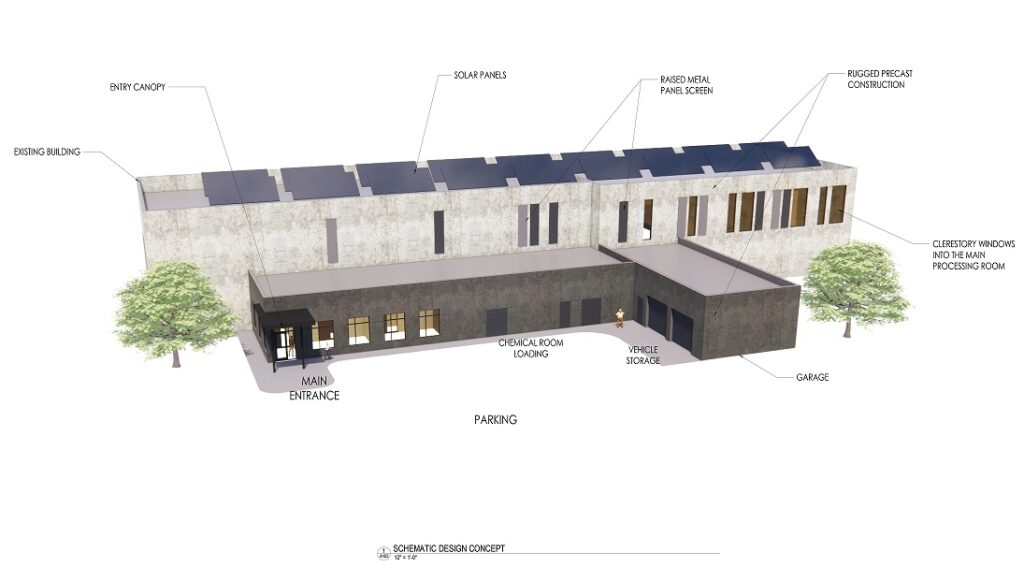 Several years ago, the city of Bemidji, Minn., discovered perfluoroalkyl and polyfluoroalkyl substances had leached from the city airport into the underground aquifer the city's five wells draw from for producing drinking water. The PFAS family includes an array of chemicals that are considered potential health risks.
"We took a look at moving our well field," said Nate Mathews, city manager for the community of 15,400 people in the north-central part of the state. "We studied all around the town where we could potentially drop some new wells. We couldn't find another spot other than where we were."
Also, if the city abandoned the existing well field, the PFAS contamination in the aquifer would continue migrating east to Lake Bemidji about 3 miles away, Mathews said.
So about four years ago, city officials decided to deal with the problem head-on: They would maintain the existing wells and treat the water to remove PFAS. Drawing out contaminated water and treating it also prevents the PFAS plume from migrating farther in the aquifer, Mathews said.
That made Bemidji among the first communities in Minnesota to develop and implement a plan to remove PFAS from drinking water, Mathews noted. It's a challenge many communities face around the country.
PFAS are used in a multitude of products ranging from nonstick cookware and stain-resistant clothing and carpeting to firefighting foam — as reported on the National Institute of Environmental Health Sciences' website, www.niehs.nih.gov. The chemicals, which take an extremely long time to break down, now are common contaminants in our air, soil and water. Health officials worry about the effects of longtime exposure to PFAS and their accumulation in the human body, NIEHS reported.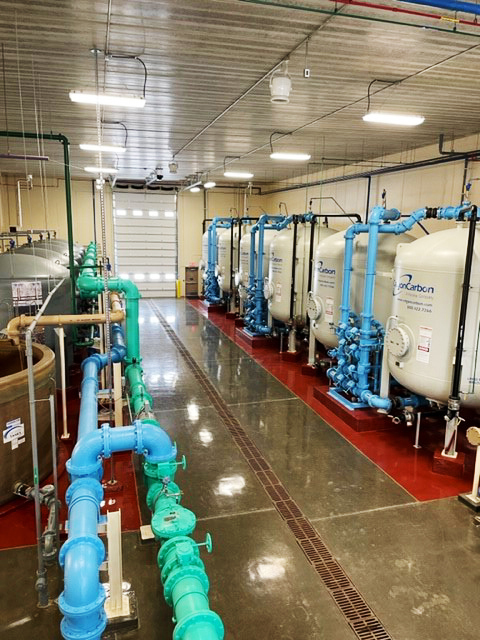 Water from the city of Bemidji's wells had been of such high quality it previously needed treatment only with manganese and chlorine, Mathews said. The PFAS in the groundwater came from firefighting foam used during training and real accidents at the city airport.
The state of Minnesota had begun to investigate possible health risks from PFAS in firefighting foam by 2010, Mathews said.
"It started to get more real for us when in 2014-2015 some of our wells started to indicate there were PFAS compounds in the water," he said. "In the end of 2014, in November, we detected six compounds in our water."
At the time, the Minnesota Department of Health still was developing guidance on PFAS contamination and assessing risks, he said. Bemidji kept tracking the state's work.
"Guidance from the state on PFAS changed in 2017 and 2018 because the state at that point reduced what they felt would have been a safe limit of consumption of PFAS," Mathews said. "So they basically installed some levels."
With the cumulative effect of exposure to multiple compounds factored into a Health Risk Index, Bemidji officials knew they needed a strategy to ensure the community had safe drinking water.
"I think there was some community anxiety about where this was going, especially starting in 2018 when we saw some (PFAS) levels starting to elevate," Mathews said. "We ended up shutting some of our wells off because they were so contaminated. What we were doing was blending our wells together. Some of our wells were very low or non-detects and some of them were really high, so we provided a blended product out there that was still below the guidelines. But we were getting to the stage where we were not able to even do that."
The city accelerated plans to build a new water treatment plant, according to Mathews and Craig Gray, Bemidji director of public works/city engineer. They worked with Barr Engineering of Minneapolis to design a treatment system that removes PFAS from the well water. The project won Barr a 2022 Honor Award from the American Council of Engineering Companies of Minnesota.
"The city and Barr ran some small-scale pilot testing on two different treatment options — granulated activated carbon and ion exchange," Gray said by email. "That process, along with Barr's expertise in the field, showed that granulated activated carbon was the preferred option."
The carbon filtering units are like giant versions of filters people use with home water purification systems, Mathews explained. As water flows through, the carbon extracts the PFAS. Just as at home, granulated activated carbon in the Bemidji Water Treatment Plant filters must be replaced periodically. The used carbon gets incinerated, Mathews said, which destroys PFAS trapped in the material.
To get a new water treatment system operating as quickly as possible, Bemidji split the treatment plant construction into two phases, Mathews and Gray said. The first phase produces 1,500 gallons of treated water per minute, which meets community needs during normal usage, Mathews said. Officials finalized the design in 2019, started construction in 2020 and began treating water in May 2021.
The city faced several challenges: It needed to educate the public and state legislators about a very complex science problem, Mathews said. The coronavirus pandemic often forced city and Barr Engineering officials to meet remotely. COVID also caused delivery problems for plant construction and with workers getting sick or being out while quarantining, Gray said.
At the same time, the city also worked with Barr to design the $12 million second phase of the plant. That expansion, which is scheduled for completion in fall 2023, will boost water treatment capacity to 2,500 gallons per minute, Mathews said. The total should satisfy peak summer demand and community growth for the 40-year life of the treatment plant, he noted. An alternate option that may be included in the final project bid would install rooftop solar panels to generate a portion of the plant's electricity.
The city funded the first phase of water treatment plant construction with its own $4 million bond issue, Mathews said. Dividing the project into two phases allowed the city to apply for and receive $10.2 million in state bond funding to assist with the cost of Phase II, he and Gray said.
City officials and residents appreciate the result.
"We're taking samples ahead of the plant and then after the water leaves the plant, and in the water leaving the plant, there is no trace of PFAS, so it's working," Mathews said. "I'm so impressed with the engineering community and the technology that exists there."
Residents seem pleased with how the city handled the PFAS contamination, he said. They also haven't voiced any comments about the taste of the water. "It's kind of like you hope it would be," Mathews said. "People just kind of say everything is normal and good."