Fayetteville builds new wash for growing fleet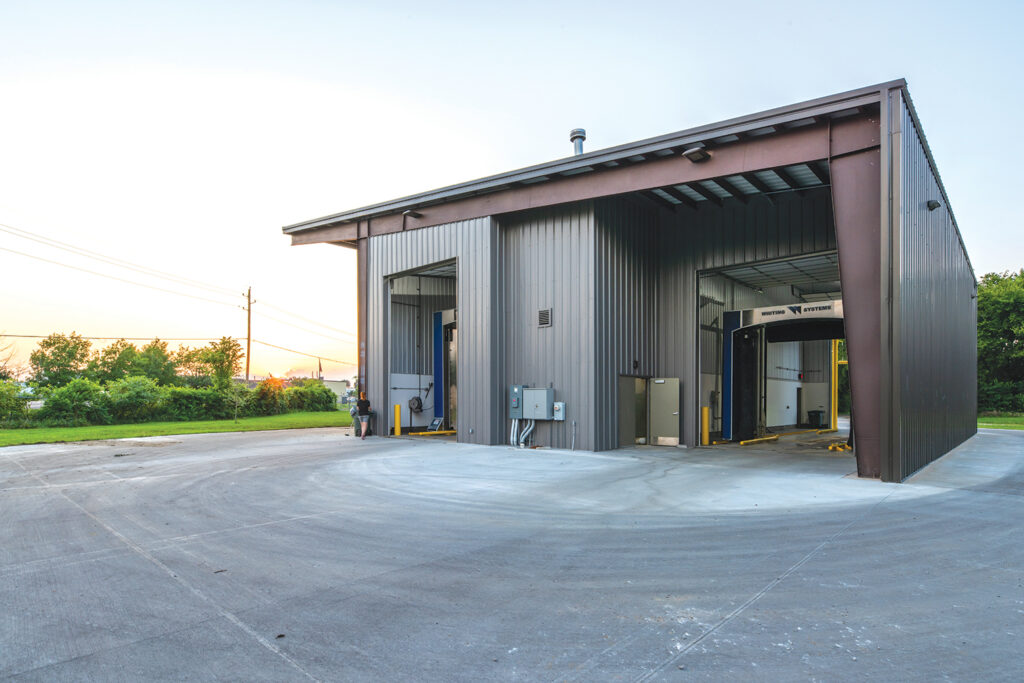 One doesn't often give town work vehicles a second glance, but they'd be noticed for the wrong reason if they were dirty or unkempt. Keeping the vehicles of a town's fleet clean is one of the tasks in the background of maintaining equipment used in managing a municipality. Often, it's just a smaller portion of a town budget, but after a certain level of city growth, it can become far more expensive than is viable if there is no designated wash system in place.
"We were washing the large fleet vehicles inside our shop area, which was not ideal," said Sara Combs, the fleet superintendent of Fayetteville, Ark., and the current president of the Arkansas Public Fleet Professionals Association. "The water system was dated and developed leaks, which meant we were paying for repairs to the wash system, plus paying a higher water bill because of wasted water leaking out, and all of it was damaging the building."
She further explained, "Eventually, for the smaller vehicles, we used a local carwash, which had given us a discount. But they began to slowly take the discount away, and using that outside vendor was getting far too costly. We were spending between $900 to $1,200 a month just on that vendor."
The Fayetteville fleet is not small in size. In 2021, it ranked No. 75 out 100 fleets nationwide to receive the 100 Best Fleets award from NAFA Fleet Management Association. Part of the need for such a fleet, and therefore, an expanded wash system, was the explosive population growth northwest Arkansas experienced in the last decade. Fayetteville is the town you've never heard of, but it is part of a region that influences every single state across the U.S. and even touches the global economy: 26 miles away, in Bentonville, Ark., Sam Walton opened the very first Walmart store. By 1967, that number had grown from one to 24 stores, and since that time, the company has grown to a whopping 11,847 stores worldwide. This makes Bentonville home to the headquarters of the largest retailer in the world, as well as one of the fifth largest corporations in the world by sales.
"We've had a booming population here, and that is part of the reason our fleet continues to grow," stated Combs. "Not only are we 30 minutes from the home of Walmart, but J. B. Hunt, one of the largest freight transportation providers in North America, has its headquarters 15 minutes from us. Tyson Foods, the world's second-largest processor and marketer of chicken, beef and pork, is 20 minutes from us."
"Plus," she continued, "Walmart requires every one of its vendors to have an office here. So we are inundated; we've had a huge influx of people, especially in the last decade. I think we're in the top 10 fastest-growing areas of the country. And that's all well and good, except we keep getting loads and loads of more citizens. So, our fleet has consistently needed more vehicles to keep up with the growing workload."
Workers complete one of the bays. The new wash frees up needed workspace for Fayetteville's growing fleet. (Photo provided by Fayetteville, Ark.)

Fayetteville's new wash reduces the amount of money being spent on water; additionally, its small vehicle wash will recycle the water used. (Photo provided by Fayetteville, Ark.)

A catwalk allows workers to clean off the tops of fleet vehicles. (Photo provided by Fayetteville, Ark.)
After a year of research, in April 2019, Combs pitched the construction of a fleet wash to city leaders when it became clear that keeping the vehicles clean was at bottleneck cost.
"The city of Fayetteville takes great pride in its fleet, which serves every city department, such as public works, recycling and trash, water and sewer, as well as police and fire," she said. "We tried to make sure to encompass everything with the new wash, which was designed by DEMX Architecture and in which we used Whiting Systems Inc. for all wash equipment. We are now able to accommodate our average-size vehicles and have an automatic wash for the heavier trucks. Then we also have a manual area that has a kind of a catwalk so that you can wash the tops of your vehicles as well."
Construction started in the spring of 2020, and the wash was finished in the spring of 2021, a fairly decent construction time during the first year of the COVID-19 pandemic. Combs stated COVID didn't have much of an impact on the construction, other than the delay of supplies being delivered.
"The main thing was we allowed our contractors to have their own requirements and rules," she said. "The city followed CDC (Centers for Disease Control and Prevention) guidelines; we had meetings that were open air. But honestly, I think bad weather delayed the construction more than anything, though."
Combs noted moving the truck wash out of the shop area has opened necessary space for a workspace expansion, which is needed to maintain growth. "Hopefully, we can start the expansion project this year; we're running out of space here."
As far as the monetary impact of the new wash, Combs is optimistic.
"I haven't run the numbers yet, since it hasn't been in operation for a year, but the cost of the vendor and the cost of the numerous repairs to the old wash have disappeared," she said. "What we were spending on water has gone down as well since we're no longer having to pay for the extra water we lost to leaks. Plus, we recycle the water used in the smaller vehicle wash."
Overall, the construction of the fleet wash fulfilled Fayetteville's need for fleet improvements to both budget and workload in the face of a growth rate very few regions experience. "It was definitely fulfilling to have it completed, for sure," Combs said. "I grew up here, and the changes I've seen are just exponential, but I'm very satisfied with our ability to keep ahead of that change."