Compact line removal and grooving innovation from MRL Equipment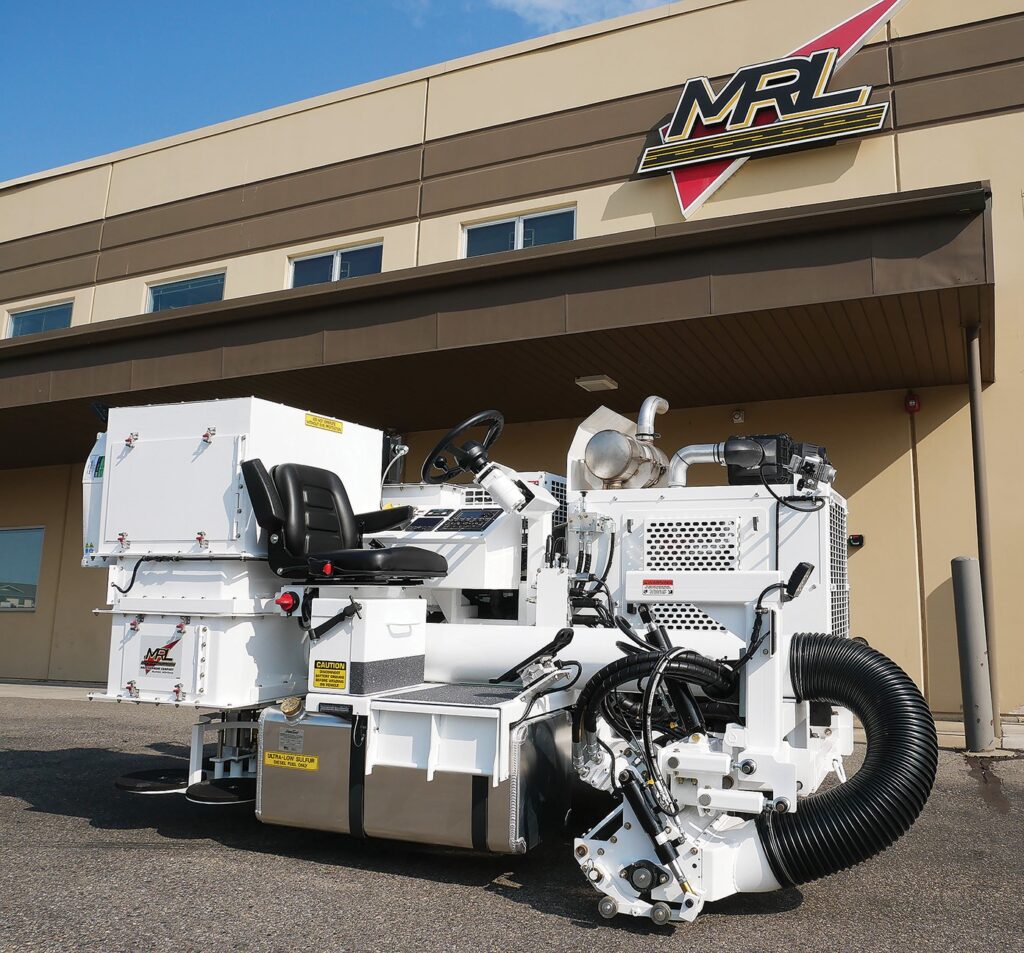 MRL Equipment Company's comprehensive Mini product line offers innovation across the entire category of road marking equipment. MRL Equipment is proud to share its newest development in Line Removal Equipment, the Mini Grinder/Groover. Designed to remove pavement markings, groove for inlaid pavement markings and slot cut for raised pavement marker installation, the MRL Mini Grinder's compact, agile design enables increased productivity in tight spaces and congested work zones.
MRL's Mini Grinder offers an advantage: all the features and capability of a large, full-sized truck — line removal, grooving and slot cutting — in a small, efficient unit that is sized similarly to a riding lawn mower. No commercial driver license is required, and use requires only one person for operation. Equipped with a 74 horsepower, 2.8-liter Cummins turbo diesel engine, the Mini Grinder uses an 8-inch diameter head that removes or grooves up to a maximum of 13 inches wide. This size makes inlay or removal of 24-inch markings easy, with only two passes. Like a larger grinder truck, the Mini Grinder's cutting head accepts a polycrystalline diamond (PCD) milling style cutting head, diamond saw blades or a carbide flail cutter drum. The RPM cutting head speed is variable for different cutting head attachments and surface materials.
The removal head is positioned in front of the operator for high visibility of the work area, and tilt and depth control are adjustable for the removal/grooving head attachments. Rear steering offers a tight turning radius while inlaying or removing arrows or other symbols.
MRL's Mini Grinder comes equipped with a powerful, efficient 1,500 cfm vacuum that keeps the worksite clean and compliant with air quality regulations. Debris storage features easy-to-handle 5-gallon plastic buckets on lifting mechanism for 300 pounds of total load capacity (2.67 cubic feet). The hopper system makes for fast debris management to keep the machine in use with minimal downtime. The vacuum system comes with a cleanable/replaceable filter system. Variable vacuum suction control is available for the different road materials, from concrete dust to heavy aggregate.
The Mini Grinder also comes standard with hydrostatic low speed cruise control to keep the machine operating at its maximum efficiency. Low speed cruise control is a huge advantage for efficient line removal, for cutting asphalt for inlaid pavement markings and using diamond saw blades on concrete. This makes it easier for operators to work in a variety of environments.
Numerous options are available to customize your MRL Mini Grinder, including steel debris collection bin with dump door, laser guidance, custom powder coat paint color and more. MRL also offers an efficient, easy-to-use transport trailer for the Mini Grinder. This transport trailer features deck storage for the Mini, along with side tilt debris storage bin — a power tilt rear deck with hydraulic 5-foot-by8-foot dump box — and a solar charger for on-board battery.
These innovative, robust features, combined with MRL's industry-leading parts department and customer service, provide next level service to the operator. With parts in stock and experienced technicians on call, MRL helps eliminate equipment downtime. MRL's Mini Removal/Grooving machine greatly complements MRL's Mini product line, meeting market needs by driving innovation and creating efficient and safe equipment for the end user. For further information on MRL's entire Mini product line, visit www.markritelines.com.