Cities ramp up outdoor fitness offerings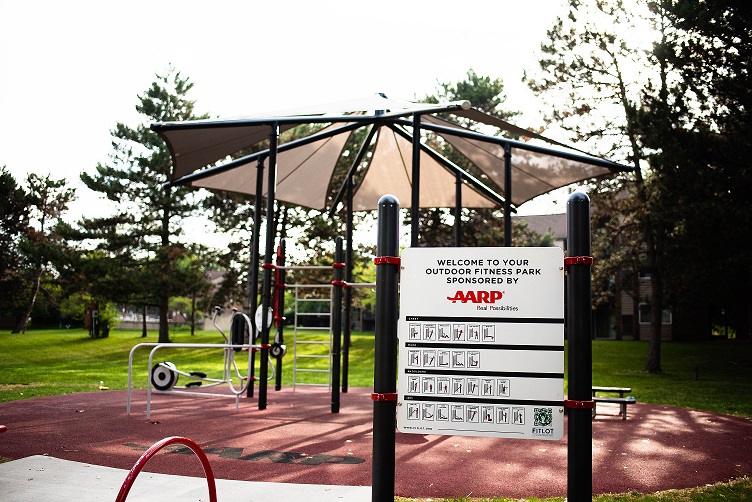 What does a healthier community look like? Providing opportunities for people of all ages and abilities to recreate on their terms is one facet of public health.
Outdoor fitness park installations, known as FitLots, strengthen people and their communities by supporting the creation of public outdoor fitness parks. The organization helps communities plan, build and activate outdoor fitness parks so everyone can enjoy the benefits of a more active lifestyle. With a goal to bring the concept to all 50 states by the end of 2021, FitLot has partnered with the senior advocacy organization AARP to provide grant funding to install these structures in multiple communities around the country.
Burlington, Vt., is one such municipality. The community boasts a FitLot at the Miller Recreation Center and has experienced success in making fitness age inclusive. According to Burlington Director of Parks, Recreation & Waterfront Cindi Wight, the location was strategic.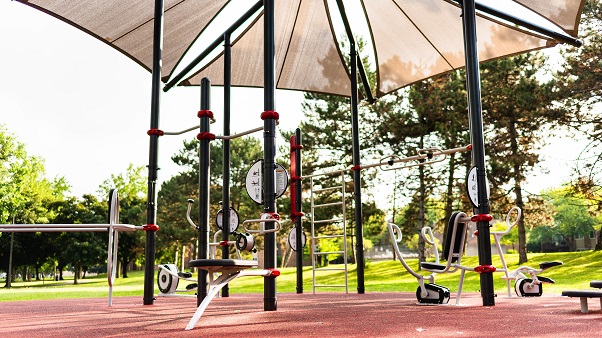 "We chose the Miller Recreation Center for multiple reasons," she said. "For one, there are two schools right nearby, the CP Smith and Hunt Middle School. So, if the schools wanted to include it all in their curriculum, it would be something that would be readily accessible to them. There's a senior center located just about half a mile from the Miller Center. We knew that seniors would be potentially looking for free outdoor fitness."
According to Wight, their hunch was correct, but it wasn't just people 65-plus who used the facilities. She said she sees younger people
"I live across from the FitLot, and I see all the activity on it, "she said. "And we see people in their 20s who are doing lots of pull-ups and things on it. But then we also see our seniors who utilize the equipment."
On that note, the parks department has made a point to be proactive in its outreach by offering circuit training programming at convenient times for this demographic. In addition, the department has partnered with the local YMCA to provide classes at the FitLot, to widen the scope of reach.
Speaking of reach, residents in Cedar Rapids, Iowa, have access to the same amenities. According to Recreation Supervisor, Parks and Recreation Department Robert Wagner, their FitLot was installed before the pandemic, which put a damper on things. A severe storm with damaging winds didn't help the cause either, yet he's hopeful that residents will engage with the community resource after the parks department has its official grand opening for the FitLot sometime soon.
On a more encouraging note, Lansing, Mich., has leaned into success with its FitLot installation. According to Parks Director Brett Kaschinske, the city chose a location downtown because it's in a high-traffic location along the 17-mile river trail.
"(The FitLot) is designed for individuals of all ages and of all fitness abilities," he said. "Both of these courts have the ability to use a lot of bodyweight exercises."
The outdoor aspect means people could stay active despite the governor's emergency order, which temporarily closed gyms to control the spread of the coronavirus. The enthusiasm for the FitLots hasn't waned, however, even during the warmer months, according to Kaschinske.
"I think people enjoy being outside more than they do in the buildings," he said. "The pandemic has really highlighted what parks and recreation can do for mental health as well. We saw a 19% increase on our river trail as far as usage from 2019 to 2020. It really helped us make these outdoor fitness facilities available to the public."
And just like in Burlington, Kaschinske said the users have not been exclusively senior citizens. He said people 30 to 50 are among the demographic base. This has helped parks department staff get the message out that FitLots are inclusive. "It's something that I think people feel comfortable with — because they see all different shapes and sizes of people out there using this equipment," he said. "And in the classes, you know, that's a similar thing as well — being able to work out with friends in a group setting with someone who is trained on that equipment to show how it is used properly. And you can get that total body workout throughout all the stations of the FitLots in the fitness courts."