Sister Cities form special relationship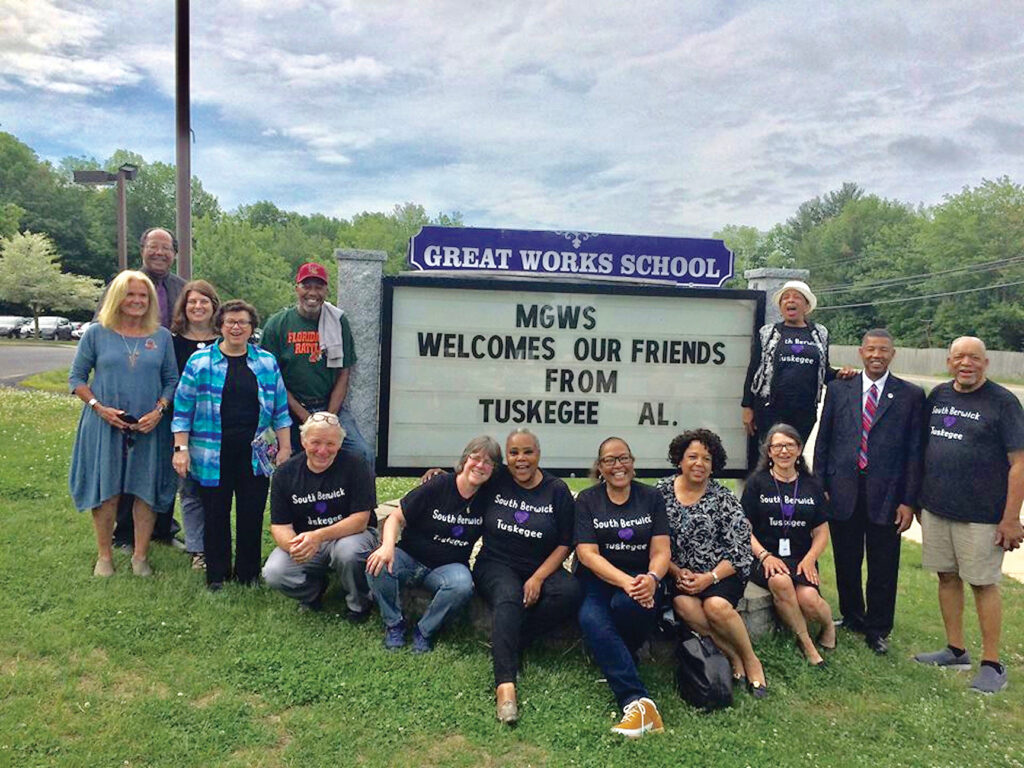 What does the term "sister city" mean to you? Sistercity.org defines it as a broad-based, long-term partnership between two communities. They promote peace through people-to-people relationships, sharing research and developing projects between the two cities.
The two cities of Tuskegee, Ala., and South Berwick, Maine, are shining examples of a successful program known as Common Ground Sister City. Their purpose is beautifully clear: The mission of the American Sister City Project is to afford the opportunity for the citizens of two communities, one predominantly Black and the other predominantly White, to talk with each other, listen to each other and share with each other, to broaden understanding between people.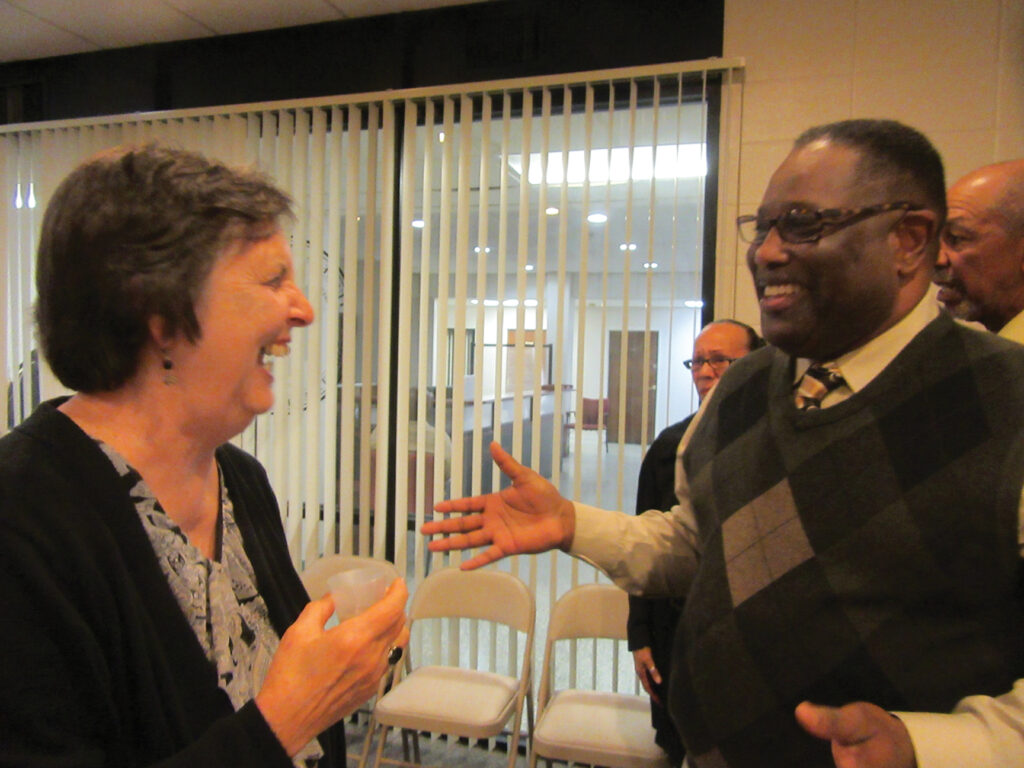 Massive racial turmoil occurred in 2016, speeding the efforts already being made in the South Berwick library programming regarding race in America. The topics being discussed, such as "Why should South Berwick care about race?" and "How do we talk to our children about race?" led to the realization that African American voices were not being heard and the idea to form a relationship with a city that mirrored South Berwick — planning on a cultural exchange of sorts — developed.
David McDermott said, "Our initial response that included the library series was to the Michael Brown killing in Ferguson, Mo. This really started the entire discussion about the need for some racial awareness. The incredible coming out of white racial hatred encouraged by the 2016 election and its aftermath solidified for many of us the absolute and immediate need for Common Ground."
A census search led them to Tuskegee, and a letter was sent in 2017 asking to form this special relationship.
"The goal was to help members of our community understand, as a White community, our historical place in the country's racial legacy and our modern-day responsibilities to be part of healing the divide that still tears our country apart. An idea that grew out of this effort was the concept of joining with a predominantly Black community of similar size as a sister city (something we believe has never been done between two U.S. cities)," McDermott stated. "As Americans, we would like to join you, fellow Americans, to create a kind of virtual community joined by our common humanity, nationality and the desire to further understanding between Americans. In his speech, at the opening of the National Museum of African American History and Culture, President Barack Obama said he hoped the museum would 'help us talk to each other, more importantly, listen to each other, and most importantly, see each other.'"
Tuskegee Mayor Tony Haygood presented the idea to the city council and got a favorable response. Things really began in earnest in December 2017, when a delegation from South Berwick visited Tuskegee. Six months later, in May 2018, a delegation from Tuskegee reciprocated and visited South Berwick. In both cases, the "red carpet" was rolled out.
When asked what the best part of this relationship was, Amy Miller of South Berwick said, "True friendships that have evolved despite the geographical distance. And we have had wicked fun in each town. It fuels optimism for the future to see the ongoing exchanges between school children. Pertaining to South Berwick, it has been said that many people now have a much more intimate and personal relationship with not just Black people but with the tragedy of our race history and present race-related challenges. Perhaps most important is the trust that has developed between many in both communities, the proof that talking with each other, being honest and laughing together can bridge so much that seems to divide us as Americans."
When the news relayed more race-related issues and challenges, injustices and justice, South Berwick held a Solidarity Walk.
Miller said, "The Solidarity Walk was South Berwick's response to the George Floyd murder and the overall horror of police treatment of Black people. The walk was not a demonstration or political statement. People in South Berwick wanted the people in Tuskegee to know that they were not alone in their distress and suffering. Hundreds of people in South Berwick walked quietly and peacefully through the downtown, with support from police to express their solidarity with Tuskegee."
She continued, "I would agree that is far-fetched to think we in South Berwick could 'help' people in Tuskegee through what they might be experiencing after the death of George Floyd. If anything, the Solidarity March perhaps helped South Berwick residents by giving them some place to show their outrage and to send a message of love and support to Tuskegee. Perhaps we have helped expand the simple notion that all White people and all Black people are not the same."
McDermott added, "Since no White person can really know what it is like to be Black in America, it is hard to know how much the relationship with South Berwick helps Tuskegee. The South Berwick solidarity march and the full-page letter South Berwick ran in the Tuskegee News (also, the South Berwick Town Council passed a 'Black Lives Matter' proclamation) were meant to show that South Berwick shared the outrage and pain of our sisters and brothers in Tuskegee. South Berwick benefits greatly from Common Ground. The education, increased awareness and feeling that we are on the front lines demonstrating that there can be a better America provides hope in these very dark days."
What has been the public reaction? Miller said she was "thrilled to be involved. Undoubtedly, there are people in South Berwick who are uncomfortable with the Common Ground idea, yet hundreds more are very enthusiastic about our relationship with Tuskegee. People are constantly seeking ways to be involved and waiting for COVID to free us from restrained physical contact. We have not had any blowback or negativity around this up North. Even our Color Us Connected column that appears every other week in our local papers has not had any nasty responses."
Karin Hopkins explained, "Color Us Connected is a spinoff from the Sister City project. It is a biweekly column published in the newspapers that serve Tuskegee and South Berwick. The writers choose a topic and write on it from their separate perspectives."
It started with Hopkins, a Black woman in Tuskegee, and Miller, a White woman in South Berwick. Hopkins removed herself, and Guy Trammell, a Black man in Tuskegee, now writes side-by-side with Miller.
New friends enjoy time together during a visit to South Berwick. (Photo provided)

Tuskegee University Golden Voices Choir perform a Christmas celebration, which was much admired by South Berwick residents. (Photo provided

This cake was served at the backyard lobster bake held for the Tuskegee group when they visited South Berwick. (Photo provided)
Trammell said, "Even the virtual communications between our school children include lessons on injustice and methods for achieving racial harmony. The youth found connection points in discussing their local beverages — Moxie (South Berwick) and RC Cola (Tuskegee). They jointly created a cartoon character to assist in communicating ideas and concerns. Our Common Ground relationships have inspired new thinking on working together to chip away at the racial divide in this country."
Are there other activities that are planned "together"? Miller answered, "As we were collaborating on our collective response to you, a South Berwick couple was in Tuskegee and was greeted with a big dollop of Southern hospitality. These informal, personal connections are really what sustain the Sister City relationship. Also, a South Berwick traveler back in 2018 said her husband was afraid she would be harmed in Tuskegee. That was fear, not hatred, talking, and it was the farthest thing from our reality. Stereotypes like this are the kind of thing the Sister City hopes to dispel. One person in South Berwick was afraid visitors from Tuskegee would be hurt and wondered if we needed security. That was also the farthest thing from reality. Both traveling groups were treated with respect, courtesy and friendship. COVID put a damper on travel for all of us, but ideas are still percolating about possibilities that will engage us collectively."
Hopkins added, "On a broader scale, there has been profound communication about our respective cultures and traditions. South Berwick visitors enjoyed old Negro spirituals performed by the Tuskegee University Golden Voices Choir at a Christmas celebration. This reminded those of us in Tuskegee of our rich history in music and education, at the same time that we witnessed our new friends relishing Hallelujah joy. The Tuskegee delegation was treated to a backyard lobster bake at a home in South Berwick, which was a learning experience for Southerners more accustomed to barbecued ribs than lobster tails. The table talk breeds camaraderie and has been an organic way to stimulate a hunger for continued Sister City experiences. With no precedent, we are dissecting the many layers of American racism and color-based discrimination.
"One of the regular readers of Color Us Connected, a man who lives in a New England town, frequently sends us emails. This is what he said in February 2019: '… (Reading about) your sister city/color-us-connected activities are an antidote to the ugliness, the ignorant ugliness of racism, of bigotry, that is woven into the fabric of our society, both on an immediate basis, and on an institutional basis, this is something I must do. I must do this, celebrate you, in the name of our collective humanity and that of my own individual humanity, something you know by now preoccupies me … So, I hold you up, again and again, as people who-are-doing something. I hold you up toward the sky, the light, as an antidote. I just hope you have many followers."
Long-term goals, said Miller, are "to continue what we have been doing: 1) traveling back and forth both in groups and less formally with families and individuals visiting our respective towns. A lot of this has happened below the radar. 2) More joint programs like Together We Vote and the Booker T. Washington Letter ceremony."
Miller continued, "We have talked about a trip to Selma to link arms and walk the Edmund Pettus Bridge together. We also have talked about building a gazebo in each town together. 3) More dialogues, either in person or on Zoom. The dialogues we have had have been great starting points. 4) In the more expansive view, we would love for other communities to have a chance to build similar bridges. How can we help make that happen? This Sister City relationship involved a lot of special ingredients coming together and may or may not be replicable, but certainly, there are many ways to create more and stronger personal relationships between people in White and Black America."