How innovative concrete equipment is bringing versatility to municipalities
In times when municipal work can be unpredictable, concrete equipment is thankfully evolving to help administrators meet the needs of their population. This can improve a crew's ability to perform repairs on existing infrastructure and expand the ability to handle new developments.
Broader in-house capabilities eliminate the need for long wait times on private contractors, increasing responsiveness and reducing overall costs. Concrete work that once required a lengthy, back-breaking process can now be done quickly and efficiently with the municipality's own crew if they invest in a few pieces of equipment.
The art of curb and gutter work
Traditionally, curb and gutter work has been performed through a slow, physically demanding manual process or by large slipform pavers run by highly skilled operators. Walk-behind curbing machines, however, have emerged as an innovative solution for municipal crews to self-perform curb and gutter projects, minimizing outside costs while reducing labor needs by up to 75%.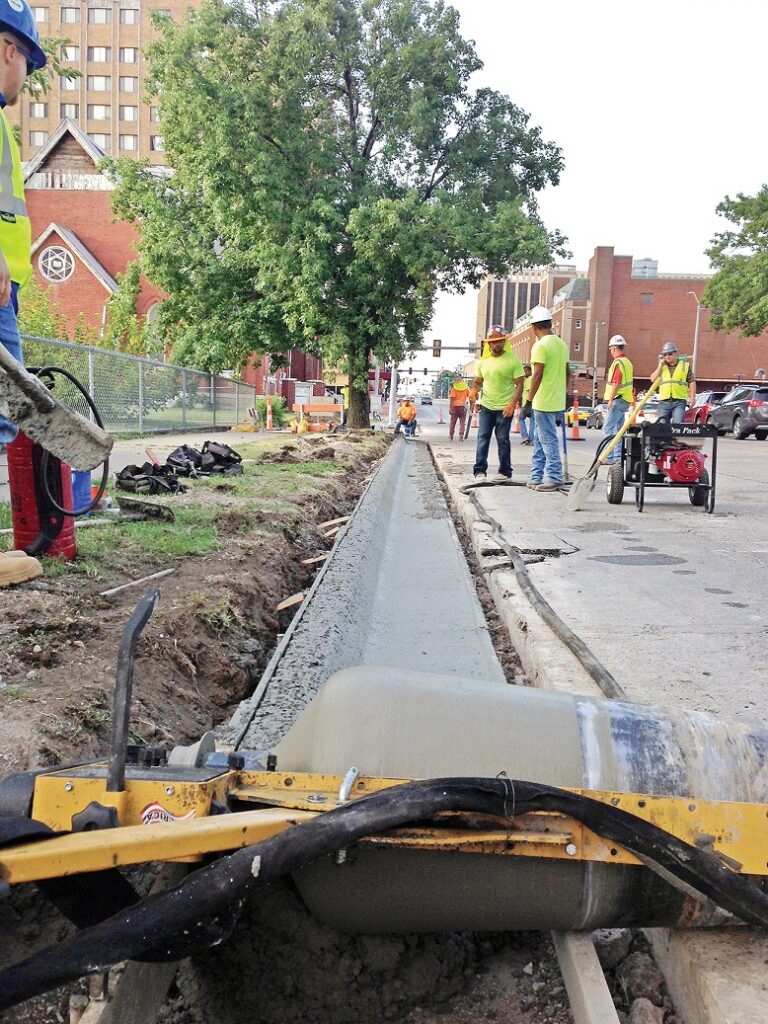 Curb rolling machines are designed with a handle attached to a spinning metal drum that is powered by a hydraulic power source. The compact design makes it easy for crews to move the equipment from street to street, streamlining transportation when completing curb and gutter work in several different locations throughout the day. The equipment is intuitive to use, making it easy to learn and produce quality results, even for users who are less experienced in concrete work.
With this single-operator machine, crews can complete curb and gutter work up to twice as fast as with manual methods, pouring and finishing up to 2,000 feet in a single day. The ergonomic design allows it to be operated in an upright position, increasing safety for the crew and reducing physical strain and fatigue.
Walk-behind curbing machines, like the Curb Roller from Curb Roller Manufacturing, can be used with more than 31 pre-designed drum profiles as well as custom drum options to meet a municipality's individual specifications. The Curb Roller features a patented guide ring that runs on the inside of the forms, ensuring a uniform curb every time. The handle has a variable speed and directional control, giving the operator ultimate control of the machine.
Additionally, the same technology that brought portability, safety and efficiency to curb and gutter work can also be found in screeds that provide a smooth level finish for concrete flatwork, including sidewalks and streets.
The need for screeds
Like walk-behind curb rolling machines, roller screeds are known for their portability, ergonomic design, ease of use and ability to create quality results with less dependence on the operator's skill level. The equipment consists of a detachable pipe that is connected to a drive head with an extended handle. Roller screeds move concrete with a spinning motion, unlike other methods that use only vibration or require sheer force by the operator. This rolling action improves the integration of aggregate throughout the pour, ensuring a flatter finished product that avoids puddling, which can compromise the finished results.
While roller screeds have several power source options, battery-powered roller screeds allow municipalities to actively protect the environment by operating without fumes. Additionally, without a cord or added weight of an engine attached to the screed, crews have more mobility when moving between projects. Some battery-powered screeds, like the Batt Screed from Curb Roller Manufacturing, are powered by a removable and rechargeable 60-volt lithium-ion battery commonly found in other tools, and are able to screed off up to 1,800 to 2,500 square feet with one fully charged battery, depending on the slump and pipe length.
Municipalities can maximize their efficiency by pairing their battery-operated roller screed with a modular pipe system, like Curb Roller Manufacturing's Lynx Screed. With these versatile systems, municipal crews can accommodate pours ranging from 3 to 22 feet wide with one set of connectable pipes instead of purchasing dedicated pipes for different pours. The equipment has minimal storage requirements and is a breeze to transport — crews can simply disconnect the pipe sections and place them in the back of a pickup truck and drive to the next location.
A responsible investment
"Is it affordable?" This is a critical question when municipalities purchase new equipment, striving to make the best use of limited budgets. Investing in innovative concrete equipment can quickly pay for itself by helping municipalities increase quality while boosting workforce efficiency and reducing injuries and operator fatigue.
With an estimated cost of less than $7,000, the Curb Roller cuts labor on projects by up to 75% and can pay for itself in just 1,500 linear feet. Meanwhile, with a Batt Screed paired with a Lynx Screed pipe system, a combination that typically costs less than $6,000, municipalities can see savings that offset the cost in only a matter of weeks.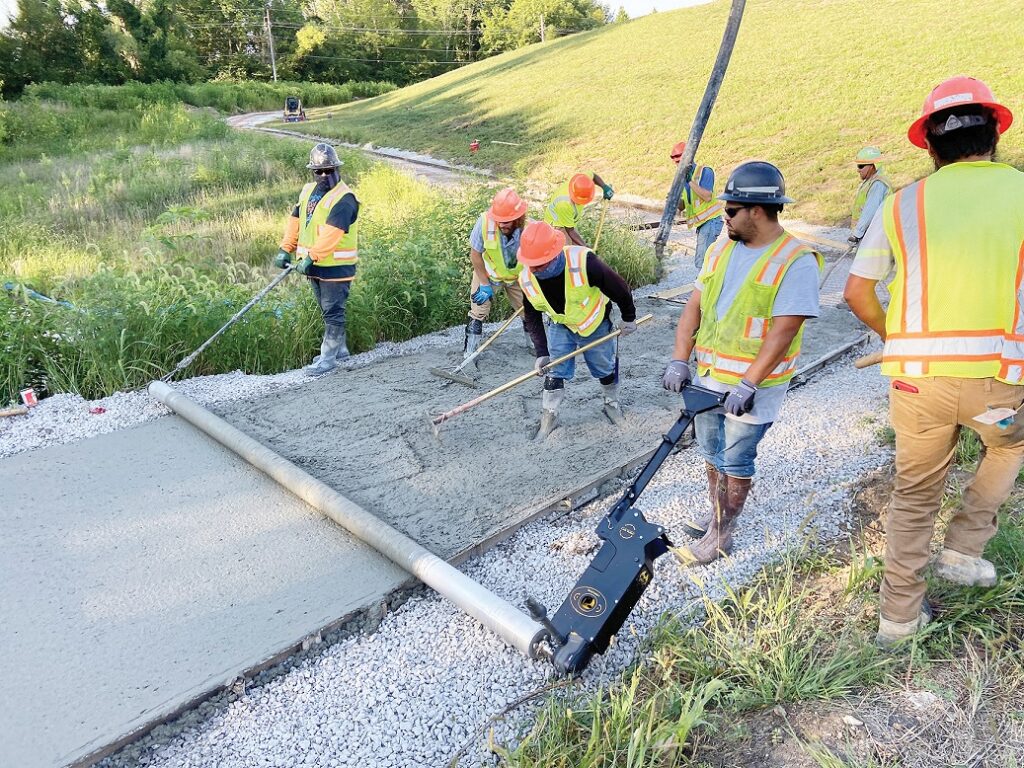 When purchasing concrete equipment, municipalities should also look to work with a manufacturer that provides training, expertise and ongoing customer support so they can maximize their investment. With minimal training time, some manufacturers can help crews quickly learn to operate the equipment and produce consistent, quality results with minimal supervision. Some manufacturers, like Curb Roller Manufacturing, can also provide valuable insight by sharing their experience and expertise in the concrete field.
New advancements in concrete equipment have created convenient solutions for the many challenges municipalities face. Walk-behind curbing machines and roller screeds have taken the physical strain, outside expense and long wait times out of concrete work. With an investment in equipment that is simple to learn and convenient to use, municipal crews can produce their own high-quality results safely and efficiently.
About the Author
Seth Ulmer is the sales manager at Curb Roller Manufacturing, a world leader in shaped concrete roller screeds. Ulmer joined Curb Roller Manufacturing after spending over a decade in the concrete and construction industries.
About Curb Roller Manufacturing
Curb Roller Manufacturing has been the world leader in shaped concrete roller screeds for more than 10 years. With high-quality products for everyday concrete work, Curb Roller's ergonomic machines not only make it easy to shape standard curb, gutter and sidewalks, but also flume, v-gutter, swale and other unique shapes. Its flagship product, the award-winning CM4000 Curb Roller, opened the door for additional products like the Hydra-Screed and the battery-powered Batt Screed and corded Eel Screed. For more information: Curb Roller Manufacturing, 112 S. Main St., Fairview, KS, 66425; (785) 467-3132; info@curbroller.com; www.curbroller.com; or on Facebook.