Elmira embraces creativity by becoming a city of murals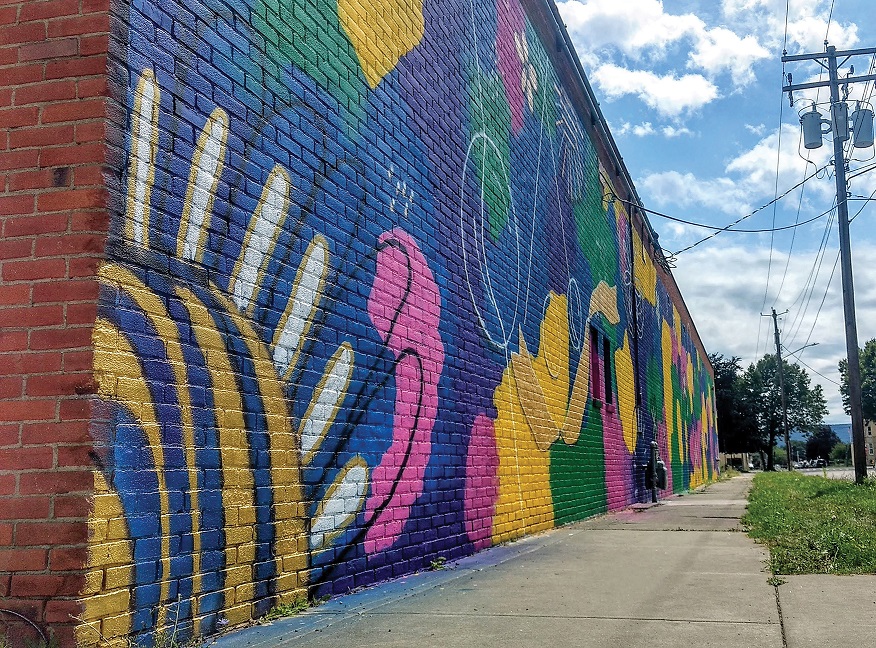 What do Mark Twain, Tommy Hilfiger and Jeff Plate, the drummer for the Trans-Siberian Orchestra, have in common? All three have the privilege of having been born in Elmira, N.Y. While those three may seem like an odd pairing, the list of famous people born in Elmira grows into a smorgasbord of known politicians, athletes, human rights advocates, military leaders, educators, inventors, Olympians and a vast mix of participants of the arts.
Elmira has been the birthplace of people who go on to have all sorts of different careers — for instance, Burt Gillett, who directed the animated shorts "Silly Symphonies" for Disney in the 1930s, or Brian Douglas Williams, who is currently an anchor at MSNBC. Then, of course, there is Eileen Collins, the first female pilot and commander of a space shuttle, and Ernie Davis, a professional football player, who was the first African American recipient of the Heisman trophy in 1961.
When so many different types of notable individuals come from one location, it's only natural to wonder what is different about the area. On the surface, Elmira is a normal city with a population of 27,110. It is the county seat of Chemung County and is on the southern tier of New York state. Its motto is "Honoring the Past, Building the Future," and it is nicknamed "The Queen City."
Recently, the city was awarded the New York Downtown Revitalization Initiative, one of only 10 given to cities whose downtowns were deemed ripe for development into vibrant areas to live and work. Construction has commenced, but building isn't the only activity that's happening. Looking closer brings one thing sharply into focus: Elmira is covered in art. Not figuratively, but quite literally, from fire hydrants and traffic signal boxes to entire walls of buildings and bridges.
The Elmira Public Art Commission is working with the Community Arts of Elmira, the local community arts center, on a program to make the city more attractive. The program is called Elmira Infinite Canvas, and its core goal is to reduce blight through the creation of public art.
A part of the Lackawanna Rail Trail Project 2020, "Commuter Silhouette" by Sam Somostrada is located on a viaduct wing on East Washington Avenue. (Photo provided by Community Arts of Elmira)

Tuskegee Airman Lieutenant Colonel Clarence W. Dart Sr. was originally from Elmira and served as a highly decorated fighter pilot and member of the Tuskegee Airmen. He is featured on a mural located at 202 E. Second St. The mural was created by Ron Dixon, Marlow Lowe, Colleen McCall, Jennifer Sekella and students of GST BOCES. (Photo provided by Community Arts of Elmira)
Second District Councilperson Brent Stermer initiated the Adopt a Hydrant/Traffic Signal Box program in 2017, and the ensuing art has added color to some otherwise drab corners and roadsides. Anyone can apply to paint a hydrant or traffic signal box, free of charge, through the city's website.
But what's gaining a lot of attention is the vast number of large murals that have been created throughout the city on previously bare and ugly walls of buildings and bridges. A lot of the murals are the size of an entire building, and there are various artists and themes spread throughout the town. Put all together — murals, traffic signal boxes and fire hydrants — the city looks improved in a way that Stermer is quite pleased with.
"Public art makes people have pride in their community," Stermer said. "It's so exciting to have people impassioned and proud of their city and what is happening here."
Though many murals have already been finished from 2020 to 2021, some have been in the planning stage since 2020 and were only started in October 2021. More art installations are planned for after that, and businesses are being encouraged to allow their storefronts and buildings to be painted on.
Unfortunately, one downfall of public art is vandalism, and one vandalized mural had to be painted over before being completely repainted. This doesn't stop either Stermer or the artists since the overall goal of uplifting the community through improvement is far more important to them than the effort of repainting a mural.
"Art is an economic driver in communities," Stermer said. "Artists are often self-employed; they own small businesses. That's what our community needs — small pieces to fit together in a larger puzzle."
Lynne Rusinko, president of Community Arts of Elmira, echoed Stermer's sentiment. "Artists are tremendous catalysts for healing, for expressing emotions, and for adaptation. Their work can magnify human resilience. Artistic vision can unify, can inspire, can inform and offer hope. Art connects."
In one statement, Rusinko gave a possible answer to the original puzzle of why so many completely different but vibrant people have been born in Elmira who went on to create such a variety of influences on the world. Perhaps a community surrounded by art creates unified, inspired, informed and hopeful humans, with the ability to attach all of these attributes to surprising careers.
Regardless, something colorful has been and continues to happen in the town. One can only imagine what famous person will come from the city next.
When asked what the future holds for Elmira art, Stermer is just as hopeful, stating, "This is just the beginning."