Crane Gain — The importance of selecting the right cranes for the right job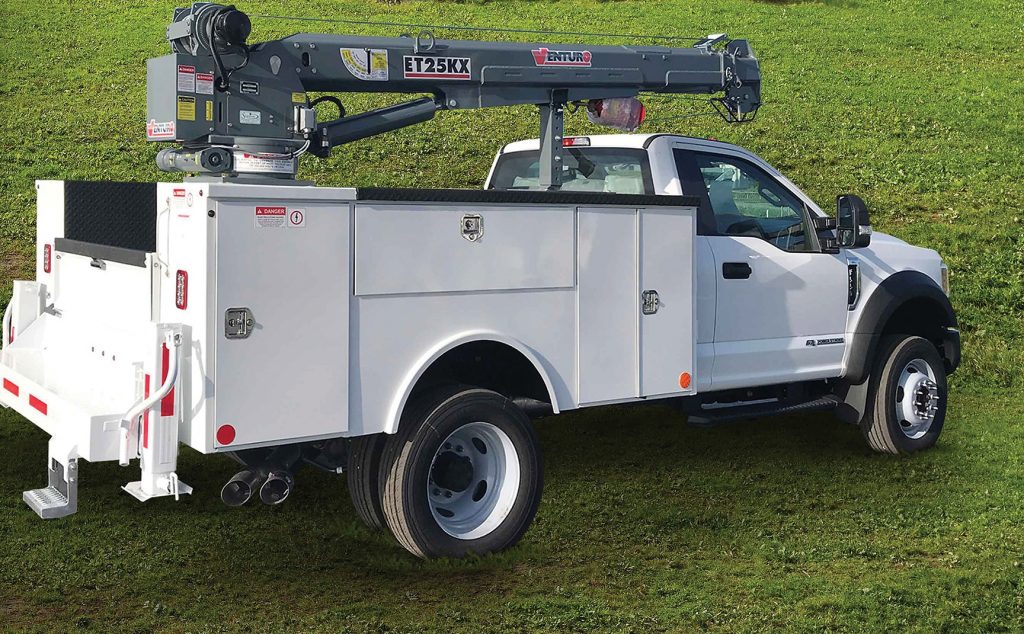 Cranes have an essential place in society, serving a variety of functions for multiple industries. Nowhere is that more apparent than in municipalities, which rely on this equipment more than any single industry. Given the varied functions of municipalities, it's easy to see why.
Municipalities are responsible for nearly every service aspect associated with their respective cities. They don't only handle road repairs and general maintenance. They are also responsible for landscaping, construction, utility work, general loading and general repair services, among many others.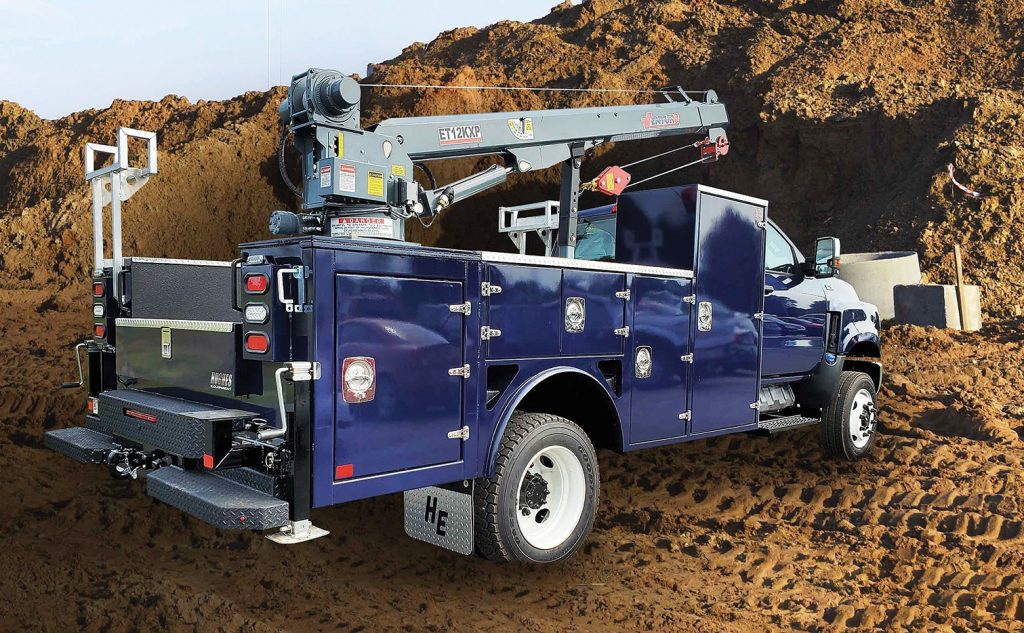 This all-encompassing set of responsibilities requires the use of heavy equipment to get those jobs done. That's why municipal service trucks require a boost in the form of cranes. But cranes are not a one-size-fits-all solution for municipalities, which is why it's imperative that they select the right crane for the right job. Having the wrong crane for the wrong application can prove costly, unproductive and even dangerous.
When Venco Venturo works with municipalities, we guide them through a thorough selection process that includes several foundational questions to ensure they have the right crane for their varied needs. Our goal is to give them a crane that properly meets their needs, is versatile for those needs, has longevity and has the capabilities for safe and effective operation.
We ask three foundational questions: How will the crane be used? How much weight will the crane lift and how far will it be moved? Are there other considerations to take into account?
How will the crane be used?
When we ask this question, we are looking to discover several key details, such as the nature of the municipal work, how often the crane will be used in a one-hour period and how often the crane will be used during a 24-hour period.
The duty cycle is important because it allows us to understand how the crane will be used and the stress it will encounter. With this information, we can determine what type of crane is needed — electric, hydraulic or electric-hydraulic.
How much weight and how far?
This essential question allows us to determine the specific type and model of crane needed for the job. We use the foot-pound rating to discover the best crane for your needs. The foot-pound rating comes by multiplying the weight of the maximum load — what the crane will lift — by the maximum distance the load will travel.
Other considerations
When we build a service truck for a specific job or application in our Upfit Center, we start with the aforementioned variables: duty cycle, application and the foot-pound rating. But sometimes — before these variables come into play — the decision for what crane to use starts with the desired or available truck.
This shows that even before considering the duty cycle, application or foot-pound rating, the truck and crane service body choices also can play a prominent role in the decision-making process. In our Upfit Center, we also broaden the scope to ensure we've considered all the necessary tools and accessories for the application as well.
It's electric (literally)
While they have a wide swath of crane choices available, we tend to see municipalities favor larger electric cranes, which are versatile by design and also compatible for shorter duty cycles and a variety of lighter-duty jobs.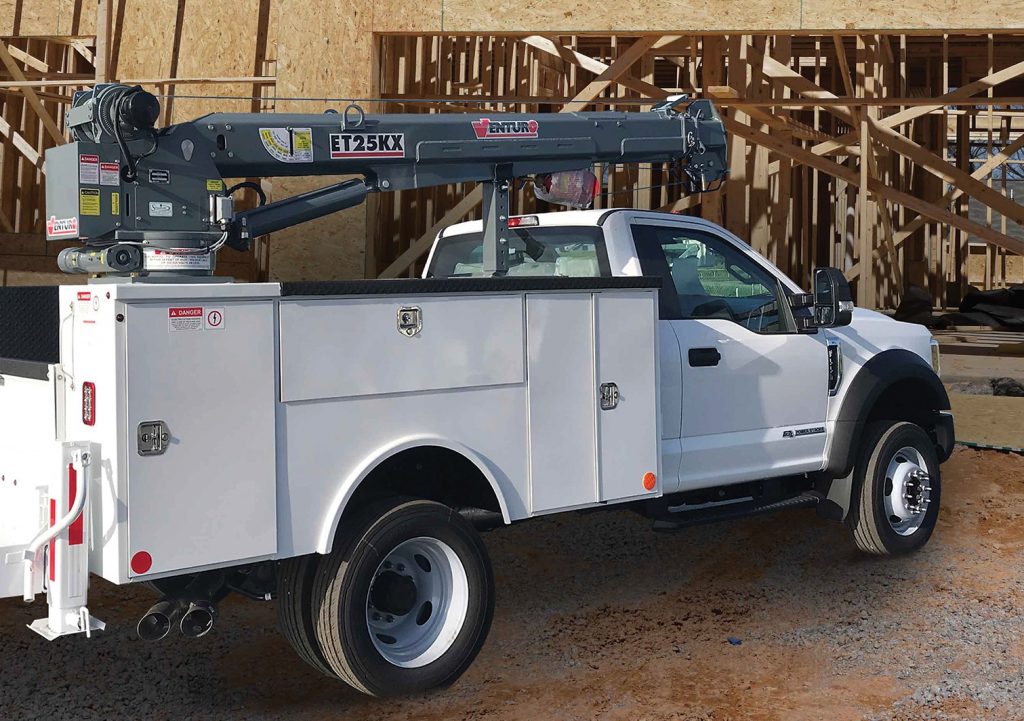 Electric cranes are known for their portability and versatile functionality. They offer flexibility in the field, cost less to acquire, do not require hydraulic components and can be used without the truck engine running. These cranes are also easy to mount on a service truck and leave enough work and cargo space.
Venco Venturo has four crane models in its light-duty electric lineup — the CE6K, the CE1500FB, CT310KX and the CT2000 Series. These cranes have a foot-pound rating ranging from 4,500 foot-pound (CE1500FB) to 6,650 foot-pound (CT310KX). The CT2000 Series includes the CT2003FB and CT2004FB models, which include winches with manual rotation, manual extension and a folding boom. The CT2005, also part of the CT2000 Series, shares those same features but has a longer boom. Collectively, this series has a 1,000- to 2,000-pound maximum capacity rating, a 6,000 foot-pound rating and a maximum reach that ranges from 5 to 9 feet.
The CE1500FB is an economical crane that features an electric winch, manual rotation and extension, as well as a folding boom. Designed for light- and medium-duty applications, this crane has a maximum capacity of 1,500 pounds and a maximum reach from 3 to 5 feet.
The CT310KX serves as a four-function electric mast crane contained in a compact footprint. The 1,900-pound crane features a heavy-duty planetary electric winch with hydraulic rotation, hydraulic elevation and hydraulic boom extension. Proportional controls are optional. The crane's maximum reach is 9 feet, 3 inches.
The CE6K is a 2,000-pound crane available in multiple boom sizes, mast heights and winches. The 6,000 foot-pound rated crane features an electric winch, manual rotation, manual extension and manual elevation. It has a maximum reach of 3 to 5 feet with the option to extend that range to 4 to 7 feet.
Hydraulic options
Sometimes municipal demands require higher foot-pound ratings and/or longer duty cycles than an electric crane can support. Under those circumstances, we recommend using an electric-hydraulic or hydraulic crane to meet those higher load needs. These two crane options offer increased lifting capacity and reach.
Venco Venturo's electric-hydraulic cranes, which include the ET12KXP-16 and ET25KXX models, feature maximum capacities ranging from 2,000 to 6,000 pounds; crane ratings from 6,000 to 36,000 foot-pound; and maximum reaches from 10 to 20 feet.
The company's hydraulic cranes provide even higher capacities, foot-pound ratings and reaches. These models have maximum capacities ranging from 5,000 to 11,500 pounds; crane ratings from 25,000 to 66,000 foot-pound; and maximum reaches from 20 to 30 feet.
When it comes to selecting the right crane or service truck for your municipality, the good news is Venco Venturo has a robust selection to meet any and all demands.
For more information visit, https://www.venturo.com.