Connecticut city finds creative parking solutions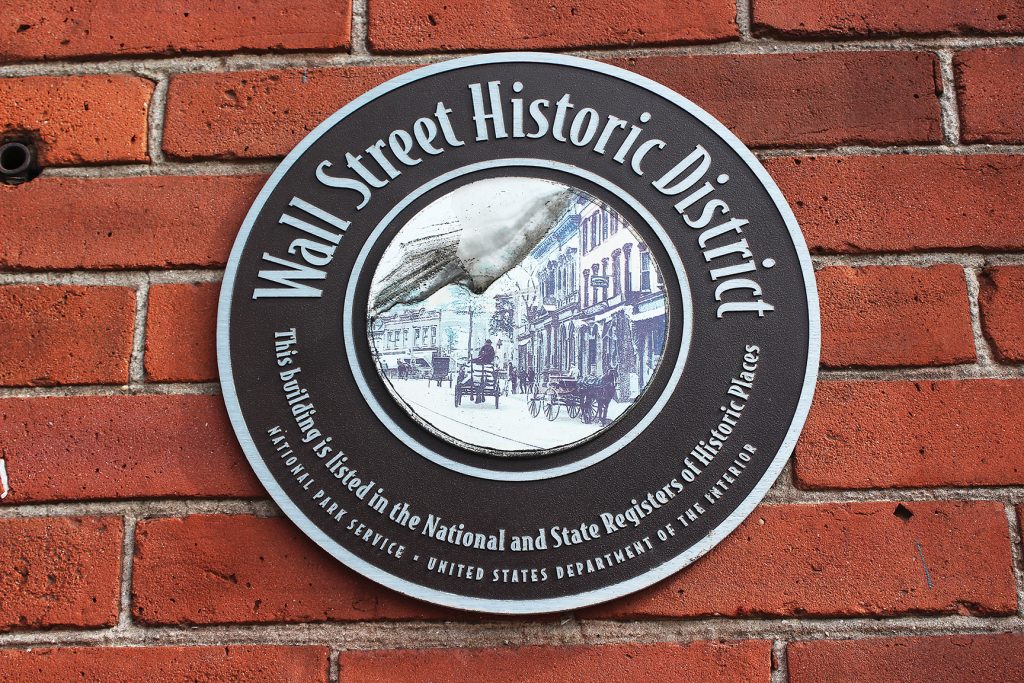 The city of Norwalk, located in southwest Connecticut on the northern shore of the Long Island Sound, has initiated creative solutions to parking problems, including retraining the way residents and visitors park on one street and adding green infrastructure to a parking lot.
Reverse angle parking
          In September 2019, the city announced a number of improvements to the Wall Street/Webster Avenue corridor. Chief of Economic and Community Development Jessica Vonashek shared that area was once a "very vibrant place" but a flood in 1955 damaged a lot of the neighborhood. Vonashek said Norwalk has been working for many years to get it back to its original state.
"We really wanted to make enhancements to add vitality and quality of life," Vonashek said.
          To that end, officials heard from a number of businesses and residents in the area, and over a two-year period of time, those enhancements included streetscape, roadway improvements, traffic signals, pay stations and signage.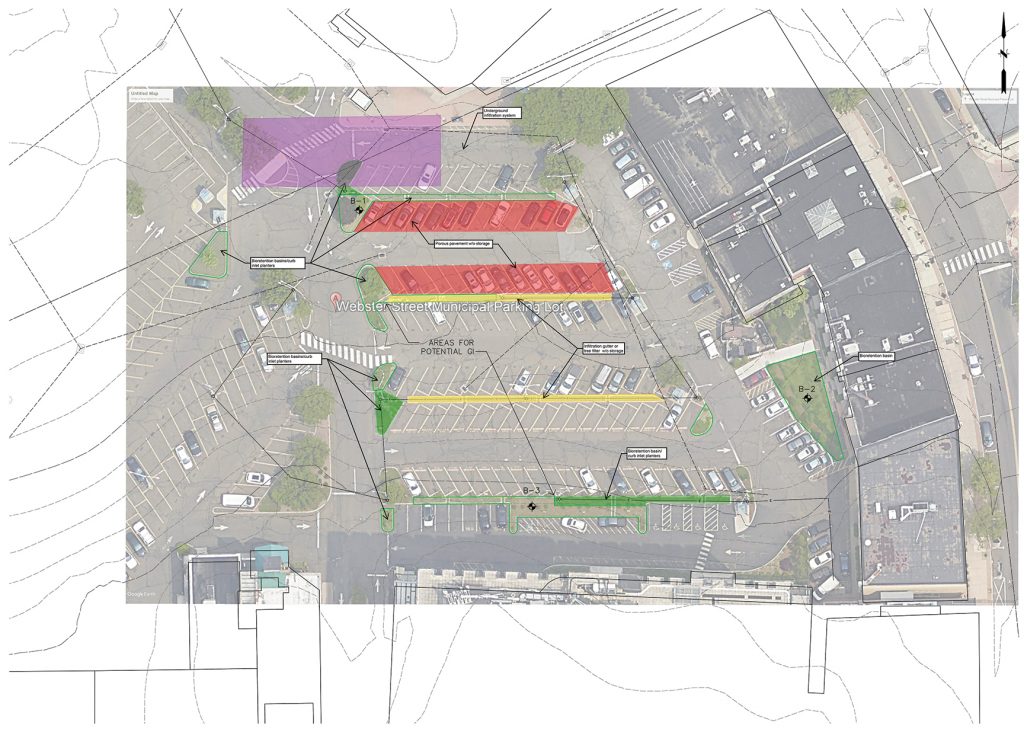 Vonashek said those improvements were in response to what residents and businesses expressed a need for — connectivity, accessibility and safety, as well as making the area welcoming for pedestrians and cyclists.
There's a neighborhood group in that area the city partnered with. "They're a great asset to the city and allowed us to connect with residents and businesses on the ground level," Vonashek said. "Two of the things they expressed were a desire to improve the look and feel of the area and secondly to slow down traffic — especially on Wall Street, which has a lot of traffic and cars speeding."
The city worked with the transportation, mobility and parking department, the department of public works and the Norwalk Parking Authority on these improvement plans. Officials had also heard from the business community that they wanted more turnover.
Vonashek said Norwalk conducted a lot of research about front-end angle parking and back-in or reverse angle parking. Switching to angle parking from parallel parking allowed them to add nine spaces, but from a safety aspect, the data showed back-in angle parking is safer for pedestrians and cyclists.
"In Norwalk we promote all types of transportation so we wanted to be cognizant of the safety for cyclists," she said.
The city also added pay stations as a means to ensure residents and employees of the area wouldn't be parked in spaces all daylong.
"We got a lot of different comments about introducing paid parking, but we wanted to achieve a number of things — to achieve safety and the turnover the businesses wanted — and we believe the combination of back-in angle parking and pay stations does that," Vonashek said.
Back-in angle parking is a newer approach, and officials got a lot of feedback on the idea. She said with front angle parking not only is the driver backing up into oncoming traffic but also potentially into cyclists. With back-in angle parking, it slows traffic as the vehicle is maneuvered to back into the space, but they are backing into a parking space with less moveable parts then backing into oncoming traffic when leaving the space.
She said the city looked at a number of reports and safety recommendations before initiating the change. It also narrowed the road, which helped slow traffic. A larger space on the side of the road was needed to accommodate wider parking spaces than the 8 feet used for parallel parking.
When asked how the reverse angle parking was working, Vonashek said the public reaction was at first mixed.
"There was the initial shock of back-in angle parking and introducing pay stations. We made a lot of changes in a short amount of time. Some people liked the changes and some didn't. We heard all sorts of feedback," she said.
However, the data shows speeding was reduced in the area, and that was a main objection and a main request by residents and businesses in the area.
She said officials have data on 314,000 vehicles, and 119 of them were going extremely fast — between 40 to 50 mph — and that was reduced to 10 vehicles traveling at those speeds; 1,298 vehicles were going 30 to 44 mph, which was reduced to 169; just shy of 30,000 vehicles were traveling at 33 to 38 mph, which was reduced to 5,300; and 162,000 vehicles were clocked at 27 to 32 mph, which was reduced to 59,000. Vonashek said the goal is 25 mph, and the vehicles traveling at 21 to 26 mph rose from 106,000 to 151,000. Having signs showing the speed drivers were traveling helped, and the city was able to install sensors that measure speed.
"The average speed went from 28 mph to 23 mph, and our goal was 25 mph or less," she said.
The combination of back-in angle parking, narrowing the road, signs showing speed and an education campaign is "the reason why it was really effective," according to Vonashek.
The city's social media tools were used to explain to the public why changes were being implemented. Embedded in the messages sent out was the feedback the city had received. For example, "We've been hearing traffic was moving too fast, and you didn't feel safe, so using what you told us, these are the things we're going to be doing."
          When asked if the city anticipates reverse angle parking in other areas of the city, Vonashek said officials hadn't really explored that because the roads need to be wide enough.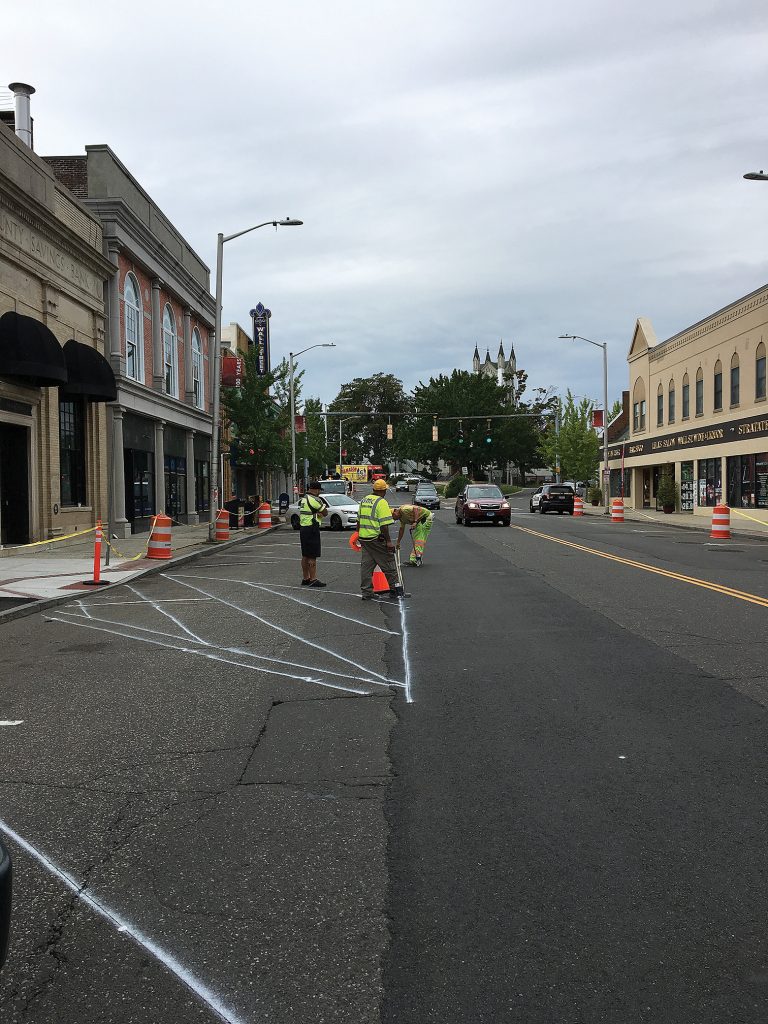 Mike Yeosock, assistant director of transportation, mobility and parking, agreed. "Most of our roads aren't wide enough unless we convert to one-way streets — which creates other problems."
He added there is one other street located in South Norwalk that has back-in angle parking, but it is a one-way street and was implemented more for an office building and entails 12 to 15 spaces.
Green infrastructure for a parking lot
Vonashek said a project was approved to add green infrastructure to a downtown parking lot, and work started on the project in early December. The city received a $250,000 grant from the Environmental Protection Agency through the Long Island Sound Futures Fund.
The large Webster Parking Lot serves a number of businesses, and there's been a continuous drainage issue in the lot, causing several neighboring businesses to flood during torrential rains.
In December 2019, the city passed its plan of conservation and development — a state requirement — and in that POCD, it identified resiliency and resources for coastal management, environmental goals and objectives for climate change and stormwater management.
Vonashek praised Yeosock for his grant writing and "ability to articulate the city's needs."
She said in the Webster Parking Lot, the city identified four different types of infrastructure installations:
Underground infiltration systems.
Retention basins and curb inlet planters in eight different areas.
Porous pavement with storage in two areas.
Infiltration gutters and tree filters in two other areas.
These measures are designed to soak up stormwater better while also greening the area from an aesthetic standpoint. She said the project was speaking to the fact officials are working to "reduce pollution, trash, bacteria and handle the excess water and the environmental benefits of filtering stormwater. We've estimated this project is going to prevent 6 million gallons of stormwater and 12 pounds of nitrogen from going into the Long Island Sound."
"This is just one step of many green infrastructure projects for Norwalk," Vonashek said.
Yeosock said the Long Island Sound Futures Fund is managed by the National Fish and Wildlife Foundation. The city worked with the consulting firm Fuss & O'Neill on this project. Norwalk's harbor and the Norwalk River is a vital part of the city, which has a big oyster industry, according to Yeosock.
There's a lot of fishing and aquaculture and thus a lot of businesses depending on the riverfront, Vonashek pointed out. It's even more reason to care about what the water looks like.
Construction on the lot will start in the spring, according to Yeosock, but the city has gotten percolation tests back on the soil, and Vonashek added workers started doing borings on the site in mid-December.
Vonashek envisions more green infrastructure projects in the city and added, "It's always great to have grant money available."
Yeosock explained the grant Norwalk received for this project was a matching grant, and the city was given more points because it was also doing a paving project in the area. He added the city did a green infrastructure project "on a much smaller scale" on Cedar Street that turned out nicely.
He believes one of the reasons green infrastructure wasn't done widely in the past is because of the maintenance and labor it requires, but he said as cities and towns have "less and less pervious surfaces versus impervious, you have to do something different." One such way to mitigate some labor is to plant native plants.
Vonashek feels people are more knowledgeable now, too. They know more about the ability to measure water flow and about pollutants in the water in addition to the impact they create, as well as surface lots not being as attractive.
          "If you're able to green it up, it's more aesthetically pleasing, too," she said.
Norwalk is an example of thinking outside the white lines when looking at parking solutions.