Iowa City looks to the future in public works design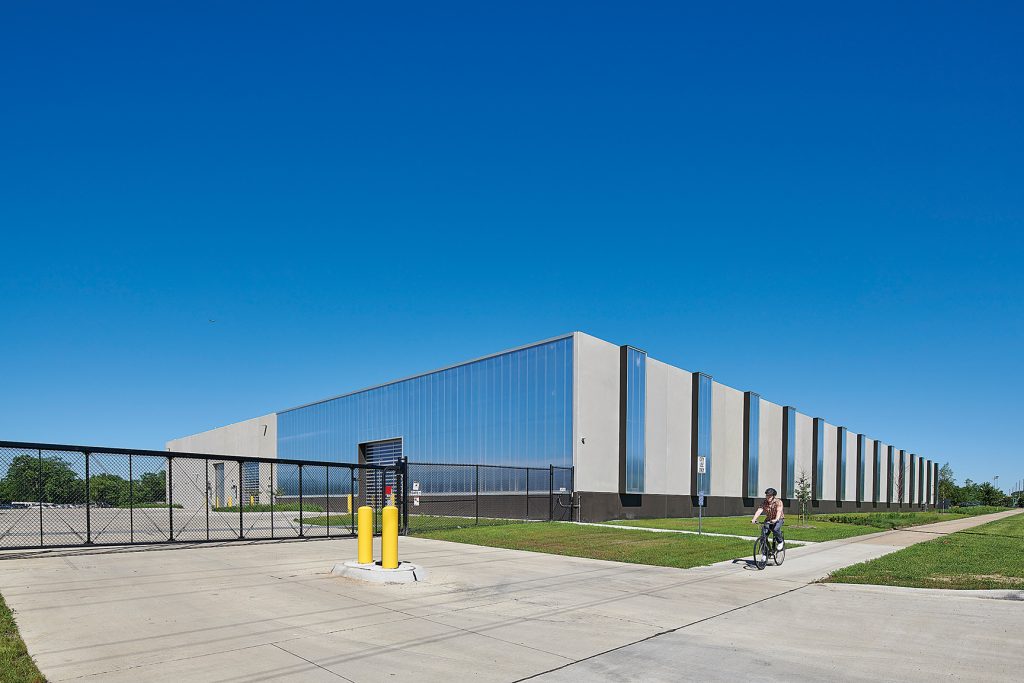 As technology rapidly advances and environmental requirements become stricter, cities must constantly work to keep up.
With this in mind, public works departments throughout the country are designing and building new facilities that not only boast the latest technology but also reduce their carbon footprint significantly.
Designing for efficiency
In December 2019, the Iowa City, Iowa, Public Works Department completed and moved into a 85,257-square-foot facility that houses the city's streets and traffic engineering division and the public works department's water division distribution team.
Iowa City Facilities Manager Kumi Morris outlined the building's energy-saving features.
LED lighting with daylight dimming require less energy, while 40 skylights let in natural light during the day. The structure features precast insulated concrete walls, an insulated roof system and insulated translucent panels in exterior vehicle storage walls. An efficient HVAC system rounds out the energy-saving features.
As of fall 2020, the department was also finalizing the LEED certification process.
"We expect — at a minimum — a LEED Silver certification and potentially a Gold LEED certification, as well," Morris said.
Iowa City Engineering Division Special Projects Administrator Melissa Clow added that plans are in the works to add solar panels to the building within the next year.
"We did look into geothermal and figured out that, for this type of building, it was very inefficient," Clow said.
Morris provided numbers from the "Iowa City Public Works Phase 1: New Construction Program Verification Report," which shows a projected cost savings of $21,000 per year, with anticipated payback within 9.3 years. The report was prepared by MidAmerican Energy Company's sub-consultant Willdan and released in January 2020.
"So, it's something we look for with a careful eye," Morris said. "Not just for new building construction, but we look at life cycle, how we can figure out a way to include rebate possibilities for all of our structures, being able to get a bigger bang for our buck."
Getting there
Creating an efficient building was one thing. Transferring everything over from the old facility was another. The building houses a number of divisions that were previously spread across town at different locations.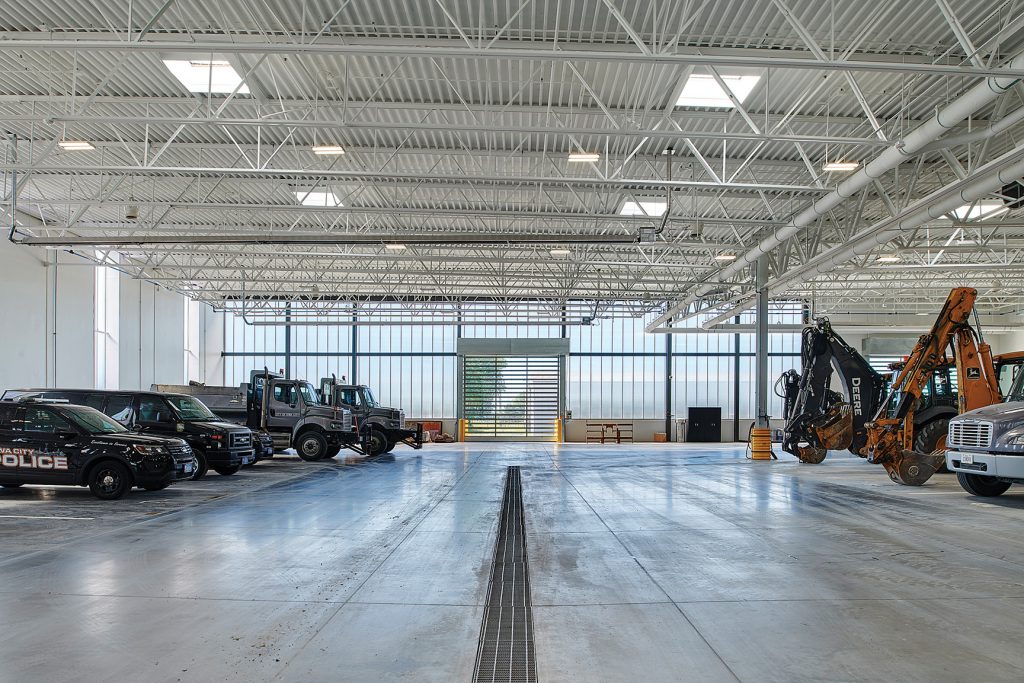 "We wanted to consolidate it all under one roof efficiently," Morris said. "Water distribution is there, so they store equipment for pipes. The street division has snow removal equipment."
Clow added one challenge was coming up with a facility that would do all the city needs it to do while remaining energy efficient.
"Getting everyone there while, at the same time, meeting the requests from city council to have LEED certification, with it being a big box, how to actually achieve that," she said.
As of fall 2020, the building had 73 parking stalls marked out. Clow noted there were not that many vehicles there then, but some of the spaces were temporarily holding pieces of equipment, which will be moved to other buildings on-site as the project continues into subsequent phases.
Building for the future
Besides efficiency, life cycle was also an important factor the city took into account. Iowa City uses its buildings for a long time, Morris said. This can be a good thing as far as getting as much use as possible out of a particular facility. However, older buildings were designed for different times, and the needs of the past were far different from the needs of today. That being said, the previous public works location was showing its age.
"It wasn't to scale, it didn't have good light, working in those spaces was difficult," she said. "So there's a lot of improvement to moving into a facility that you can invest in."
Awards and accolades
All of this hard work has paid off. The city has received two rebates from MidAmerican Energy Company, including a $23,274 LED lighting rebate and a $37,594 custom energy incentive strategies rebate, totaling $60,868.
Iowa City also received the Excellence in Energy Efficiency Design Award, placing among the top 10 energy-efficient building projects constructed within the last year in Iowa.
"The building project had a measured 52% efficiency beyond similar building typologies," Morris said.
This goes beyond public works facilities to include schools, office buildings and industrial buildings.
"It is unusual for a structure of this classification to earn this recognition," Morris said, adding it ranked fourth overall among the top 20 building projects reviewed for the award.
Morris noted the building received the American Institute of Architects Iowa Excellence in Design Award and the AIA 2020 Central States Region Award for architecture, both at the regional 2020 AIA convention.
Future phases
Constructing the public works facility was only phase one. Phase two will involve adding office space to the existing building, increased locker room space and removal of a building that has foundation problems.
"We are hoping this will be the first phase of possibly multiple (more)," Morris said. "We hope to see the rest of the equipment moved there, as far as transportation, refuse, we'll have storage for their equipment as well."
There is currently no set timeline for these expansions due in large part to the scope of the project.
"This has been on the books for over 20 years," Morris said. "To get everything to line up financially, just so much effort goes into a structure like this, to get it right."
Besides its public works facilities, Iowa City has its eye on energy efficiency citywide.
Two of the city's fire stations were among the first in the state to achieve LEED certification, according to Morris. In addition, the city's East Side Recycling Center boasts one of Iowa's earliest LEED platinum designations, for its education center.
To learn more about Iowa City's climate action plan, visit www.icgov.org/project/climate-action.