Cities come alive to light up the holidays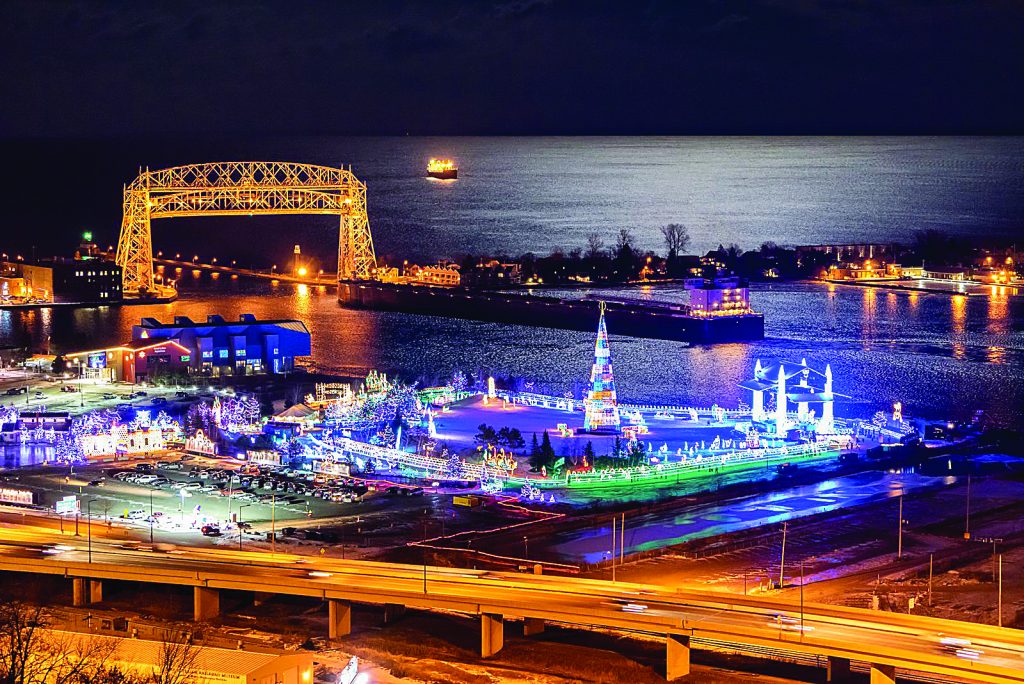 In the darkest season of the year, some municipalities come to life with the lush colors of the holiday season. It's that time when the lights come out of the boxes and bins, and trees and shrubbery take on a new glow … it's holiday lights time!
While lights here and there are not uncommon, there are places where the holiday season brings out the best and the brightest.
Bentleyville "Tour of Lights"
Bentleyville sprang to life in 2001 when Nathan Bentley, who owns an emblem and screen-printing business in Duluth, Minn., started the lighting display at his home on a busy road in a Duluth suburb. "I guess I wanted to beat out the neighbors who were also decorating," Bentley recalled.
It wasn't long before one of his co-workers facetiously started referring to the light display as "Bentleyville," referring to the Dr. Seuss holiday story about Whoville.
By 2003, the display had grown so much that Bentley changed it from a drive-by event to a walkthrough display with Santa Claus visiting on weekends.
"When we moved to a town outside Duluth, I kept adding more and more lights, and it grew so much in two years that the neighbors just wanted it to go away." To control the crowds, Bentley arranged to use some nearby horse pastures for parking and shuttled visitors to his home on nine school buses.
He estimates there were 72,000 visitors taking in the delights of Bentleyville.
By 2008, Bentley needed a break, so he decided to take the year off. But the city of Duluth had other ideas. Bentley received a phone call from Duluth's Mayor Don Ness asking him to bring the display to the city.
"We formed a nonprofit, put together a board of directors and moved to a 22-acre park," Bentley said.
On Nov. 27, 2009, Bentleyville "Tour of Lights" lit up for the first time in Bayfront Festival Park where Bentley's original team of 25 people plus 600 more volunteers spent more than 10 weeks working their magic.
Bentley estimates more than 325,000 people each year enjoy the 5 million lights, warm themselves by bonfires throughout the park, relish holiday refreshments and take time for visits with Santa. The centerpiece of Bentleyville is a 128-foot Christmas tree built from 17 tons of iron, topped with an 8-foot ball and lit with 150,000 LED lights.
"This year we will have the first-ever drive-thru display," Bentley said, explaining it's to aid social distancing because of COVID-19.
In previous years, the Bentleyville store, which sells souvenirs, and donation boxes in the park helped to foot the $500,000 budget. This year, there will be a $10 per vehicle charge for visitors, and music will be piped into car sound systems as they cruise through Bentleyville.
"We're bringing in a portable road for parts of the park that are not usually drivable," he added.
Bentleyville opens Nov. 21 and operates starting at 5 p.m. every day until Dec. 27.
Bright Nights at Forest Park
Further north, Bright Nights at Forest Park lights up the winter sky in Springfield, Mass.
This collaboration between the city of Springfield and local nonprofit Spirit of Springfield celebrates the people and businesses that have put Springfield on the map.
Judy Matt, the president of Spirit of Springfield, and Pat Sullivan, superintendent of the city's parks department, have worked in partnership since the project started in 1995. In those 26 years, Bright Nights has hosted more than 5 million people driving through the 3 1/2 miles of 400 lighted displays while listening to holiday music on radio station WELF.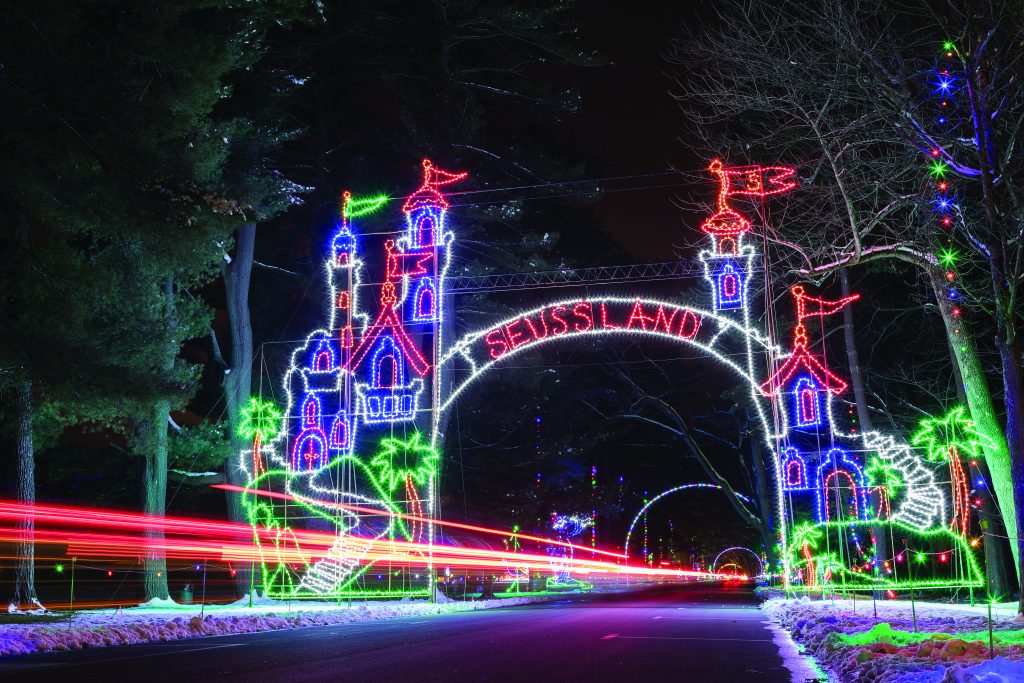 "It's just glorious," declared Matt, who tells of the early days when she sent designs for the displays to Audrey Geisel, widow of Theodor Geisel, better known as Dr. Seuss, who was a Springfield native. Today visitors enter the Seussland area of Bright Nights to see Horton, Mulberry Street and even the Grinch, all in LED lights.
The 600-acre Forest Park, which is home to Bright Nights, was the work American landscape architect Frederick Law Olmsted, who designed New York City's Central Park and the grounds of the U.S. Capitol in Washington, D.C.
Every year, new scenes are added to Bright Lights, with the emphasis on businesses and organizations that are a part of the Springfield community, such as Milton-Bradley, now Hasbro, MGM Springfield, the Springfield Thunderbirds hockey team and Lego, which is constructing a giant Lego Santa this year.
"After Sept. 11, 2001, we created a Garden of Peace scene with angels and flowers," Matt said. Bright Nights was also the innovator in having a giant lighted menorah to honor the Jewish community and the first public Kwanzaa display in the United States.
She said 2020 has brought accommodations for contactless ticketing through QR codes on cellphones and tickets purchased at the local Big Y grocery chain. Bright Nights has always had special nights and special prices for certain groups, but the pandemic economy has meant an expansion of some of those special rates.
"We've had bus groups that come every year, but this year can't afford the $175 admission for their groups because they can only have 50% occupancy. We lowered the price so they can still come and enjoy," Matt said.
COVID-19 has cost Bright Nights in other ways, including $8,000 for masks to outfit the 70 volunteers who help with the event.
"And there are ancillary things that we can't do like our Supper with Santa, the gingerbread house building party and the carriage and wagon rides through the park."
However, come Nov. 20, all 700,000 LED lights will brighten the night beginning at 5 p.m. daily until Jan. 3.
Light Up Windcrest
"There are people who move here just because of Christmas," said Elizabeth Dick, coordinator of marketing and public relations for Windcrest, Texas.
The Light Up Windcrest tradition goes back to the town's founding in 1959 when Barbee and Murray Winn, who owned a chain of department stores, handed each new homeowner a string of Christmas lights. From its beginning, the tradition of decorating homes has grown as the population increased to 6,000 residents living in about 2,500 homes in 2 square miles northeast of San Antonio.
Festivities begin before Thanksgiving with the lighting of the tree at the Windcrest Civic Center. "We dedicate that tree to someone each year, and this year we're dedicating it to Purple Heart recipients and their survivors. It will be a purple tree." Dick said Windcrest is surrounded by military installations and is often lovingly referred to as Fort Windcrest.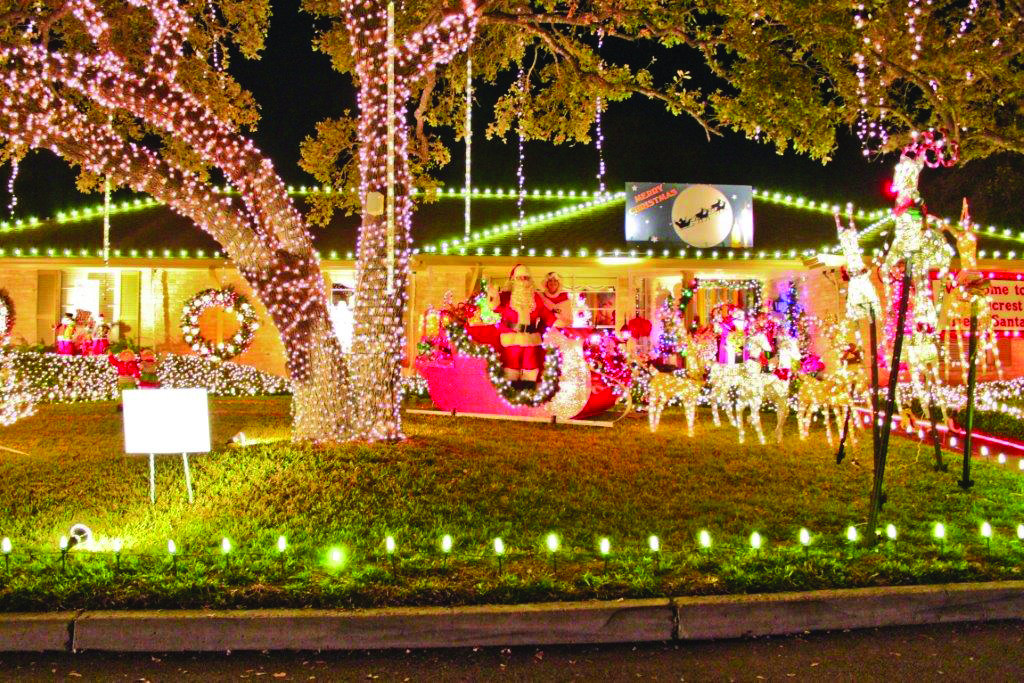 In fact, this year's theme for Light Up Windcrest is "Let Freedom Ring — A Tribute to Our Military."
While the residents do some serious decorating to keep their lighting tradition alive, Dick said the city and the local Women's Club hand out awards in categories that make the competition fun. If lighting the whole house is not going to work, she said, there have been prizes for the best mailbox, storage building, window or entrance.
"There's also the Clark Griswold award for the most lights," she said, referring to the lighting fiasco in the movie "Christmas Vacation."
Visitors to Windcrest can pick up maps of the prize-winning displays to not miss one moment of sparkle. This year, however, instead of the many categories judged by local notables such as the county sheriff, people will receive a map to every participating house so they can vote for their favorite display.
"Since we probably won't be able to have a winner's dinner in January, we'll give one prize instead of many," she said.
"Light Up Windcrest just brightens the city during the dark time of the year," Dick added. Her goal for 2021 is to get the city to help fund the largest Christmas tree in Texas.
Sebring Carousel of Lights
Tiny Sebring, Fla., is a city built at the turn of the 20th century by an Ohioan, George Sebring, who wanted to lure his wealthy friends from the bitter northern winters to the serene warmth of south-central Florida. Sebring established the town around groves of orange trees and incorporated it with the stipulation there would be no heavy industry.
He designed the town around a circle in its center, and that's where for 36 years, John Spiegel has been helping the city light up with a variety of lighted groupings of pink flamingoes, blue dolphins and orange snails among the ever-popular snow people and Christmas angels.
"It all started on a bet," Spiegel said of the Sebring Carousel of Lights. "I was on a committee to pick decorations from a company in Orlando." He just wasn't satisfied with lighted candy canes hanging from the light posts around the circle.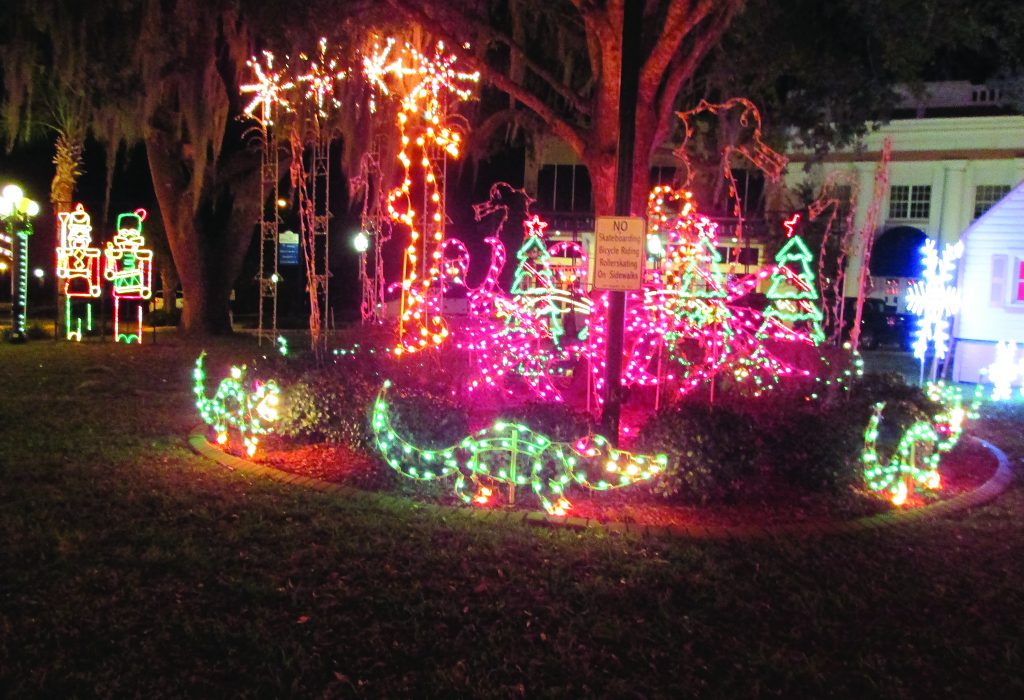 "So, I said to my friend, a local deejay, 'I can do better than this by myself.' So, we made a little bet."
Spiegel found a retired welder in nearby Lake City, and he began sending him simple sketches of whimsical animals associated with Florida and the water. "I would go through coloring books to find just the right look."
He sent the drawings to the welder who spent his summer creating the figures, which Spiegel lights with what he calls "old-fashioned filament incandescent bulbs." He said he has no idea how many bulbs he uses to create the wonderland but knows he orders them by the case, which is 1,000 bulbs.
While the city contracts with Spiegel to produce the annual event that runs nightly from Thanksgiving weekend to Dec. 26, he said the sale of refreshments and a variety of games helps to make up most of the difference in the cost of the project.
"This year we won't have the games and the refreshments, but that's okay if we don't make any money."
Spiegel said there will still be children talking to Santa in the protection of a large piece of Plexiglas. He's hoping to arrange the Santa photos so they look as natural as possible. "We have families who tell me they have a picture from every year of their family with Santa. They sometimes move to another part of Florida but still come back because this is a tradition for them."
Another part of the holiday light tradition that won't happen this year is the Singing Zoo, which features 14 life-size puppet heads that sing and tell jokes to an audience sitting on bleachers. The programs, which run periodically through the evenings, are interactive with the well-hidden puppet master talking to children in the audience. "We just can't do that and social distance, so we'll not have it this year." One of the later additions to the display has been a couple of snow machines that Spiegel said have become quite popular with the Florida children who have never experienced a white Christmas.