Volusia County, Fla., Sheriff's Office uses Scottish tactics to de-escalate high-stress situations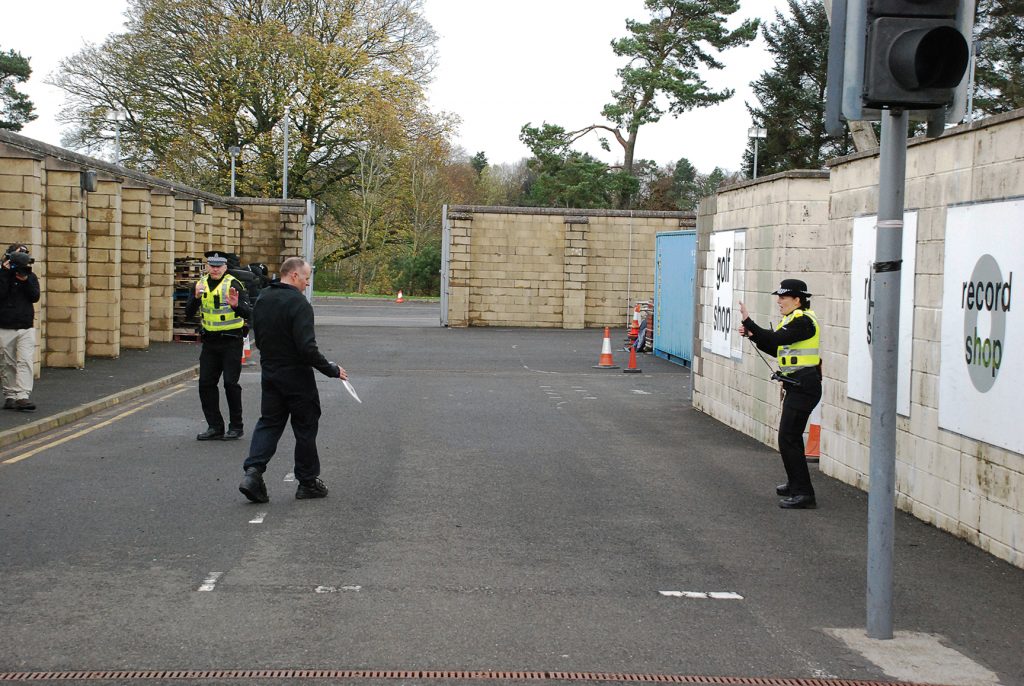 When Sheriff Mike Chitwood was elected by Volusia County, Fla., in 2016, he brought with him some new ideas. After attending a weeklong training in Scotland in 2015 with the Police Executive Research Forum, Chitwood gained a new way of processing stressful situations through the Integrating Communication Assessment Tactics training.
Training in Scotland
Chitwood was one of 25 police leaders from around the country chosen to join PERF Executive Director Chuck Wexler in Scotland to witness the country's training academy methods. Since there are so few firearms in Scotland, officers are not equipped with firearms except for a speck task force. Therefore, instead of relying on a firearm, police depend on critical decision-making skills, time, distance, cover and communication. "If you don't have a firearm, what do you do?" Chitwood asked, and that's exactly what he learned.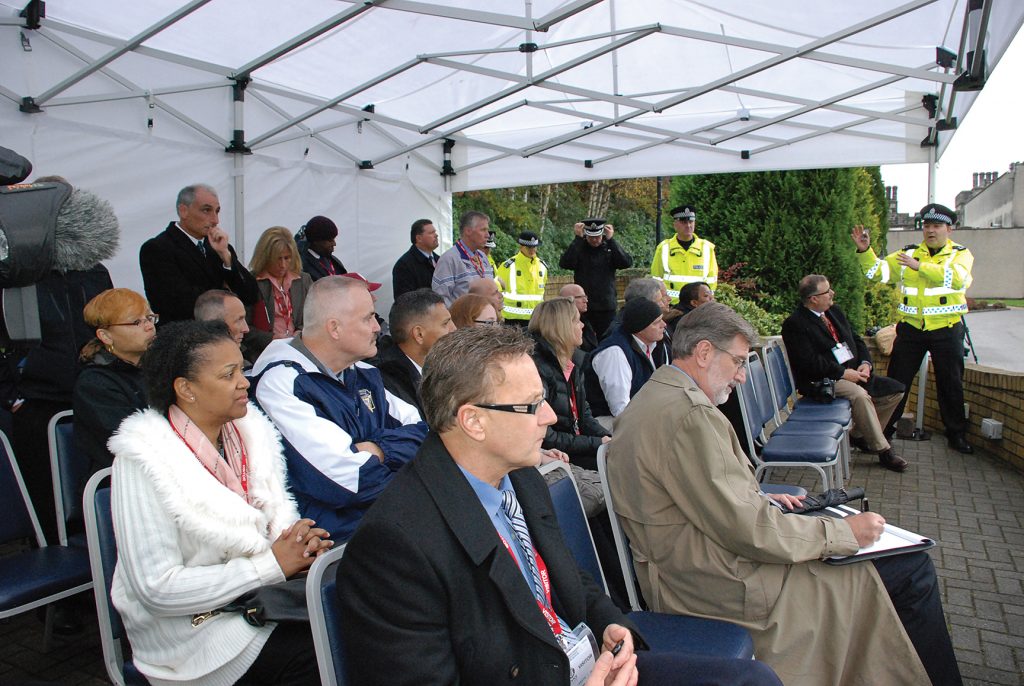 Although Chitwood first entered the training feeling as if he would be unable to learn much, that opinion quickly changed. He also realized American police chiefs would have to see such a method in order to believe it and adopt it for themselves. "They base training on the sanctity of human life," Chitwood described. "The values and ethics of the organization."
The police force in Scotland has an 83% approval rating throughout the country. Due to the trust built with the community, there is no public outcry when officers do need to use force. Since it is done so rarely, community members realize that, if it is done, there was no other option.
Scottish officers are tested on their critical decision-making skills, such as an ability to reason critically as well as their reactions and decisions during stress. All training is based on the sanctity of human life. In the U.S., however, one of the first requirements an officer must pass in the hiring process is the firearms test. Both countries experience the same problems and issues. There are just two extremely different approaches to the same high-stress situations. With less guns available, Scottish police have to use their wits and call in the right people for each situation.
ICAT training
The ICAT training through PERF is based on the work in Scotland and hundreds of officers throughout the U.S. After taking over as Volusia County sheriff, Chitwood had his entire department go through the training. It has since been included in over 80 police and safety institutions around the country.
The training provides a focus on critical thinking, crisis intervention and communications and tactics. Officers are given tools and skills to defuse a range of critical situations with these new options.
Instead of leading with the warrior mentality that has guided officers for generations, ICAT encourages officers to lead with a guardian mentality. The focus is put on community policing, crime prevention and high standards of professionalism. Chitwood believes in trying to redefine American policing and that all departments should invest in the type of tactics training that leads to more humane policing. In his department, 40 hours of de-escalation training is required.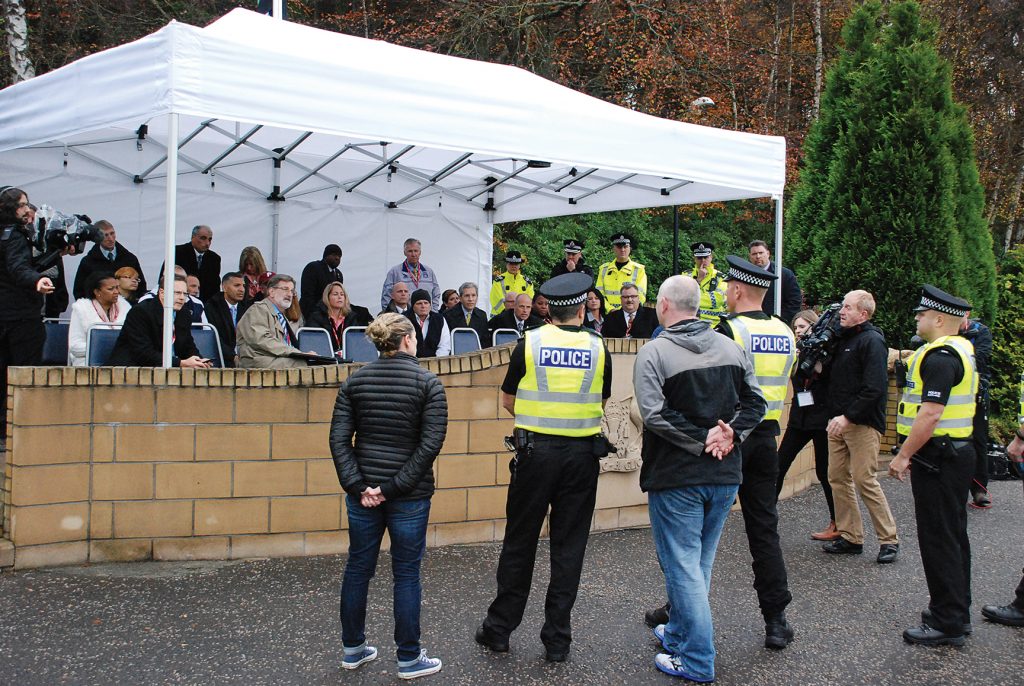 This training is most effective when dealing with someone suffering from a mental illness or someone with an edged weapon. The goal is to assess the situation, try to establish communication and rapport, contain the subject and attempt to gather as much information as possible before ever approaching the subject. However, it tends to not be as effective in an active shooter situations or dynamic situations where a person has harmed others.
"How do we rectify this situation as peaceably as possible?" Chitwood asks himself before going out on any call. He trains his officers to ask themselves the same question. At the end of the day, the goal is "everybody goes home safely," he stated. "And we have the training and equipment to do so."
While a great deal can be done with an officer simply showing empathy, Chitwood explained, "Part of de-escalating is protecting yourself." Police officers have been utilizing similar practices for years. There has simply never been a name for it  
before. This training and accompanying workshops put it at the forefront of officers' minds.
In the beginning, this training was met with a significant amount of opposition and resistance, particularly from the police union. Some individuals believe police officers do not have a duty to retreat. However, Chitwood believes the results speak for themselves.
By the end of 2018, everyone in the Volusia County Sheriff's Office had completed ICAT training. Comparing statistics from 2016, prior to training, and 2019, after training, Chitwood found that use of force had dropped 50%, arrests had dropped by 30%, injuries against deputies dropped 50% and overall crime had dropped 40%.
With this new training, there also came a new award. The De-escalation Award is now on par with the Medal of Valor, the highest honor an officer can receive. In that year, 12 De-escalation Awards were given out. "It's just as important as stopping an active shooter," Chitwood emphasized, and it often takes significantly more time. In the future, Chitwood has plans for a pilot program connecting social workers and mental health professionals with police officers. A pilot program training dispatchers how to elicit as much information as possible will begin in 2021. This will give officers more information to determine the best course of action. There will be a contracted psychologist on call to be reached via Zoom to help officers choose the best way to proceed in certain instances or even speak to the subject themselves.