Coeur d'Alene embraces growth by expanding opportunities
A city is more than buildings, roads and infrastructure. Its backdrop is also important and adds to its character and charm. Coeur d'Alene, Idaho, is one example of a city in the Pacific Northwest that has capitalized on its environmental assets and experienced growth as a result.
       The city of 53,000 — located in the northwest part of the state — has no shortage of natural beauty. Here you'll find timber and forest, the Rathdrum Prairie Aquifer and other water resources, including Lake Coeur d'Alene and the Spokane River, and aggregate mining.
Speaking of mining, City Administrator Troy Tymesen said he's bullish on a project in the works that will redevelop a property — Atlas Mill Site, a defunct mill — into a mixed-use project. In 2018, the city purchased the site in collaboration with a local urban renewal agency called ignite cda, and together, they have been preparing it for future development in a phased approach. The hope is the site will hold single- and multifamily homes in addition to office and retail.
Beyond this project, which will no doubt have an impact on the economy, Tymesen said Coeur d'Alene's largest industries include retail, healthcare, hospitality, construction, education, manufacturing, administrative, professional and government.
When residents aren't working, they're also taking part in the area's robust recreational scene. According to Tymesen, attractions run the gamut. He said Silverwood Theme Park; Trail of the Coeur d'Alene's, a biking trail; skiing; water activities; hiking; snow sports; golf; casinos; art galleries; an extensive public art collection; and Coeur d'Alene Summer Theatre are on his short list.
In other words, this combination of factors makes Coeur d'Alene a hotspot for tourism and relocation, as evidenced by its rapid population growth.
Over the last decade, Kootenai County has added about 26,000 people, amounting to a growth factor of 19%. If you ask Tymesen, the city has a unique value proposition.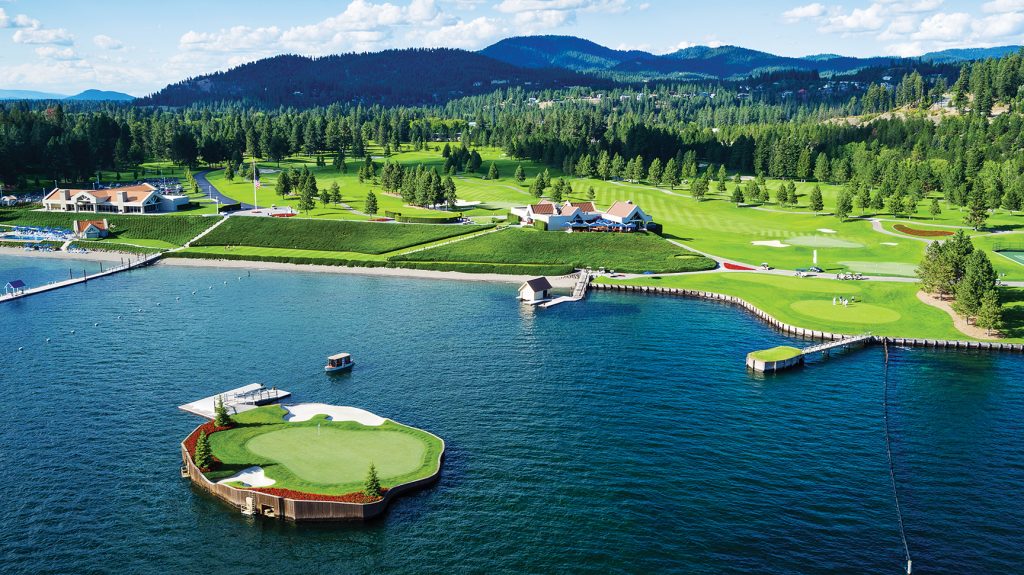 "The growth is due to the desirability of the beautiful surroundings, lake, streams, mountains, forests and public accessible lands," he said. "People are able to recreate, find quality health care, excellent schools and access to a great regional airport in Spokane, Wash., just 30 miles away."
Looking to the future, Tymesen is confident in the ability of city leadership to execute and help the municipality grow intentionally, with a forward-thinking approach.
"Leadership has continued to plan and be prepared," he said. "The city's wastewater plant is state of the art and able to handle the growth. We are very fortunate to have an amazing aquifer to supply all of our water needs. The city partners every chance that it can to build relationships and assist with projects."
For instance, he said the city works with a nonprofit organization called CDA 2030, a community-based project created to develop a vision for a bright future for greater Coeur d'Alene. Over the past two years, CDA 2030 has garnered thousands of community members' input and participation to develop a shared vision and a plan to make it a reality. Tymesen said this group has helped the city move forward and stay accountable to its vision for the future.
"This group of volunteers helps us communicate the plan for the future and checks in to make sure the objectives are being met," he said. "This partnership has helped the city make a community plan, gain valuable input and then execute the plan over a number of years."
That's just one example of a partnership in action. Tymesen said plans are in the works for the development of a medical district. The growth of the Kootenai Health Campus — the largest employer in northern Idaho — and increased demand for medical care is in response to the growth of the city and Kootenai County. Per an October 2017 report from the Urban Land Institute, there is a great need to invest in this community asset, especially from a mobility standpoint: "Kootenai Health has evolved to a point in their development where they recognize they cannot successfully move ahead on their own … Expansion is stymied by highways that are a barrier to expansion east and north, and the challenge of land assemblage to the west and south. While near term demands can be met, the future ability to serve at their current campus, particularly outpatient needs, is not clear. Solutions to guide their future will need the support, cooperation and partnership of others."