Snow fence program eases winter headaches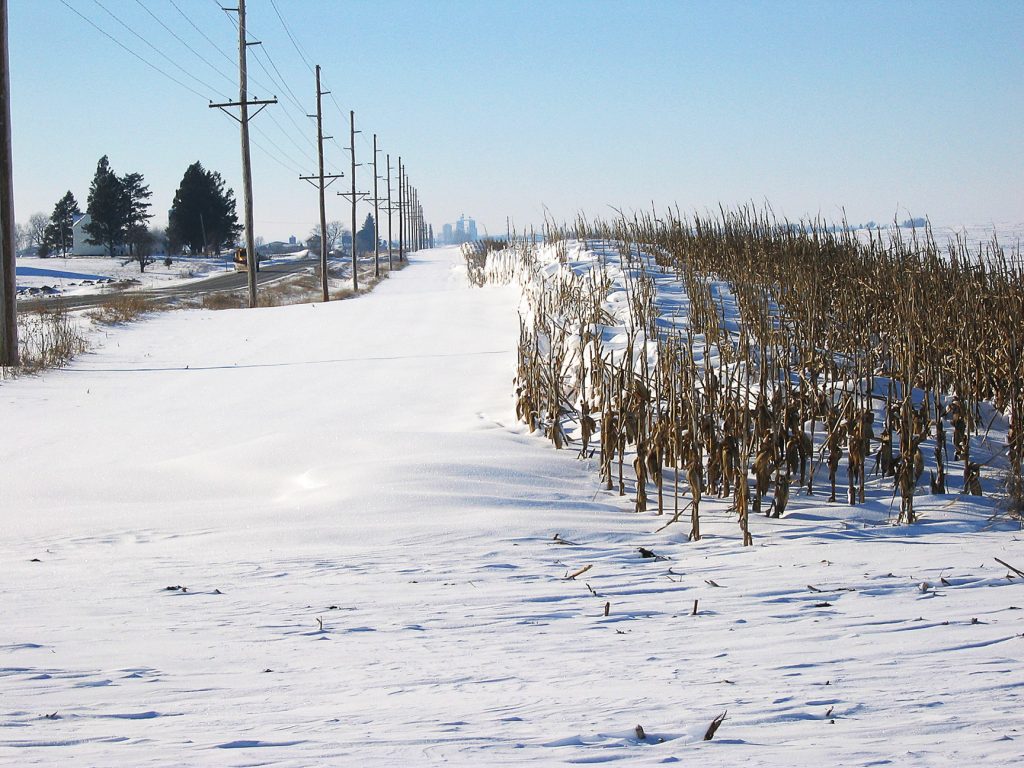 Picture it: blue-shadowed snow covering gently sloping mounds and painting country roads white-on-white with nearby forests covered to the hollow. It all makes for a lovely winter scene for artists, but for the Iowa Department of Transportation, the panorama turns into busywork.
Effectively slowing down blowing snow and drifting, which causes traffic problems, closes roads, isolates driveways and farmsteads, is the modus operandi of the Iowa crews on the highways and byways. Plow trucks with salt continue doing their much-needed part and thanks to a proactive program something more is being done to make communities a little safer and more accessible in the winter.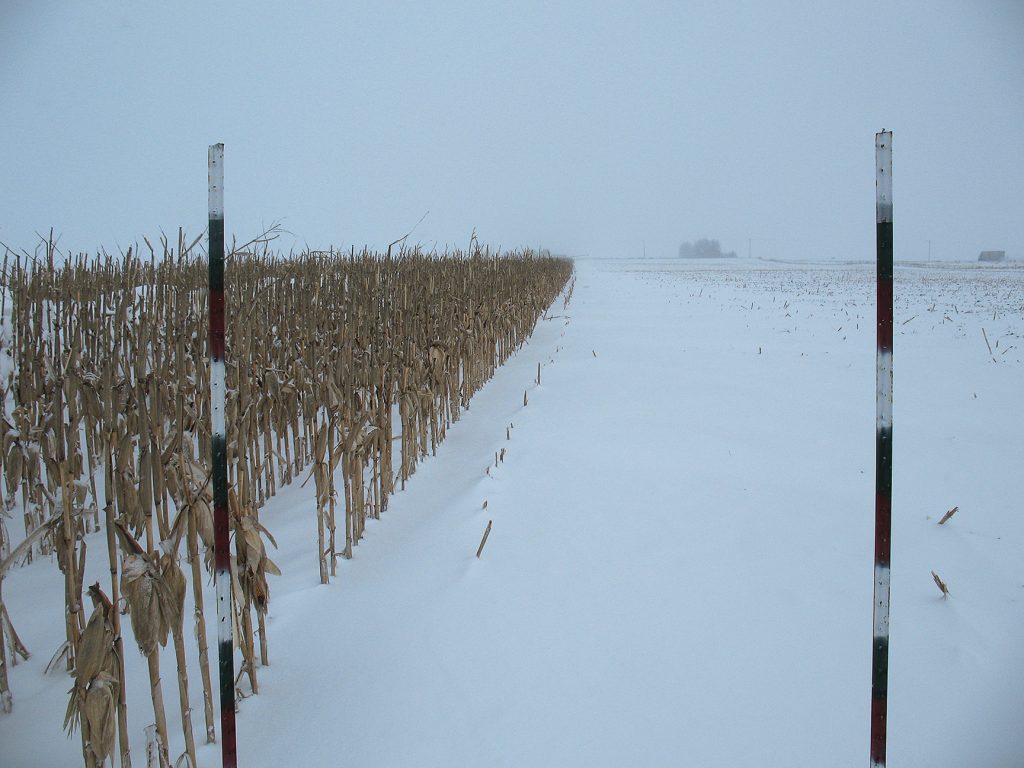 For at least 20 years, the Iowa DOT has been promoting its Cooperative Snow Fence Program, according to Craig Bargfrede, winter operations administrator, Iowa DOT Office of Maintenance.
"This idea originated from our field maintenance staff as a way to help reduce blowing and drifting and increase visibility, especially in known trouble areas that are prone to blowing and drifting," said Bargfrede.
In a nutshell, this win-win program draws in landowners who agree to construct and maintain corn row or standing hay bale snow fences that reduce the weather's blast, in exchange for $1 per linear foot of fence in annual payments for up to 15 years if they agree to plant two rows of trees or a combination of trees and shrubs along with a 75- to 100-foot buffer of native grasses.
Benefits to the public include:
• Reduces blowing and drifting snow on roadways.
• Stores snow at low cost.
• Reduces the accident rate during snowy, windy conditions.
• Creates safer travel conditions and improves visibility.
• Decreases freezing and thawing effects on the roadway.
• Lowers snow removal cost.
There are also benefits to landowners:
• Improves access to farmlands and rural areas.
• Helps reduce soil erosion.
• Provides a service to the community.
• Conserves wildlife.
• Can increase yield by retaining moisture and reducing drying effects of the wind.
The Strategic Highway Research Program testifies to the success of the CSFP, saying, "National research has found that it costs 100 times more to plow snow than to trap it with snow fence."
Three types of snow fences are implemented: structural, either permanent or temporary; standing corn, which can be field corn or hay bales; or living, utilizing deciduous trees, shrubs, tall grasses or a combination thereof.
A temporary snow fence is usually 4 feet tall and usually made of plastic fencing. It is placed on private land during the icy months and can be installed by either the landowner or DOT. A permanent one is typically 6 to 8 feet tall, wood frame with plastic fence attached to the face. Standing corn snow fences leave eight to 12 rows of standing corn after the harvest, in which the landowner is paid for the corn but able to harvest the corn in the spring.
"There are many options. Some farmers combine or harvest the corn in the spring," said Bargfrede, "and other farmers donate the corn to a local 4-H or FFA chapter, and that group handpicks the corn and sells it as a fundraiser for their respective organization."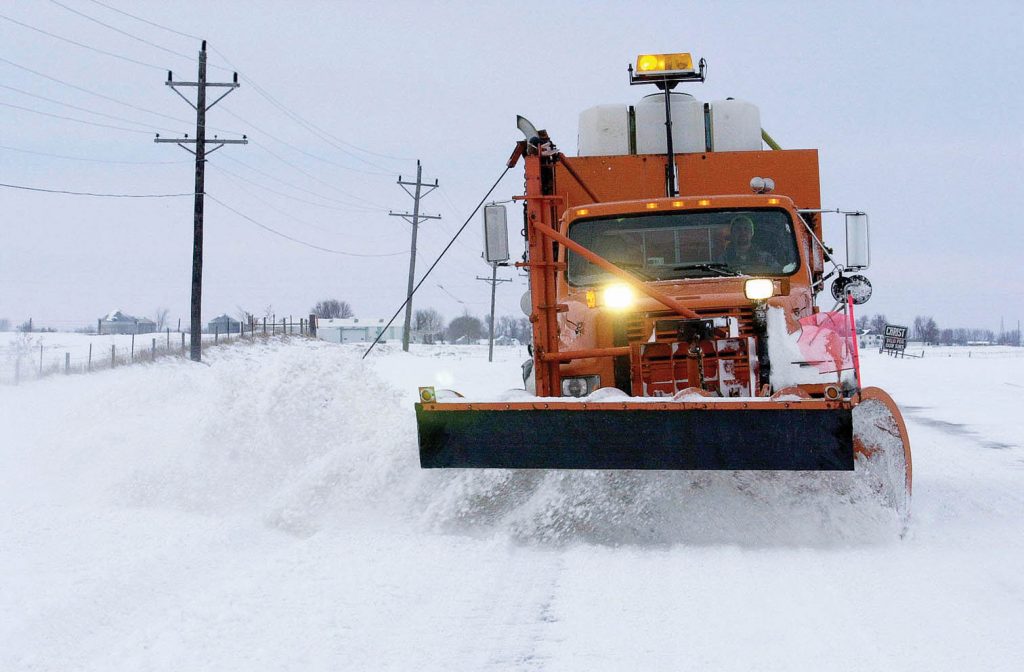 These barriers slow down wind and blowing snow by forcing them to go around the structure, which causes the wind to lose energy and speed. The height of the fence is a factor — any standard size fence will work, but the taller the fence the more snow will be trapped. According to Iowa DOT's CSFP, one row of 8-foot fence is recommended for maximum efficiency. Multiple rows of shorter fence can also be used; however, one 8-foot fence can trap as much snow during an average to above average snowfall year.
Fences should contain 40-50% open space to be most effective. Horizontal gaps are the preferred design. A gap of 6 to 8 inches is needed between the ground and the fence to reduce the tendency of fences to become buried in drifts. The length of the snow fence determines the maximum amount of area that can be protected from blowing and drifting snow, and snow storage at the ends of a barrier is significantly less than near the center.
There are agreement lengths for each type of fence. Permanent structural fences have a renewable five-year minimum. Temporary structural fences are from fall to spring, and standing corn is also from fall to spring. A living snow fence, which consists of two or more rows of trees, shrubs or a combination thereof with a 75- to 100-foot native grass buffer, should run from 10 to 15 years, per the Conservation Reserve Program's guidelines.
Also, the degree of separation should be considered: The windbreak fence should be placed away from the road at a distance 35 times the height of the fence. The height of the fence depends on how much snow needs trapped and how much snowfall is common for the area. One row of a 6-foot fence is recommended for maximum efficiency. Positioning is important; the fence should be placed as parallel to the road and perpendicular to the prevailing wind direction as possible.
"This program is funded through our operating budget. Our standing corn price is established on Aug. 1 each year. At the close of business on that day, we calculate what the average statewide cash price per bushel is for corn. We then add $2 per bushel to that price to establish our standing corn price for the coming winter season. The standing bales, permanent and temporary fences, we have established a set price of $1 per linear foot."
Bargfrede is pleased with the CSFP and invites The Municipal's readers who want to learn more about the program and benefits of snow fences, to contact their local DOT maintenance office or to contact him directly at (515) 290-2713 or email him at Craig.bargfrede@iowadot.us. "This is a very successful program that augments our entire winter operations program," said Bargfrede. "It is a win-win for us and the farmer/landowner as the farmer gets an extra incentive for leaving the corn plus the benefit of helping out his neighbors in reducing the blowing and drifting snow. It benefits the DOT as it allows us the ability to get these sections of road to return to normal winter driving conditions sooner and with fewer resources."