From wastewater lagoons to soccer complex, Manchester Meadows boosts Rock Hill's economy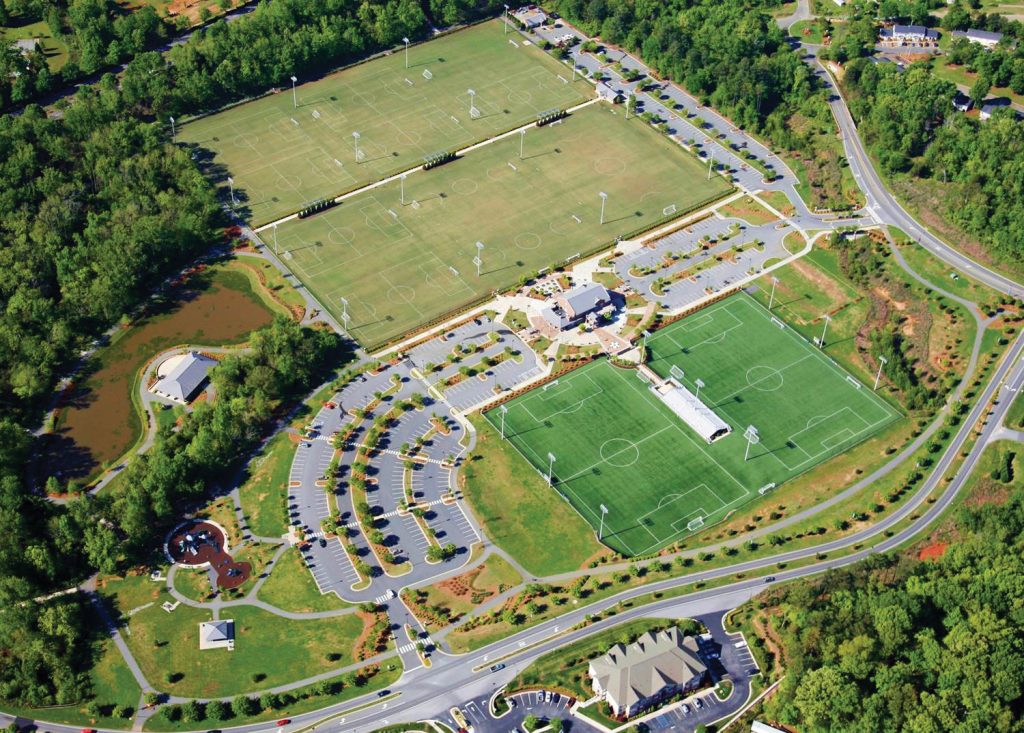 Looking at the pristine soccer fields of Manchester Meadows in Rock Hill, S.C., it's hard to believe they once were lagoons for a wastewater treatment plant.
The 70-acre soccer and lacrosse facility is part of a multi-decade revitalization for the city of 75,000 just down Interstate 77 from Charlotte, N.C.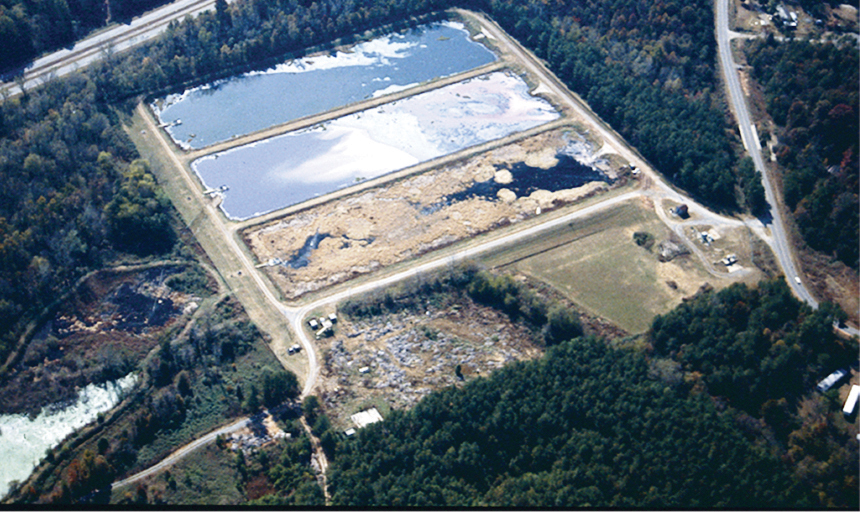 The original wastewater treatment facility had served Rock Hill and the surrounding area for more than half a century. With the area's population growth in the latter part of the 20th century, it became clear a new wastewater treatment plant was needed, explained John Taylor, the city's director of Parks, Recreation and Tourism. "We had to build something bigger and better, so we abandoned the site and a new wastewater facility was built."
The area was changing, he said, with the decline of the textile industry, and like other southern cities that had built their economy on cotton, Rock Hill had to find new industries to stay alive.
So, in the 1980s, Rock Hill planners realized that the softball and baseball teams that came to the area on weekends and during spring break had potential as an emerging industry. "It helped the economy by bringing people to the area," Taylor said. That's when the city started to develop sports tourism as a major industry and Rock Hill's parks and recreation department added tourism to its moniker. The mild climate attracted high school and college sports teams from northern communities to the early Carolina springtime, and Rock Hill planners decided to add soccer and lacrosse to its menu of sports offerings.
That's where those lagoons that had once handled wastewater could be helpful to the Rock Hill economy. Taylor said the land took some time to dry out and settle. "It probably sat for about 15 years." So, while other sports were drawing people to Rock Hill, the city was planning its next big project.
Rock Hill not only wanted to make sure it could build a $14 million facility but support it in the long term. "We do a good job at making sure that happens. Manchester Meadows was completed in 2006, and to this day, it looks like a brand-new facility," Taylor said, stressing maintenance is a key ingredient in successful sports projects for
Rock Hill.
And the key to funding those sports projects has been a 2% tax on prepared foods and beverages as well as a 3% accommodation tax. The hospitality tax was created by the South Carolina legislature in 2002. "So, the awesome thing about our hospitality tax is that anyone who is traveling up or down I-77 and jumps off at Rock Hill for a meal or to spend the night, helps to pay for these facilities," Taylor added.
Manchester Meadows, he said, is enjoyed year-round by athletic programs for youth and adults, both from the local area and around the country. There are six lit natural turf fields and two lit synthetic turf fields with electronic score boards and bleacher seating for 1,500 spectators.
The soccer pavilion houses park offices, restrooms, a concession stand and a meeting room that accommodates about 100 people and overlooks the park.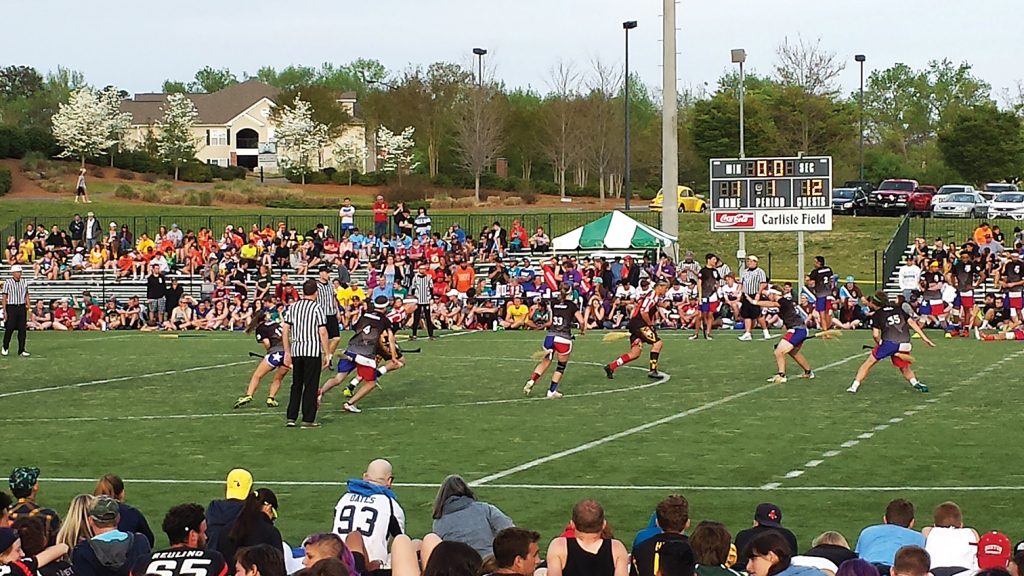 Add to that a playground, 1.1-mile walking and biking trail that includes both lit paths and a wetlands path, a lake pavilion with picnic seating for nearly 300, restrooms, lighting and power supply, as well as a playground pavilion and another concession area and restrooms for the natural turf fields. 
The success of Manchester Meadows has led to the construction of Rock Hill's $6.6 million Giordana Velodrome and Rock Hill BMX Supercross complex, the $4.4 million Rock Hill Tennis Center, a $2.55 million criterium course that provides a closed-road trail for cyclists and the $27 million Rock Hill Sports and Events Center, which opened in February 2020.
In addition to events at the Rock Hill facilities, visitors can launch a kayak or canoe and paddle the Catawba River, walk or bike a 2.5-mile paved trail along the river's edge or mountain bike through the woods.
Taylor said in the average year, annual events are the bread and butter of Manchester Meadows. In 2019 the facility's estimated direct economic impact was $15.9 million.
"Direct economic impact is the big picture — the estimated spending for food, lodging, transportation, entertainment, gifts/miscellaneous connected to the event," explained Laurie Helms, marketing supervisor for Rock Hill Parks, Recreation and Tourism.
That amounted to more than 50% of the total estimated direct economic impact of $29 million for all the Rock Hill sports facilities.
But 2020 has not been an average year. "COVID has had a major impact on tourism and sports," Taylor said. Not only were the city's sports facilities closed for three months, but the suspension of business for hotels and restaurants hit the hospitality tax hard. Teams that come back year after year had to stay home.
"We're starting to come back," Taylor said on a late summer day. Some events have resumed with no spectators, and all facilities are strictly observing CDC and South Carolina guidelines for safety. "We want to make sure our employees are working in a safe environment.
"And we've got to give our children outlets for their energy. Playing sports helps with mental health," he added. Thinking about those wastewater lagoons, Taylor said he is glad the city made the decisions it did. "It's good that we were able to repurpose them into something so important to Rock Hill."