1-800-SWEEPER clears a path to power sweeping resources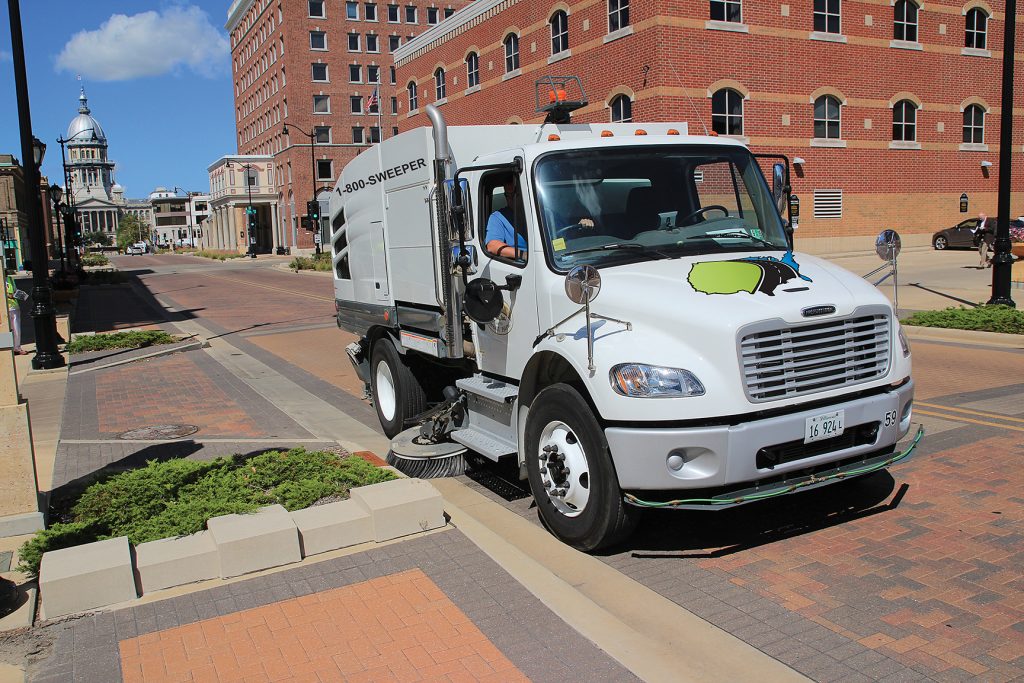 Budgets are being constricted across the U.S., particularly as the COVID-19 pandemic reduces tax revenue. When seeking ways to lower costs and stretch those budgets, street sweeping could be a prime candidate for change and cost savings, by outsourcing some or all of it. Sweepers are costly not only in the labor to operate but to purchase and maintain. A cooperative network of independently owned and locally operated sweeping companies, 1-800-SWEEPER offers the tools, connections and resources to successfully outsource or streamline street sweeping operations.
"Street sweeping is one of the most visually appealing services a city performs for its citizens. People recognize when it's done and when it's not," Mike Lucht, founder of 1-800-SWEEPER and president of Progressive Sweeping Contractors, Inc. said, noting a good sweeping program delivers benefits both politically and environmentally. "It's an environmental activity with an aesthetic value, by keeping litter, unsightly debris and poisonous contaminates out of the streets and our waterways."
Since 2011, 1-800-SWEEPER has brought together power sweeping companies from across the U.S. under a unified marketing and purchasing structure. For many of its Partners, the organization strengthens their ability to bid on municipal street sweeping contracts, to complement established offerings of parking lot sweeping, construction site cleanup and other services. The organization also combines purchasing power with strategic vendor partners to create exclusive price offerings on parts, supplies, equipment, fuel and services that their Partners can take advantage of to strengthen their business within their respective local markets.
"Partners of the organization have an edge by getting discounts on numerous items routinely purchased, and they pass that savings onto customers while still being profitable," Lucht said, adding, "1-800-SWEEPER is gaining traction and recognition in the industry amongst contractors, vendors and buyers of power sweeping services."
Partners share their experience so they can individually orchestrate each job with the utmost attention to safety, best practices training, proper material handling and disposal. 1-800-SWEEPER provides them the resources and access to the intellectual capital to ensure they have the support, manpower and equipment to deliver the services required to meet customer expectations. These resources help minimize, or completely eliminate, rookie mistakes.
A common misconception that might deter municipalities from outsourcing their street sweeping operations is a loss of control or an inability to ensure quality; however, Lucht noted, "When you hire a contractor, they don't get paid until the job is completed according to the specification. A municipality actually gains more control and greater accountability for their dollars dedicated toward sweeping. If the job is not done, a check isn't being cut."
Contractors are not impacted by a city's emergencies that divert labor resources toward more pressing tasks, such as clearing storm debris, dealing with water main breaks and other disruptions. Contractors do not have that added responsibility; instead, they are completely and solely focus on the task of sweeping without interruption, ensuring timely completion and tidy streets.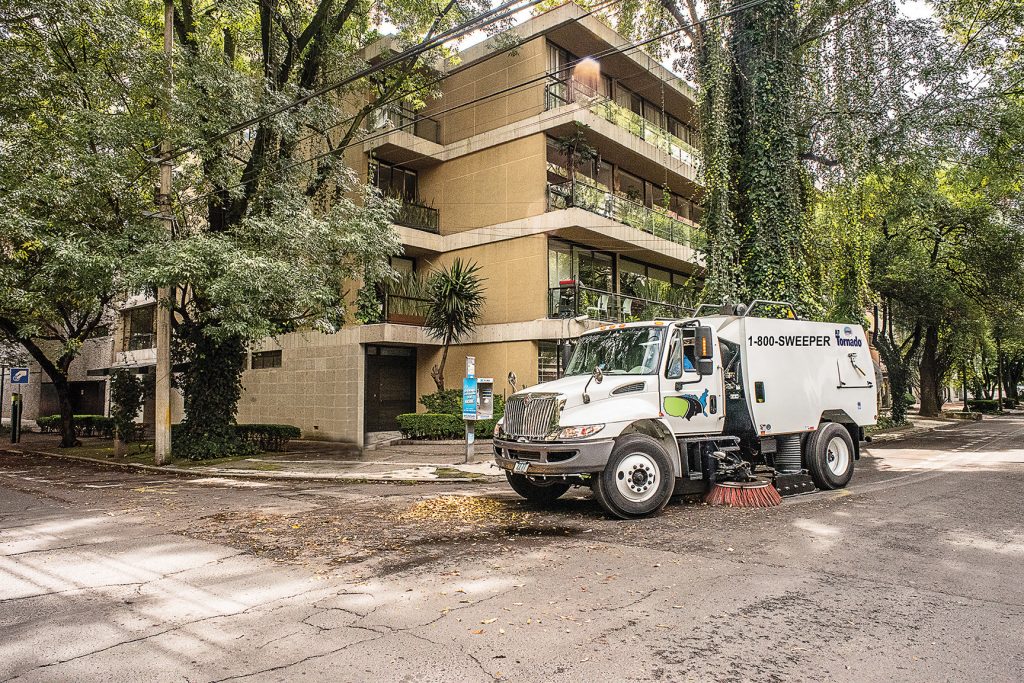 Additionally, since sweeping is a contractor's sole focus, they are often more efficient when operating street sweepers and have a firm grasp on equipment maintenance and all line item costs — something a city's public works manager may not have a complete accounting of. Because these direct expenses may be missing, city executives and managers may not have a full picture of the total cost of their sweeping programs.
Lucht suggested cities with in-house sweeping programs might want to consider creating a competitive environment by contracting a portion or sections of their city and run them in tandem to evaluate and improve productivity and equipment utilization. "There are a lot of creative options to consider," he said.
All 1-800-SWEEPER's Partners are vetted, by being referred by an existing Partner or meeting with either the organization's executive director or Lucht while also completing a four-page questionnaire to ensure they are aligned as a company with the cooperative's mission and values. From there, each candidate must be approved by 1-800-SWEEPER's board of directors. Lucht emphasized the importance of having a cultural alignment within the organization, and noted that all of the organization's Partners are members of the North American Power Sweeping Association, or NAPSA.
Even if municipalities choose to self-perform their street sweeping, 1-800-SWEEPER can help them sweep smarter with its experience.
"Use us as a resource," Lucht said. "If they have problems, consider learning from a contractor and using our tools."
He noted 1-800-SWEEPER has access to technology that can improve productivity and reporting of street sweeping operations. Eagle Eye Software — eagleeyetracking.com — offers a web-based tracking platform, which inventories every curb and reports what has been swept each day or throughout any time period.
"It saves time on inspections and communication while minimizing time spent on reporting. As areas are assigned to operators, you know that what say they are doing is what they are doing," Lucht said. "Before you would have to physically spot check areas to see what's been done."
Additionally, the technology allows for the operator and manager and/or customer to be constantly on the same page through the interactive reporting dashboard that can be easily accessed from the field by a tablet. Additionally, if a complaint is received about a missed curb, a manager can check the program and see if the street had been missed, a vehicle was blocking the curb or leaves and/or debris had been raked to the curb after the street sweeper passed through.
1-800-SWEEPER has also developed its own technologies. A virtual training tool, the SweeperSIM™, which is a sweeping simulator with realistic operating conditions that allows Partners to train new parking lot sweeper operators in a simulated sweeping environment and measures their performance against best-practice benchmarked criteria. The simulator helps to screen, test and validate new driver's aptitudes and develop their skill sets before putting trainees behind the wheel of a real sweeper. Additionally, it has also rolled out the 800App that allows customers to request service, or simply send a message, directly to one of 1-800-SWEEPER's Partners with the touch of a button.
"We build relationship bridges that are mutually beneficial between the buyer of our services, our Partners and our vendors selling goods and services. We currently have 38 vendors who offer our Partners discounts on everything they need to maintain and run their businesses, from tires, brooms, fuel, equipment, parts and services," Lucht said. "There is a lot of support and networking. If you have a question or problem, you spend very little time waiting for an answer or getting help."
Finally, the Sweeper Summit and Equipment EXPO is a 1-800-SWEEPER sponsored event that is exclusive to the power sweeping industry and has proven to be an impactful relationship building annual event for the attendees. Each year 1-800-SWEEPER Partners, vendors and invited guests gather to meet for three days and share ideas, network, attend industry-related educational programs as well as attend an outdoor equipment show with all the industry's leading sweeper manufactures on display.
"The Sweeper Summit is always the highlight of the year," Lucht said. "We're not your typical trade show and municipal employees are always welcome. If you're looking to learn about contract sweeping or purchase a sweeper and want to demo it, the Sweeper Summit is the place to be every November."  For information,
visit www.1800sweeper.com.