Kosciusko County firefighting is all about sharing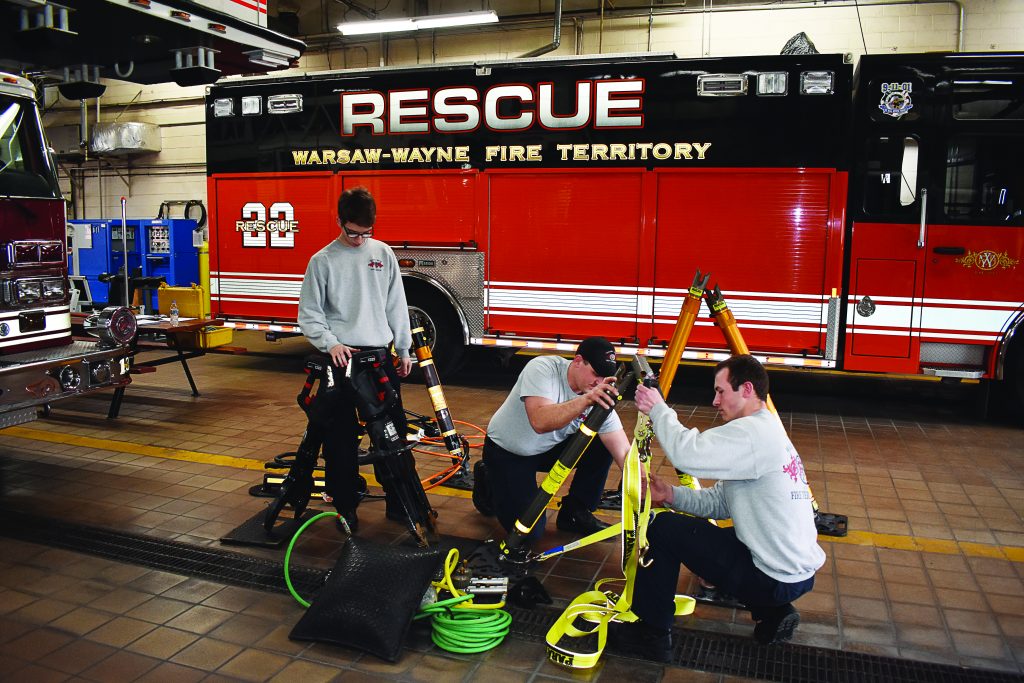 At 5:15 a.m. Feb. 28 a fire swept through J&B Pallett Co. in Warsaw, Ind., seat of Kosciusko County. Units from Warsaw-Wayne Fire Territory stations were on the scene in minutes, but an hour later calls were still going out to stations all over
the county.
Volunteer firefighters from as far north as Milford and Syracuse joined Warsaw, Winona Lake and Leesburg departments to quell the blaze with no injuries or loss of life.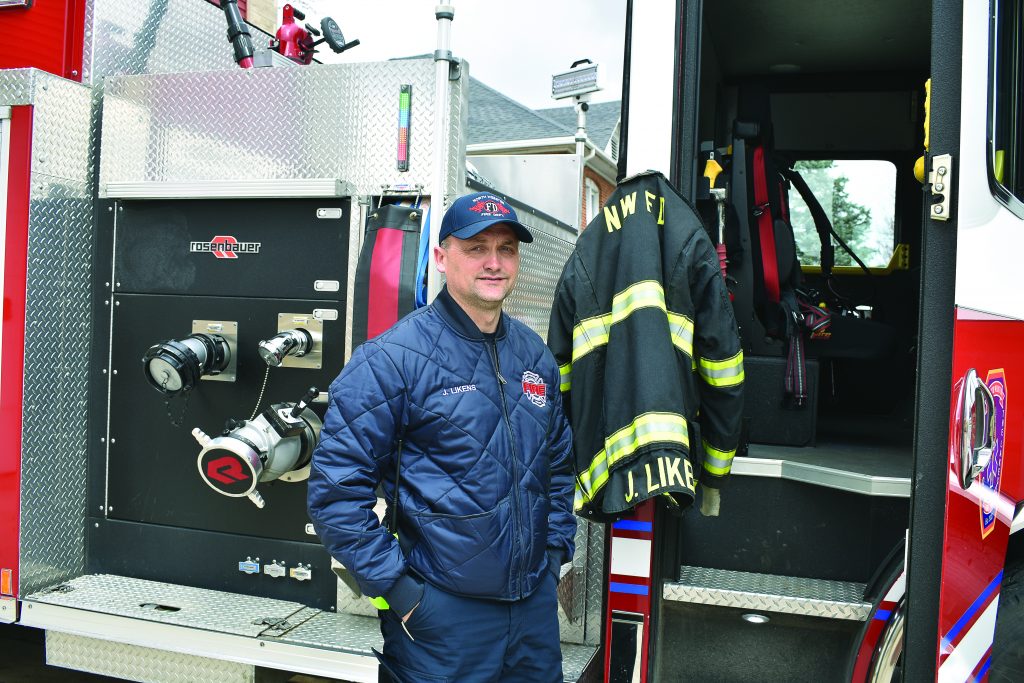 The fire was just one example of what Warsaw Fire Chief Michael Wilson called the "unique situation" currently benefitting Kosciusko County residents' fire protection. Thirty-five career firefighters and 20 part-timers in three Warsaw stations with access to state-of-the-art equipment backed by budgets comprising several million dollars are joined by roughly 375 volunteers from the Kosciusko County Fireman's Association "all with a common goal of taking care of their community," said Wilson, which amounts to roughly 80,000 people.
On a large commercial fire, Wilson explained, "We rely on all the volunteers to assist in bringing manpower." Warsaw returns the favor by providing equipment volunteer departments are unable to afford.
"We are extremely fortunate to have the allotment of the budgets that we have," Wilson emphasized.
Warsaw-Wayne, which became a fire territory in 2009, assists greater Kosciusko County in hazardous material responses, fire investigation, rope rescue, confined space rescue, trench rescue and EMS.
Among the departments receiving assistance is Claypool Fire Department, which protects the Louis Dreyfuss Agricultural Industries' biodiesel refinery, the largest of its kind in the world.
Warsaw-Wayne also reaches beyond Kosciusko County as part of a Mutual Aid Box Alarm System: MABAS 201 Technical Rescue Team, which assists seven counties and a population of 640,000.
Smaller departments in the county, on the other hand, may not be able to afford a paid career department or equipment such as a ladder truck or a technical rescue vehicle, which cost around $1 million and $680,000 respectively.
Volunteer agencies, said Wilson, have limited budgets and must plan out for years in advance to the best of their abilities. A department cannot just change a few air packs, 
but all of them, so if a firefighter goes down or has a problem, they can hook into another pack. This goes for many pieces of equipment.
"You're not only talking about an apparatus, but everything that goes with it," Wilson explained.
At the same time, the all-important volunteer system has begun to decline in the last decade. For full-time Warsaw firefighter Jacob Johnson, firefighting goes back four generations. Volunteer departments across the county are similarly supported by "family tradition." Unfortunately, according to the National Fire Protection Association, the number of volunteer firefighter numbers for 2016 and 2017 are the lowest recorded levels since the group began the survey in 1983.
Wilson reckons about 90% of his paid firefighters are also volunteers for their own communities; however, he explained, "Volunteers are on the decline, we have to help bring that back up."
New challenges for volunteer fire departments
In the last 20 years, the numbers of volunteers nationally have fallen 15% while the number of calls has increased 300%, according to the National Volunteer Fire Council. A majority of Kosciusko County departments depend on volunteers for some, if not all, of their boots on the ground.
North Webster-Tippecanoe Township Fire Department Chief Jeremy Likens has been a firefighter for 27 years and chief since 2004. In that time, he said he has observed a "sharp decline." One cause, he believes, is the extensive training volunteers need, which takes time from their families and jobs.
Likens also cited North Webster's distance from major employers as a drawback. Volunteers, he said, already have to travel for work, and employers may not be willing to let people rush out of work to help stop a fire.
"Society's changed from 50 years ago," said Turkey Creek Fire Territory Chief Mickey Scott. Volunteers worked locally and most came from one income families, he explained.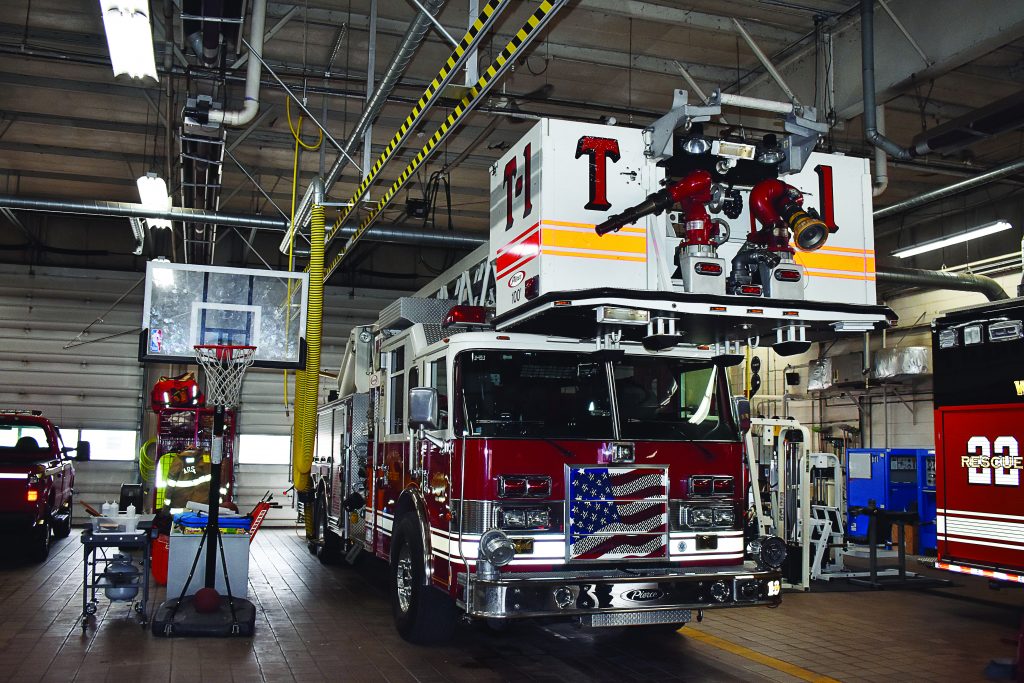 Building materials have also changed drastically in that time. New synthetics, plastics and glues are good for builders but terrible for firefighters when they burn, requiring constant changes in equipment — particularly breathing protection — which drive up costs.
"The cost of equipment has just exploded," said Likens. "If you are a small department with limited funding, it's hard to keep up with the changes."
Just ask Milford Volunteer Fire Department Chief Todd Haines. In 2019, inspections found Milford's self-contained breathing apparatuses — SCBAs — no longer met state standards, and the department needed $140,000 to purchase new masks, air packs and 46 air bottles.
New building materials have led to highly toxic fires, Haines told the Milford council: "We have to be very passionate about this as firemen."
Among the SCBA upgrades were thermal imaging cameras, voice amplifiers and Personal Alert Safety Systems, which alert nearby firefighters with an alarm when the device does not detect movement from the wearer for 30 seconds.
Milford Fire, which has enjoyed a tightly knit relationship with the community for generations, is partially funded by a combination of entities: Milford Town Council and Van Buren and Jefferson townships. And they were all needed, along with a grant from Kosciusko Community Foundation and anonymous donors, to meet the cost.
In fact, one stumbling block was much of Van Buren Township's cumulative tax fund was already earmarked for a badly needed pumper truck. The truck will likely be purchased before the end of 2020 at an estimated cost of $440,000, nearly $100,000 lower than the original estimate after Haines pored over 98 pages of specs, cutting features deemed unnecessary.
And, as Rebecca Alles, Van Buren Township trustee, pointed out, the truck will also be used in mutual agreement scenarios, benefitting the entire county.
"What isn't expensive?" Likens asked rhetorically before enumerating approximate costs. A firefighter's basic turnout gear — helmet, hat, coat, pants, gloves and boots — runs from $2,500-$3,000.
North Webster replaced its air packs in 2018. "It took a long time to replace them," said Likens.
The best departments can do, Scott agreed, is "keep an eye on the equipment schedule and spread the cost out as much as possible."
The problem is, as Likens observed of his new air packs, "In several years, there could be changes." New building materials will mean new regulations, new equipment and new training. "It's challenging to keep up with that."
In spite of generous donations and local fundraising, the vast percentage of funding comes from taxes.
"Taxpayers need to understand that equipment is their equipment," Scott emphasized. "It belongs to all of us."