Cities seek curbside balance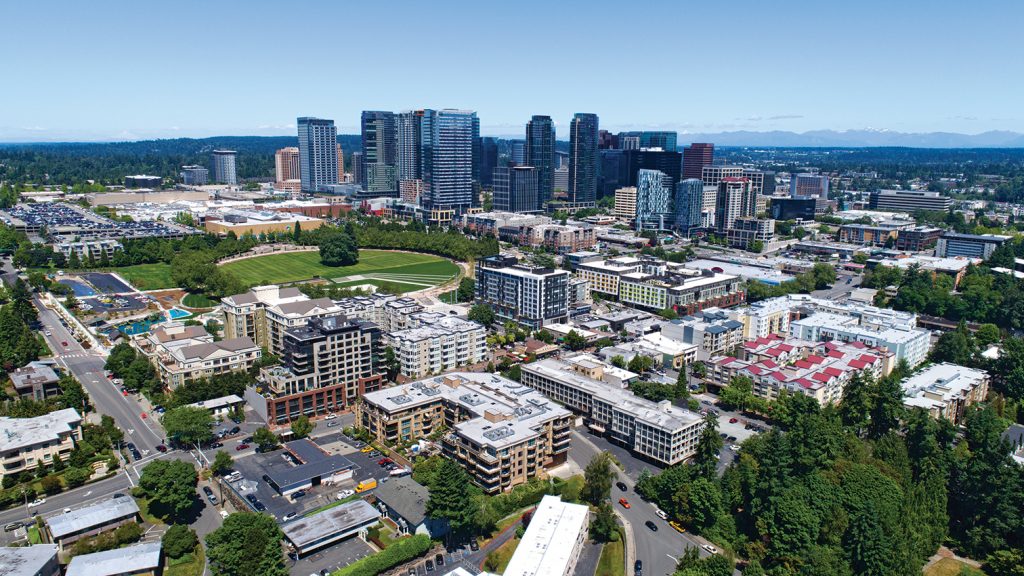 Traffic has been increasing phenomenally in cities, and planners have had to make adjustments with their curb space in order to accommodate pedestrians as well as vehicle parking, ride-hailing services, micromobility services, trash collection, loading zones and front stoops. Waiting areas, sidewalk cafes, transit hubs, freight/delivery zones and taxi stands are particularly popular spaces that require such management.
As cities grapple with curbside management, Bellevue, Wash., currently has a curbside pilot project underway, while El Paso, Texas, has completed curb projects under its belt.
Bellevue
David Grant, public information officer with Bellevue's transportation department, shared what was to come in his curbside-stressed community, as of May 2020.
"Just to clarify, Bellevue has not yet implemented a curbside management program, but we are about to launch a pilot project on one of our downtown streets as part of the Smart Cities Collaborative, a group of cities doing similar curbside studies in 2020," said Grant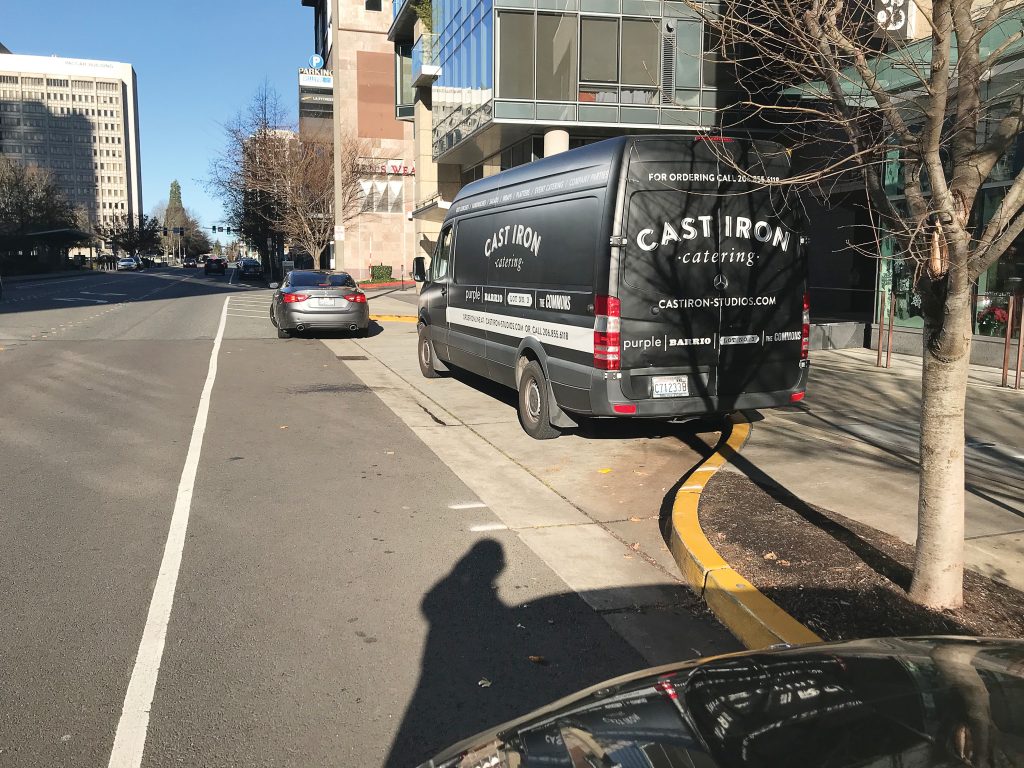 "As the curb becomes more dynamic, it will be important for cities to emphasize their transportation planning and policy goals to help guide overall decision-making," said Chris Iverson, the project manager for the 106th Avenue Northeast Curbside Management Pilot in Bellevue. "The curbside has been historically dedicated to parking and auto uses — similar to how streets have been designed for vehicle throughput. It will take a change of policy to change that mindset. The curb should eventually reflect what cities want to become, whether that's a staging ground for micromobility or other sustainable transportation choices, an activity hub for food trucks or 'parklets,' or a dynamic zone to optimize traffic for rideshare and freight activities.
"Cities should also consider creating curbside master plans that identify modal priorities for specific streets, so that specific corridors and their curbside master plans that identify modal priorities for specific streets — so that specific corridors and their curbside areas eventually can become what cities want to see."
Because the project had not yet launched at the time of this writing, Iverson's challenges have been primarily in the planning phases.
"For example, we initially wanted to test out an RFID-based (radio-frequency identification) technology to monitor vehicle dwell times at specific sections of curb," Iverson said. "That has been scaled down due to practical and legal considerations."
As for products that will be used in the project, he said, "Bellevue will use several products from different vendors to monitor and study curbside usage. Vendors include Automotus, Cleverciti and a proprietary camera system from the University of Washington."
For other cities, Iverson recommended, "In addition to setting good long-range plans for the curbside, try testing out different uses in a pilot project. Most people think about the curbside as a parking zone, and a creative pilot project will help show the community what other options are possible."
El Paso
El Paso, Texas, has been using ParkMobile, which is available on both Android and Mac devices, said Paul Stresow, assistant director of the International Bridges Department, which oversees the Parking Meter Division.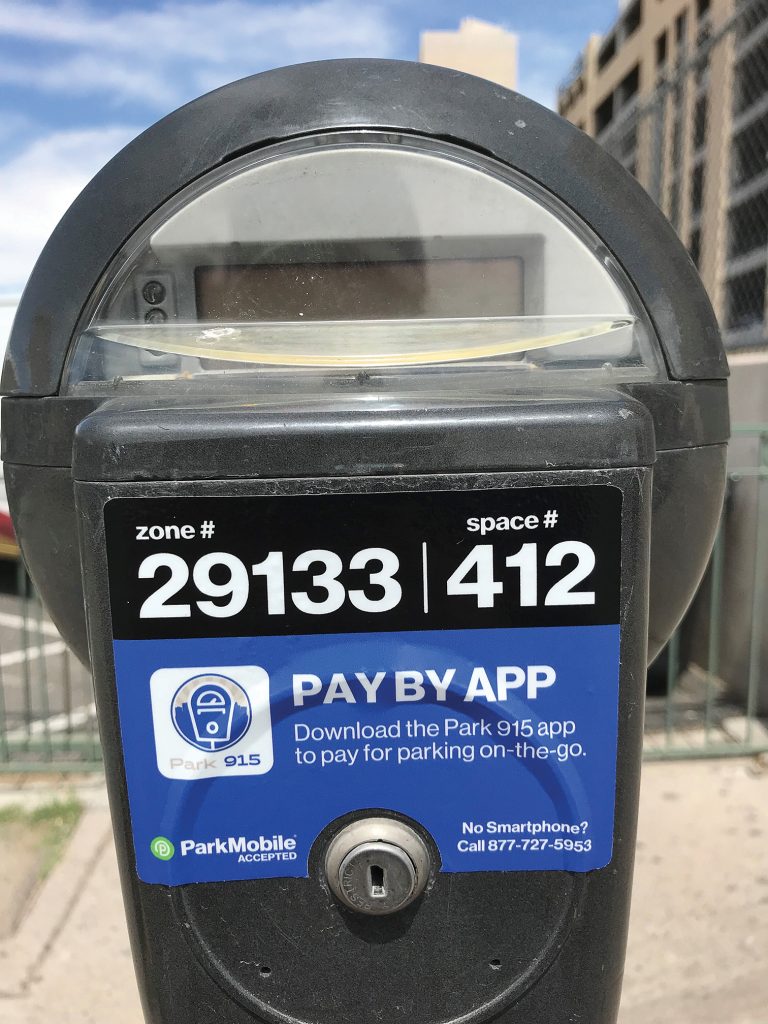 Jeff Perkins, CMO and head of product at ParkMobile, explained how ParkMobile's Park 915 application works.
"What's unique about the Park 915 app is that it visualizes sensor data from the meters in the city," said Perkins. "So it shows you in real time where the open spots are on the street. If there's a green dot on the map, that means a spot is open. If it's a gray dot, that means the spot is taken. The data is all real time. So as soon as a car parks, the green dot turns to gray. You can pay for it with your mobile device; it will alert you when your time is about to expire so you can immediately add more money to the meter from your device.
What drew El Paso to Park 915? Stresow said, "It allows the public to find parking-available parking spaces without having to drive around as much. The app permits the public to better utilize available parking spaces, which might otherwise go unused. We are still working on managing all of the competing interests and revamping and updating ordinances to reflect the best management of available curb space, specifically in our downtown area."
According to Stresow, El Paso's feedback has been positive, specifically on the Park 915 app's ease of use and the functionality of being able to find a parking space; be guided back to your car after an event, meeting or shopping/dining excursion; add time to a meter remotely; and use the app in other cities, airports or universities throughout the U.S.
"Cities need to balance all needs and monetize the curb to control abuse and ensure that all stakeholders have the access needed to do business," said Stresow. "Multiple use of spaces is one creative way that cities are balancing their competing stakeholders' needs. Creating specific ride-sharing zones … with delivery zones, limiting freight deliveries to hours when the demand for spaces is not as great, creating vendor permits for use in high-demand zones also contributes to better management of the curb. "Much like ride-share zones, specific areas/zones for food trucks can also be employed. Although many cities that created such zones are starting to move away from specific food truck only zones. COVID-19 may change how cities currently think about managing the curb. Ride-share services' use was increasing exponentially before the crisis, but now may not see as quick growth as they had in the past. More people may gravitate back to cars, while public transit and ride-sharing may see flat growth or declines in growth for a while."