Solving problems, one creative solution at a time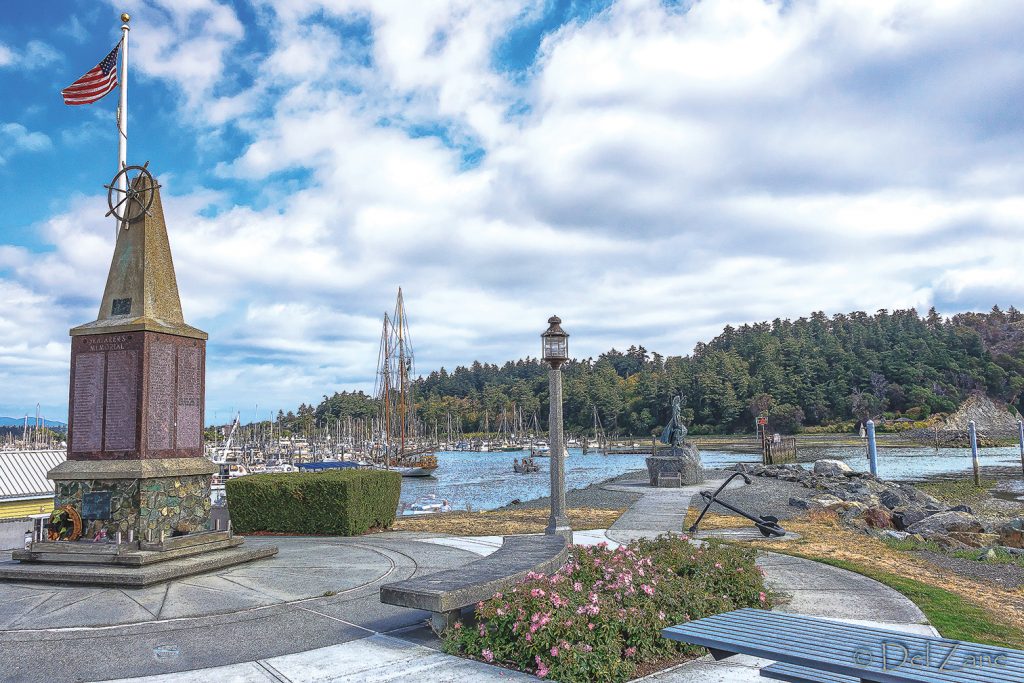 A city on an island, Anacortes, Wash., is home to approximately 17,000 residents and has a working waterfront with a strong maritime industry that employs fishermen, ferry workers and fish plant workers.
Creating a sustainable maritime economy has been a major focus for the city, with Mayor Laurie Gere noting in her 2019 State of the City remarks, "Our strategic plan was built to support and grow all of our existing maritime business with providing infrastructure, technology and workforce development. We are seeking high tech, marine oriented businesses that use technology and provide living wage positions."
In addition to creating a dynamic, robust local economy, Gere and the city council are pursuing several other priority issues aimed at furthering citizens' quality of life. In all these missions, Anacortes Public Works and its approximately 80 employees are hustling to satisfy their community's needs while staying on top of regulations and codes.
Leading the effort is public works Director Fred Buckenmeyer, who challenges his team with annual goals that feature tag lines like "What's the problem we're trying to solve" or "Get it done."
"Fred's strong leadership asks what's the problem and let's fix it," Nicole Tesch, administrative manager for the public works division, said, noting this approach has led the department to fill needs in innovative and creative ways.
One example of this ingenuity is turning heads across the U.S. after the project was featured in the APWA Reporter's January 2020 issue. Anacortes became the first entity in North America to install microduct into its active water pipes using the CRALEY Group Limited pipe-in-pipe system. This method proved cost effective while reducing environmental impact by negating the need for new lines through marine waterways, fragile wetlands, private properties and flood-protection dikes along the Skagit River.
"It started as a public works project to replace our radio telemetry system," Buckenmeyer explained, adding while doing that, public works was able to bring broadband to the community. "We have between 150 to 200 customers and are trying to get to 7,000 when (the system) becomes self-sustaining. So far, we have a 35% connection rate."
Thirty-three miles of fiber optic backbone has been installed since the two-year pilot project was authorized in the 2019-2020 biennial budget. The three pilot areas included the commercial business district, old town, and along and slightly west of M Avenue between 24th and 32nd streets. Service was first offered to businesses in the Central Business District in late September 2019, with Barrett Financial becoming the first privately owned building to receive fiber optic internet service from Anacortes.
Fiber deployment continued this March when Robinson Brothers Construction extended the backbone of the fiber optic cables from the library to the Multiport Service Terminals; city staff then followed up with the installation from MST to the customer premise. Buckenmeyer explained four public works employees in the water division were cross-trained as fiber installers and are certified splicers and installers. Currently, the goal is to have around 2,300 premises with the city's fiber optic network available for connection by the end of 2020.
COVID-19 has further highlighted the benefits of having fiber optics available to the community, especially since during the pandemic, all manner of learning and business were conducted via various telecommunications technologies. In a world without COVID-19, Buckenmeyer estimated having available fiber optics would entice businesses to locate to Anacortes, but as it is, most companies are pressing pause on such endeavors.
Since the fiber project began, Anacortes Public Works Division has fielded calls from other cities in Oregon and even Kentucky, and Buckenmeyer advises such cities, "To pick something small and try it out. It's hard to describe how simple (the fiber) is until you try it. You end up saying why didn't I think of that." 
Tesch added, "Fred's thinking outside the box on how can we solve the radio telemetry problem and bring operations up to the 21st century was vital."
The approach also made funding available for broadband. "Without that kickstart, without that public works backbone that initial money is hard to come by," Buckenmeyer stated.
This spring the Association of Washington Cities named Anacortes as one of the five cities to win the organization's Municipal Excellence Award, which honors cities that put creative ideas to use for their communities. Anacortes was honored for its installation of fiber into active water lines.
However, the fiber project is only one creative solution the public works team is pursuing.
"The city of Anacortes Public Works is continuing to provide its basic public works services in the midst of the coronavirus pandemic," Buckenmeyer shared. "The pandemic has caused a slight delay on timeline for projects but not much has changed to our commitment to these goals."
A pavement management plan is being implemented that will upgrade the pavement condition of Anacortes' street system. The streets and utilities division maintains approximately 126 miles of roads, 3,622 street signs and 410 miles of sidewalks. This new management plan will make that mission easier and allow for better service to residents.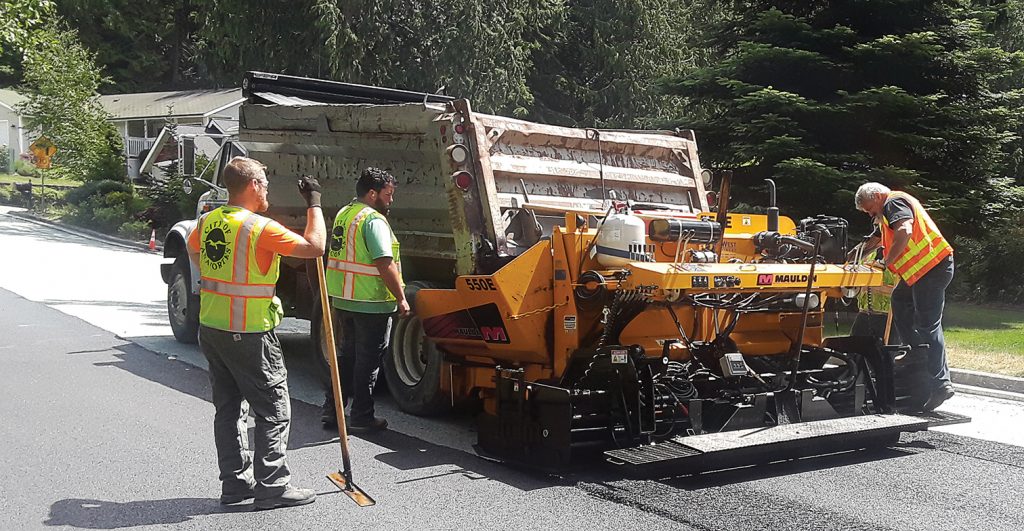 "It's not just a sidewalk. It leads to the flowerbed that leads to a neighbor's house," Tesch said. "We like to make an extra effort to serve the community."
A new asset management program and ArcGIS mapping system is also being unrolled. The GIS/Cartegraph division's work is used by virtually every city department for numerous tasks. Community members also benefit since they are able to view interactive web mapping of everything from real estate to restaurants to cemetery mapping, the latter includes headstone images and obituaries when available.
Two ongoing projects are constructing a new wastewater plant outfall pipeline and completing the final elements of an upgrade to the city's regional water treatment plant, which is located near Mount Vernon on the east bank of the Skagit River and serves 40,000 to 60,000 people within the region. In 2013, the city essentially replaced the previous water plant, which had been built in the '70s, with a new one on the same site.
System improvements to the water treatment plant included an intake pump replacement; controls modifications to improve reliability of the plant's extensive instrumentation and control network; filter bay regrouting; the installation of a second raw water pipeline underneath the Skagit River between the water treatment plant and intake station; the addition of a second clearwell; and a conversion to liquid chlorine from chlorine gas.
The plant had a 100% drinking water compliance rate in 2019 and has been honored by the Washington State Department of Health with The Most Innovative Water System Award in 2019.
"We've also brought into our water system a ShakeAlert notification system," Buckenmeyer said.
He explained this system, developed by the U.S. Geologic Survey, detects significant earthquakes using thousands of sensors along the West Coast and sends out alerts so quickly they reach people seconds before shaking arrives. The system can automatically shut down Anacortes' reservoir and waterlines to protect the city's water system.
Having lead time, even four minutes, can help maintain a continuation of operations. Another plus is notices can be sent to laptops, desktop computers or phones, and these devices can sense where the person is located and provide the best course of action.
"If you have four minutes and are sitting at your desk, you can get up and go outside to safety," Buckenmeyer said.
The fire department benefits as well, according to Tesch. She noted tremors can knock the department's garage doors from their tracks, which could delay response times. With a warning, the department can make preparations to avoid having their apparatuses trapped in the event of an earthquake. The system also shows promise for mass notifications to schools.
Anacortes Public Works is proud to be a part of the U.S. Geologic Survey's pilot program for this technology. Buckenmeyer is equally as proud of the team and department as a whole. Buckenmeyer stated, "We are so proud of our staff and how they find ways to serve the city of Anacortes in innovative ways."